If you missed them, Part 1 of our Mega Guide is HERE, Part 2 is HERE, and Part 3 is HERE.
Spinello Projects (7221 NW 2nd Avenue, Miami) has 4 solo projects up during AB/MB and through December 20. Look for works by Augustina Woodgate, Naama Tsabar, Sinisa Kukec and Antonia Wright. There's a preview of Wright's performative sculpture "CONTROL" — in which she "substitutes her body with a police barricade" — on Monday, December 4, 7 to 10 p.m. Several other galleries in the Little Haiti neighborhood will be hosting openings/receptions on the same night.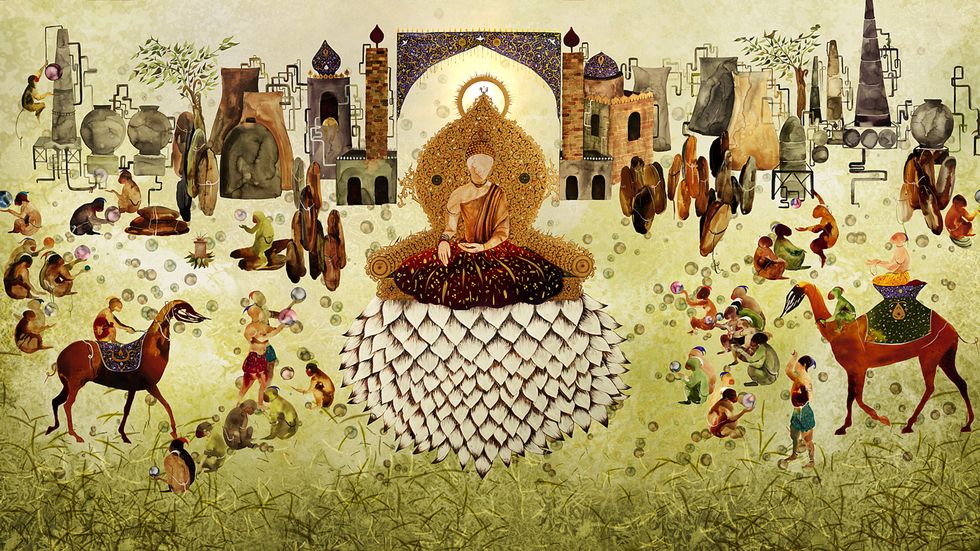 Mana Contemporary (2217 NW 5th Avenue, Miami) opens "Exquisite Corpse: Moving Image in Latin American and Asian Art" with a private/VIP reception on Wednesday, December 6, featuring a performance by Hong-Kong artist Samson Young, the inaugural winner of the 2015 BMW Art Journey Award. The exhibition focuses on the moving image and will be open to the public from December 7 through December 10.
Chicago-based artists Luftwerk (Petra Bachmaier and Sean Gallero) will create a new digital installation for Perrier-Jouet at DESIGN MIAMI using projected color and light. Look for other site-specific works by the duo at Miami International Airport and at the Perrier L'Eden pop-up.
The Jewish Museum of Florida-FIU (301 Washington Avenue, South Beach) has an exhibition of photos by Ruth Gruber on view through January 7. The groundbreaking photojournalist passed away recently at the age of 105. The works shown here cover over 50 years including reportage of the Soviet Arctic in the 30s, refugees from the Ship Exodus in 1947 and Ethiopian Jews in the 80s civil war.
The Nautilus Hotel (1825 Collins Avenue, South Beach) hosts an exhibition of paintings by Paul Sevigny — followed by a party with Sevigny DJing — on Friday, December 8, 9 to 11 p.m. ALSO: The hotel's pool will be painted with a copy of an image originally created by the late artist Rene Ricard.
Kristen Lee Cole's concept store TenOverSix opened in L.A. in 2008 and closed last summer. Now they're opening a new flagship store in Miami's Little River neighborhood at 7338 NW Miami Court. During AB/MB, they've partnered with Marlborough Contemporary on a preview of the new spot, along with an exhibition of paintings by Andrew Kuo. The opening is Monday, December 4, 6 to 8 p.m.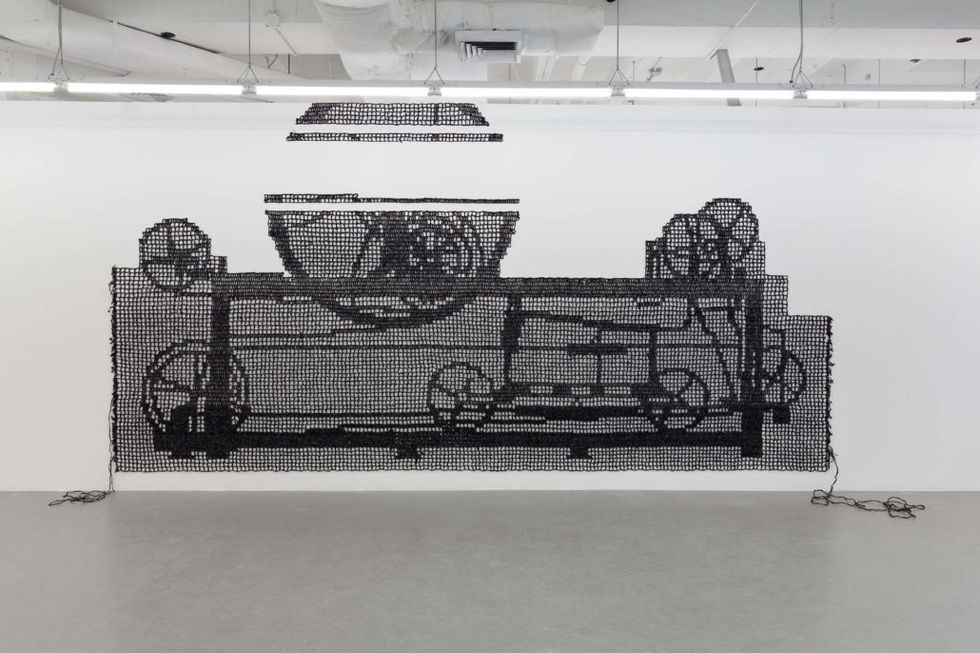 Dimensions Variable (300 NE 2nd Avenue, 3rd floor, Miami) has a reception for their current show, "A Thread of Execution," on Friday, December 8, 9 a.m. to noon. The group show features artists that work mostly with textiles, making a link between the threads of digital code and the threads of fabric. Participating artists include Indira Allegra, Pip Brant, Laura Marsh and Diedrick Brackens. On view until December 29.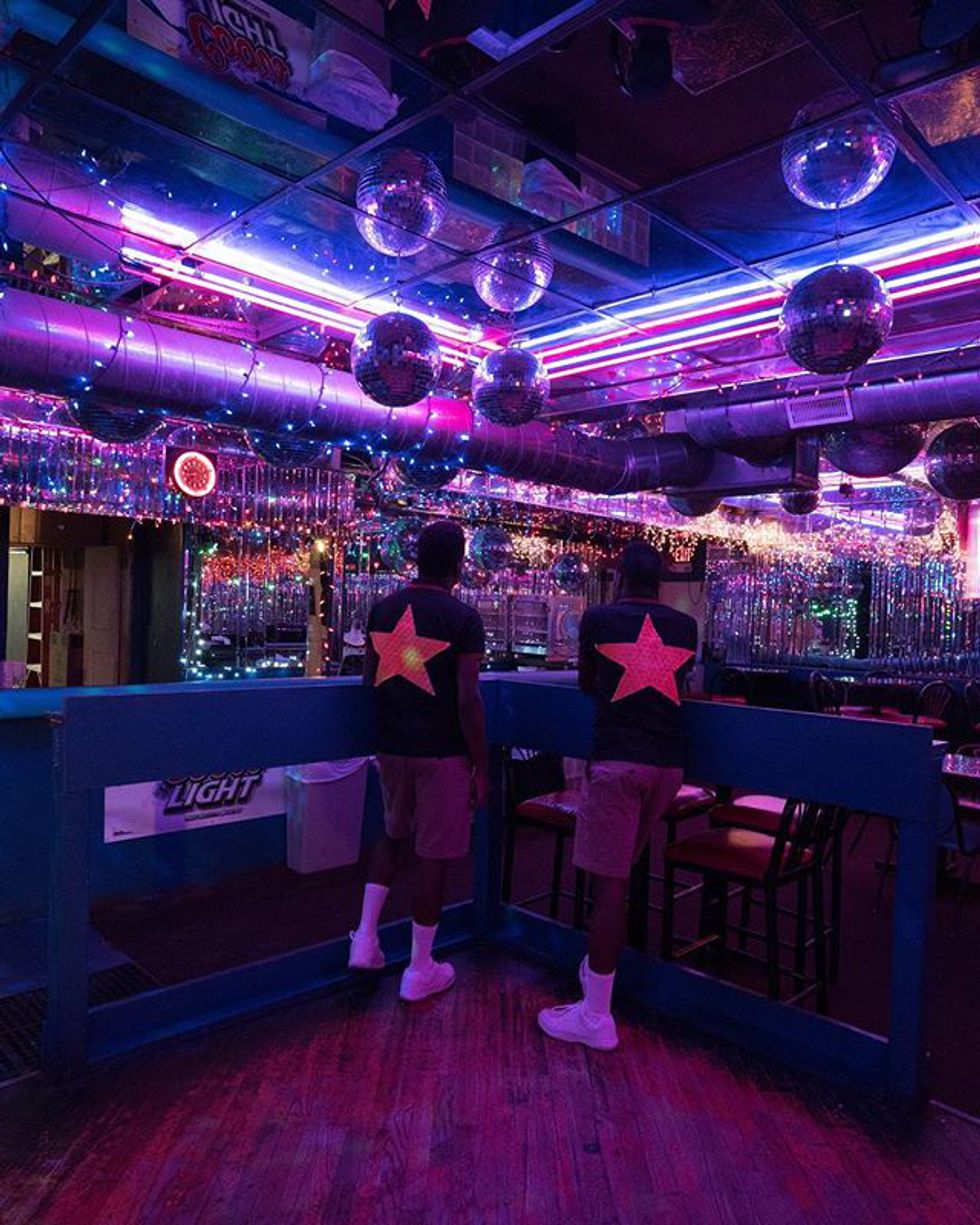 Katherine Reynolds "Optical Doubles on the Binary", 2017 via PRIZM
PRIZM — a fair that focuses on African artists and the global African diaspora — takes over the top two floors of 777 International Mall (141 East Flagler Street, Miami) from December 5 through 17. Tickets are HERE. Not sure what this building looks like now, but in the 40s it was the Miami Theatre, a classic film theater designed by S. Charles Lee in the streamline moderne style.

Kickstarter has a private, invite-only dinner honoring artist Glenn Kaino and Olympian Tommie Smith on Friday, December 8, at the Standard.
A private, VIP reception for Johnny Pigozzi's new series of photos "Charles & Saatchi: The Dogs" hosted by Galerie Gmurzynska's Krystyna Gmurzynska, Mathias Rastorfer, Isabelle Bscher and Lucas Bscher on December 6. (The invite is non-transferable and RSVP is required)
Starwood Preferred Guest Credit Card from American Express hosts private "cocktails and bites" at W South Beach on Saturday with live art from CRASH, Nick Walker and Bio -- plus Swizz Beatz is spinning. (RSVP required.)
Social networking app ICBRKR launch the latest way they want you to virtually connect with a happy hour party at 1800 Lucky in Wynwood on December 7. From 5 p.m. to 8:30 p.m. Jan Blomqvist will be performing and guests can enjoy an interactive vintage art installation from Miami local MOKIBABY. (RSVP required.)
Splash photo by Basil Kincaid "BlackWhole: Double Consciousness and the Singularity of Our Inner Light", 2017, via PRIZM