A large illuminated sign in the entryway of the concert's venue says "SOLD OUT." Tonight, Meet Me @ The Altar, an internet-born rock triad, will grace the The Union Stage in Washington, DC to promote their debut album, Past // Present // Future. Formed in three separate states with the power of social media at hand, MM@TA, as they shorten their name to occasionally, has flourished, from recently having their daytime and nighttime television debuts to being featured in a Taco Bell commercial.
The stage is nestled in the corner of a basement room right under the city's Wharf. It's an intimate and hip space with warm low lighting, setlists of previous headliners like Arlo Parks and Coi Leray line the otherwise blacked out walls. The audience is thrown 15 years back by design as the venue speakers broadcast a pre-concert playlist curated with nostalgia in mind, playing songs like Miranda Cosgrove's "Kissin' You" and The Script's "Breakeven.
Young people in front of me are clad in plaid leggings and Dr. Martens and they bounce up and down in anticipation, waving the Xs on the backs of their hands. "For the girls, gays and theys" is printed on a t-shirt hanging above the merch table. Young Culture just finished a high energy set complete with crowd surfing and guitar shredding. We pump our fists and jump up in down in unison joining in on the new audience wide chant, "YC fucks!" This is only a taste of what's to come, the electric buzz coursing through the venue reaches an all time high when the playlist cuts out. The band will be on stage at any moment now. The room explodes into a roar of applause.
Bassist Téa Campbell is the first to come out from behind the heavy black curtain. She stands out in a white backwards cap, cropped curls tucked underneath, strumming a metallic silver bass guitar. The crowd goes wild when the band's vocalist, Edith Victoria, picks someone's phone off the floor of the stage, turning to video herself with the audience, black lipstick spreading into a wide grin: "DC, make some noise!" With neon green box braids piled atop her head, she stops to softly check in with the crowd ever so often between introducing songs. Save for the mic and the platform stage, an almost conversational repartee ensues throughout the show. Someone in the audience shouts back, "We're okay! Are you okay?" Campbell stops to crack one of many jokes: "It's so hot, I'm going to pass out. I can see the steam rising from your bodies." Drummer Ada Juarez chimes in from behind her kit, flipping her straight long hair over her shoulders: "Did you guys wear deodorant? Be honest."
In the back, an older crowd lines the bar, swaying with their hands in their pockets. One man has a hoodie stamped with "surviving out of pure spite" inside a heart stencil, what seems like a nihilistic 2022 version of a once-catchy Tumblr slogan: "Grab my butt and buy me pizza." Someone behind me says, "Their lighting guy needs a raise," as vibrant blue and pink hues streak over our heads.
Halfway through the set, each member of the band reveals their favorite song before launching into a short cover. Victoria's choice was "You Oughta Know" by her idol Alanis Morissette, followed by Juarez's choice, Avril Lavigne's "Complicated," and lastly Campbell's, "Take Me Away" by Christina Vidal, a track featured in 2003's Freaky Friday. People of all ages scream-chant the words to each song in its entirety. The walls around us vibrate.
Victoria's vocals are on fire, sounding just as sharp and strong as she does in recordings. Her voice has a raw edge similar to Paramore's Hayley Williams, a near constant comparison of Victoria's since being signed to Fueled By Ramen, Paramore's former label. With very few front women in rock, music journalists and fans alike make the mistake of easy comparisons, opting out of assessing the individuality of each artist.
Nonetheless, Victoria settles into her own categorization that is uniquely hers. Her highest notes are so bright and clear that I'm sure the glass of our camera lens will shatter. During songs like "Rocket Science," she channels the likes of Demi Lovato, divulging to the crowd that it is their "Disney rock"-inspired song. Her voice shines the brightest during an acoustic version of "Feel a Thing," one of the band's more vulnerable songs about feeling apathetic in a world that demands your attention. Fans use their phone flashlights and wave their arms to the rhythm of the song, evoking an arena rock tradition that never goes out of style. Stripped down to the clean strum of Campbell's guitar, Victoria showcases something completely of her own. It's clear she's not imitating anyone but her most authentic self.
Below, read Meet Me @ The Altar's exclusive interview with PAPER to discuss pulling inspiration from nostalgia, stage fright, dramatic frontmen and their most successful year yet before the release of their debut album.
First off, I want to say congratulations, you guys are blowing up right now. You're literally everywhere, and it happened pretty fast. How does it feel?
Edith Victoria: I don't know what's happening. When you said that, I don't even know if I've noticed. It's really odd. I wish I could be not in our shoes to see how it's actually going.
Téa Campbell: Ever since Taco Bell, it was like Taco Bell and then Stephen [Colbert's show] and then Kelly [Clarkson's show] and everything else that's happening right now.
EV: Just like [Ada] says she wishes she could see us play, I wish we could see it happening from another perspective.
How's your family reacting?
EV: They're so supportive.
Ada Juarez: Yeah, really excited.
EV: They're so used to good news at this point.
AJ: So true. My family doesn't entirely understand it. All of my family isn't from here. They're from the Dominican Republic or El Salvador. They didn't know who Stephen Colbert was. They don't know Kelly Clarkson. But I would just tell them that we're on TV. The Taco Bell commercial came on when my mom was watching her soap operas. It was the Spanish version of the Taco Bell commercial, but it was my song. I remember going up the stairs in the kitchen. I was like, "Mom, that's my commercial!" And she was like, "Oh my God, I didn't even notice!" Yeah, they're all really excited. They don't really know what's to come next either.
How are you feeling before the release of your album?
EV: We've been holding on to it for so long that we're just ready for it to be out.
So it's been done for a while?
EV: Yeah. We started writing it a long time ago now. What was the try session? June 2021?
AJ: That was the first song that was written for the album. We've had it in its entirety basically since April. We have a couple new songs, but it's been a long time that we've just been sitting.
EV: We sat with it so long that I'm not even listening to it anymore. I'm ready for it to be everyone else's.
And when you revisit something that you've already created, and it's like, "I said that?"
EV: Exactly.
How old are you all?
EV: 22.
TC: 22.
AJ: I'm 24.
Okay, so we're the same age. I saw that you guys met online. Then I read something that said you telecollaborated before meeting. How did that look?
TC: I would put the audio together. Ada would put the video together. We would put our videos side by side.
EV: It's a puzzle.
TC: It came so naturally. Ada already did YouTube. We all grew up on the internet. People are always confused about how we made a band in separate states work.
EV: I think it's because people think too hard about stuff. It's not as hard as you make it.
TC: You have iMessage, you can talk. Dropbox, you can put files in there.
It's comfortable for us. What was it like when you finally met?
EV: I remember when I finally made it in [the band], I didn't tell my parents what was going on because I kept everything a secret. When I'm trying to do something, I don't want to tell people because I don't want to jinx myself. So they had no idea I was even wanting to be in this band. When I finally was in the band, I told my mom, "So I met these girls on the internet, we made a band, and I want to go to New Jersey to meet them." They're like, "What are you talking about?" But then they eventually understood. It took them like three days to talk about it between each other. Then my dad flew with me to New Jersey to meet them where we played our first show.
You put together an album, had that, you're doing your first show, and that's when you met officially.
AJ: It was the day of. Yeah.
TC: It was like six in the morning.
AJ: Breakfast, then we went to the show.
EV: We were talking online and stuff but the first time we met was the day of our first show with me.
What if your parents said no?
EV: I don't know. I feel like that wouldn't have happened. It would have just been a matter of when. I might have had to sit on it for longer, but I know they eventually wouldn't want to block me.
How old were you then?
EV: I was 17.
Did you have a plane ticket to New Jersey at that point?
EV: My dad bought it for us.
AJ: You booked the show, and then you told them? Edith!
EV: I knew they would say yes.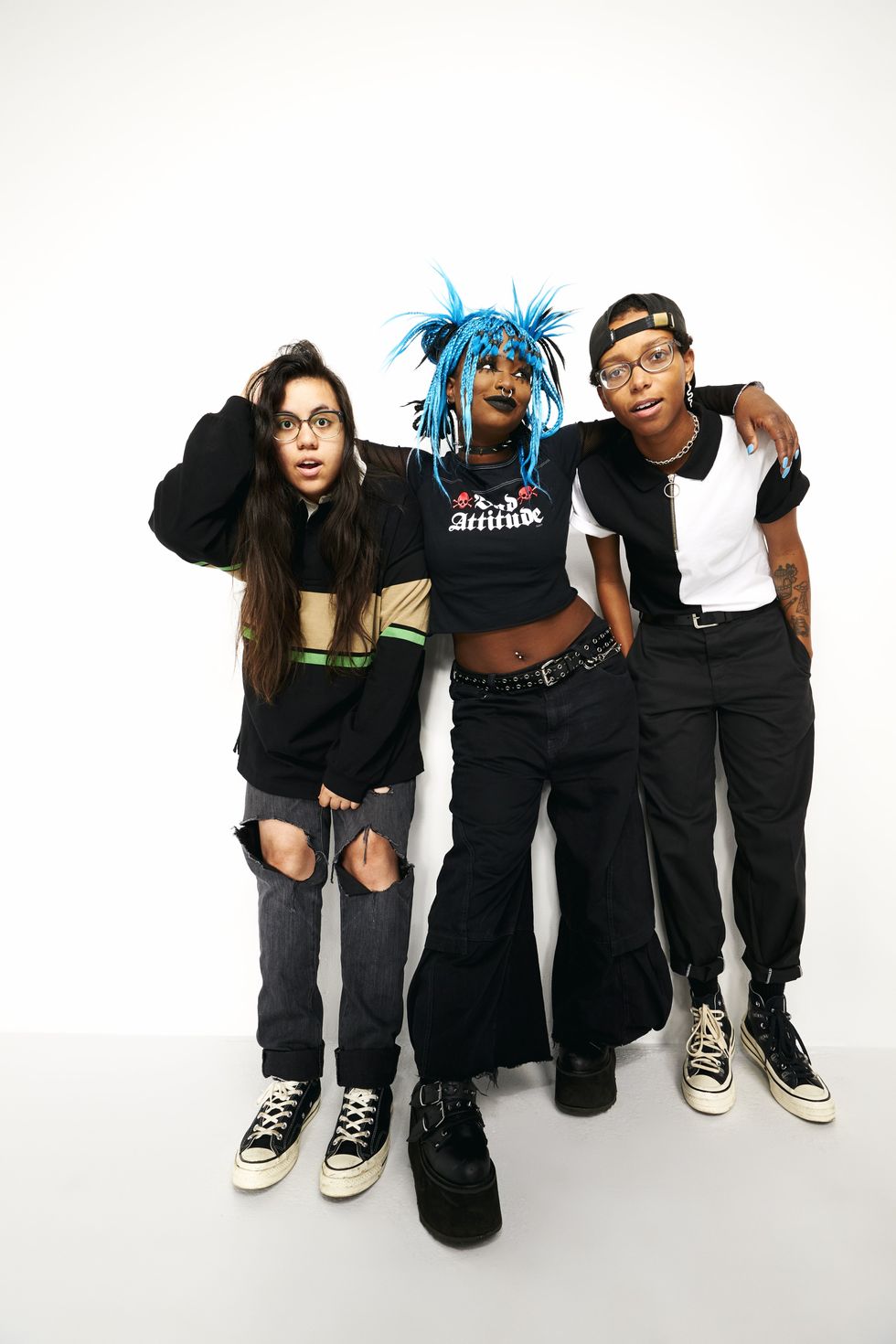 What were your initial impressions of each other?
TC: Ada and I had already been talking for so long because we formed in 2015. Edith knew of us then too. So we were talking the whole time. It's like "Oh, finally meeting the band."
EV: I was stalking a little bit.
TC: Yes, you were Hailey Baldwin!
AJ: I thought Edith was gonna be a lot taller.
TC: I thought you were gonna be Coco Jones' height.
EV: I get that a lot. Whenever I meet a fan, that's one of the things they say to me, that I'm short. Like, thank you so much! I think y'all are exactly what I thought you'd be energy wise.
AJ: [Téa and I] were texting constantly. So I think we knew each other's personality. Edith was still new to us.
EV: I remember being very like, "I don't want to fuck anything up so I'm gonna just split my personality in half" instead of freaking anyone out at first. I was thinking a lot and not saying most of the things I was thinking since you didn't know me well enough.
AJ: And then screaming Edith started happening.
You seem pretty close now, when did that happen?
TC: It was gradual. At this point, I don't even remember.
Did you go into it thinking, I'm gonna be friends with these people?
EV: It helped that we were so young. We weren't in a business mindset. We knew we wanted to do it for life, make it work. But we were young, so of course we'd be friends.
AJ: Yeah. We had a set of guidelines too. They had to like the same stuff as us, same music, same political party.
EV:They asked really important questions.
AJ: Yeah. It was right at the time when like Trump was coming up, and we're like, we don't need no Trumpie.
EV: When we were answering the Q&A portion of the audition, once they narrowed down all the auditions, it was over Kik.
TC: This was 2014.
AJ: It was easier. Not everyone has a phone number.
EV: I was 14 at the time that was going on. I remember they asked all these questions. I think I asked Ada, "Bitch, why the fuck didn't you choose me?" And she said it was my answer of who I wanted to be the president, even though you can't even fucking vote.
AJ: It was very specific. I regret this now.
EV: They said who would you vote for? I said Hillary, I guess they wanted me to say Bernie.
AJ: That's so stupid, because that is a great answer.
EV: I said that because she's a woman, and at the time... yeah.
What was the vocalist you originally chose like?
AJ: They liked the same music that we did. They did not last for long.
TC: Not a great singer.
AJ: And a bitch.
TC: I mean, if you want to get specific with the terms.
AJ: I mean, Edith is a bitch too, but not in the same way.
EV: There's genres of bitch.
TC: It was an audition to join our band. She came in and kind of wanted it to be her show, like Ada and I were the back.
EV: That's what I was very cautious about when I first met you guys because that's so ugly. That's a very bad quality that a lot of front people have. I wanted to make sure I didn't present that way because you had a bad experience.
TC: She would throw unnecessary shade at me all the time to the point where my parents were like, "What was that?"
AJ: Literally, Téa's parents getting involved.
TC: My parents hated her.
It's better this way. So you live together now?
AJ: No, not anymore.
EV: I moved back to Atlanta. Our lease ended around the same time we went on tour, when the world opened back up a bit.
TC: It was only a year.
Over the pandemic you lived together?
TC: Yeah. Everyone else separated and we came together.
I think that's a good idea.
TC: It kept things moving when the world kind of stopped. That was the first time that we worked really hard, because we got management for the first time, we had an attorney, we were talking to labels. Things were really picking up.
Why did you choose Davenport? Who's from there?
TC: Me. We played Orlando a lot. We have a drum kit down there and all the gear and stuff so it was a very logistical reason. Especially because we also have two touring members who were there, so anytime we need to practice for stuff, we didn't have to fly them out. It was just easier to be together. We had that amount of time, no more no less, like that was the exact amount of time we needed to be together and it was fine.
EV: The lease ended perfectly when we had to go out for tour.
TC: We were moving out of the house and then went on tour the next
Where are you living now?
TC: I still live in Davenport.
Did everyone go home?
AJ: I stayed [in Davenport] because my partner lives there. But if it was my choice, I might have done the same thing Edith did.
EV: I don't like it. I went back.
Do you live with your parents or do you have your own place?
EV: I'm still in my cave upstairs.
TC: I had my own apartment that I just moved out of like three days ago. I'm paying rent for what? We're on tour all the time. So now I'm moving back in with my parents.
EV: That's how I felt, like why am I gonna do that?
So if things go really well, are you going to move back in together? Would you move to LA or something?
TC: We would always stay separate. I definitely see a few years in LA in the earlier part of my 20s.
That's pretty cool. It's like you work from home.
TC:Yeah! Well, and then work from not home all the time.
EV: I think that's a very healthy way to do it as a band. You're together a lot on tour already.
AJ: You need a break.
EV: It's like work and then not work. We can be away from each other when we're not touring, so then when we're touring it's easy. I think it's healthy to miss people and to separate yourself for a while.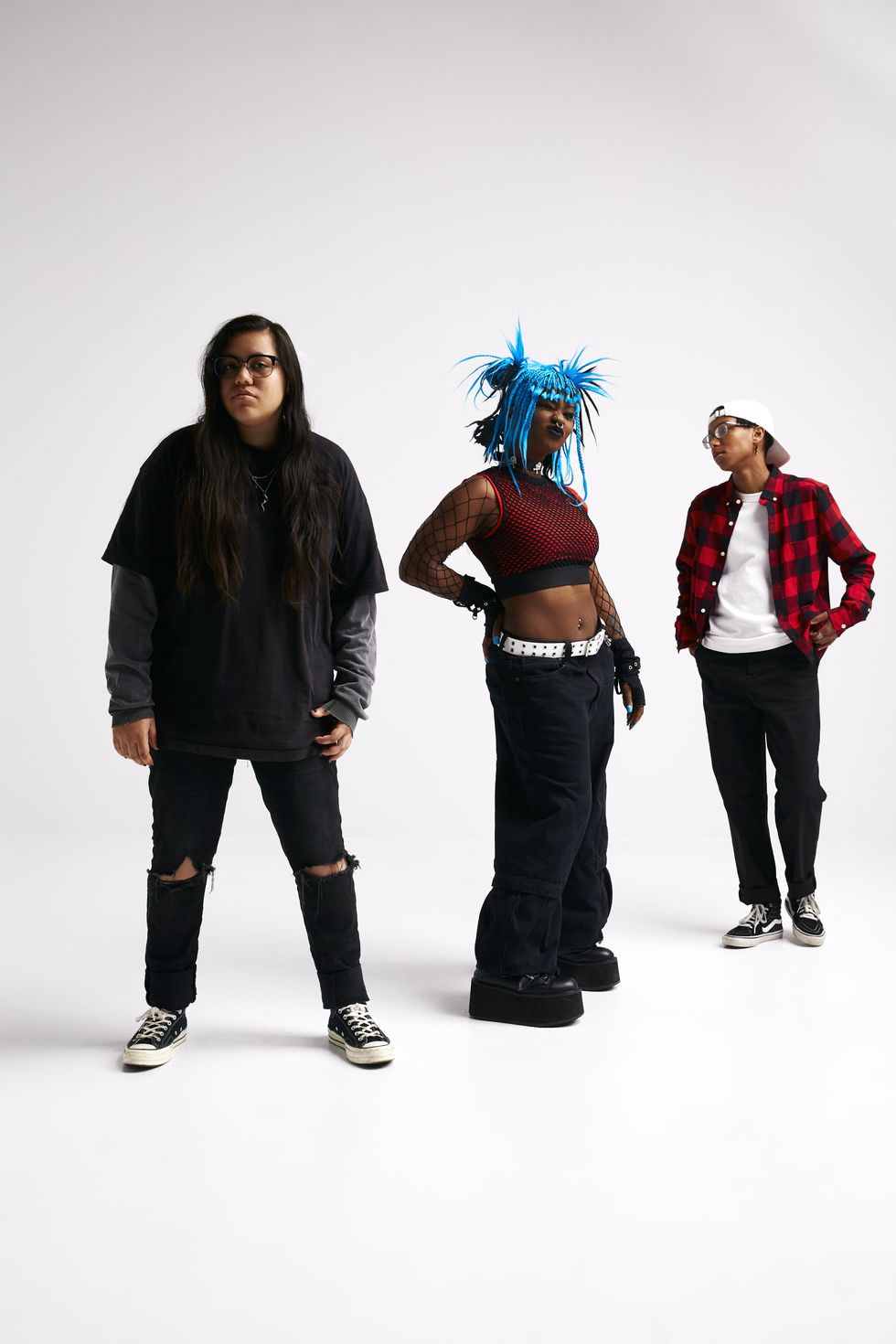 You guys have a really good outlook on making it work. Again, you seem really close. Your new album comes out March 10. I read on my own what it's about, but I want you to tell me in your own words.
TC: It's hard to boil it down into one thing, because we really focused on diversity and variety in this album. But essentially, it's our experiences just living life the past few years. We really focused on honesty in this record and sharing all aspects of our lives. Not only the positive, because that's kind of what we've done in the past is really only focused on the positive, because there's so much negative in those genres. This time, we wanted to have a well-rounded, balanced body of work that is cohesive, because that's something that pisses us off. Like you listen to an album, there's a couple good songs, and then the rest of the album is trash, like, how did we get here? So we didn't want to do that. Sonically we really pulled from the music that we were listening to growing up, which was all that radio rock at the time, P!nk, Avril Lavigne, Kelly Clarkson, The Script, Jonas Brothers, it was those kinds of artists. We're tying in our pop punk influences, pop, our rock influences and nu-metal. There's just so much that we blended in this.
I saw a promotional tweet that said this new album is genreless. I think you even called it "nostalgia-core", which is really exciting.
AJ: Yes. Disney-core.
I'm excited. You're pulling a cord with people our age.
TC: This is something that's so sad, because everything was so good back then, like Camp Rock, Lemonade Mouth. They don't have that anymore. No more Hannah Montana.
AJ: We need more rockstars.
TC: I don't care what anyone says, that music was fucking good. I think that's why we've distanced ourselves from the scene necessarily, because it's full of people who think they're too cool for that kind of stuff. No music should be a guilty pleasure if you like it. Those songs were good. No one takes from that kind of stuff anymore. We're doing it in a catchy way, because it's pop, but it was with rock music. That's what we're doing.
What was the decision that led to, "I'm gonna make an album that is a portrait of what we're doing right now."
TC: An identity crisis.
Okay, say more on that.
EV: At the beginning of this writing process, our people, our team was like, "Maybe you should bring in some co-writers." Then we were like, oh my gosh, because we've never co-written before. We like to do things our way, so we're really scared of someone missing that dynamic. We're getting into rooms with all these people, writers that made a lot of sense on paper. Right? They'd be like, want to go in with so-and-so, we would say yeah, that would be a cool writing session. Then we'd go in, and it would be completely so bad. Somehow the songs, even though we were giving input, wouldn't sound anything like us. If you don't vibe with the writer it's gonna be so bad. We had miss after miss after miss. We had a breakdown.
AJ: You were losing your mind.
EV: I was. We got this specific writer for multiple days in a row before we even knew if we liked him. After we decided we didn't like him in the first session, we still had four more sessions. I would say something, he'd pretend he was acknowledging it, then he'd completely disregard it. I was going crazy.
TC: It was gaslighting!
EV: The songs sounded terrible. I'd have to die before those are released.
TC: It was hard because you shouldn't have to fight like someone to listen to your ideas. Every time we would come up with a song, it didn't feel like us. They were so generic they could go to anyone. We absolutely hated that about pop punk resurgence. There was no heart and soul in it. Then we were like, well, we are working with the people who were responsible for that. We ended up finding our people and that's when the album started taking shape. After that, we were like, "What the fuck do we want this album to sound like?" We just didn't know. Then we thought, we keep going back to the same vibe from the same time period, early 2000s. We started using those as reference points for our sessions with the writers that we did mesh well with and ended up hitting it out of the park. We got that nostalgic vibe, but it's new.
EV: The same feelings that the music back then brought, like a new sound was going on.
So when you say you want something that sounds like you, you mean old but new.
EV: Right.
TC: Especially on this record, we experimented with a lot more and didn't trap ourselves in the box of genre necessarily. We were just creating what we wanted to create.
I have pretty bad social anxiety, I think it's pretty common with our age group. How was it performing? Going from the internet, to meeting everyone, to going on tour literally the same day. Was that a challenge at all?
EV: I think that's one thing about performing, for a lot of artists, it feels like home. It feels very familiar somehow. An artist could be completely awkward and anxious, when they get on stage, they're a completely different person. You wouldn't even ever guess that they have that kind of anxiety. A lot of artists just feel more comfortable on stage than anywhere else. They're performing their art that they love. I have met a lot of awkward bandmates, though. It's so funny because they're completely different on stage.
TC: The meeting part was the aspect that would give me anxiety out of anything. Not so much anymore, because we've had to talk to so many people where it's natural now. But it's awkward talking to people you don't know, especially if they're awkward.
EV: Sometimes you have to carry the conversation. If you don't say anything, no one will say anything.
TC: Exactly.
AJ: I think that's how I knew that this is what I wanted to do, though, because I hate talking. Period. On stage it's different.
TC: Yes dude, the anxiety.
AJ: That's the worst thing ever. Even just going in front of a classroom. I would have panic attacks about that.
EV: I could easily go in front of a classroom and sing, but I would not be able to talk for some reason. It's terrifying.
AJ: It's different when it's something you love.
TC: Right. And you feel confident in.
AJ: Yeah, like, why am I giving a report on this? I'm not an expert. What if I trip up my words? But it's not a constant thought anymore. Like, what if I dropped my stick? Now I've done it so many times. I'm confident enough to know that I can do it again. I think once you do it once. My very first time I must have been nervous. We were nervous on [our tour with Coheed and Cambria.]
And you're like, "Well, I must be doing good if we're here."
AJ: Yeah. The support coming back, them cheering after everything. If they didn't it would be completely different.
Turning to the genre, would you describe yourself as pop-punk?
EV: Not anymore. At the time when we didn't have anything else out other than pop-punk, definitely. Our catalog, as the years go by, as the albums come out, it's gonna be so diverse. I think it's safe to call us a rock band. We do have pop-punk. This record is very rock. It's safe to say everything in our catalog will always be just rock.
Real. So, two of you are from the South, one is from New Jersey. My experience being a person of color from the South, I had to find rock music. It was not accessible to me. So I want to talk about how you guys found that home in rock music. Not even just music, but alternative style and the subculture as well.
EV: I started wanting to express myself a lot. By being on the internet, I found Bring Me The Horizon and Pierce The Veil. I really did, at the time, connect fashion and emo with the genre. Then I found Warped Tour. That's when the hair and clothes came. I started finding more emo bands from the internet. Then, okay I'm gonna go to a show. I just looked up where to go to a show. Then after that, I found this whole amazing community of hardcore and alternative music through my local venue. Thanks to the internet, basically. After I found everything I just never left.
TC: For me, I never found that community. Growing up in the Orlando scene, it was extremely gatekeep-y. When I was like, 14, when the band first started, I would go to local shows, but there was no one there that looked like me. I would stand in the corner with my dad and that was that. I feel like now I'm just finding my community through us and through our fans. Atlanta is so different.
EV: So close to each other, but so different. All my best friends I found through music, I know them because of shows. I've met so many great people, but it's different from Orlando. There's an actual scene in Atlanta that is accepting. All my friends are people of color that I found through Warped Tour and metal.
AJ: For me, I grew up in a really Hispanic-centered town. We didn't have a scene either. Jersey kind of has more stuff, like Asbury Park, which isn't necessarily near where I'm from. My scene would have been New York, but like, New York scene, that's literally everything. I was also too anxious to go to shows by myself so I'd go with my dad and I can't meet people with my dad. I'm not going to be away from him either, he has to be in my vicinity or I'm going to have a panic attack. So I found my scene online also, it was mainly like Tumblr, Facebook.
EV: I didn't want to go to shows alone either because I was too young. My mom wouldn't let me go to shows yet. I used to look up geotags of my local venue and see who went, that's how I met people.
AJ: That is so smart. I wish I did that.
You used to be able to find out where people live through Instagram. I read that you guys redefine what it means to be in a rock band in the modern era. What does it mean to be a rock band in the modern era?
TC: I have mixed feelings about that. We're just a band existing.
EV: Maybe for us, being in a rock band means making what we like.
TC: We're always gonna make music for us and not anyone else. If people love it, that's great, if they don't, maybe the next album will be for you.
AJ: I think we have more freedom today to be as creative as we want.
TC: Yeah. We're pulling from so many different genres and having rock be the base. I feel like that's not something you hear of a lot. Pop punk is pulling from trap, that's it. We're pulling from pop, so many different things. There's some twang, some R&B, some Beyoncé vocals.
Who else inspired you artistically growing up?
EV: Alanis Morissette. Beyoncé.
TC: There are some no name bands like Everlife that had a couple songs on Disney movie soundtracks, but we played those to death.
What's on your playlist now?
AJ: All that still. Sara Bareilles, Katy Perry, Kesha. So much pop.
I saw a comment on one of your posts saying "Oh my gosh, It's so exciting to see someone who looks like me in rock music." It was really heartwarming. How does that feel? Is there any pressure?
TC: It feels good to be in that position, because growing up, we didn't have that. We assumed something would come up along the way, and then we're like, "Well, I guess we're it." I wouldn't say we feel pressure because we knew how rare a band like us was as soon as we formed, and we always had the intention of being that.There's no pressure. At the same time, the music should be the primary focus. Everyone knows we're of color, some of us are gay. At this point, we can just exist and let the music speak for itself.
EV: There's also no pressure because we didn't start to be that for people, we started because we like music. We never thought about it. Now that people are saying we are that, we're like, "Okay, let's keep doing what we're doing."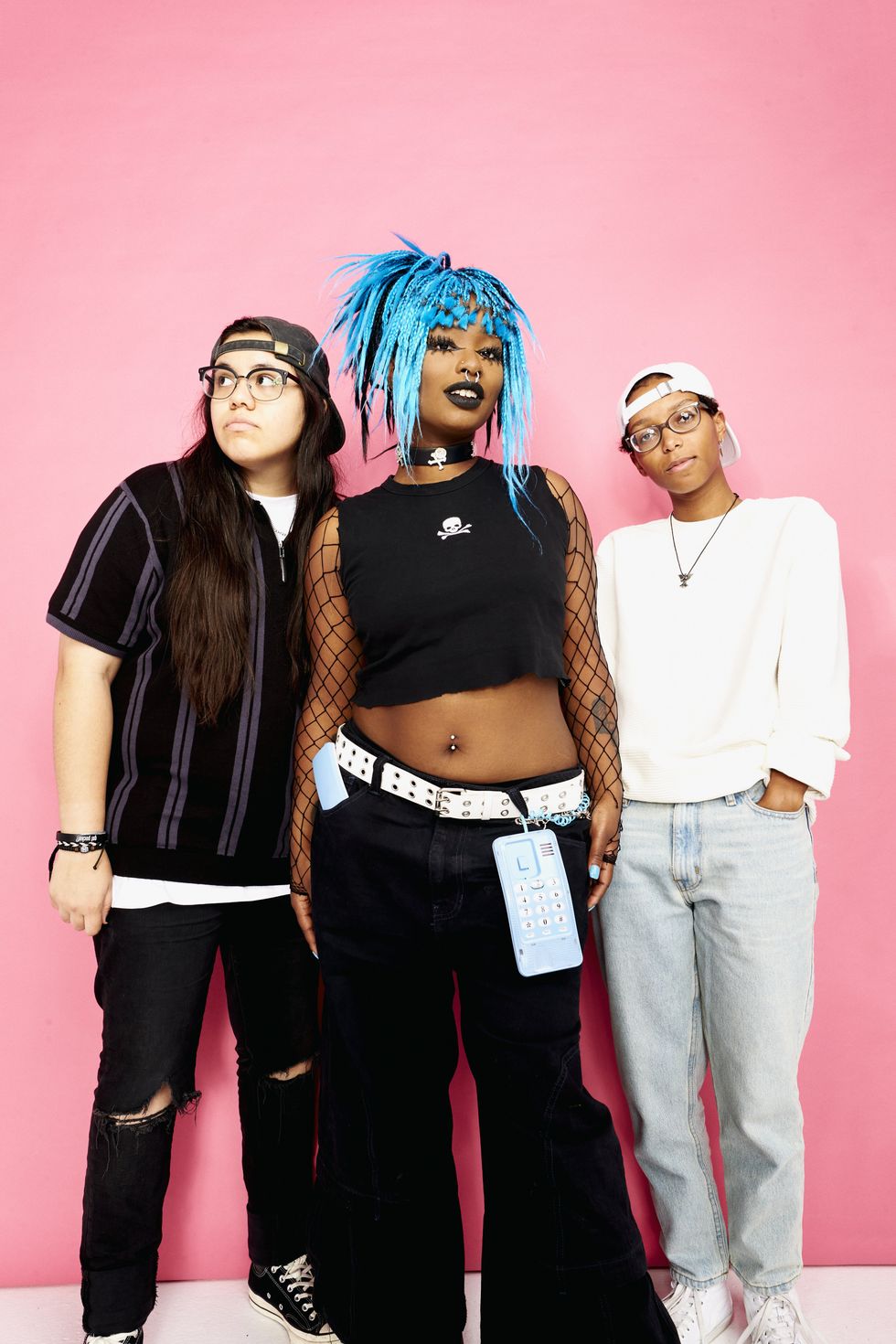 Past // Present // Future is out now on all streaming services.
Photography by Jonathan Weiner