UPDATE: Jenny McCarthy, anti-vaxxer and something or other, who is also the co-host of Dick Clark's New Year's Rockin' Eve, has spoken out about Mariah Carey's controversial performance, discounting the pop icon (and her team's) claim that she was sabotaged for ratings.
On her Sirius XM show, McCarthy was fairly blunt in her opinion, saying it was "unfair" of Mariah to blame the company that employs Jenny every year :
I think Mariah was nervous as hell. I think she chose really tough songs to try to sing along with… I mean her voice is not there anymore. I don't think there is a problem with her inner ears. I just don't. I think she used it as an excuse.
Do we think Mariah even knows who Jenny McCarthy is?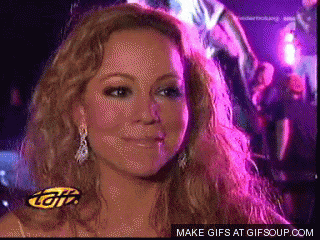 ---
Poor Mimi, her New Years Eve performance in Times Square would have been glorious had it not been sabotaged by a series of technical screwups.
She stood center stage in a sparkly bodysuit and a white fur coat, flanked by feathers and men, ready to vibrato her heart out when the music picked up without her. As the instrumental backing for "Emotions" played, Carey tried to sync the lyrics with the music but couldn't.
"We're missing some of these vocals, but it is what it is. Let the audience sing," she said to the tech staff while struggling to maintain her cool. "I'm trying to be a good sport here."
The album version for "We Belong Together" came on the speakers next with Carey's full vocals, proving she had been lip-syncing.
Her team has released a statement claiming the sound equipment was sabotaged for higher show ratings.
Robert Goldstein of Maryland Sound International, the production company in charge of the sound equipment for the night told the New York Times the fiasco wasn't their fault.
"Every monitor and in-ear device worked perfectly," Goldstein said. " I can't comment beyond that and don't know what her nontechnical issue may have been."
Carey left the stage after "We Belong Together," saying "It just doesn't get any better."
Sign Up for the Morning PAPER
Music
Story by Bradley Stern / Photography and video by Danielle Aphrodite / Styling by Ashley Abtahie / Hair by Izumi Sato / Makeup by Grace Yen