Lana Del Rey drops her first official video from the Norman Fucking Rockwell era, and it's every bit as Lana as we've come to expect.
The nearly 10-minute double video to "Fuck It I Love You," and "The Greatest," both Jack Antonoff co-produced tracks from her upcoming sixth album (out August 30), features no shortage of Lana-friendly iconography — some played for kitsch and some filtered through sun-dappled seriousness.
See: Shipping boats! Surfing! California skies and sea! Dive bars! Longboarding! Local bearded daddies! Musclemen! Beehive hairstyles! Vintage jukeboxes! Even an easel and paint canvas make an appearance! That part is new, but then again, this era is satirically named after the famed American painter, so.
And then there is Lana herself, all smiles from scene to scene, looking right into the camera/our souls, her eyes agleam with hope and joy. So heartwarming, truly, I'm crying. What's more is Lana is sporting her go-to California beach bum couture throughout the clip, a point brought forth in her Billboard cover story, during which she gave this charmingly self-aware quote on having "disarmingly basic" style.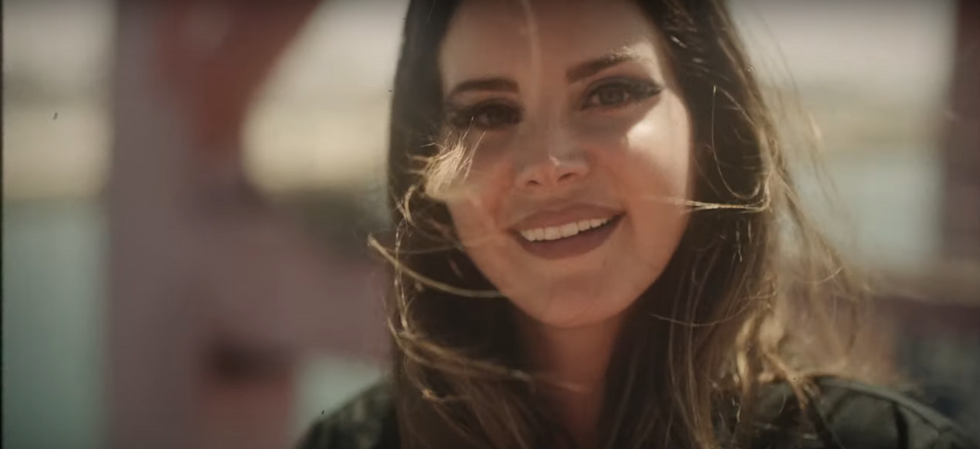 "Oh, I am! I'm actually only that," Lana told Billboard . "I've got a more eccentric side when it comes to the muse of writing, but I feel very much that writing is not my thing: I'm writing's thing. When the writing has got me, I'm on its schedule. But when it leaves me alone, I'm just at Starbucks, talking shit all day."
And speaking of the writing: these songs are a whole other story. "Fuck It I Love You" is a psychedelic mutation of surf-rock that feels more in the vein of her past odes to dangerous, desperate love. This one provides a decidedly wiser, more introspective point of view: "I moved to California/ But it's just a state of mind/ Turns out everywhere you go/ You take yourself, that's not a lie," Lana sings.
Then "The Greatest," the video's B-side track, if you will, muses on a different kind of desperation, reflecting on a society gone belly-up for clout and empty values. The instrumentation here is more classically AM radio rock. There's resignation on Lana's part: "The culture is lit and I've had a ball/ If this is it, I"m signing off." And a lyric that will surely gain traction: " Kanye West is blond and gone."
Welp. Lana is back and more untouchable than ever. I mean, just look at her!