Like many actors who step into stardom at a young age, Kel Mitchell knows firsthand what it means to fall down. But Mitchell is a shining example of someone who has bounced back. As a kid, the budding comedian and actor discovered a natural knack for humor growing up in Chicago's South Side. "I was always performing and telling jokes, and that's like, me and my entire family," Mitchell says.
After booking a string of professional modeling and commercial gigs, Mitchell publicly made a name for himself in the '90s starring in All That, Nickelodeon's first-ever sketch comedy series. Hailed for its casting diversity, iconic sketches, and musical performance line-up, the show became wildly popular with kids and their parents alike.
Mitchell then went on to star in 1997'sGood Burgeralongside All That castmate and BFF, Kenan Thompson, who would later go on to become Saturday Night Live's longest-tenured cast member. Then the dynamic duo ping-ponged off each other in Kenan & Kel. While both had no fear or shame about playing goofy, memorable characters on-camera, Mitchell's characterizations remain some of the most iconic moments of '90s and early-aughts comedy. (Everyone remembers his orange soda line).
When All That took off, Mitchell was a high school student trained in theater. Becoming famous was an experience he says was fun for him at first, but nonetheless jarring. "The show took off and it started bubbling to the point where everybody started to enjoy it, so I couldn't hide anymore," Mitchell says.
For many teen stars in his cohort — we have recent examples in Mitchell's peers like Amanda Bynes, who also got her start on Nickelodeon; Lindsay Lohan; and Disney star Lee Thompson Young, who tragically committed suicide in 2013 at 29 — we've become aware of the perils of seemingly overnight celebrity and exposure.
Mitchell is no stranger to this. He admits that, as his profile grew, he struggled with deciphering people's motives (Did those around him expect him to be a character, or to be himself?)
"This was the thing with me as well — [you] would get lost when you become the character instead of yourself," Mitchell says. "And also, it's tough knowing you can't trust everybody. You get to a point where you wonder, 'Does this person truly like me for me, or are they just around because of who I am in the public eye?'"
After Kenan & Kel ended in 2001, Mitchell soon found himself navigating marriage troubles, ultimately leading to a divorce. He began using substances to cope with the pressure he faced, until seeking help and rediscovering his spirituality. Seeing his friends struggle and overcoming his own, Mitchell made it his mission to help other young actors navigate Hollywood and those who've continued following his journey over the years. Mitchell regularly posts motivational and fitness videos online that maintain his innately good-natured humor.
Plus, in a full-circle revival, Mitchell, now re-married and a father of three, is currently starring on a new Nickelodeon comedy series, Game Shakers, as an unpredictable rapper and mentor figure named Double G, opposite young stars Cree Cicchino and Madisyn Shipman. This year has also found Mitchell reunited with All That castmates on a special episode of Nick Cannon's Wild 'N Out, and appearing on a best-of Double Dare episode with Kenan Thompson, where Mitchell was of course slimed.
Whether on or off set, Mitchell is embodying more of a mentor's role, as someone who has been there, done that, and is now in a position to give back. And with a more diversified portfolio, including action roles and yes, his own orange soda coming soon, Mitchell's next act is one you won't want to miss.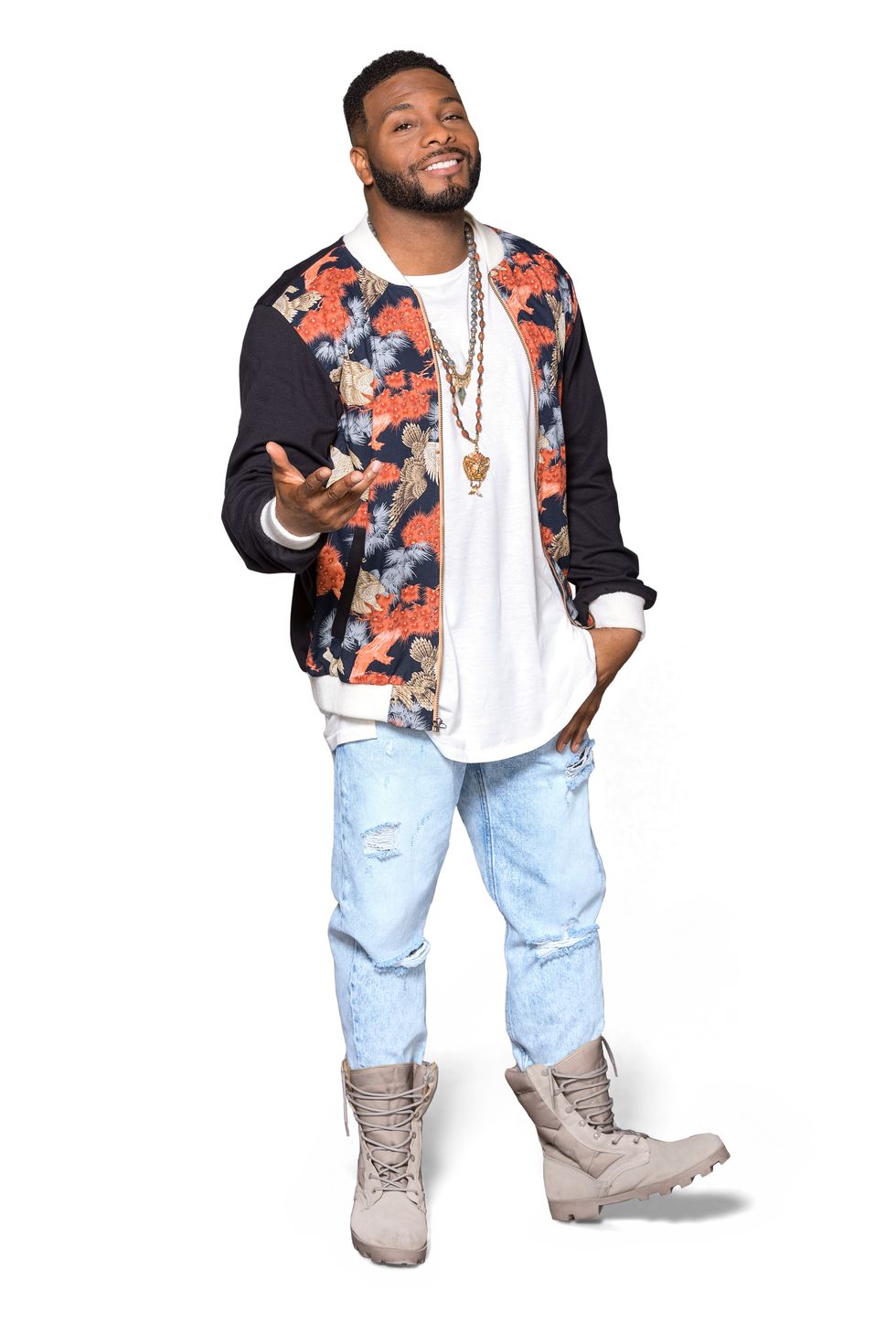 When did you first realize you were funny?
The first time, I would say that was school. I was always performing and telling jokes, and that's like me and my entire family. Me and my cousins, we were always doing jokes or doing stuff that we saw on television. It wasn't that I discovered that I wanted to be on TV, it was more so that I liked making people laugh.
Did you have any early mentors who encouraged you pursue being on television?
It was actually me being a class clown in all my classrooms, and I remember there was one summer where my mom and dad said, "Okay, we gotta get this kid into something because he's getting to the age where he's getting a little older and we don't want him acting up." You know what I mean? Get all this energy out. So what ended up happening; I was at a theater called eta Creative Arts Foundation that was in Chicago on the South Side. They were doing a summer class and I signed up for it. I fell in love with the art of acting and instantly became a theater kid. I started doing work with eta after school. After that, I wasn't doing the class clown thing as much because I wanted to be in theater, onstage.
So what came after that? Nickelodeon hadn't come calling yet.
I feel like the breakout was that I modeled first. My first was I started doing eta theater, and then I went to Victory Gardens Theater, and there, I got noticed. I was doing a play at [Chicago's] Victory Gardens Theater called Eden [by Steve Carter] and I got noticed by a local agent [from] Aria Model and Talent. I was working with them, and I remember Cap'n Crunch, the company, came up to my theater and I actually got hired to be one of the kids on the back of a Crunch Berries box.
I imagine that opened doors for you.

From there, that's when I was on tons of auditions. You know, you get some, you lose some. Then, there was this nationwide search audition for a sketch comedy show for kids and at this point I was a sophomore in high school. I auditioned for it, and then I got the part. I got the part in All That.
What was that like, being so young and knowing you were going to be on TV?
It was wild, I mean what was cool about it was that it was a first for Nickelodeon, having a sketch comedy show for kids. And they actually did it as a special first. So I didn't know what would happen but I flew out to Florida and shot it as a special. The special took off; people loved it, and they wanted more of a show so then I was filming a show. Some kids didn't watch Nickelodeon around that time, but then [All That] started bubbling. I was there on the South Side in theater and not wanting everybody to know I was on television, because I was still going to high school.
I remember watchingAll That growing up and and that's how I would find out about different musicians, because they performed on the show.
Yeah, I mean we had the same artists as Soul Train. We were getting everybody. To be a fan of TLC and then have TLC do the theme song. It was cool, because we were at Universal Studios, where no one really wanted to be. So the musical guests wouldn't just do their act and then leave, they would actually stay, go ride the rides, hang out with us. We have great memories where the cast and crew are just hanging out with Usher and Aaliyah. That time was also special because hip-hop and R&B were at its all-time high.
Are you still in touch with any of your former cast mates?
Of course! Kenan and I talk all the time, we're dads now. We talk about our kids and all of that stuff. Every time I'm in New York, me and my wife go visit him and his wife and his kids and we all hang out. Just recently we were watching a Flavor of Love marathon, all of us were cracking up, watching New York [Tiffany Pollard] go off. [Laughs]. And then, Angelique [Bates] goes to my church, Lori Beth [Denberg], I've seen her a lot out here in LA. I talked to Amanda [Bynes], a few years back, but she's doing great, though, she's in fashion school and loving it.
So to fast-forward a bit: I know you had your next Nickelodeon show with Kenan [Kenan & Kel] and I heard you hit a personal bottom when it went off the air. What was going on for you at that time?
Yeah, definitely. Well, Kenan & Kel ended in 2001, and I was overwhelmed by life in general, getting closer to 2005. I had a divorce, the marriage went left, and there was a time where I was lost. You get to that point within this business, where you get a lot of self-doubt and get hard on yourself. That's common for young actors. When athletes get in, like when they go pro they're told about certain things. They're told what direction to take, and what to do. With actors it's a bit different, in the sense that we're all paid to be there, but there's all kind of things that come at us very, very fast and there's no one to tell you what's coming. At all. Especially because you have to have a good sense of self, and a lot of kid actors — this was the thing with me as well — would get lost when you become the character instead of yourself. And also, it's tough knowing you can't trust everybody. You get to a point where you wonder, "Does this person truly like me for me, or are they just around because of who I am in the public eye?"
"I felt suddenly lost and also I felt like I had to figure everything out on my own. For me, that was my faith."
I imagine that's harder because you're growing up in the spotlight, and learning how to be an adult.
Yes, you're in transition and dealing with so much, so spiritually, you definitely need to be on the right path and I got to a point where I was partying every night, doing crazy things, on and on, trying to just find a good sense of self and using substances to the point where I had to stop and find Kel. I felt suddenly lost and also I felt like I had to figure everything out on my own. For me, that was my faith. I've always grown up in the church, and of course I have always known Christ and known the Lord, but there's a difference between knowing the Lord and then actually having a relationship with Christ, where you make it a part of everything you do within your life: your career, everything you're involved in, family, everything. I've lost a lot of friends in Hollywood, that have either committed suicide or that have been killed because of gun violence and things of that nature. It can be a lot.
You have been using your platform to uplift people, though. I see that you give motivational speeches around the country and online.
It's just because you never know what people are going through at home or in their family, or whatever. You just don't know. When you're in the entertainment business, you have to make people aware that there is help out there if you're struggling. For me as someone who came through to the other side of my battles, I feel I have to share testimonies to help other actors and other people out, period. We need to reach out to the younger ones and let them know that it's going to be alright.
"I want to be one of those people in the business who tells you the truth; who tells you that you can make it."
What kind of wisdom do you hope to impart on younger actors finding their way?
In this business, you have producers or directors, and they'll tell you whatever, when you're hot, you're on, but they're not telling you that real. I'm not saying that's everybody. I want to be one of those people in the business who tells you the truth — who tells you that you can make it. It's important to have a good sense of yourself so you know you're not just the character you play. Get to know who you are, know that this is a job. I think that as teens they don't realize that... a kid actor, you don't realize it's a job. It's teamwork, it's not all about you. It's everyone working together. We need to spread more love so that people can find their right path. That's what I'm all about.
Since we're on the topic of mental health and people finding the right path for themselves, what do you think has changed since you were first in the spotlight?
Social media has definitely helped a lot because it's given people a chance to speak about how they really feel. So let's say something comes out in the newspaper or a magazine or a report, and it's not what you actually said but they spin it wrong, and it's like, "No, that's not what I did!" Back in the day, there really was not much you could do about it, unless you had a fax machine or something. But now, you can really grab your phone and really say how you feel and express yourself. You can help anyone now with your words online. That's why I do motivational speeches online. People will comment on Instagram, YouTube, or wherever, and say, "Man, that helped me with my life. I was dealing with something like that." It's being a part of the change you want to see. We can do that more now than ever.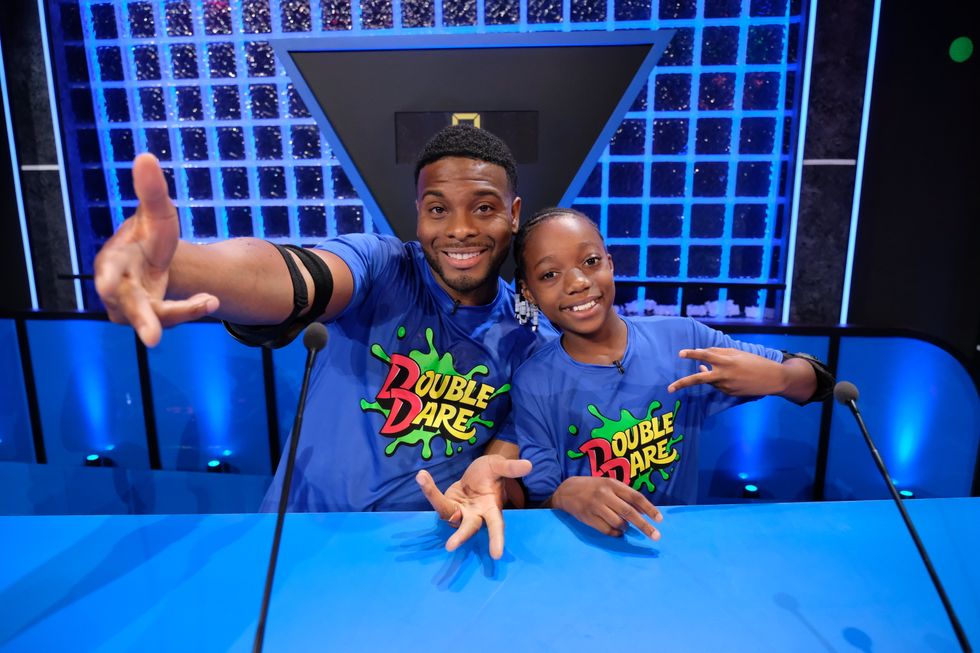 Mitchell on Nickelodeon's "Double Dare"
You're best known for your comedic roles, but is there a dream role that you'd love to play?
You're going to see a lot more of me. Like you see my motivational videos, but also I'm a workout freak. I love to work out and make exercise videos. So you'll definitely see more action stuff from me and dramatic roles from me. I have a production company as well. I'm on a new show that's coming out soon that will be on CBS.
OK, and I'm sure you get this all the time, but what does Kel Mitchell think of orange soda?
Even if I'm at a restaurant with my wife, and I don't get orange soda, the waiters look all sad, but we get a kick out of it. Back in the day, I really liked orange soda. It wasn't a problem drinking it. I don't know if I liked it as much as Kel Kimble [Kenan & Kel character] did. What's funny is I'm actually coming out with my own orange soda, so I'm super excited about that. When I'm at all of these stand up or speaking events, every time I'm there, people walk in with all these different soda companies, and they're like, "Kel sign this, sign this!" And I'm like, that's it, I've got to have my own. But mine, it's got electrolytes and it's healthy, I want kids to be healthy and not full of fructose and fake sugar.
Looking back, is there anything that you would do differently if you could?
I feel like you learn from every experience, and it makes you the person you are today. There are moments where you could dwell on the same thing and ask yourself "Well, why did this happen? Why did that happen?" but you've got to let go. Let go, just have fun and enjoy it. So I would say, no, there's nothing I would have done differently, but if I could do go back I'd probably enjoyed the ride more rather than stressing.
Photography: John Johnson for Nickelodeon