When asked what nightlife means to him, well-known London-based drag queen and queer club fixture Jodie Harsh responds, "I'd happily die on the dance floor. In fact, I probably will." Of course, dance floors are always where drag queens shine. Nightlife, particularly for members of the LGBTQ community, has always been a space where individuals can feel uninhibited and free to be themselves. Ergo, drag queens, with their larger-than-life costumes and blatant flippancy when it comes to adhering to gender norms, are the exemplars of this freedom, and they have grown to be the glue that holds many popular queer nightlife spaces together.
But Jodie Harsh isn't your average drag queen. The Canterbury-born starlet isn't satisfied with simply being a piece of art to ogle and is adamant about RuPaul's Drag Race not being his "story" (though he does love the show). So in addition to traditional drag performance, Harsh has also taken to promoting his own parties—one party, Room Service, has since expanded past London and gone global, while Dollar Baby, the drag artist's most recent, just participated in Vienna's legendary Life Ball. Harsh can often can be found in the DJ booth, spinning mixes that he creates himself, some official releases include acts as varied as Beyoncé, Justin Timberlake, and Madonna. And if that's not enough, there's also the fact that Harsh is an accomplished songwriter, having worked alongside super-producer SOPHIE and L.A.-based songwriter Jesse Saint John to create Charli XCX's 2016 hit "Secret (Shh)."
Considering his entrance into the drag scene, it's no surprise that Harsh's career has not mirrored that of some of her peers. Unlike most who operate in the same field, Harsh admits that he fell into drag by accident. Claiming that he was "never the boy trying on his mother's heels" as a child, Harsh explains that drag was something he dabbled in, at first, because of its perks: free club admission, endless attention, and tons of hot guys. But a lot can change over time. Since the early 2000s, when he put on his first drag look at age 18, Harsh has grown to really respect his artistry and is now one of the most dedicated queens in the business. It's been over a decade of working for Harsh, and he's proud to admit that he hasn't "gone more than a week without being up in in pumps."
With Pride Month, of course, came plenty of partying—much of it happening in spaces very similar to the ones Jodie Harsh works to cultivate for his queer community. As we tried to capture some of that unapologetic energy for ourselves, PAPER Magazine talked to the drag icon about organizing parties in London, producing songs for Charli XCX, appearing in the Absolutely Fabulous movie, and why Lady Gaga is "Santa Claus in a gay Christmas grotto."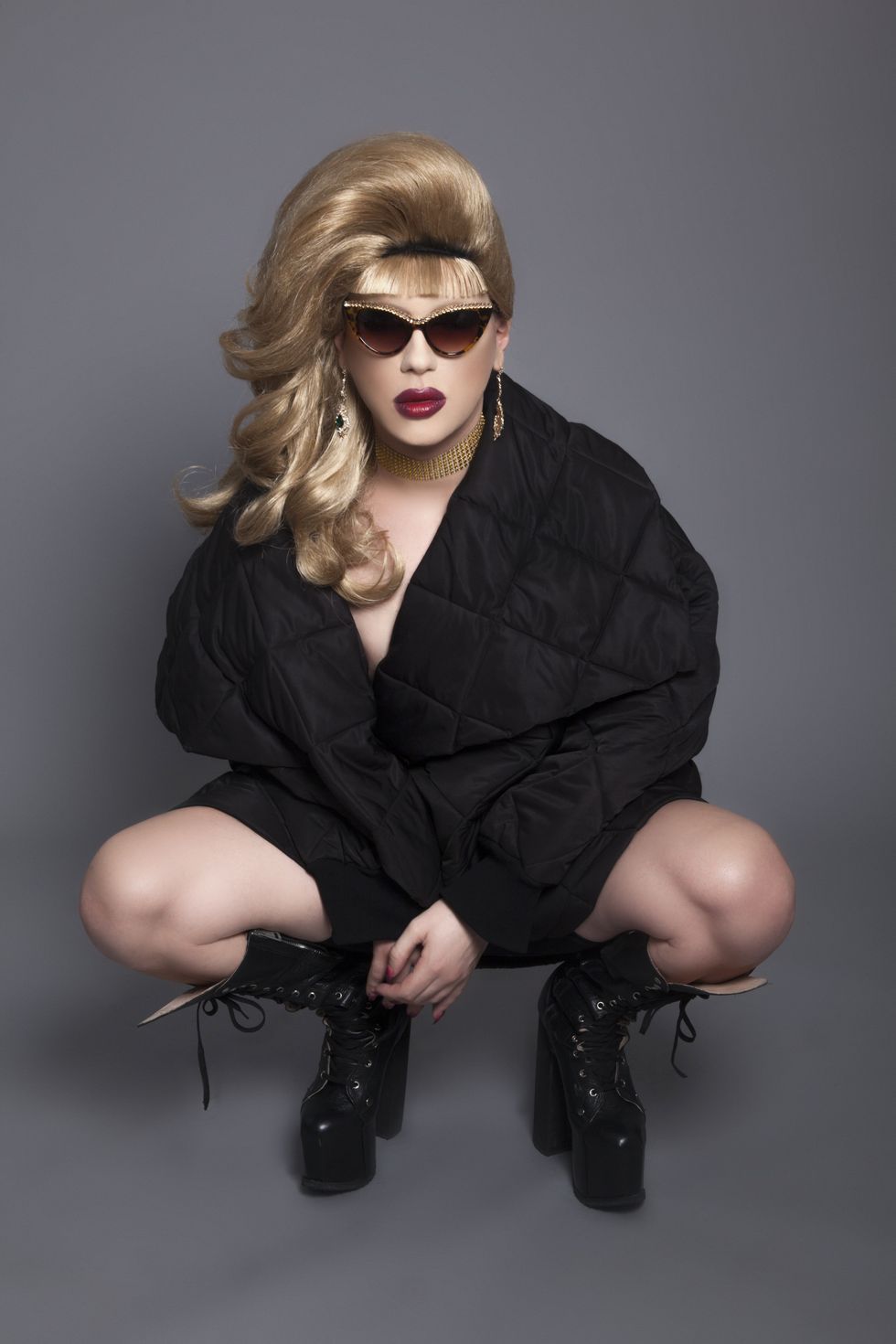 Jacket - Duskline; Necklace - Callum Vincent; Glasses - Crystal Cult; Boots - Natacha Marro for Charles Anastase
How did you first get involved with drag?
Totally by accident—I was never the boy trying on his mother's heels. Some friends of mine were working as drag queens in clubs around London while I was at college and I just thought they were the coolest people I'd ever met. They got into clubs for free, received so much attention and took the hottest guys home. 18-year-old me had to give it a go. It was never my intention to continue drag once I'd tried it—I just forgot to stop. I don't think I've gone more than a week without being up in pumps over the past decade or so. It's like an addiction as well as a job. I need to do it, need to fuck shit up, and feel that punk rock spirit. Ain't nothing more punk than a man in a dress.
In terms of your hair and makeup, you also embrace a pretty consistent drag look. Is this a conscious decision?
Absolutely. I like to be pretty formulaic when it comes to hair and makeup. I worked out what suits my face shape pretty early on and then kept rolling with it. It's funny how my hairstyle frames my face. If I have hair on both sides or ditch the bangs it looks NOTHING like me. I get read a little on social media a bit from kids who don't get why I look the same all the time — a semi-shady 'change your wig girl' happens at least once a day. I guess their reference point is [RuPaul's] Drag Race, where challenges are won whilst looking different, by changing it up.
My reference points were always directed towards pop and fashion icons and I worked out that all my favorites had a few visual components that always remained the same: Anna Wintour's bob and glasses, Karl Lagerfeld's ponytail and suits, Boy George's hat, Andy Warhol's wig and biker jacket. I guess solid branding is something I've always subconsciously strived towards because I'm not in a competition—I'm running in my own race. I am one of the biggest RuPaul's Drag Race fans you'll find, but it's not my story. I don't have to look different all the time. Amy Winehouse once told me someone's got to be able to draw you in five seconds in order to become iconic, and she was right—you can sketch the outline of her beehive and her thick black eyeliner flicks and it's instantly her.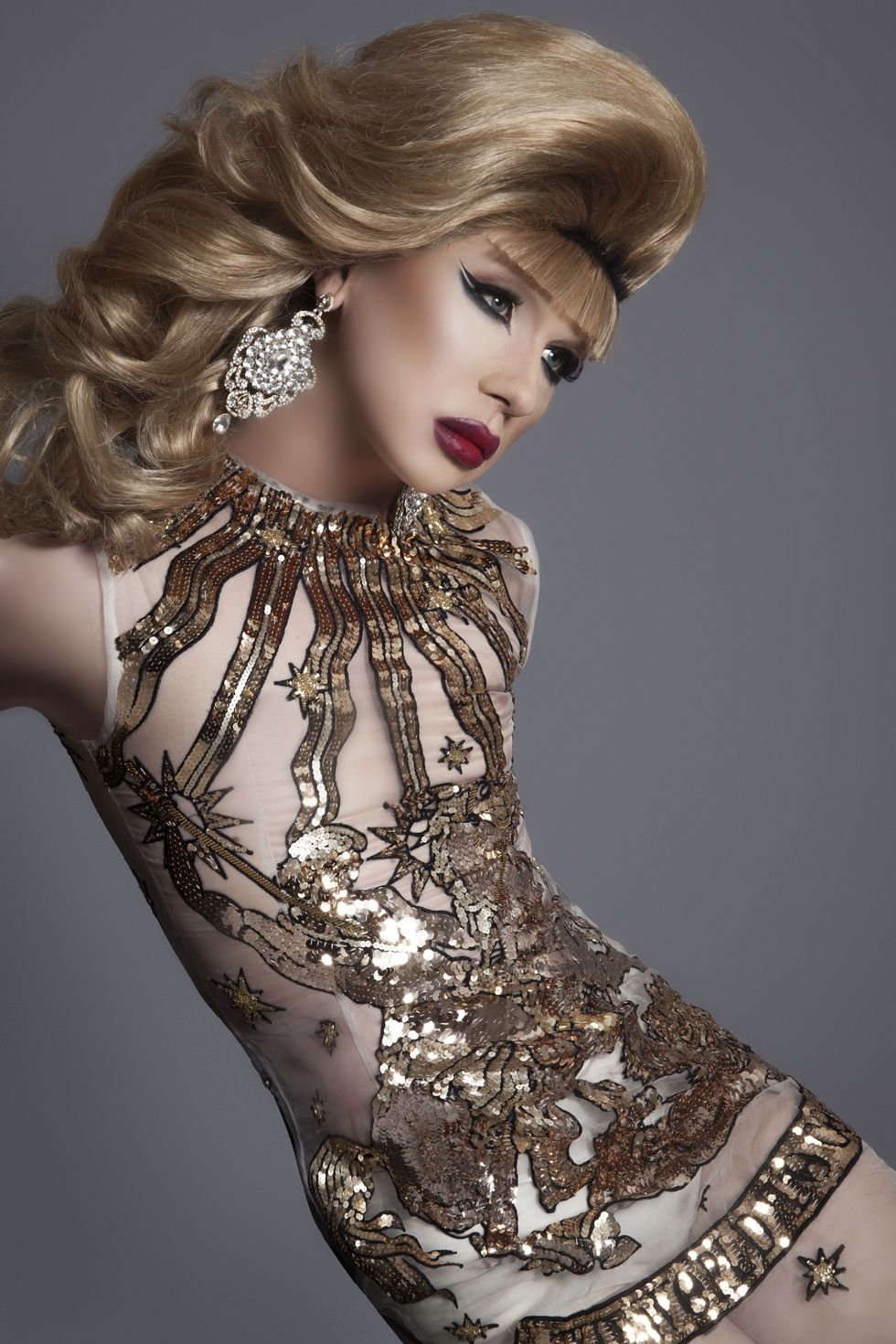 Dress - KTZ; Earrings - Butler & Wilson
You are behind the wildly popular club series Room Service, which has since expanded past London and gone global. What does it feel like to have something you created become a global phenomenon?
Room Service started off six years ago as this little party in Soho, a part of London that wasn't that cool any more [because] the gays had started moving east by then. I just thought it was time for a good ol' fashioned gay knees-up — hotties and house music. I guess it became famous in its own little niche way, and we took it around the world. I decided to shut it down in London recently. I felt it had its day in this city, and I'm not a fan of constant reinvention in the club world — you may as well just start something new. I know when it's time to move something on; a lot of people in the club scene don't. It's traveling around the world still, the brand has kept alive quite well. Business is healthy, really.
Was the desire to start "something new" the push you needed to start Dollar Baby?
That's the newest thing. I'm obsessed with pop music as much as I am with house, and there's nowhere in London to hear pop that's also a cool night out. There are a bunch of really cheesy bars and clubs with that ultra commercial edge of course, but I couldn't think of where I'd go to hear Cupcakke, Charli XCX, Grimes, Brooke Candy…as well as Katy Perry and Rihanna. I run the party with my best friend so it's more of a joint effort. [There are] lots more laughs and the workload is distributed evenly, which takes some of the sweat off. The name Dollar Baby just felt so frivolous and fun — she's sexy and surface and just wants to have a good time. You can be smart and protest and shout and learn and work during the week, but on Friday night you just want to be Dollar Baby for a few hours, haha.
The opening night of Dollar Baby had a surprise guest: Lady Gaga, who debuted her Joanne lead single "Perfect Illusion." How did that happen?
That was wild. Gaga was in town to launch her new song on radio and do some secret shows, and on the Friday afternoon [of the opening] I got an email from Mark Ronson asking me to announce Gaga on stage and look after her once she'd played a few songs. I was like, let me check my diary, YES. She played the show at the Moth Club, this really dingy dive bar in the middle of east London, and then we headed over to Dollar Baby to carry on the party. The club is a proper working strip club through the week then switches up for my party on Fridays, and Gaga took advantage of those poles. I've been friends with her management for ages. She really does have a great crew of people around her and she's a really loving person — you can feel the warmth around her. She cares about everyone, gives every single person time. All these club kids were hanging around the area we set out for her, trying to peer over her security's shoulders to catch a glimpse, and she invited them all in one-by-one to hang out and have a little chat. It was like Santa Claus in a gay Christmas grotto.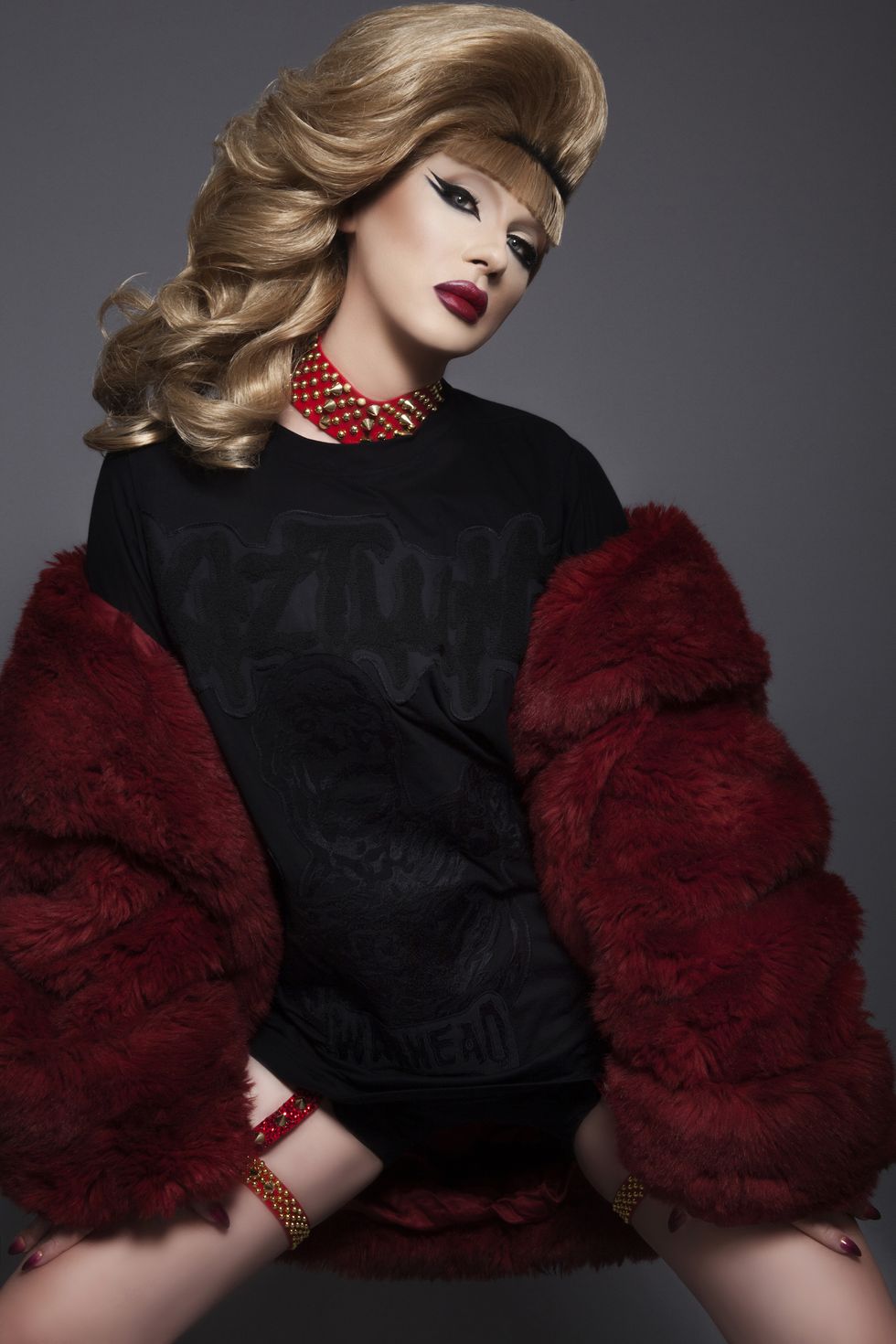 T-Shirt - KTZ; Harness - Bang London; Faux Fur - Vintage Katherine Hamnett
What does a party run by you look like? Who's coming? What's the atmosphere? What's the music?
The perfect party is one massive mix of people. I'm really not into [having] too much of one thing and not enough of the rest. You've gotta have all different flavors to get my pussy really poppin'. I like a full fantasy, not a sea of the same. We've got the high culture and your friends in low places: the models and the aristos, the gym boys and the queens, the club kids and pop stars. All those ingredients bake the perfect cake and the party is the hot oven.
I think a community spirit is a very important mood to encourage and nourish, [as is] a free space to express oneself and let out your inner freak, in whatever way that is. Parties are a breeding ground for creativity and ideas — it's always been important to set-up a space to mix and mingle, a place where the fashion and music creatives are hanging out with the cool kids, making connections and being mutually inspired. And the soundtrack is so important — I work with the best DJs in their genres. The music sets the tone and the people tell the story.
Clearly nightlife plays a huge role in your everyday life. What does the nightclub (as a space) mean to you — particularly in terms of embracing your queer identity? What was it about these spaces that initially inspired you to start your own club nights?
It means everything to me. As a human, I need that space to hear new music and familiar sounds, see old friends and make new ones, feel the tribal aspect of coming together. I want the sexual electricity, the freedom to express through clothing. Sex is a big part of clubbing — we want to desire and be desired and we act that out on the dance floor. And, most importantly right now, as a queer person, clubs offer a space in which to escape the hell we're going through socially and politically. There's something very special about a party going off — that energy really keeps me alive, probably quite literally. I can't imagine ever leaving nightclubs, no matter how old I am. I'd happily die on the dance floor. In fact, I probably will.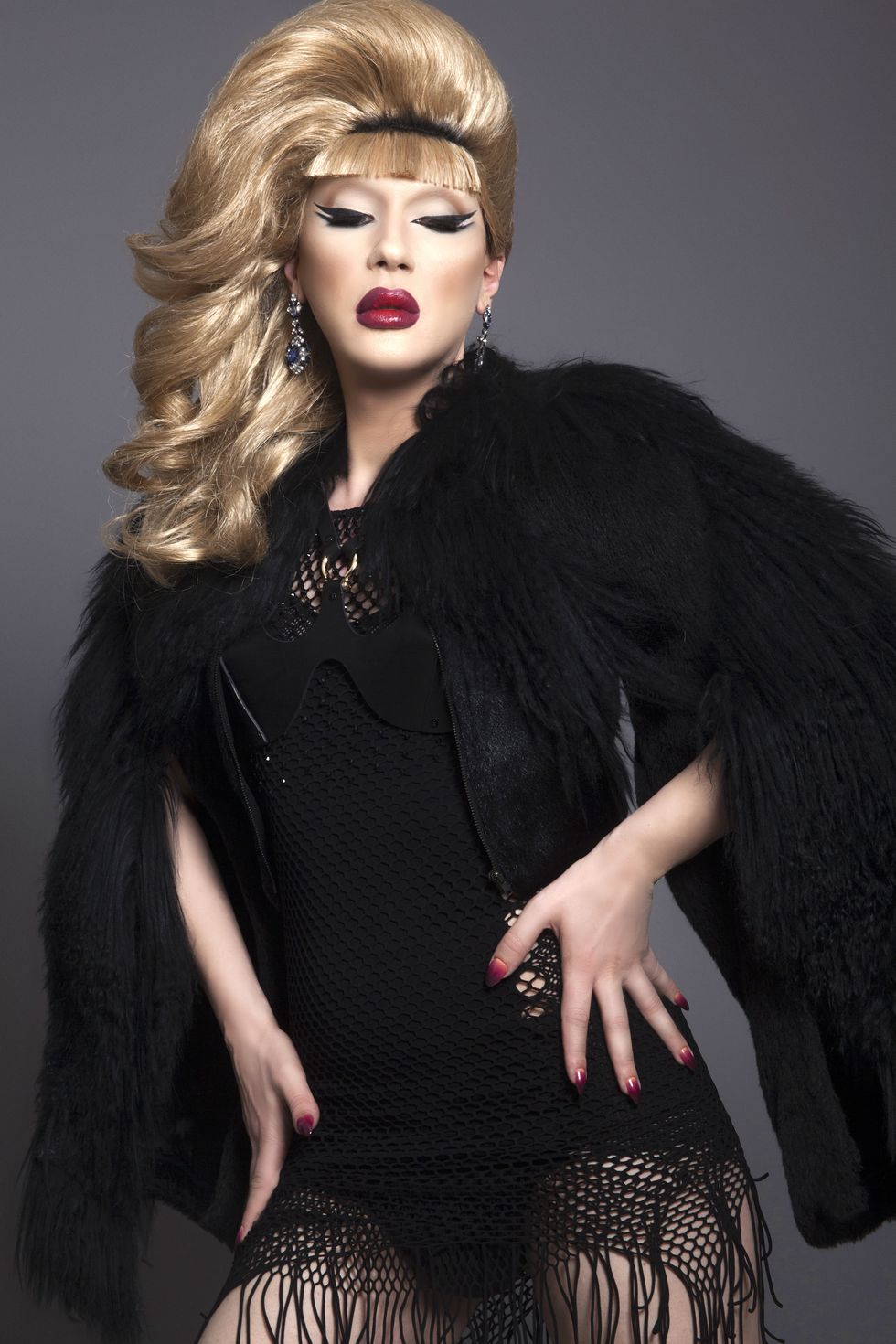 Dress - Mark Fast; Bralet - E.L.F Zhou London; Jacket - Sorapol; Earring - Butler & Wilson
What are your thoughts on the current state of queer nightlife in London? Across the country, many similar clubs are shutting down left and right. Do you see London as being different or somehow more resilient?
So many gay venues have shut in London, almost half of the exclusively queer spaces. Everyone's always in an uproar and setting up Facebook groups when a club shuts — but were they drinking there and supporting the venue whilst it was open? Of course not. If you want a place to stay open, spend your money there while you still can. For example, six months ago this little drag bar called Molly Moggs shut in Soho, and everyone was up in arms. 'SAVE MOLLY MOGGS,' they cried. And you know what? It got saved; it's reopened. And I haven't heard of a single person going there on a night out. I walked past it last week [and it was] completely empty.
Nightlife has never been stronger, in my opinion — there's something amazing to do every night of the week. There are "gay nights" (of all descriptions) in typically straight venues; I haven't thrown a party in a gay bar for years. There's something of a 'fuck you' in that. We're taking over your venues. Our communities are strong, we can move them around, we don't need fixed routes. Even the gay areas of London have moved around zip codes as much as twice in a decade. Have Uber account, will travel.
What would be your advice for how to keep these club spaces lively and profitable?
Spend money there. Be a patron. Unfortunately this is an economics topic. Support them with a night out, not just a Facebook post when they threaten to close forever, because that's too late.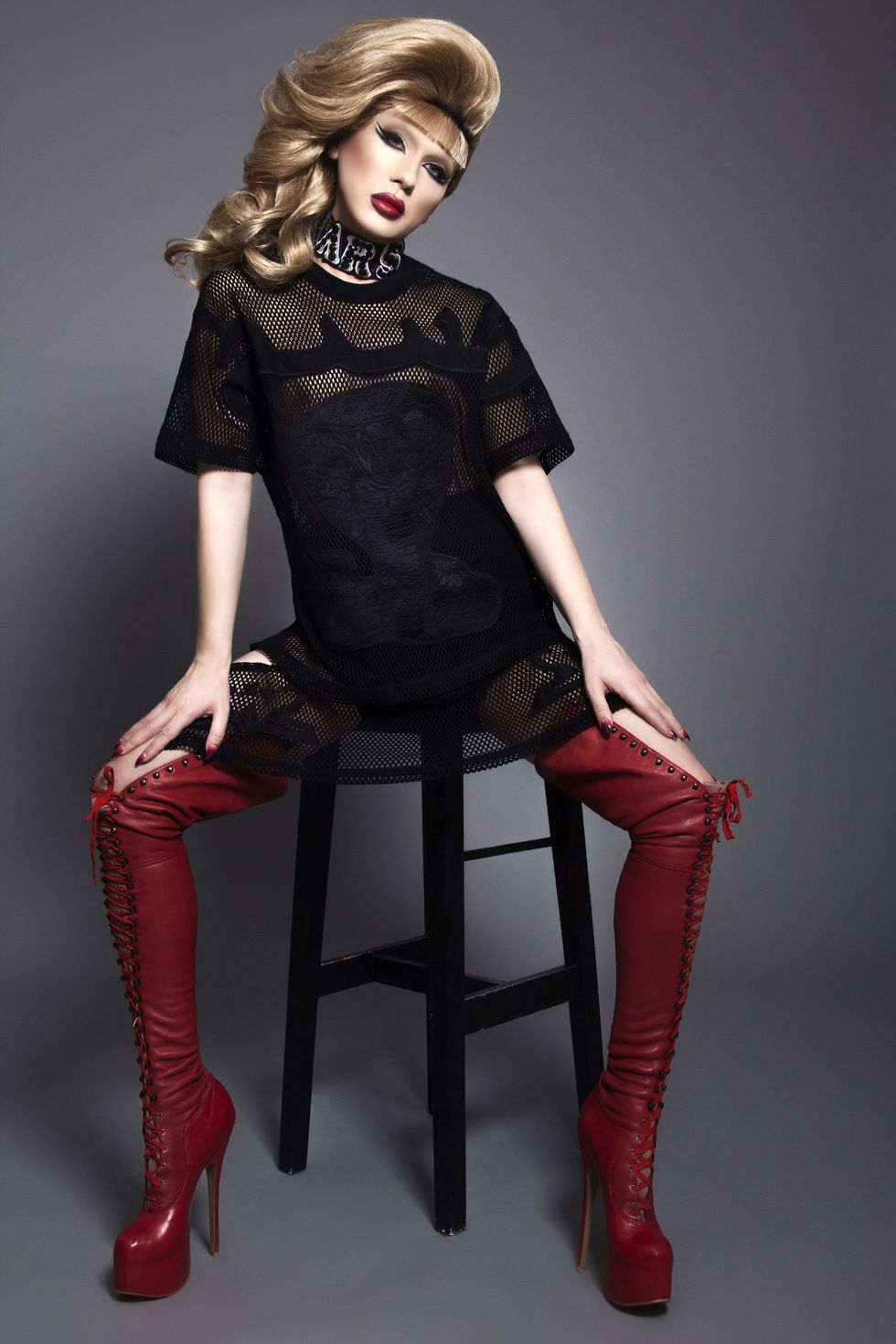 T-Shirt - KTZ; Boots - Natacha Marro; Necklace - Callum Vincent
You also double as a professional DJ — often at your own parties. How did you start doing that?

Like drag, I literally started DJing by mistake. At one of my earlier club nights, I had the smallest budget to play with. I set aside money to pay for dancers or something rather than a warm-up DJ and decided to learn how to mix so that I could play the first set. I'd always loved music and was up for the challenge. DJing kind of became my main job, and it's taken me all over the world. I love it — there is no greater feeling than playing music to people and absorbing that joy and sharing that beat, that moment.
And what about your production work outside of the club? You've done official remixes for artists like Beyoncé, Madonna, and Justin Timberlake. You've also co-written and co-produced for huge artists like Charli XCX.
Writing and production is something I started working on about six years ago, quietly honing that skill in the background. It's a really tough industry to break into; it's so cliquey and, of course, so many people want to do it. But I think I'm making some good stuff, writing some good songs. I absolutely see this as the end-goal — this is the rest of my life. I will always throw parties and always DJ, but writing songs and making beats and producing artists is definitely how I see the rest of my life focused on. I think all of those aspects pull together to make one package really: the clubs inform the music I'm making; the kids I hang out with definitely inform how I write, and I test out instrumental versions of new tracks when I DJ to gauge a reaction and work out whether it's finished or something I have to revisit. It's all one thing.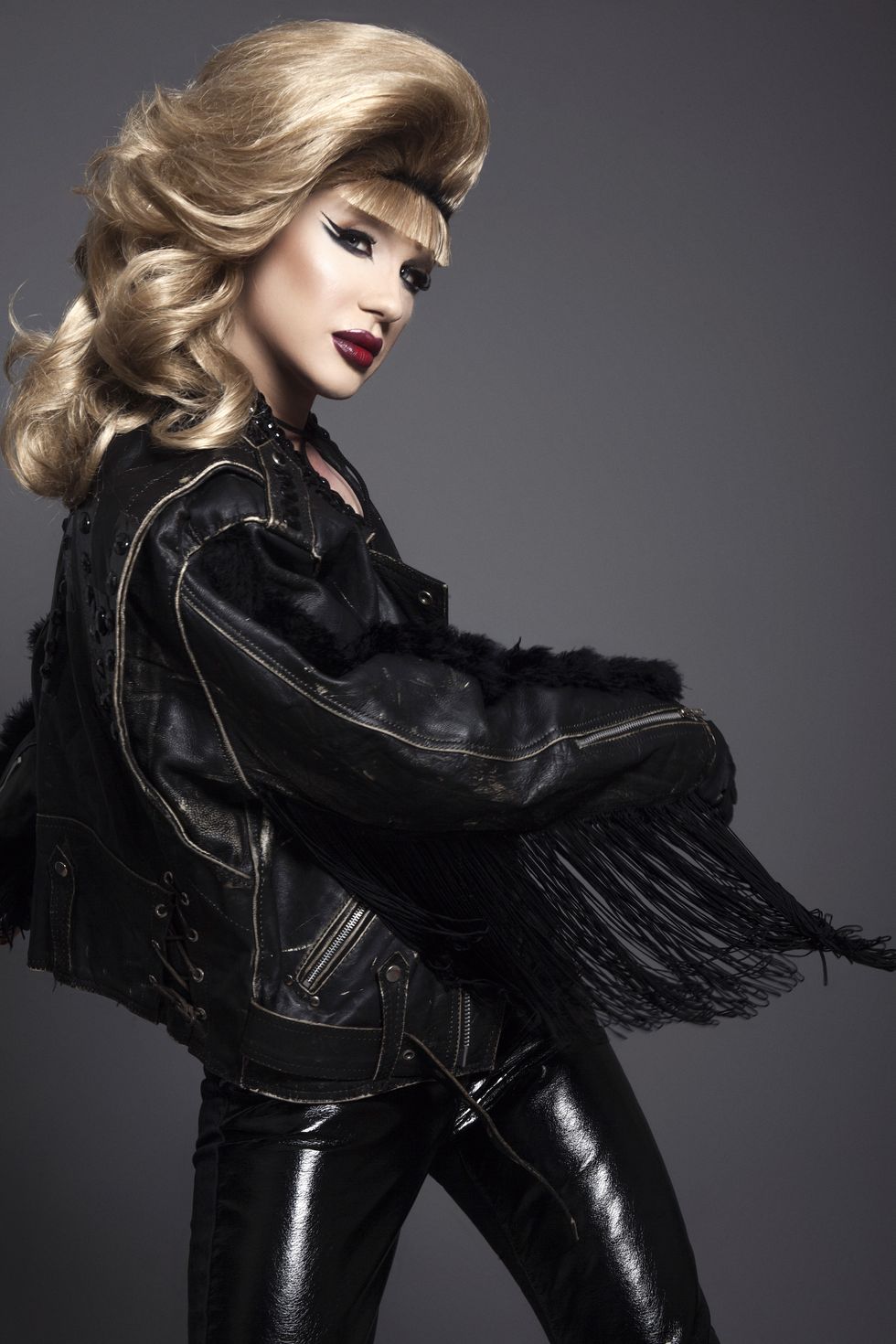 Jacket - Callum Vincent; Trousers - Diesel
How was it working with SOPHIE?
I've collaborated with SOPHIE on a few songs now but only one thing has come out so far. We did this track for Charli [XCX] called "Secret" which we co-wrote with my friend Jesse Saint John, who's just a wizard with lyrics and melody — oh my god. SOPHIE is the coolest. They make the most insane synths and sound effects, and they're all laid out on these controllers in a studio in the Hollywood Hills. We clicked really quickly — we're both English and obsessed with drag and club culture. I took SOPHIE to RuPaul's Drag Con; one of my favorite people, for sure.
Do you look to music as a place for liberation?
It's a place for fantasy, reality, truth-telling and escape, learning and forgetting. I'm down for all of that.
Finally, I have to ask: What was it like to have a cameo in the Absolutely Fabulous movie?

Holy fuck, that was mega. I think I know every line of Ab Fab ever — I can literally watch episodes and speak along with the characters. When I got the call asking to be in it I almost threw up. There were fifty cameos in the film — half my bloody friends are in it — but I got a little line which freaked me out even more. Spending that day on set was just incredible, seeing how it's put together. I was wearing the most uncomfortable shoes though — that seems to be a lasting memory. It was like walking on glass, and you can't even see my feet in the final cut. Jennifer Saunders [Edina, the lead character on Absolutely Fabulous] is the most down-to-earth person. I told her how much the show had inspired me and she literally couldn't see why. She has no idea what she's created and how much people love Ab Fab. I was dorky and quoted some line from season one or something and she looked taken aback. She was like, "How do you even know that episode?" I was like, "BITCH! I'VE SEEN IT TWO HUNDRED TIMES, I WATCHED IT LAST NIGHT." Definitely the ultimate fan-girl moment for me.
Shoot credits
Photography - Danny Baldwin
Stylist - Callum Vincent
Makeup - Dani St. James
Hair - Shiori Takahashi
Sign Up For The Morning PAPER
Music
by Kenna McCafferty