Acclaimed mezzo soprano J'Nai Bridges almost didn't make it to the Metropolitan Opera. In high school, she was captain of the varsity basketball team with her sights set on going pro. And though Bridges grew up singing in her church choir, it wasn't until she was forced to choose between the sport she knew and the art she loved that she began taking her passion seriously.
"My coach benched me during a big game," Bridges says. "He found out I'd been taking singing lessons and thought it was distracting me from basketball."
Now over a decade later, Bridges graced the stage in her Met Opera debut as Queen Nefertiti in famed conductor Philp Glass' Akhnaten. Nefertiti was a religious revolutionary figure and wife of Egyptian pharaoh Akhnaten, reigning during what's said to be Ancient Egypt's wealthiest period, the mid-1300s BC. It's a part offering plenty of rich history and context for Bridges to sink her teeth into and one that heralds an even brighter future for the fast-rising star.
Additionally with her Met debut, the self-described "opera athlete" walks the trails first blazed by great Black women opera stars such as Leontyne Price, who stormed the storied stage in 1966 as Cleopatra when the show first opened in New York's Lincoln Center; and before Price, Marian Anderson, who became the Met's first Black soloist in 1955 performing as Ulrica in Giuseppe Verdi's Un Ballo in Maschera.
For Bridges, the road to big stages was fraught with its own unique set of challenges. Though she was raised with a healthy amount of self-esteem centered on her Blackness by socially conscious parents, Bridges stood out as one of just a few Black girls growing up in Washington state. And of course, being a member of church choir, playing basketball and having an affinity for classical music meant she also had opposing interests from many of her classmates.
Come senior year, when confronted with two conflicting events –– leading her team to finals victory and important rehearsals for the opera Tosca –– Bridges walked away from the court to pursue the stage, her first love.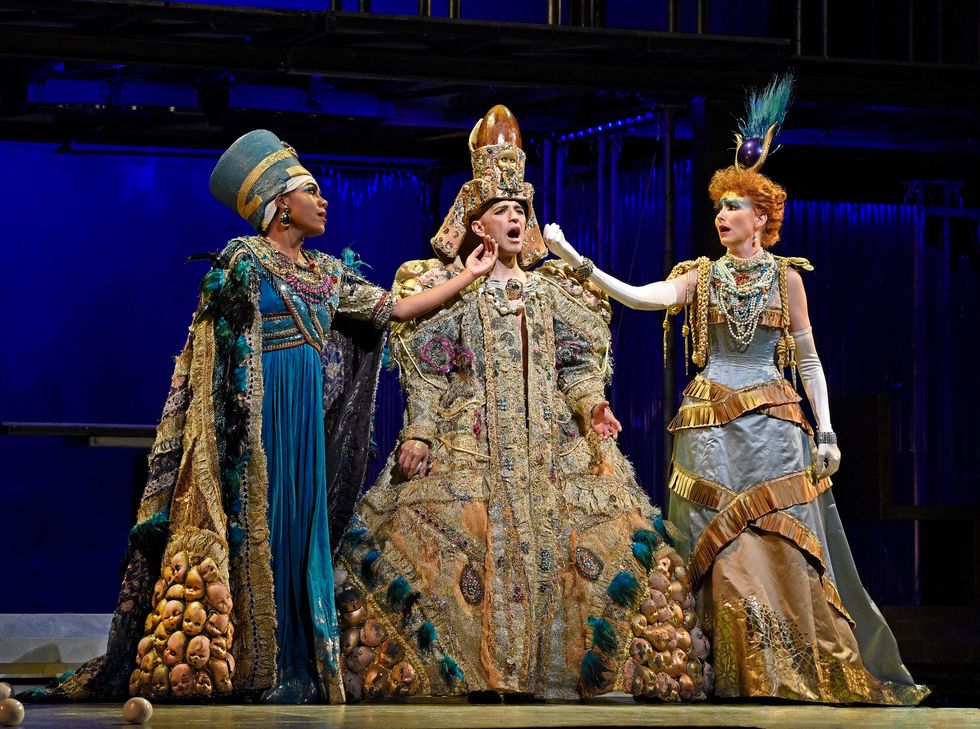 Bridges felt she let her team down, but ultimately knew she had to stay true to herself: "And I think it was also a combination of pride and dignity where I was like, 'I'm not going to go to state championships and sit on a bench. I'm just not,'" Bridges says. "As a captain, as a queen."
This renewed focus led to acceptance in New York's Manhattan School of Music, where Bridges says she worked hard to prove herself, taking additional voice lessons at Carnegie Hall between classes. This competitive spirit served her, as she then went on to Curtis Institute of Music, a Pennsylvania private school with a 5 percent acceptance rate (Harvard accepts just 6 percent of all applicants). From there, Bridges' voice, described as "rich, dark and exciting," and "plush-voiced" by outlets ranging from Opera News to The New York Times, has taken her around the world. So far, she's performed the coveted title role of Carmen at the Dutch National Opera, the lead of Dalila at Washington National Opera's Samson et Dalila and more.
So seeing Bridges on stage as Nefertiti, preternaturally prideful, full of conviction, yet vulnerable is its own revelation. (Turns out, the role is a mirror of Bridges' own persona: poised and open.)
But watching her play off the ensemble cast, clad in flowing robes and stunning headpieces, moving and singing as if swimming through rivers of honey, is quite another. The production, staged by Phelim McDermott, is hypnotic and immersive. Intricate vocal and orchestral arrangements blend to create sounds of melancholy, triumph and high drama.
Bridges says performing onstage, with all elements woven together in seamless, yet dramatic fashion, isn't unlike playing on the court. "[Onstage] you still have to know when to pass the ball," she says.
In person, I learn how Bridges showcases a similar strength to the queen she played at the Met, where it comes from and how it is fueling her continual rise to stardom.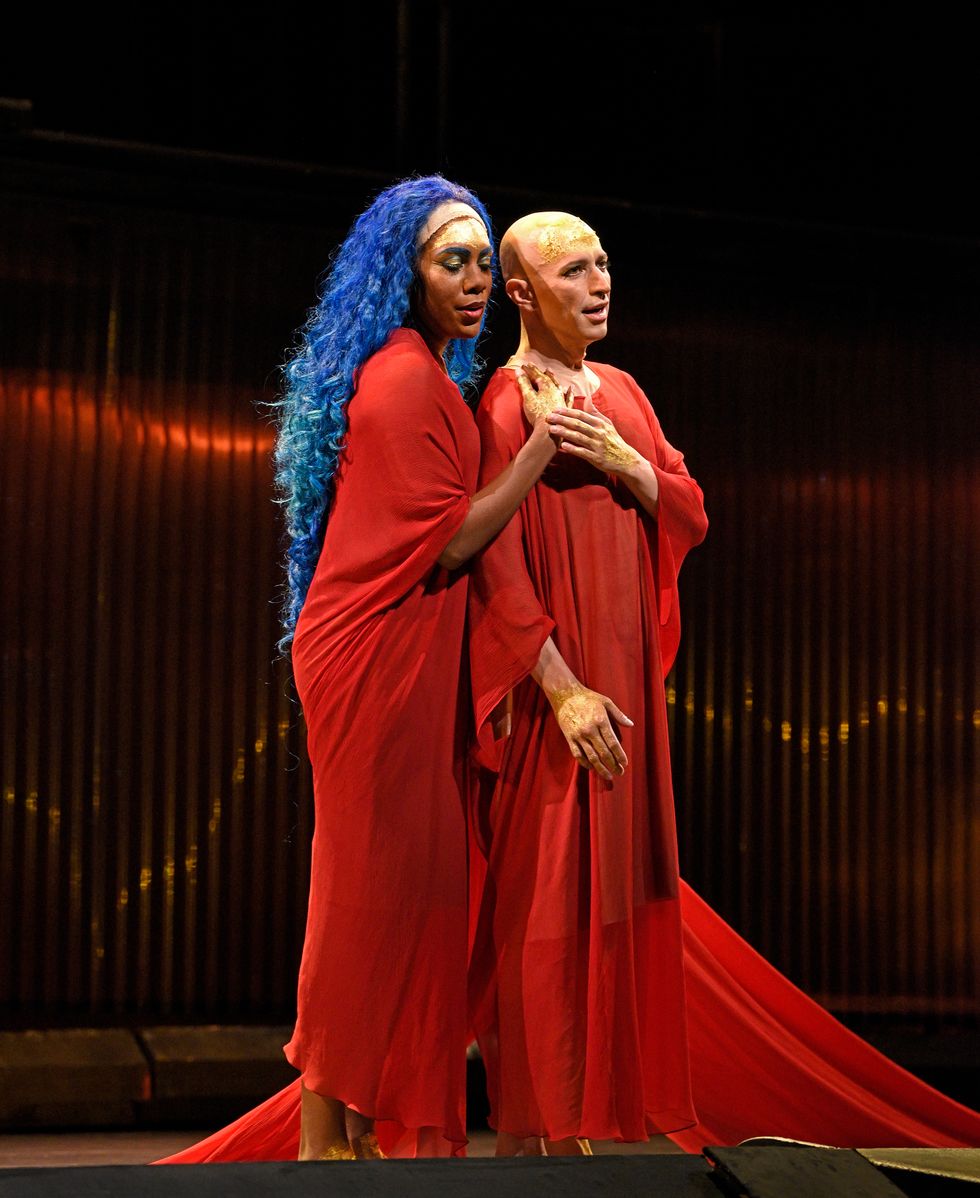 You project such a radiant confidence. If you had to trace it back, where does it come from?
J'nai Bridges: My mom was a Black Panther at one point in her life, and I think I had a very strong sense of self from an early age as a result. I grew up in Washington state and when I was younger, I went to a private school, where I was the only Black person. And I was like, I think I haven't seen a Black person for a long time, and then my younger brother came to the school. But I remember in middle school, I started to act differently. There are cultural differences that we as Black people have from those who aren't Black, and so I was not acting how I was raised to act. One day, my mom sat me in front of the mirror and was like, 'You are not a white girl,' which has its own issues as well. But that was just her doing what she thought was best. And she was like, 'Your skin is brown, your hair is not straight. I'm going to need you to look in the mirror.' And I remember that while in front of the mirror, we pointed out all of my features, and I learned to love what I saw. It was intense, but necessary because I didn't have any positive images of Black people to look at otherwise. So I got a lot of it at home and at church, then I joined a group called Sisters With Vision.
What was that group focused on?
Bridges: We were teenage girls who met maybe once a month and had mantras we'd share and we read Maya Angelou or Zora Neale Hurston. And we just told each other that we were beautiful and the traits that we liked about each other. It was super helpful. I was kind of annoyed at the time, but I'm so grateful now. Not only do I embody Nefertiti on stage, but I really... I feel her in everyday life. I honestly feel like royalty. And one of the best parts? I get to give this feeling to other young girls starting out as singers when I travel. I give speeches at schools and teach girls how to find their own sound. That's definitely been a huge blessing for me to give back.
What is about Nefertiti that you connect with most?
Bridges: Well, her strength. I mean her and Akhenaten, they did a very radical thing, which is introduce this idea of monotheism. And you can't be wishy-washy about that. You have to be strong in your approach. So, for me, not only was she visually stunning, this woman was strong and dignified, too. And from what I've gathered in my own research for the role, it was actually said that she reigned for a few years right after Akhenaten was killed and before King Tut assumed power.
"I've practiced going into all spaces saying to myself, 'I belong here. I don't owe anybody anything.' Like, for what? This is my existence and I'm equal."
Have you experienced people doubting you in your career?
Bridges: I'm in this whole new chapter in my life where I don't have time to not feel good. I'm the queen of me and all of my decisions, and that includes who and what I surround myself with and the choices that I make vocally. I don't have to accept that I'm thankful for this and stop pushing for better roles. And I don't need to accept every gig. I only accept the engagements that I really want to do. I can't say I've always been this way. I for sure haven't, but I've realized that our thoughts are so powerful. Even though I'm from Washington state and I grew up with white people, I've always felt a sense of belonging, luckily even when I felt aware of my difference from others. I don't know if it has to do with my upbringing. Maybe. But I've practiced going into all spaces saying to myself, 'I belong here. I don't owe anybody anything.' Like, for what? This is my existence and I'm equal.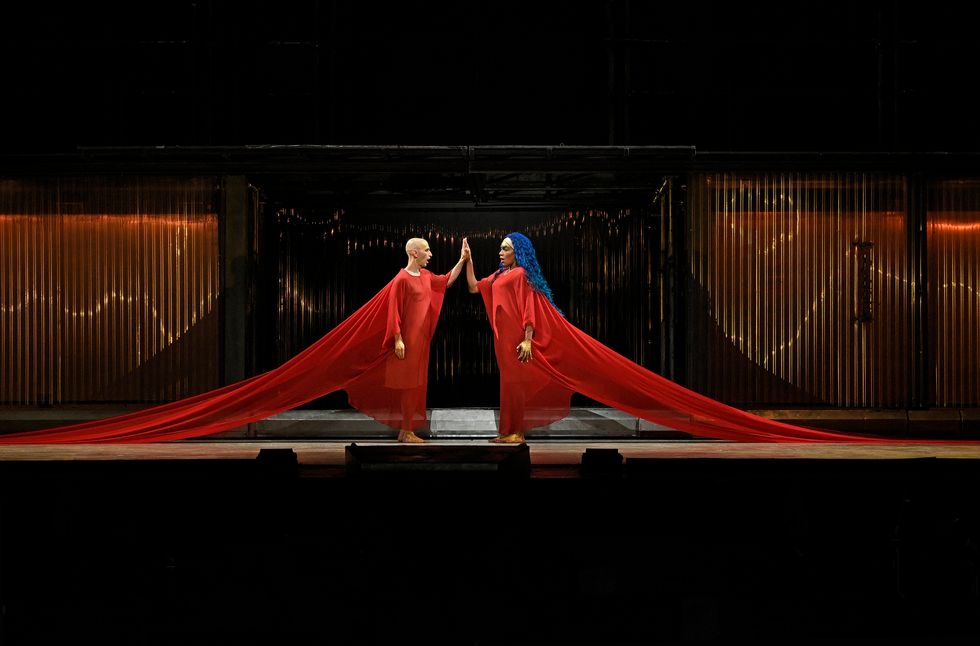 A big part of your story is that you were on track to play professional basketball, but quit to become an opera singer. How do you compare the two disciplines?
Bridges: A production can't happen without the orchestra, the stage crew, the background performers. And you'll even see that backstage — they're just at it all the time. The costume crew, the music staff, not just the orchestra, but the music staff, they come to my dressing room and they're like, "You're a little flat, can you adjust that note next time you sing it?" I'm so thankful for that! It really is so similar in that we all have to come together to form this final product, so that we can win the game. I feel like my sports background set me up for where I'm at today. And also just knowing how to collaborate with people, you have to be vulnerable. You can be not vulnerable, but it makes it so much more difficult and the audience feels that. If you're hogging the ball on the basketball court, people see that. I've learned how to pass the ball and treat opera as a team sport. You can't do it all alone. So I try to just share my gratitude for and with everybody because it's important.
It seems like you've had to sacrifice so much to be where you are now.
Bridges: Yes. Sleepless nights, long hours of practice, years and years of schooling. I wouldn't change it. A lot of people look at my career and journey, it actually kind of offends me, but I often get, "Ugh, you just have it so easy, like it's just lined up for you." And in a way, it has lined up. But, the work behind it was not easy. The opportunities lined up naturally because I put in work. But I didn't have to be ready. I chose to grind and sacrifice so much. I have a social life, but instead of going and partying and screaming my voice out, I was studying. So that's not easy to turn down. Really, it's like I turn down to turn up later. So the journey is so important. The channel to getting there, wherever you dream of going. And I'm still not done, at all. I'm just starting.
Photography: Karen Almond / Met Opera