It's too early to say what a "Jeremy O. Harris play" is. Though the 30-year-old playwright has made international headlines and served as a lightning rod for conversations around contemporary theater with his Broadway debut Slave Play, that production's run continues into 2020 and it's hard to know its impact just yet. Daddy — his work that starred Alan Cumming, Hari Nef, and Tommy Dorfman in its initial Off-Broadway run this year — will debut in the UK next April. Black Exhibition, his new experimental work at the Bushwick Starr directed by Machel Ross, is only his third major production.
Still, if one wanted to find commonalities in the playwright's work, laughter is certainly a hallmark. Laughter, and the absence of it.
For Friday's Black Exhibition performance, Harris staged a Queer Out, where he attempted to pack the venue with an all LGBTQ audience. And the queers were certainly there, alongside the likes of Fleabag's Phoebe Waller-Bridge. The event was inspired by a Black Out night that Harris had staged for Slave Play, where he brought some 800 Black folks to Broadway in a historic, triumphant first.
Audience is important here, because what they find funny effects how a Harris production moves. Set on Fire Island, Black Exhibition depicts a variety of queer-related tropes, from flesh-fueled bacchanals and the nirvana of a poppers high to the sometimes sober reality of rejection at the infamous Dick Dock. Given this context, an all queer viewing — or as close to it as possible, given that legally the theatre can't turn away people based on sexuality — seemed like a novel concept. But it didn't provide the feeling of commonality with fellow showgoers that I personally hoped for.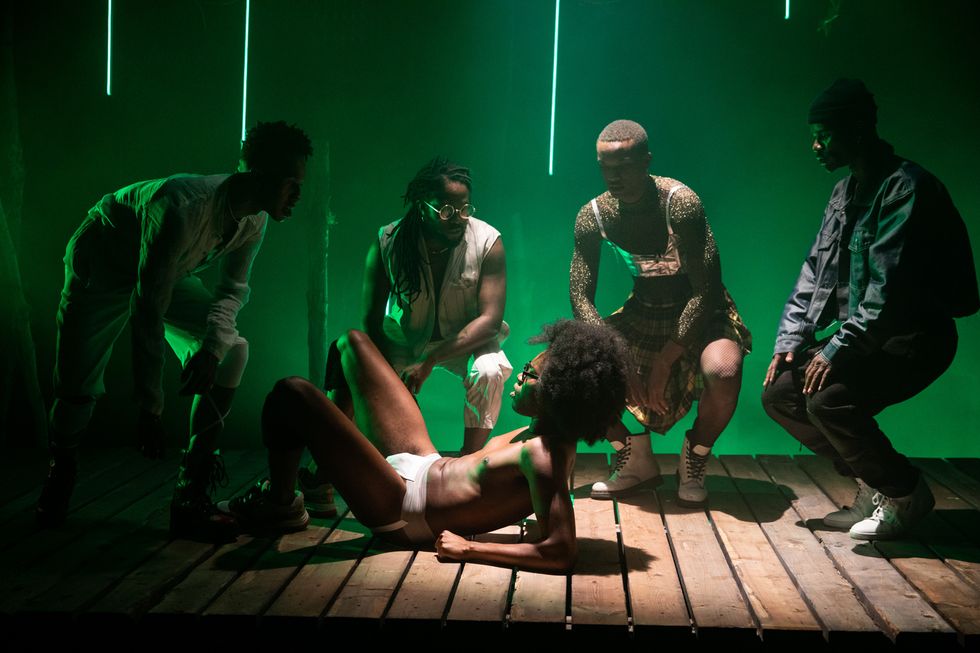 Queerness abounds in Black Exhibition. Harris, who wrote and put on the work under a pseudonym, stars as GaryXXFisher, a very recognizable breed of Twitter gay whose handle references the writer Gary Fisher, who died from complications related to AIDS and wrote Gary in Your Pocket. "I wanted to put less pressure on myself and less pressure on the piece so I could be more expressive," Harris tells PAPER of not initially attaching his name to the project. "My idea was that [word would travel] through a whisper network through the community, but that model is so hard for people to conceive or conceptualize."
An additional character, MandinGO, is inspired by Michael Johnson, the collegiate wrestler known as "Tiger Mandingo" who was convicted for transmitting HIV and sentenced to 30 years in 2015 — Johnson was released earlier this year.
"One of the reasons that Michael Johnson is a character is because he represents something that's frightening about the Black body and HIV," Harris explains. "The fact that his actual sexuality was criminalized is crazy to me and part of what stopped me from being sexual for so long." The play also references queer artists like Kathy Acker, Yukio Mishima, and Samuel Delany, employing them as the blueprints for various characters. Harris says he's working within their canon: "I wanted people to be able to say 'Oh, Jeremy isn't trying to be a provocateur, he's referencing [these other writers.]'"
History lessons aside, fleet water jokes sourced from Twitter distinctly ground Black Exhibition in this generation. "Oop, fleet water too hot, almost made chitlin," Harris quotes from an August 2013 post by the now suspended @Nerdonic account at the top of the play's first act. A text message conversation come to life about sex in hot tubs and STIs later cements the character as a Twitter gay. Both references brought almost universal laughter from the crowd, as did almost every mention of the words "bottom" or "bottoming," and much of the work's physical comedy — at one point, Harris mimics the act of bottoming in various positions while reciting an intense monologue.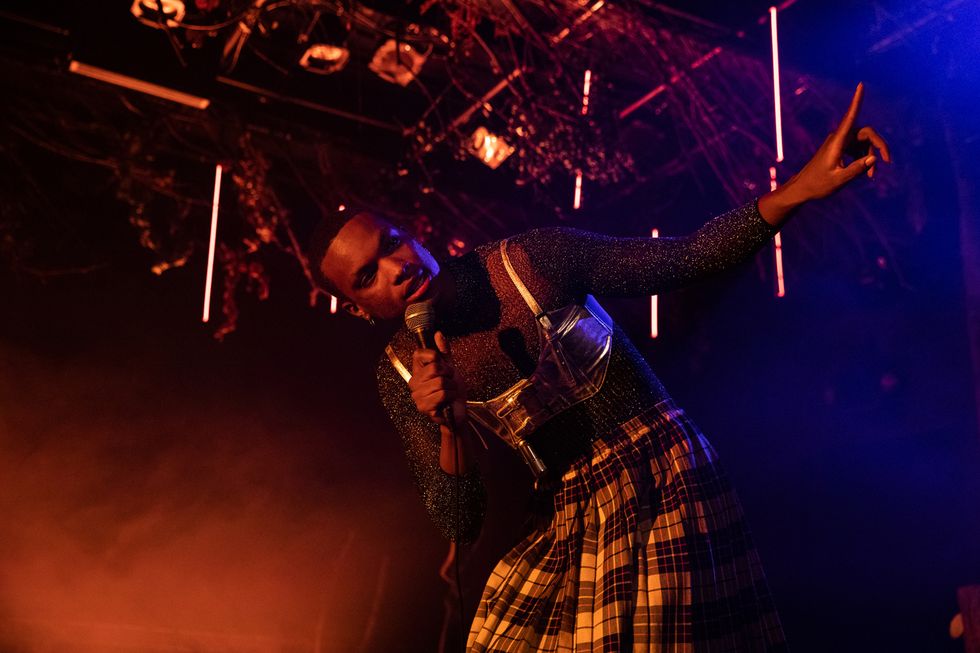 But while laughter is certainly welcome in any theater context, in Harris' hands it is a weapon. And there were some instances of subjective humor that were far more conflicting and distancing. Moments of personal reflection while listening to his words were interrupted by the jarring guffaws of neighbors responding to an errant reference or a compromising visual. Harris' plays have a way of buffeting the audience from all sides, with little break — there was no intermission in Black Exhibition or Slave Play. As a result, the viewer can go from laughter to disgust and even concern in the space of a minute as they watch what feels like an exorcism on stage. An exorcism dressed in a jockstrap set on the docks of Fire Island, discussing the finer points of relaxing a stubbornly tight hole.
With an all queer audience in the theater, I had hoped that laughter, and the other tools Harris deploys, would be used as more of a herding staff. I thought that the crowd would feel connected while watching this extremely queer work, created by a queer man, put on with a mostly queer production team. I had assumed it would feel like the tales I heard from Black Out night, where the crowd reacted in unison at the nuances of their collective identity, portrayed on stage. And while that happened in small, easy moments, it wasn't my main takeaway from the experience.
Black Exhibition is both an astounding and stupefying work, crammed into a single hour. It makes Harris the Black on exhibition, not just as he lies prostrate across the wooden slats of the Fire Island dock practically nude, but also because he dissects the techniques of his own writing style then employs them on stage. That said, the necessary nuances of the work feel reflective of specifically bodies like Harris', and not an overarching queer community. This is in no way a condemnation of the work, but more an explanation of why its Queer Out did not feel as unified as I had hoped it would. My reflection during monologues about race and body politics in cruising spaces as a gay Black man may not be understood or felt by the cis white lesbian sitting in front of me laughing loudly as the actor giving that monologue pretends to gag on a phantom dick.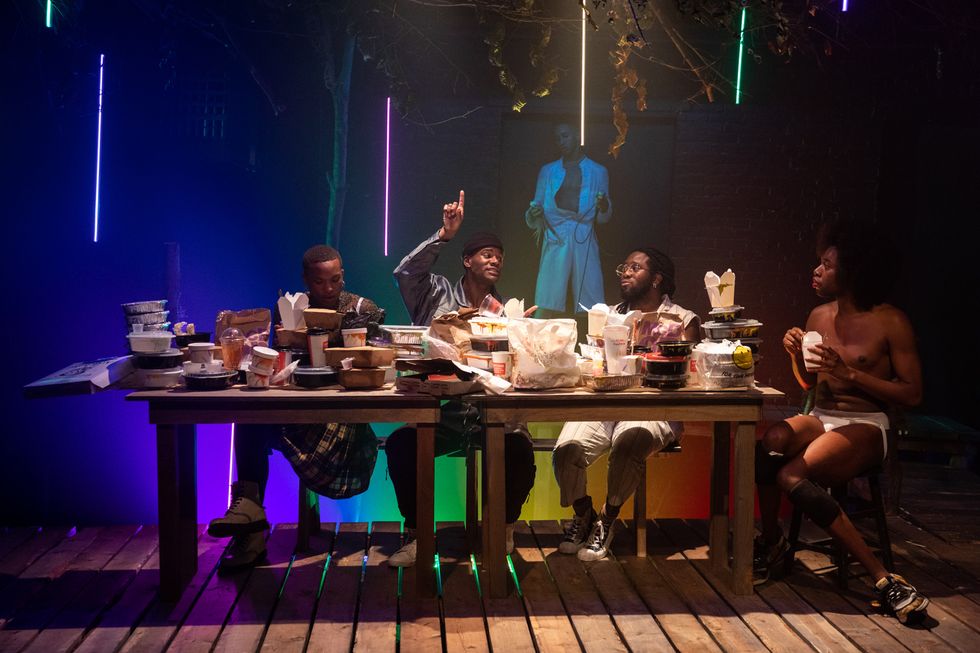 After the show, pockets of people lingered around the exit, but most pretty quickly dispersed. It didn't feel communal, but instead just a typical theater experience, that happened to deal quite intensely with issues and themes that related to my own identities. After my friends scurried off, I was left alone, having had no one to completely "process" the experience with, as the characters of Slave Play might explain it in therapy speak.
And that's fine; it doesn't make Black Exhibition any less potent. More a reminder that "queer" is not a homogenous term. A reminder that in laughter, when used well, can both unite groups, and mark individuals as the other.