Hollyweird, in collaboration with @velvetcoke, takes stock of once-known but obscure or forgotten stories about popular celebrities and cult figures.
Shots fired. Stacks of money thrown "like confetti." A celebrity couple charged with possession of a stolen gun. All the ingredients were there to create a compelling episode of Law & Order — and though it later became one, this perilous club brawl was real. Jennifer Lopez, the protagonist of this story, was handcuffed to a bench for 14 hours before her eventual release. Her boyfriend at the time, Sean "Puff Daddy" Combs, didn't get off so easy. How did what the New York Daily News described as J.Lo's "Night In Hell," transpire?
Lopez and Combs dated for two and a half years after Lopez's split with her ex-husband and restaurant employee Ojani Noa. Puffy and J.Lo were at a night called "Hot Chocolate" at Midtown's Club New York on December 28, 1999. DJ Goldfinger was on the decks. They were there to celebrate the release of rapper Shyne's soon-to-be released album, Combs' protege who was signed to the mogul's Bad Boy Entertainment.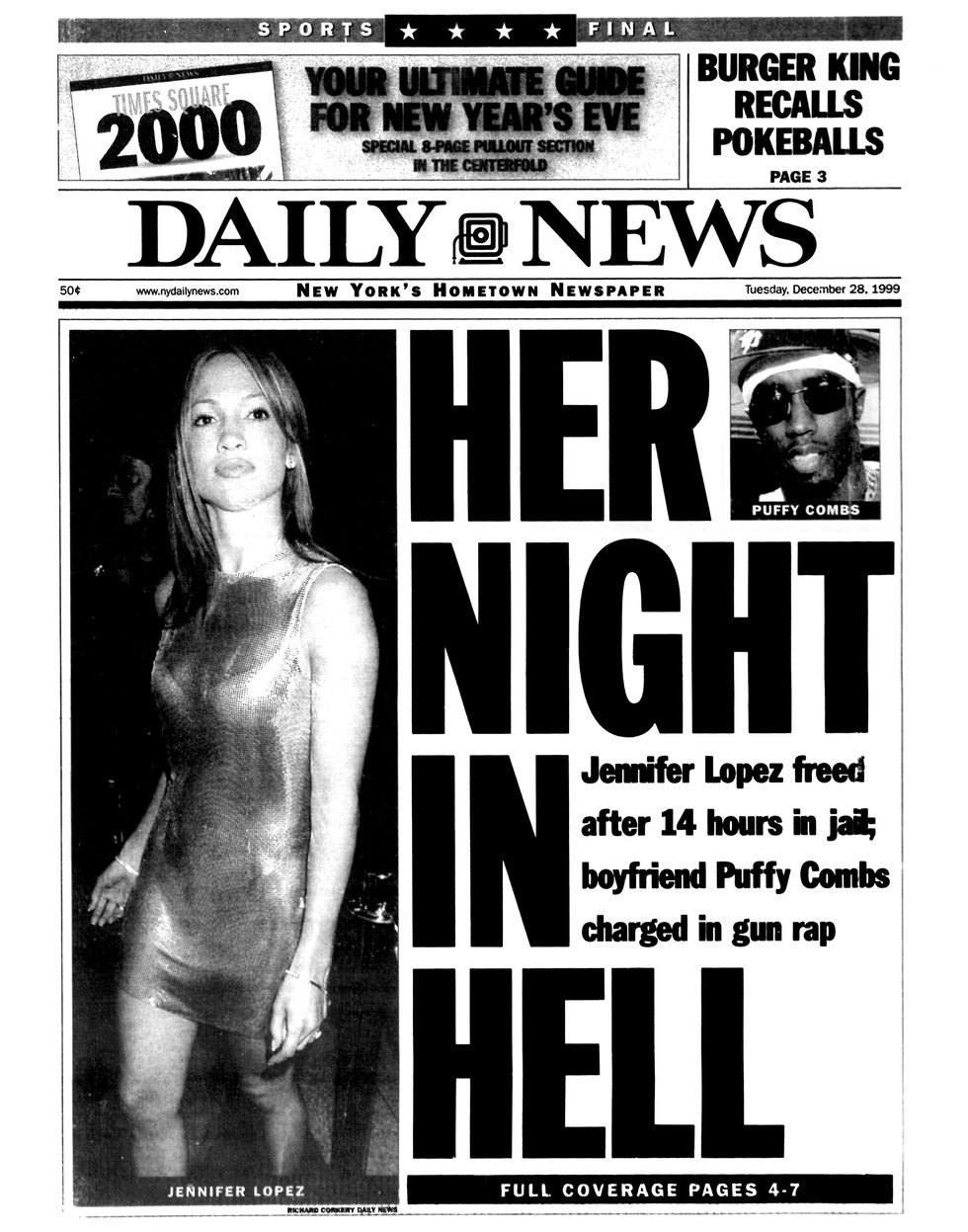 Around 2:20 a.m., as Lopez was filing out, Combs, champagne bottle in hand, accidentally knocked a drink out of a patron's hand. Matthew Allen, better known by his street name "Scar," proved to be the wrong dude to douse in prosecco. At this stage, reports diverge on whether Combs threw his money at Scar "like confetti" or Scar tossed fat rubber-banded stacks at Combs. Either way, digs were made at Combs' wealth and money was unnecessarily wasted, though it was a quick payout for clubgoers as "people in the club grabbed for the money," according to The Daily Mail. The conflict escalated and rounds went off — one, allegedly, coming from Puffy's gun. Three of the club's patrons were injured. One woman was shot in the face.
Lopez and Combs sped away in a 1999 Lincoln Navigator, but ran a red light and were pulled over by the police. They were in possession of a stolen 9mm handgun, which was found in the trunk. The pair was arrested. Lopez's horror-show didn't end there. The next 14 hours were spent in a cell, where she took turns crying unintelligibly and sobbing uncontrollably, according to one police source. The cops weren't impressed. "She's a beautiful woman, no doubt about it, but she looked kind of Plain Jane-ish," one cop felt compelled to tell the New York Daily News.
Related | Hollyweird: How Channing Tatum Went From Stripper to Fashion Model
Though the charges were eventually dropped for both J.Lo and, later, Puff Daddy, rumors about their relationship falling apart were frequent following the incident. Shyne, the rapper whose album nobody ever heard, was found to be connected with the shooting and spent nine years in jail. J.Lo and Puff Daddy split on Valentine's Day 2001. The high-profile case is what led to a name change for Puff Daddy, in order to dissociate with his lawbreaking past.
"When I come back I am changing the name. No more Puff Daddy," he told MTV News in 2001. "You know, out with the old, we done beat the Puff Daddy name up enough."
Photo via Getty
Sign Up for the Morning PAPER