On Sunday night at the Oscars, Bradley Cooper and Lady Gaga delivered a performance of their A Star Is Born ballad "Shallow" that I would describe as "tender," "intimate," "passionate," "steamy," "trembling with sexual tension" and even "pre-coital."
Following Gaga's recent split after two years from fiancé Christian Carino, the performance left everyone asking the same question (or at least willing it to be true), "Is there any chance they're not fucking?"
Cooper's ex-wife, actress Jennifer Esposito (NCIS, Crash, Summer of Sam) offered her take on the pair's chemistry with a single word, after, of all people, David Spade posed the question we're all asking on Instagram: "Ha."
"Ha." There's much in a word. So, we have the tea from Esposito, who was married to Cooper for five months in 2006 and 2007. For some reason, we also have it from the Spice Girls' Mel B, who told Good Morning Britain that she "felt uncomfortable" for Shayk during the performance, and hopes it's not true "because there's a women's code."
Cooper has previously dated Renée Zellweger, who he worked with on psycho-thriller Case 39 (2009) and Zoe Saldana, who he co-starred with as romantic leads in The Words (2012) — so he's been known to fall for his co-workers. However, he's been dating model Irina Shayk, whom he had a daughter with last year, since 2015.
Shayk and Cooper charmed on the red carpet, gazing lovingly into each others' eyes, a bit like Cooper would later do across the piano from Gaga. She hasn't commented on the performance or, um, if she thinks her boyfriend and the father of her child is cheating on her with one of the world's biggest pop stars.
But according to an Us Weeklysource, she's unbothered: "It's a nonissue for her. They were in character putting on an Oscar performance." She was so unbothered, she even gave Gaga a hug after the performance.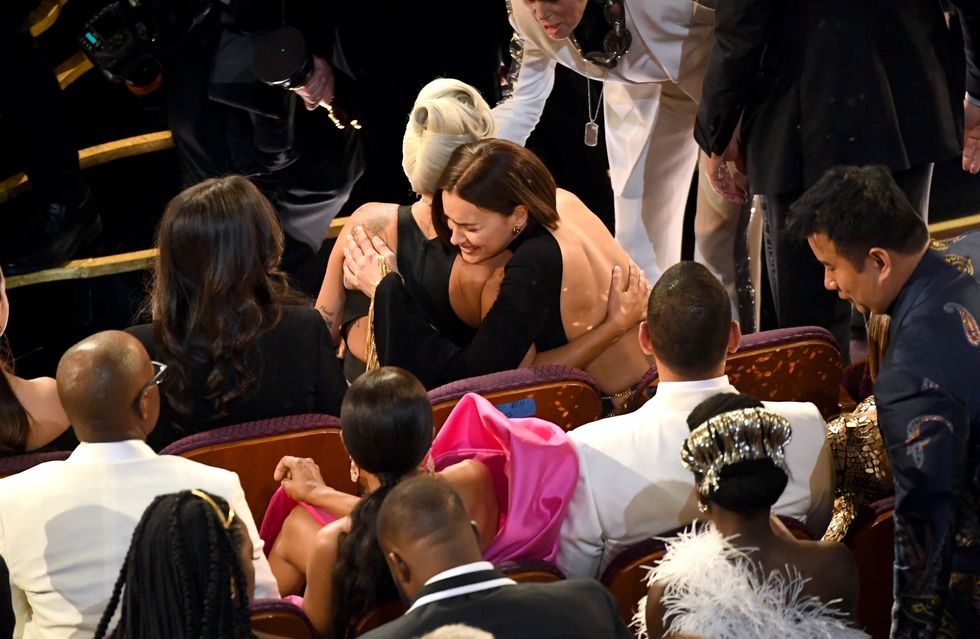 After studying the performance footage many times and the endearing red carpet photos of Cooper and Shayk, I'd say the only thing we know for sure is that Irina seems like a very chill lady.