There was a time before the White House, when Ivanka Trump was just a humble multi-brand tycoon with shoe, apparel, and jewelry bands. That past has caught up to her again. Following the revelation that her Chinese factories are massively abusive, the investigation that found many of her factory workers are living in poverty, and the forced rebranding of her labels due to drops in sales, Ivanka has been ordered to appear in court in a lawsuit alleging she stole her shoe designs from an Italian brand.
On Friday, U.S. District Judge Katherine Forrest rejected Ivanka's request to exempt her from testifying in person in the case, Aquazzura Italia SRL v. Ivanka Trump, which was filed last June. The case accuses the Ivanka Trump-branded "Hettie" sandal of being a copy of Aquazzura's "Wild Thing" sandal. The court cases alleges Ivanka is "seeking the same success Aquazzura experienced but without having to put in the hard creative work." Here the two shoes are, side-by-side: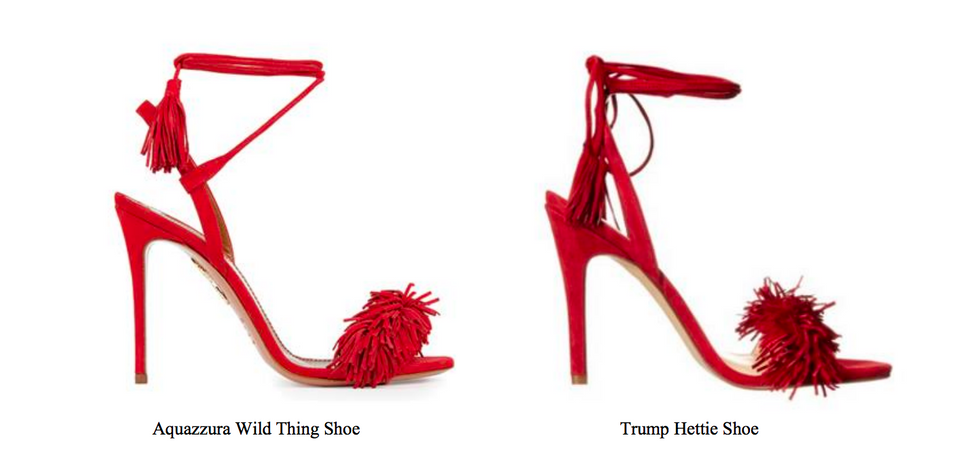 Daily Beast
Ivanka has stated that she has no part to play in the designs her label makes, shifting the blame to licensee Marc Fisher, also named in the lawsuit. This follows her statement that she is "intimately" involved in the design decisions of her brand. So, what's the truth, Ivanka?