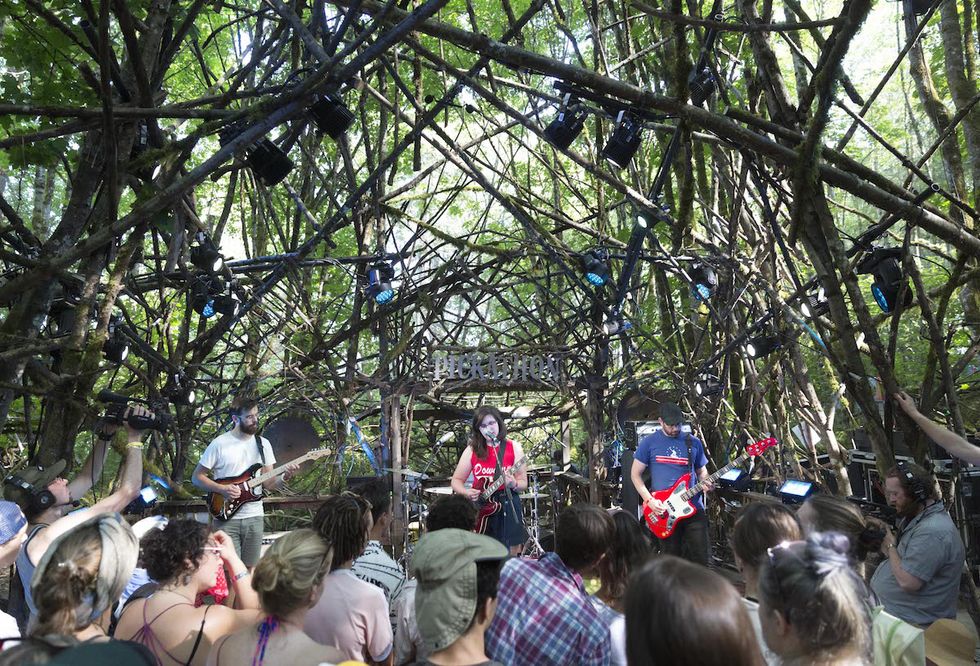 Lucy Dacus performs at the Woods Stage; photo courtesy of Pickathon

Down a dirt path and inside an imposing Oregon forest, a stage made of branches suddenly pops up in a small clearing. Gathered around the structure are hundreds of people -- seemingly popped up out of nowhere -- listening to New Orleans' genre-defying soul/rap/funk/R&B/gospel group, Tank and the Bangas. The crowd, some of whom are perched right at the edge of the stage, unencumbered by barricades or photo pits, are entranced as the band's frontwoman Tarriona "Tank" Ball seamlessly floats back-and-forth between singing, rapping and performing spoken word poetry. The spirited, high energy set is somewhat contrasted by the audience's hushed stillness, a hush that's not from a lack of interest or enthusiasm but rather from a sense of awe -- both at the artists in front of them and the surreal woodland surroundings all around them.
Welcome to Pickathon, perhaps America's most unique and highly-curated music festival.
Having just capped off their 19th year, the fest, which takes place annually in the Portland, Oregon area, does many things differently from most of the other, bigger festivals. For starters, it's substantially smaller -- and that's by design. Total attendees number around 7000 per day and only half (3500) are paying ticket-holders. The rest are a mix of "musicians, vendors, press, neighbors, staff and volunteers," Pickathon partner, talent booker and co-producer Terry Groves says. In addition to a 1:1 ratio between guests and artists/friends of the festival/staff, Pickathon attracts what would appear to be a higher percentage of families. "I'd say safely at least 25% of the audience is people with families," Groves says. "You'll see kids in the front rows of a lot of shows that you just would not expect like rap shows, punk shows, whatever. There's 7-year-olds standing in the front row and everyone kind of takes care of them. And it makes people party at 60% as opposed to 100%." While the median age is still probably somewhere in the 20-35 range, the high percentage of kids and young teens along with their parents in their 40s and 50s creates an environment in which discovering new music and tapping into a community of like-minded people takes priority over drinking and carousing. And, though some attendees commute from home or stay in hotels, since many camp on-site, it's often that you'll find roving groups of kids or teens befriending one another at the fest and leaving their parents behind to have their own, independent festival experience. Some of the more entrepreneurially-minded even set up busking spots or places to sell handmade t-shirts and crafts.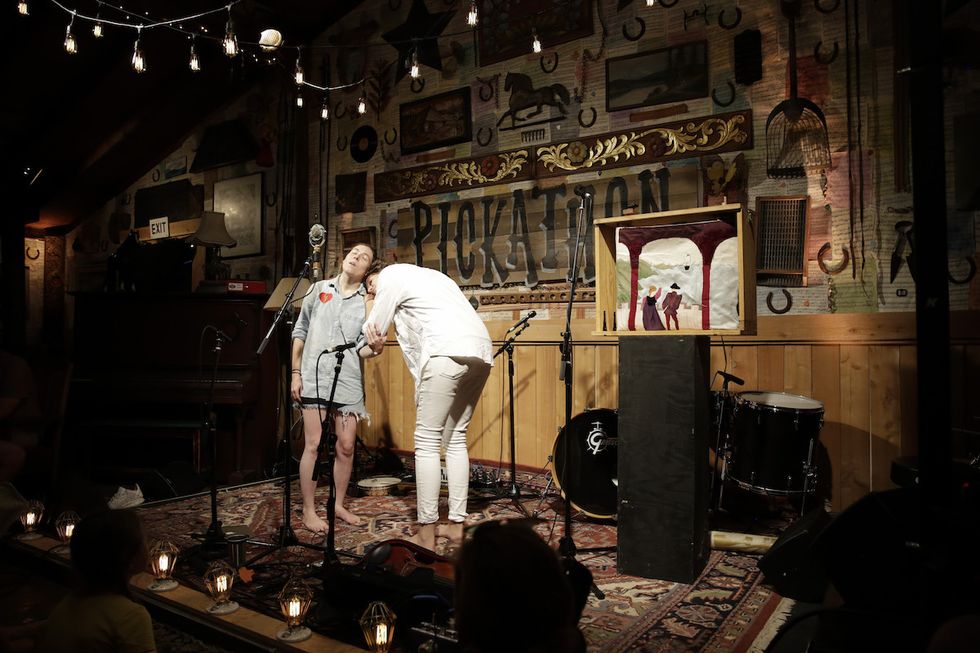 Musicians and storytellers Anna & Elizabeth perform at the Lucky Barn; photo courtesy of Pickathon

But, make no mistake, this isn't a kiddie fest and there's plenty for adults to love, too, from special, curated dinners with Portland's leading chefs; a wide selection of local beer, cider, wine and spirits at four different beer gardens; top-notch independent music, speaker series and even comedy sets; quality food from area restaurants and food trucks; a huge sustainability initiative (more on that later); and thoughtful design elements and venue spaces throughout the festival grounds that set Pickathon apart from many of its peers. While most major festivals feature traditional stages and, perhaps, a tent or two that offer something different, Pickathon puts a great deal of thought into each and every one of its concert spaces. Along with the surreal, 'enchanted forest' vibe at the Woods stage where we encountered Tank and the Bangas, the fest offers five other distinct venues. At the Mt. Hood and Starlight stages, guests could listen to acts like Charles Bradley, Deer Tick and Alex Cameron while underneath a massive fabric canopy resembling sailing masts and created by GuildWorks, a local architecture and design firm that has worked with the fest for many years. At the Lucky and Galaxy Barns, you could hear sets by Ex-Cult, J Mascis and Julia Jacklin inside kitted out indoor spaces that offered guests the kind of intimate experience they'd find at a music venue or bar rather than an outdoor music festival. And at at the Treeline stage, Big Thief, Ty Segall and Xenia Rubinos played beneath a giant installation made from wooden trusses by Portland State University architecture students. The school has teamed up with the fest every year since 2014 and, in addition to creating an eye-catching structure to enhance guests' festival experiences, makes a commitment to recycle and re-use the materials for another community project when Pickathon ends. This year the trusses will be turned into transitional housing pods for local homeless individuals.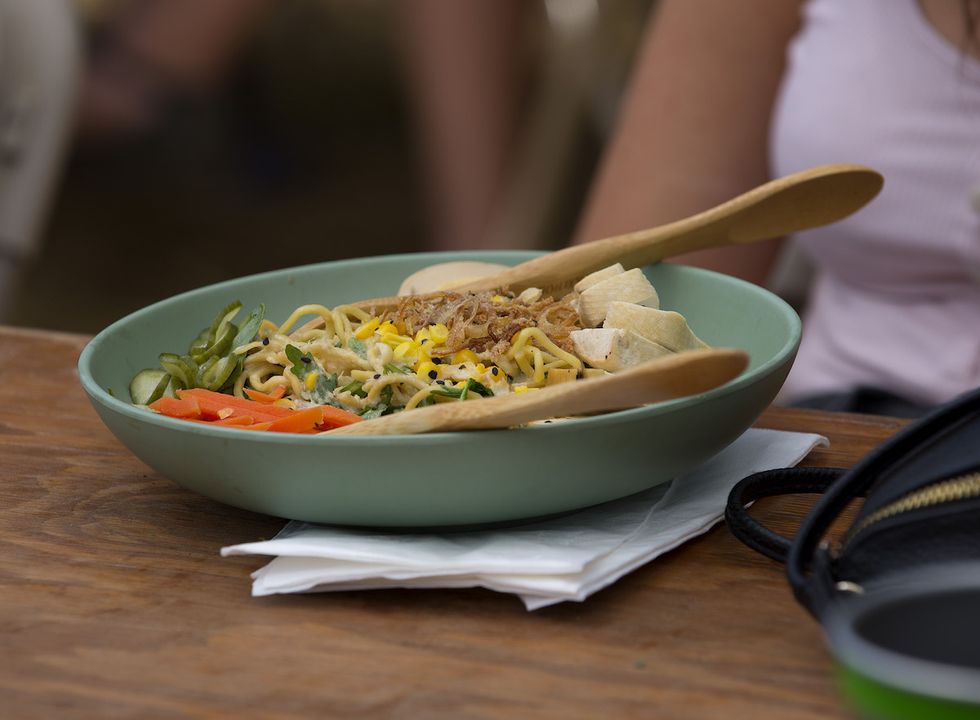 Noodles in one of the festival's reusable dishes; photo by Amanda Cowan

Sustainability is at the core of the festival's mission and they've put elaborate systems in place over the years to significantly limit any waste generated at the fest. Originally, Groves said the organizers focused their attention on "getting rid of things that are used once and disposed of," which meant finding ways to replace plastic water bottles and drink cups. In 2010 they partnered with Klean Kanteen and began providing reusable stainless steel pint glasses that guests could buy and use to fill up with free water from several water stations along with beer, cider, wine or cocktails at the various drink gardens. Washing stations were also scattered throughout the grounds so no one had to drink skunky beer-water. By the next year, their efforts became even more ambitious and they found a way to eliminate paper and plastic plates and utensils. They found a firm in California that makes hybrid plate-bowls out of bamboo and pulp resin and sourced bamboo sporks that are meant to be reused throughout the fest. And in what's perhaps the most impressive initiative of all, they created a whole infrastructure system to clean and re-use these dishes. Guests purchase a wooden token at the beginning of the festival that can be exchanged for one of the plate-bowls and sporks when they purchase food from one of the vendors. Once finished with their meal, guests clean any leftover food out at compost bins and return the bowls to a big dishwashing station. "We built a closed-loop system including our own bioswale that processes graywater and uses biodegradable soaps on-site and we found a team that could build us a commercial dishwasher system that can wash dishes at a high, efficient pace," Groves explains. When you return your bowl to the dishwashing station, you're given a token back and the whole process can repeat itself.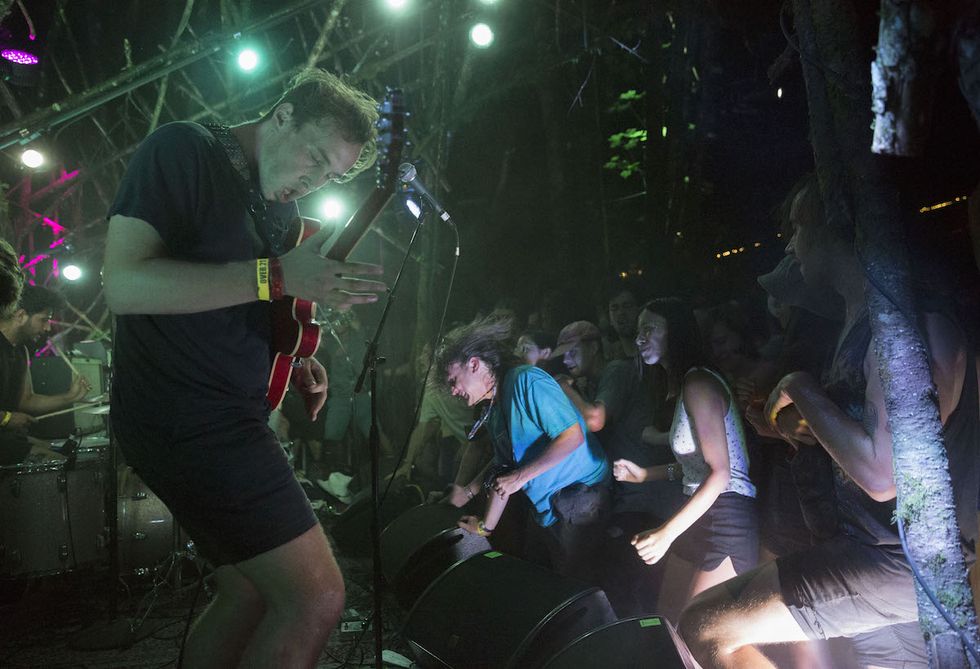 Meatbodies at the Woods Stage; photo courtesy of Pickathon

Taken together, the design, the scale, the sustainability, the curation and even the acts themselves create a sui generis festival experience that, for people used to the massive, mainstream spectacles at many other fests, can be as initially disorienting as it is ultimately incredible. Many first-timers may feel a constant need at first to re-orient themselves and realize that Pickathon is unlike almost any other model or framework we hold in our minds about music fests. But, once adjusted, there's a never-ending source of new discoveries -- musical, visual, culinary and experiential -- to take in. Along with the main performances listed on the schedule, there are a series of artist recording sessions happening at various 'secret spaces' throughout the campgrounds. For those with the right wristband or who happen to stumble upon the right area, you'll find hidden installations and outdoor studios like the Pumphouse, a little cabin in the woods with an outdoor living room (think upholstered chairs and vintage lamps scattered throughout the forest) or the Slab, a post-apocalyptic-looking concrete structure. The kind of creativity and attention to detail Groves and his fellow partners, founder Zale Schoenborn and Ned Failing bring to Pickathon is matched by the appreciation and engagement of their guests. By emphasizing discovery -- discovery of new artists, new environments, new experiences -- over partying or catching sets by the latest, flavor-of-the-month Top 40 artist, Pickathon attracts many fans who come year after year and embrace all aspects of the festival. And, in a time when many of us feel dislocated from one another thanks to technology or stress and finding an intentional community of like-minded individuals seems rare, it's refreshing to see that for four days, you can find that and more at Pickathon.
Splash photo: Charles Bradley performs at the Mt. Hood Stage; photo courtesy of Pickathon