While your Instagram might be overrun with "slashies" — that is a "photographer-slash-stylist-slash-model" — you might not often come across a dominatrix-slash-artist-slash-curator-slash-anti-sex-trafficking-ambassador like New York-based Hello Zephy, who is here to push all your boundaries in the best way.
In partnership with Beauty For Freedom, which seeks to end sex trafficking, Hello Zephy is curating "Sex Work, Art Work:" art that looks at sex through a critical, but positive lens. The multi-media artist has submitted her own work for the exhibit (housed in a commercial space she converted into a gallery herself), and brings together some of the brightest minds in the sex industry to contribute, from porn sensation-cum-journalist Stoya to stripper queen, comedienne and illustrator Jacq the Stripper.
Related | Stoya Take the Wheel
PAPER caught up with Hello Zephy to break down the relationship between sex and art, and how we deal with art created by bad men in the wake of #metoo.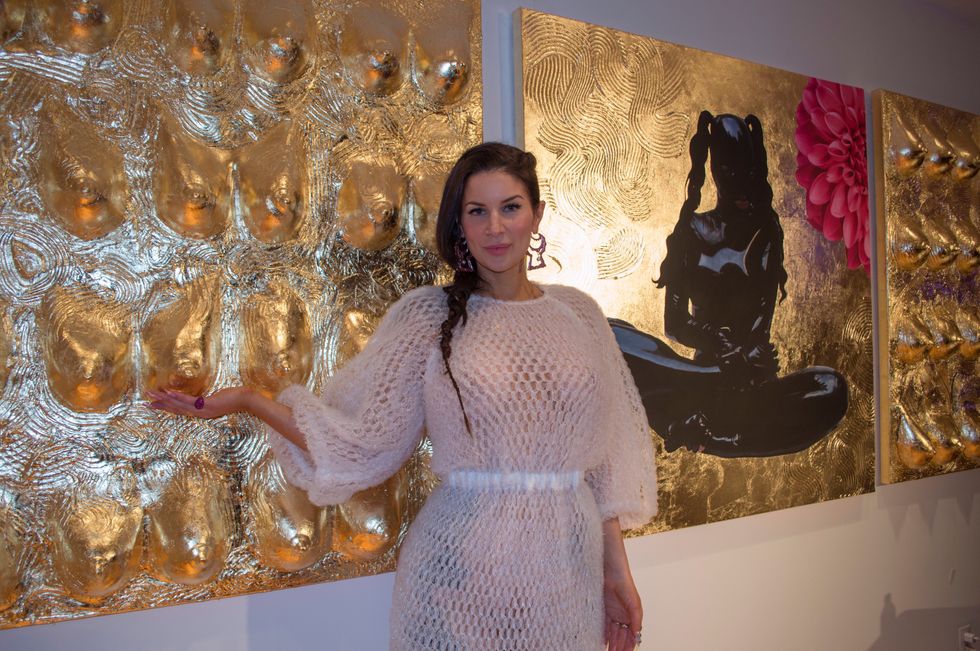 Did you always have a desire to focus on sex positivity through your work?
I was an extremely shy child, and from an early age created art as a form of expression. When I was small, I would often draw instead of actually speaking. In college, I minored in art therapy to learn to teach a safe way for people to communicate. But I really feel I developed my own personal style when I moved to NYC in 2010, became a dominatrix and started making art based on the sexual empowerment and confidence I gained from my experiences with that work. I wouldn't call it a fascination, but I have always seen sex as positive and so have focused on really fighting for and highlighting sex positivity.
The most important part of this for me is fighting against the fact that people who are in the sex industry get treated differently, abused more, and shamed, but it has to be and needs to be the same as every other working condition; you need the right to choose, the ability to be safe and to be treated fairly with respect. I recognize I am extremely fortunate and privileged and because of this I have the responsibility to help stop the stigma, the prejudice and the violence around sex work, in turn supporting those who are put into the work against their will in an inhumane way.
What was the process behind creating the show, particularly in selecting its participants?
I have worked with Beauty for Freedom for some time, and have traveled to Cambodia and Ghana with the organization to bring art therapy to the victims of sex trafficking. I always wanted to do more to support them and as an artist and a curator show how I could contribute most. This show would not have happened without the founder of Beauty for Freedom, Monica Watkins, [and her] extreme forward thinking and acceptance. I went to Beauty For Freedom with a concept that I wasn't sure I would be supported on. I am honored I was. Monica is a true champion for freedom in every form. Choosing a topic that is so misunderstood and stigmatized was something that was also near to my heart so the two came together nicely. Surprisingly I found selecting the artists very easy as there are so many amazing people in my direct community I love, trust, respect and whose art I truly admire.
How has the response been to the show thus far?
There has been a profoundly positive response with so much support and warmth. Such good vibes. We have been able to bring the concept mainstream as people walking in off the street have been able to really experience and understand and change the stigma and shame of human sexuality — while bringing awareness to the tragedy of sex trafficking. This is why the space we chose had to be street-facing ground floor so we could really welcoming to the community and invite people in to understand and change perception. Truly unite people together to the universal language of art. We have a lot of interest in the art from art collectors and fellow artists alike.

What role do you think art has in influencing the way we approach sex as a society?
I think the dating landscape is shallower than it has ever been, the way that we are tring to connect with other people is such a shell of reality that is creates real human disconnection. That's why we need more events to get together as a community around things we are passionate about.

With the rise of #metoo, what do you think we should do with art made by problematic artists? Can we separate the art from the artist?

No. because once you know, you cant un-know. and the way you perceive the art will always be different. Once you know you have to take responsibility and chose. You can't go back and just watch the Cosby show and have fun with it...
What do you hope people will take away from your personal creative output?
There is a duality of us all. There is a misconception that sex makes us bad and sex work makes us terrible. This is an obscene misrepresentation. Exhibitions like this show the true artist, the true person, the caring of people who are in the sex industry. I want to be able to change perception and misrepresentation around sexuality and sensuality. My legacy hopefully will be one of empowerment, beauty, community and fun.
Head to the "Sex Work, Art Work" closing party this Friday at 264 Water St, in NYC.
Photo Courtesy of Hello Zephy