Music Man
After a two-year hiatus since departing from Saint Laurent, Hedi Slimane has returned to runway. The designer debuted his first collection for Celine on a set that resembled the inside of a mirrored music box. His opening look — a strapless black cocktail dress covered in polka dots and enveloped in a giant bow — emerged from a glimmering installation like a wind-up ballerina. The show was bookended with drumming by two members of the French Republican Guard Band dressed in full, traditional regalia.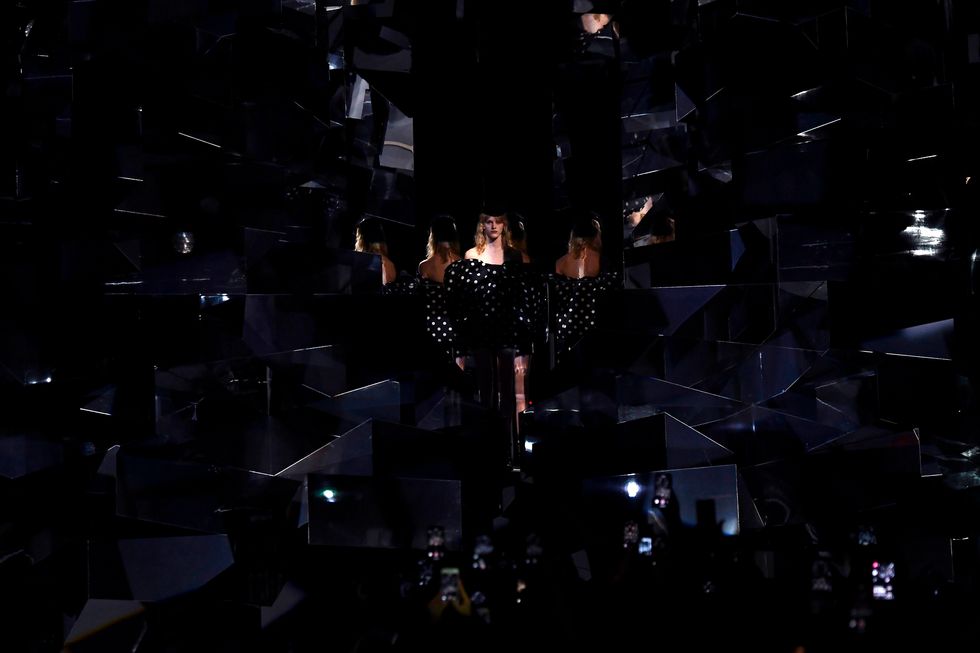 The opening look emerging from the mechanical set.
Image Via Getty
Night Owl
Nightlife has always been a key part of Slimane's aesthetic. The invitation for Celine spring 2019 show was a hardback book featuring images the designer took at iconic Parisian nightclubs including Balajo, Le Cigale, Chez Moune, and Pile ou Face. Fittingly, the collection was full of looks that would fit perfectly into these hotspots.
Micro Minis
Celine hasn't seen hemlines this short since Michael Kors's tenure at the label in the late 1990s and early aughts. Dresses festooned with ruffles, multicolored sequin, and black lace — paired with broad-shouldered bolero jackets and stylized cowboy boots — just barely hit midthigh.
Men In Black
This collection also marks Celine's first foray into menswear. Breton stripe jumpers, skin-tight slacks, satin bomber jackets, and sharply tailored "le smoking" suits a la Yves Saint Laurent dominated the men's line up. The predominantly jet-black ensembles, with occasional touches of red, white, blue, and gold, evoke slick versions of Agents K and J from Men In Black.
Artful Details
Slimane partnered with visual artist and composer Christian Marclay this season. Works by the Swiss-American creative including paintings and comic book collages were translated to glittering embroideries, stark black-and-white prints, and patches in the collection.
Friendly Faces
Karl Lagerfeld, who lost an incredible amount of weight back in 2000 to fit into a Dior Homme by Hedi Slimane suit, sat front row at the show beside Lady Gaga who debuted Slimane's first handbag for the house, Le 16, back in August.
Lead Image Getty / Images Via Imaxtree