Just when you thought it was safe to return to Hollywood, a giant golden Harvey Weinstein atop a "casting couch" has been erected (gross).
A collaboration between "Stop Making Stupid People Famous" Plastic Jesus and naked Trump statue artist, Joshua "Ginger" Monroe, a shiny Weinstein dons a satin rob, grasps an oscar statuette and sits, legs splayed, proudly abusing his power. The statue will reportedly remain in its position on Hollywood Boulevard throughout this weekend, just to make sure no one forgets the many, many bad men that ruled the industry at the Oscars this Sunday.
Related | The Weinstein Company is (Probably) Dead
"There's so much about Hollywood that's great and celebrated in the Oscars, but there's also this underbelly of darkness within the industry that we often sweep under the carpet or ignore," Plastic Jesus told AP. Here he is: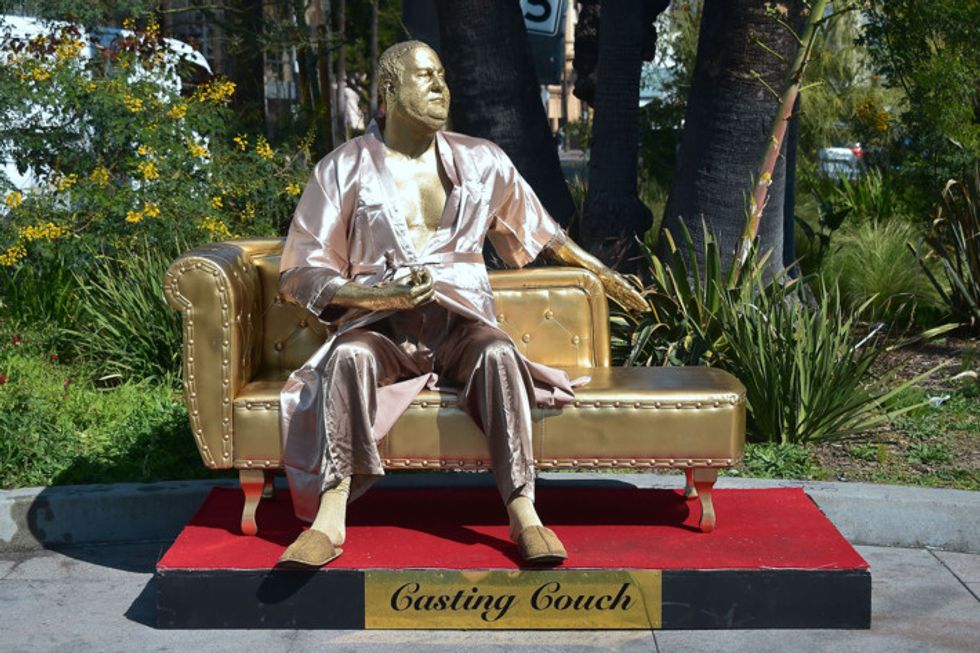 Other than that time he was slapped in public (iconic), Harvey Weinstein, whose survivor count is at over 90 women, has been lying low at a "sex addiction" retreat in Arizona — a rehab facility that is also reportedly housing fellow abuser Kevin Spacey.
Related | Netflix Cancels 'House of Cards' in Wake of Kevin Spacey Allegations
That's not to say we haven't been hearing from him. Weinstein has occasionally been responding to emerging claims from actresses via his spokesperson, including but not limited to Lupita N'yongo's claims that she was coerced into massaging him, Salma Hayek's revelations that he threatened to kill her after she spurned his advances and Uma Thurman's Times profile where she accused Weinstein of sexually attacking her. Oh, he's also trying to win his legal battles under the premise Jennifer Lawrence and Meryl Streep still like him.
One thing's for sure: the Oscars are very much worth the watch this year.
Images via Getty