Poldark, currently airing a fourth season on PBS, is the stuff period piece dreams are made of: there's drama, bodice-ripping, dudes with swords, the spectacular English seaside. And the show is chock-full of heartthrobs. Like Harry Richardson, who plays the romantic, heartbroken heartbreaker Drake Carne.
Richardson only finished drama school a few short years ago, and he's since managed to land roles both in Poldark and mega-blockbuster Dunkirk. PAPER caught up about the show, yoga, and Harry Styles.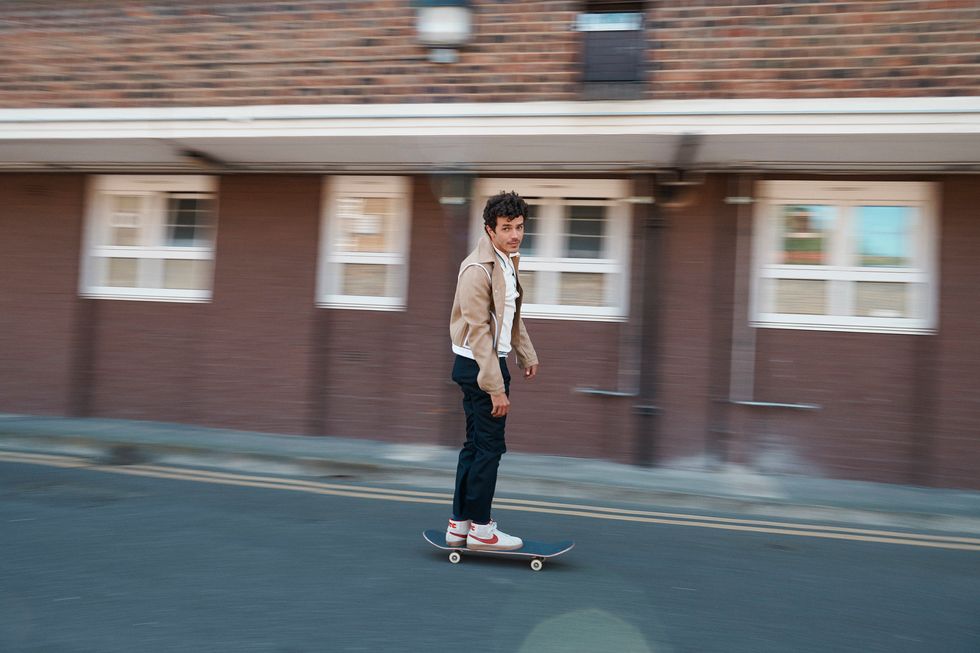 Top: Wooyoungmi, Jacket: Daniel W. Fletcher, Trousers: Topman, Shoes: Nike
Tell us about your role on Poldark.
My character is a wholesome young dude named Drake. He is a hopeless romantic who has been through a lot because of love. This season is the last chapter and it is a great story of maturing into a man and striving to heal all wounds with an open heart. It is still as dramatic as ever though!
Were you always a fan of period pieces? Do you have any favorites?
I have always had a fondness for period pieces. I think my mum brainwashed me with them when I was younger. They all just love prolifically and poetically. Two favorites are Bright Star and A Knight's Tale. I used to watch the latter over and over on VHS.
Are you based in London full-time now, or do you still call Australia home?

I will always call Australia home but I am having a good time venturing from the nest! I want to travel all over the world, while I can!
How did you first get started in the industry? Did you always want to be an actor?
I was first cast in a strange Aussie film called Looking for Grace after leaving drama school, and then just wanted to chase the career all over. I have definitely wanted to do this since I was a kid. It looked like a path where I'd never have to grow up.
What are your favourite movies? Directors?
I love Alex Garland at the moment. In a time of very predictable musings on science and tech, he's always thinking out the box and risking it.
Also Martin McDonagh is one my all-time favourites! I hope people keep giving him the freedom to let his crazy humour run wild. I haven't seen any more of Chloé Zhao's films but I was blown away by The Rider this year. If you haven't seen it, treat yourself!
What are you watching on television (besides Poldark)?
I have been watching Cary Fukunaga's Maniac this week. He's undoubtedly one of the best in the game. Jonah Hill and Emma Stone step up to the plate, it is a headspin for sure that sneaks up on you with the feels.
What was it like to work on Dunkirk?
I was in it for a second, but it was crazy just laying eyes on a production of that scale. It was a teaser to a dream that I want to actualize.
Are you a Harry Styles fan?
I have got so much respect for Harry Styles. He's really doing the work to channel all the energy that is surrounding him into something with real artistic value. I imagine it is a hard task but he's maturing with flair.
When it comes to Christopher Nolan, are you more of a Dark Knight or Inception person?
Both films are pretty flawless. Heath is a huge inspiration for me though so I have got to say Dark Knight. It is a perfect film I think. I have never heard anyone say otherwise.
You're a Yogi! When did you start your practice? What's the toughest pose you can do?
I don't know if I am Yogi status yet but I love it! I can throw down some weird arm balances but the toughest is just sitting still and quieting my monkey mind. It is a daily struggle but it is slowly improving!
Sign Up For The Morning PAPER