Hannah Diamond Is Ready To Be Seen
Story by Harry Tafoya / Creative direction & VFX by Andy Rolfes / Photography by Nicholas Needham / Styling by Erik Ziemba / Hair by Davey Matthew / Makeup by Frostie Delite
Nov 07, 2023
An image burnt into the pinkest folds of my brain: Hannah Diamond strutting through a pitch-black corridor with a huge, animated grin on her face as confetti and flashbulbs rain down from on high. In the music video for her 2016 single "Hi," the British singer is omnipresent, blown up on billboards and beamed into chatrooms, yet she only ever assumes true form when she imagines herself as a pop star. Arriving at a bank of microphones as the song reaches its glittery climax, Diamond is snapped out of her daydreams and returns to her bedroom before she can field any questions from fictional paparazzi. Without hesitation, Diamond settles for a more immediate way of announcing herself to the world, opening up her laptop and exclaiming "Hi! Oh my god! It's so good to see you!", before flashing a cryptic smile the viewer's way.
As a series of moments, the video perfectly encapsulates Diamond's project as an artist, combining a committed sense of make-believe with jarring insights into what it means to present yourself to the world. As one of PC Music's flagship stars, Diamond garnered a following by emphasizing the deep weirdness at the heart of pop perfection, crafting songs that sparkled like gemstones yet warped and cringed around the edges. Unlike the aggressive flamboyance of her label-mate GFOTY or her dear friend SOPHIE's prankish anonymity, Diamond played at stardom with a smiling straight face, leaving her audience to either make sense of her music's roiling subtext or dance along to it. Being seen became a powerful central metaphor for much of the singer's work, and her talent for parsing the romance and menace of another person's gaze also lent her songs a complexity no one could dismiss as superficial.
On her latest record Perfect Picture, Hannah Diamond gracefully resolves some of her work's deepest tensions by owning all of her contradictions regardless of who sees. The album presents her as a deep thinker of all things surface, a mature woman inspired by all things girly, and an artist with a highly stylized sense of authenticity. Working with longtime hero, lauded musician David Gamson (Kesha, Charlie XCX, Jessie J), Diamond has taken the blueprint of her sound and blown it up to be bigger, bolder and brighter. A song like "Perfect Picture" booms to life off the back of echoing drums while "Affirmations" and "No FX" ride a glitterburst of synths. Rather than trying to square the chasm between the reality and online projection of another person, Diamond has arrived at a more subtle but infinitely more romantic perspective, locking eyes and fully taking in another person for exactly who they are.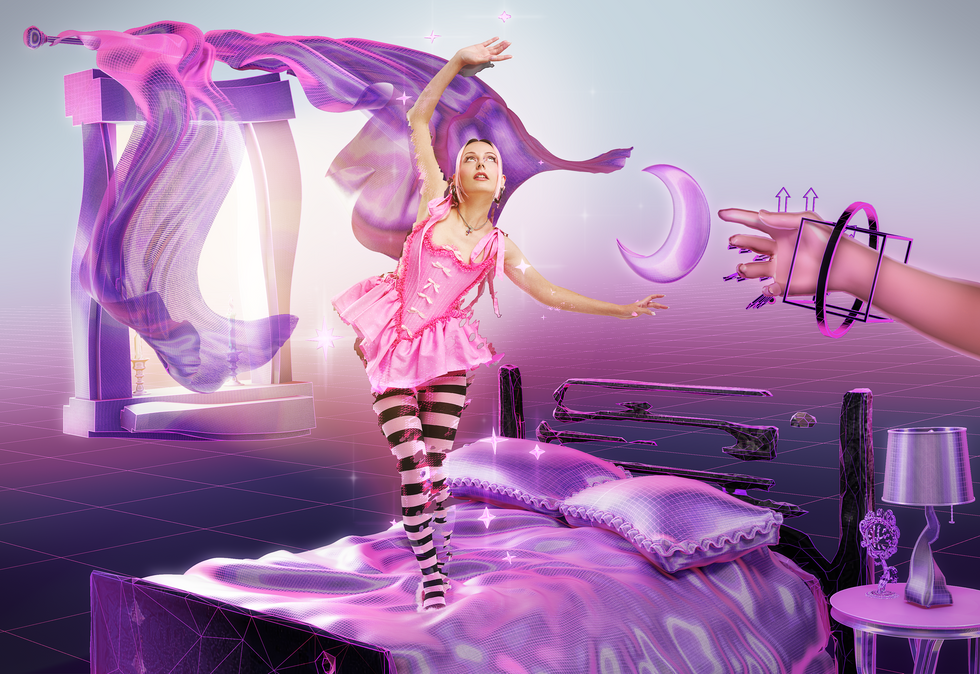 Dress: Meg Beck, Shoes: Pipenco, Tights and earrings: Stylist's own
So much of Picture Perfect highlights the act of looking and being seen. Why is that metaphor so meaningful to you?
I've always thought a lot about what it means to be a girl and how being a girl is always being aware of your image or the fact that you're being looked at in a different way. I mean that for all girls, not just like cis girls. We live with ourselves, our inner selves, and we live with that image in a way I think a lot of men don't have to. There are just different beauty standards for men and I don't deny that, they definitely exist. But I think that women are far more scrutinized for their appearance.
What kind of looking is romantic to you and what kind of looking is anxiety-inducing? This kind of gets to that one old John Berger saying: "Men look at women. Women watch themselves being looked at."
Exactly. I mentioned that quote recently, too. I think it stems from intention and is there something that somebody wants from that? You know, it's like, am I being looked at in a way because someone can see something in me that could benefit them? Or am I being perceived for who I am on the inside, regardless of what the outside is? I think that even comes up in "Fade Away" as well with this feeling of, Does someone see me for the real me or do they just like the way that I make them feel?
You worked with producer David Gamson on this record, and for a while it seemed like the "Hannah Diamond sound" would always be you and producer A.G. Cook together. I'm curious about the way you two worked together. What unique chemistry do you guys have and how does the come out in the album?
The sound that me and A.G. pioneered is definitely something we built together. But I think that whenever you work on a big body of music with someone, it shapes your identity and gives you a starting point for whatever you're going to do next. I think me and A.G. both did that for each other. When we first became friends and I got to know all of the PC Music people, a lot of the producers were really inspired by David Gamson, A.G. and Easyfun. There was this Tumblr sub-project thing called Gamsonite made by Gamson superfans. People were posting things that were sort of tongue-in-cheek and funny but coming from like a place of just like "This guy is amazing." So we did a lot of listening to Scritti Politti and doing deep dives on everything that Dave's produced when we first started PC.
I finally met him on our first trip to LA in 2015 and we had this weird rooftop dinner somewhere in Santa Monica. We were all chatting about music and I think we all realized that we were all coming at music from a similar place and thinking about, you know, how lyrics correlate to sound, how you can make certain lyrics stand out by using certain sounds behind them or different ways of playing vocals and just this similar passion, I suppose.
At the time, I gave A.G. this Excel document I called the "Diamond Dictionary," where I'd been writing every single lyric for every single idea that came into my head. Then A.G. got in the studio with Dave Gamson and they started a track, which became "Perfect Picture" and that was in 2015. So, actually, you could say that A.G. is still a big part of this project, even though he hasn't been as involved — he was still part of its origins.
I feel like over the course of writing this album, me and Dave became besties. We spent a lot of time writing together in the pandemic over Zoom when I couldn't get to LA. We talked about the difference between yourself as a person and yourself as an image and the interplay between the two. Because for me, my pop star identity is very much a part of my real identity, and my real identity is very much about my pop star one. But there is this place where there's a conflict between the two. Most conversations I had with Dave were about what makes the perfect pop song, and how for both of us our favorite pop songs were when you feel like you've really got a piece of the artist or a slice of who they really are and if it can encapsulate that in one song. With every song on the album, we were trying to do that.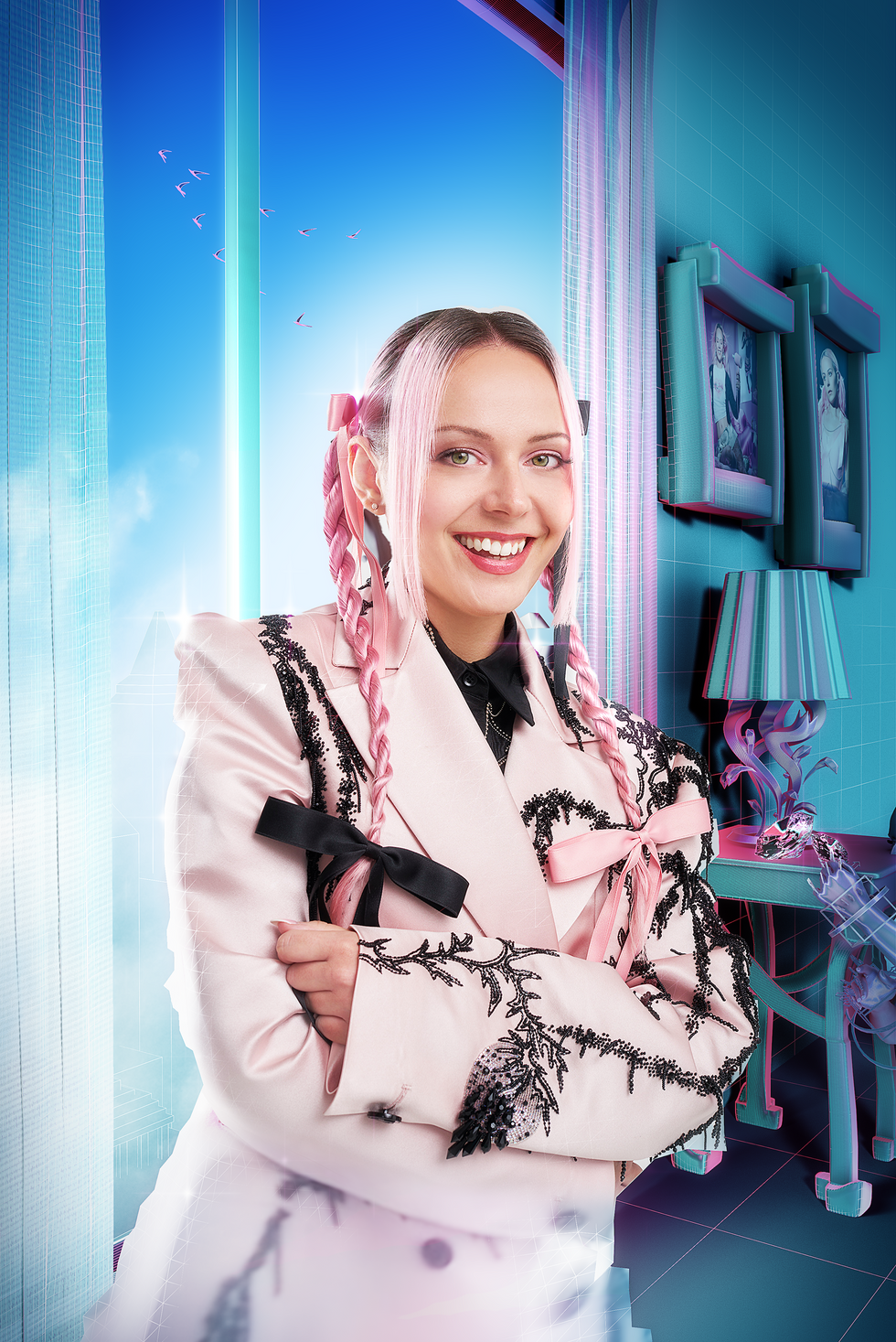 Jacket, top and pants: Wiederhoeft, Shoes: Roger Vivier
What were some of those perfect pop songs?
Dave really likes "TiK ToK" by Kesha. I really love that one, too. I love Kesha. Kesha has a writing credit on my album because of the song "Want You to Know." I was talking about all the ideas for my album and he was like, "Me and the Nervo Twins and Kesha wrote a song like this a while ago for her album that didn't make the cut." I was like, "Oh, amazing." Then he had a chat with them and got hold of the stems and then played them to me.
For me, that feels like a really full circle moment, because the song "Steven" by Kesha, which Dave worked on for her first album, was actually one of the first songs I sent to A.G. as something I really liked when we were talking about If I made music what I wanted it to sound like. So, it feels really special to me.
What was the intrinsic, completely unique Kesha quality you thought was being communicated in those songs?
For "Steven" specifically, I love how there's a silliness to it. You can tell it was fun writing that song. Also, all the vocal production, how layered it is, and how many harmonies as well. Every time you listen to it, you can hear a different one if you focus on something, and I really love things being multi-dimensional and multi-layered. It's a cool listening experience every time I listen to it.
The visual and musical identities of hyperpop and Y2K seemed very tightly controlled at the very beginning, and now they've become removed from their source material. Now that they are their own things floating in the ether, how has it felt to watch them take on a life of their own?
It's been pretty cool, to be honest. Especially over the last year or so, with the popularization of hyperpop, I've realized how much of an impact me and my friends have had in the things that we've made, which is really amazing. There's been a lot of conversations about ownership of the aesthetics of things recently. But it was never ours to start with. It was something we were really inspired by. Some of those things we referenced and then repurposed and made something new out of. But I think what we did was popularize it. That's how I've been thinking about it recently. I feel honored that we got to do that, because it's one thing to be able to make things you're really happy with and feel satisfied on a personal level, but it's an entirely other thing to be able to say that the work you made felt really inspiring to a lot of young people in the LGBTQ community. I feel like we've connected with people who didn't necessarily have a space before PC Music. That feels really special.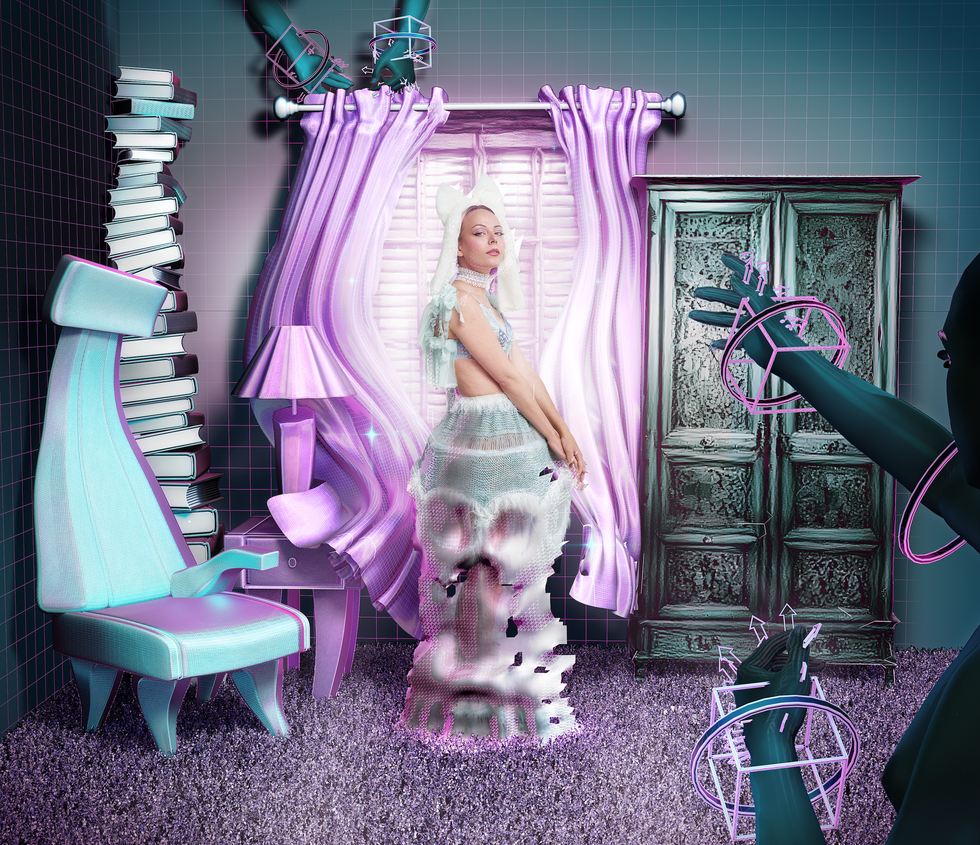 Top, skirt, bow and necktie: Mila Sullivan, Shoes: Pipenco
How do you feel about PC music ending?
The obvious knee-jerk reaction is sad. Obviously, there's an element of grieving, I guess, at the idea that this isn't something we're going to continue building together. In one sense that feels really sad. It feels sad that potentially we might not go and do loads of shows.
Then at the same time we all have worked so hard and I feel so incredibly proud of everybody. Everyone has developed as an artist individually to the point where we're all working on such different projects that it makes sense for everyone to work out the best way for them to proceed or go forward that will service that project the best because we are all doing such different things. It's a big opening-up of possibilities for everyone now that we have helped each other figure out who we are and what we're doing artistically and creatively. And that part feels really exciting.
I was saying to some of my friends recently, that I think there are a few different avenues of PC Music, and this is the way that I've been thinking about it a lot recently. There's PC Music the business, which is what the the label function part was. Then there's PC Music, the group of friends, which is not going to stop. We're not all falling out or not talking to each other. Just because the label isn't going to release music anymore doesn't mean these other parts cease existing. It doesn't really feel like it's ending in some ways.
What do you think is the biggest thing for you specifically as an artist to accomplish?
The biggest accomplishment for me is creating a space in dance music for the LGBTQ community. I feel so incredibly proud of that and also really thankful because, before PC Music, especially in London, there wasn't really a community around electronic music that felt particularly LGBTQ-friendly. I know I didn't feel particularly comfy or safe in those music spheres. I think that's an amazing opportunity, and it's so cool that we've been able to unite a community and give them so much.
What do you feel like is left for you to accomplish? What do you think the cosmos hold?
With this album, I feel like I'm just getting started, in a way. I had a lot of hold-ups with my first album, "Reflections," and with this album, it felt like the first one that really started moving with the momentum that I wanted to move at.
Cosmos-wise I'm looking forward to and manifesting more momentum. That's the thing that feels most exciting. I think the thing that makes me feel most proud is when people tell me my music has helped them or made them feel seen or understood. That's more than what I ever imagined for my music. I always thought, Oh, you know, it would be nice if someone liked my song or thought it was fun or catchy. But when someone says that my music helped them turn their mental health around, just to know that my experiences and what I've been through have helped people overcome their own, that feels very major.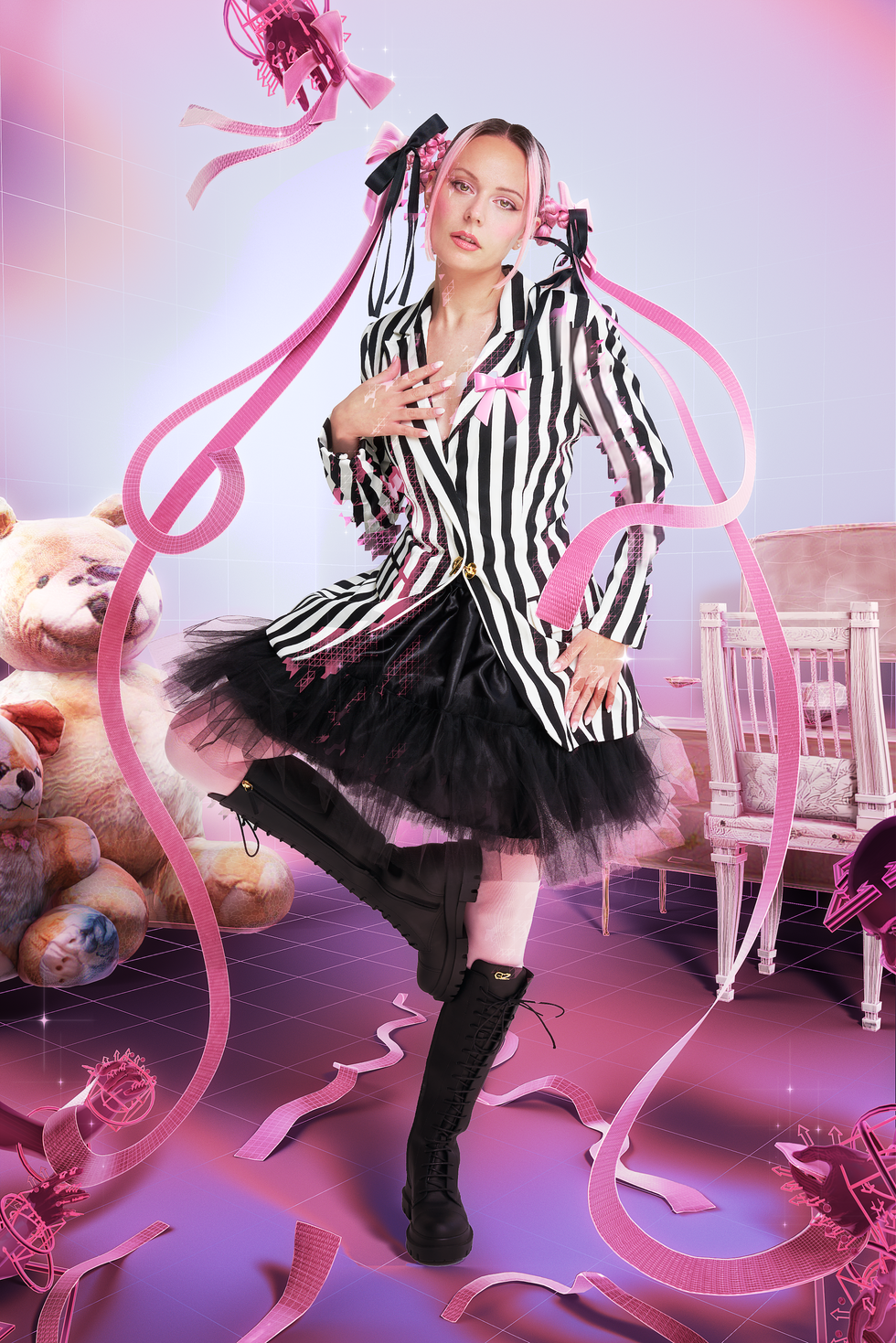 Jacket: Moschino, Skirt: Meg Beck, Shoes: Giuseppe Zanotti, Tights: Stylist's own
From Your Site Articles
Related Articles Around the Web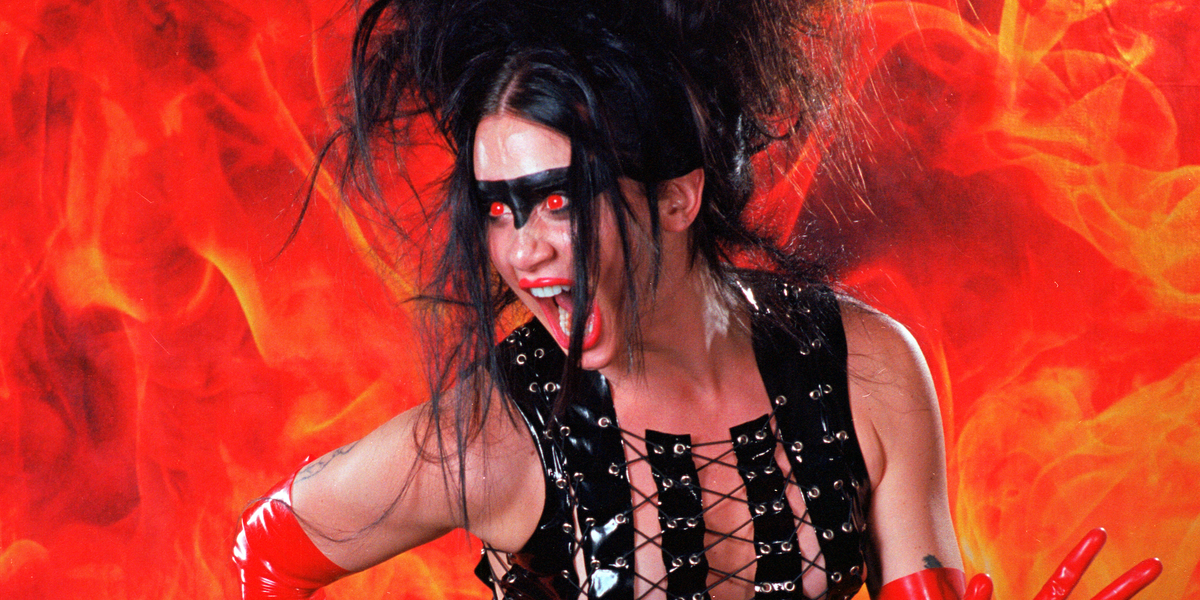 Music
Story by Erica Campbell / Interview by Chelsea Manning / Photography by Parker Day / Styling by Malcom Baron Smith / Hair by Fitch Lunar / Makeup by Samantha Lepre
Story by Erica Campbell / Interview by Chelsea Manning / Photography by Parker Day / Styling by Malcom Baron Smith / Hair by Fitch Lunar / Makeup by Samantha Lepre
02 November