Rio Uribe Is Saying Goodbye to 'Gypsy Sport'
Story by Andrew Nguyen / Photography by Guicho Palma
Nov 01, 2023
For Gypsy Sport's 10-year anniversary, Rio Uribe did it big. The designer showed retrospective collections during both New York and LA Fashion Weeks — no small feat for an independent fashion brand. Since launching Gypsy Sport in 2013, Uribe's gone from selling hats and tees online to winning the 2015 CFDA/Vogue Fashion Fund Award and, perhaps most importantly, fostering community among young queer creatives in New York.
Now, Uribe is ditching the brand's name and deciding on a new one, all while expanding his community in his hometown of Los Angeles — one that is grounded in his heritage and brings the diverse experiences of Latinx people together. "New York was like a goodbye to Gypsy Sport — the name, the brand as we know it, and what I started there," Uribe tells PAPER over the phone. "LA was a hello, planting our seeds and saying, 'We are here to stay, and this is who we are now.'"


Coming off the heels of a successful runway show at LAFW, a N4XT Experience, Uribe gets a little sentimental reflecting on the last ten years, discusses the age-old debate of New York vs. LA and gives PAPER a glimpse into what's next after Gypsy Sport.
How have you been since you showed at NYFW?
It was my first time in a few years back in New York doing a show. And even if you're not having a show, it's already a stressful city. So to put on a runway with a small team was a ton of work and super expensive. Plus it was a destination show on Governors Island, which was probably a bad idea in hindsight. A lot of editors left upset without seeing the show because of the downpour. Honestly, we came back to LA with so much PTSD. I didn't want to close out this era of the brand with that. We deserved something much more celebratory.
Is that why you decided last-minute to participate in LAFW?
When we got back to LA, I told my friend Ciarra [Pardo], who owns LAFW and N4XT Experiences, that I really wanted to do something. But I wanted it to be West Coast-themed and do the show like a birthday party. I got to curate my dream cast. In a few weeks, we worked on new looks, new colors of our handbags and found a new venue. I'm really happy with and grateful for the outcome.
What were you excited to show in LA that you didn't get to in New York?
I got to show more tailored pieces. We have a new suit called the Bomba Suit, which is inspired by pachucos from the '50s and '60s and the Zoot suits that they'd wear. There were seven variations — including a denim one, a red one, a purple one, a khaki one — shown on all different genders. We're planning to sell it under the new brand name.
In what ways did the clothes stay true to the brand's roots?
Sport mesh really stays true to the origins of the brand, which was upcycling basketball and football jerseys. It's something that I'll probably always do. I like to use the sport mesh in ways that it's not used in sports by adding ruffles or lace trim. Then there's denim, which is one of the most toxic fabrics to produce because of how much water it uses to dye and wash. Deadstock denim is something that I've always upcycled. But for this 10-year anniversary, we also introduced sequins that you'd wear to a party for a celebratory vibe.
I noticed that you're really leaning into handbags, too.
In 2019, we started with a tote bag similar to Telfar's but made of recycled plastic. That sold really well so now we're deciding to fully go into handbag production. This year, we launched our logo bag, which took about six or seven months to develop the perfect sample, and it's launching November 6. They're made in India from vegan leather. Then we'll have new colors and new sizes launching in March.
Are you hoping that they become sort of the bread and butter?
Definitely. Telfar is one of my mentors. He helped me get my whole brand started and has always been a champion. He's been pushing me to make bags for years, so I finally did it! Bags completely changed his career and a lot of other designers' careers. I'm also planning to make a perfume in 2024.
How has the community played such an integral role in the brand?
Our community's still growing. We did what needed to be done in New York over the last 10 years, and now we're starting that in LA. At the end of the day, we're all still outsiders from the fashion industry who are looking for a place to call home, and I hope I can be that place for the community.
Do you see a difference in the communities in New York vs. LA?
In New York, you bump into your girls on the train, at a bar and even on the street. In LA, it's not as casual and tight-knit. You have to make a conscious effort to see people and make plans. There's still a lot of really fucking cool and talented people here. Contrary to popular belief, there are people with good style! I'm finding myself exploring and finding comfort in the LA Latinx and Chicano communities, which feels like a part of myself that I was just not close to for so many years. This show was a big testament to that.
How did that manifest in the show?
In the clothing, there's one piece that really represents that is the Bomba Suit — a baggy neoprene jacket paired with a sharp, tailored, high-waisted pant. But I used it to fuse two worlds. The Latino community in LA can still be very homophobic and transphobic so I wanted to try and bridge those worlds. We invited Foos Gone Wild, which is a big Latino meme community known for being machismo. They were all sitting front row and posting photos and videos of the show with drag queens, trans women, trans men and lots of homos. It felt very unifying, like we're getting tighter as a community. Hopefully we're more accepting of each other because of this fashion show. That's what I want to do moving forward: show the diversity of Latinx communities and bring us closer together.
Was that your intention in the casting as well?
I wanted to start with New York energy so my friend Radamiz, a Dominican rapper from the city, opened the show. Then we had Salina EsTitties from RuPaul's Drag Race. She's one of the few Chicana drag queens that has made it onto TV and references our culture. The third performance was Trino and Adam, a gay couple from East LA with a very cholo aesthetic, but they are also very proudly, openly gay. I see myself that way and wanted to show the world them dancing together and holding hands, not being shameful or embarrassed about it at all. The rest of the casting was an open call so we met a lot of people who are doing cool stuff and have good style.
How has the reception been?
I got the most important stamp of approval from my mom. She's been to so many shows, and she's usually like, "It was nice. Good job." But after this she said, "Wow, I loved it! So many good looks and so entertaining." I was like, Oh wow, okay. Something's working.
I need to hear all about the chaos of shooting all the models on Hollywood Boulevard.
Everyone was in a full look and still feeling their oats while we walked the two to three blocks it took to get there. And since it's Hollywood Boulevard, most people are tourists, so they kept stopping to take photos and videos. They were loving it!
What's it like looking back on the last 10 years?
Time flies when you're having fun. I swear it does not feel like 10 years, but I feel very proud of myself and my team. I've worked with so many different people along the way who've helped to get us to this point so I also feel really grateful. I have to admit though that changing the brand name now is heartbreaking for me. It honestly gave me a bit of an identity crisis, like, What? Who am I going to be now? But it's the right thing to do, and I feel great about it now. Ten years feels like the perfect time to change and start fresh.
I'm so corny, but sometimes you have to lose yourself a little bit to find yourself again.
That's exactly how I feel. Me and my team needed this show as a proper send-off. At the same time, it's a bit of an introduction to what's in store.
Photography: Guicho Palma
Photography assistant/lighting: Monica Zeluma and Dylan L
Editor-in-chief: Justin Moran
Managing editor: Matt Wille
Story: Andrew Nguyen
Models: Radamiz Rodriguez, Ivory Lopez, Izzy Curiel, Trino Garcia, Adam Vasquez, Lilu Lucio, Adrian Burgos, Jay Yoshizawa, Andrea Bahna, Swap Larrazabal, Raime Sojo, Starlina Sanchez, Amor Morales, Naythan Cotne, Allen Simpson, Niohuru X, Julia Nejman, Byron Rodriguez, Lex Orozco Cabral, America Ochoa, Ruby Woo, Joseph Rincon, Bay Davis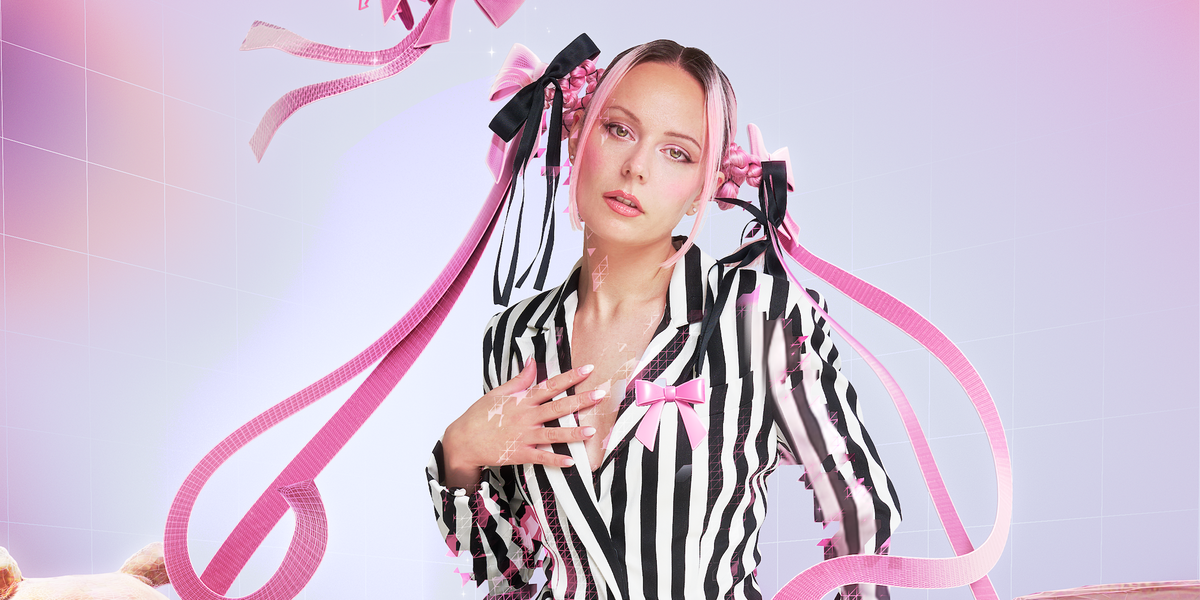 Music
Story by Harry Tafoya / Creative direction & VFX by Andy Rolfes / Photography by Nicholas Needham / Styling by Erik Ziemba / Hair by Davey Matthew / Makeup by Frostie Delite
Story by Harry Tafoya / Creative direction & VFX by Andy Rolfes / Photography by Nicholas Needham / Styling by Erik Ziemba / Hair by Davey Matthew / Makeup by Frostie Delite
07 November