After a successful run at its 79 Grand Street location in Soho, Gentle Monster is moving on up. The Korean eyewear label, founded by Hankook Kim in 2011, has relocated its Manhattan flagship to a 6,000-square-foot space at 70 Wooster Street. While it may be leaving the Rafael de Cárdenas-designed space behind — after holding a public exhibition complete with site-specific installations and photography days before the official closing — Gentle Monster is retaining its art-meets-retail store concept.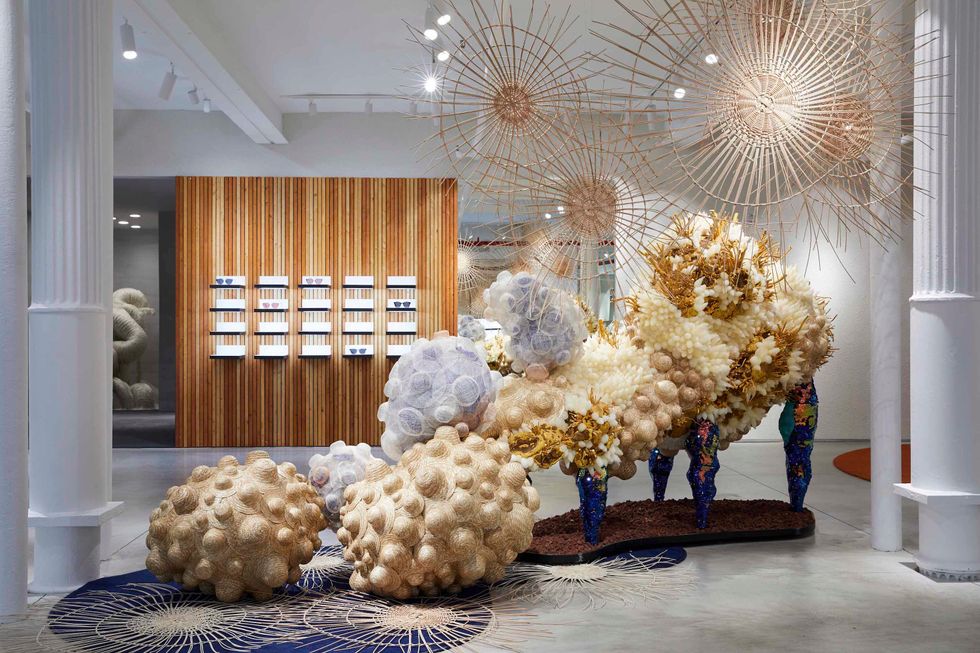 Alien-like, abstract sculptures made of metal pipes, wood, and earthen textiles anchor the new outpost in an elaborate conceit addressing the future and reconciling differences. Elsewhere is a bulbous piece made up of mesh and woven straw hats, a light installation encased in a cage-like structure, and a contraption fitted with a crane lifting a soaking mass of sponges. It's a feast for the eyes that'll change every two years like it does at the label's L.A. location.
Despite having over twenty different flagships around the world, each of Gentle Monster's retail outposts have their own visual identity. It's part of a larger strategy to create malleable retail spaces that offer more than sunglasses (though the shades are also just as meticulously designed). Now that the brand is valued at over $160 million, it seem the creative efforts are paying off.
Images Courtesy of Gentle Monster
Sign Up for the Morning PAPER