At Gem, the 19-year-old culinary wunderkind leads a team of like-minded talents with a goal of reimagining fine dining
"I have a very strong opinion on literally everything that happens in this restaurant," chef Flynn McGarry informs me, matter-of-factly, before a dinner service service at his recently-opened Gem. "We bought one of our cooks new glasses because we didn't like his glasses, and now he loves them."
In McGarry's defense, the entire kitchen sits under a spotlight smack in the middle of the 32-seat dining room, with every cook and server functioning as the cast of a performance he both directs and stars in. And the teen chef wears his perfectionist tendencies in an endearing way. "Obviously, we got his opinion on it, and we took him glasses shopping — it was ridiculous," the wiry 19-year-old adds with just a hint of demure. "It's just this funny thing with tiniest details. That's the stuff that I really care about."
McGarry is still relatively new to the idea of sharing, and overseeing, a kitchen — after all, he's largely worked solo since day one. At 11, after going through recipes from The French Laundry Cookbook, he began hosting a pop-up dinner series called Eureka out of his mother Meg's San Fernando Valley home, specifically, from his childhood bedroom-turned-kitchen tricked out with burners, stainless steel counters, and a prep station. In 2012, the New Yorker covered McGarry's dinners, spotlighting what had become a serious undertaking for the whole family: Meg, a filmmaker, began chronicling her son's cooking on a fast-growing Youtube channel; McGarry's sister, Paris, ran a blog called The Sister of a Culinary Prodigy; and Flynn, who had been bullied, had begun homeschooling to focus on his cooking.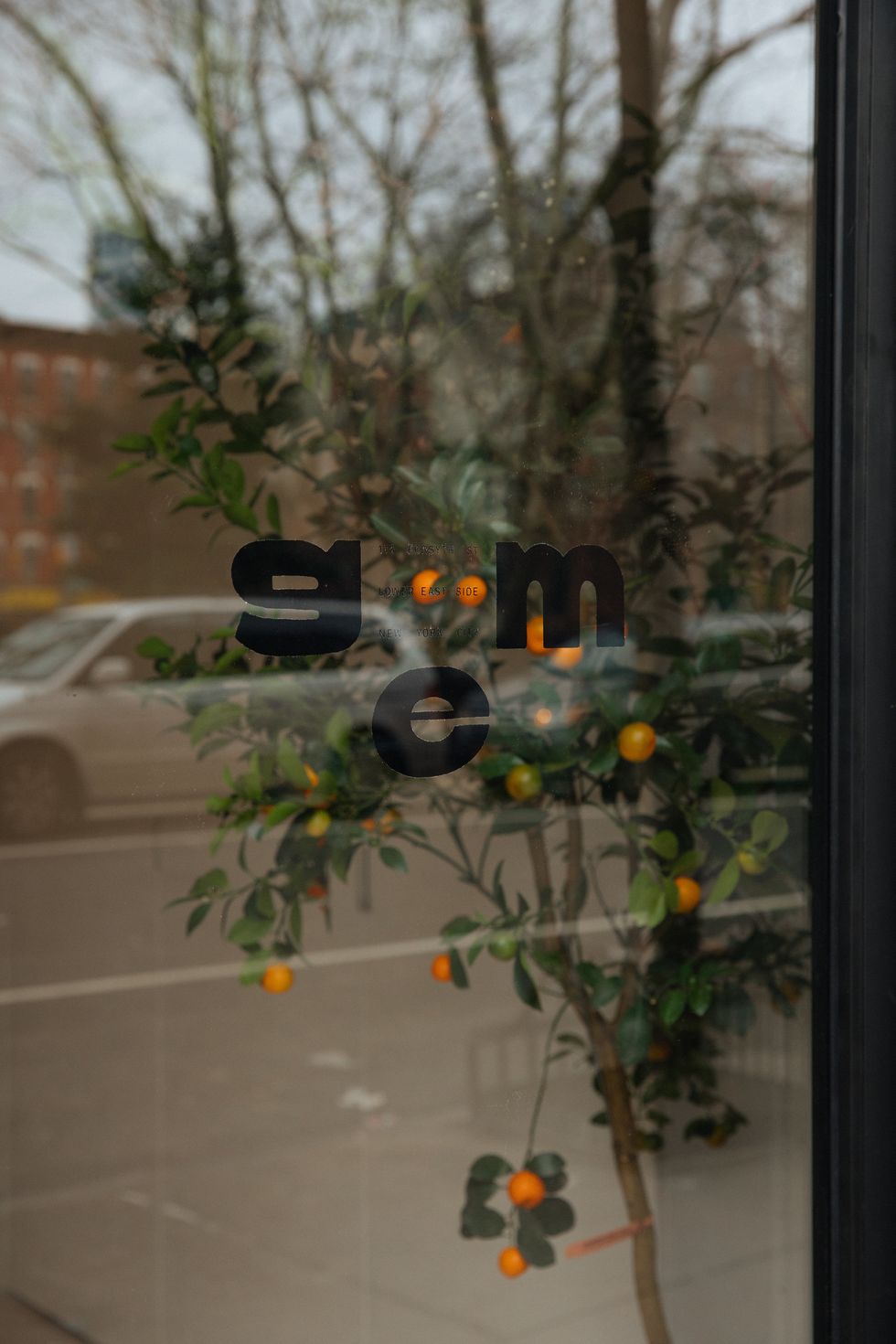 By the time he landed a cover story in The New York Times Magazine in 2015, the "Justin Bieber of food" had staged at some of the world's most renowned kitchens (Geranium in Copenhagen, Alinea in Chicago, and Eleven Madison Park in New York) and earned a fanbase of A-listers and food-world icons. And when Eureka landed for its run in New York that year, in-the-know food lovers flocked to the pop-up at Creative Edge studio, forking over $160 for one of 12 seats to be dazzled as McGarry plated tweezer-plucked garnishes and introduced wine pairings that he still can't legally enjoy. The media hypestorm — and the dinner's hefty price tag — divided diners, but even the most outspoken critics couldn't resist praising smart, thoughtful dishes like a now-famous aged beet served grilled, dressed with a beet-juice bordelaise and crowned with its own greens.
That humble root is now reprised at Gem, where McGarry serves it as one of the 12 to 15 courses on his ambitious, ever-changing tasting menu. But Eureka 2.0 this is definitely not: McGarry's been eyeing his next step for years, telling the Times in 2015 that he'd be working on his first restaurant by the time he was 19. (Imagine actually living up to your five-year plan). "We were spending so much time on the food, the wine, the service, but in someone else's space, it always felt like there was something sort of off," McGarry says of his pop-ups. "I always thought that it could be better in using the space. The biggest thing for me was being able to sort of create an environment that I think serves the food that I want to do and the experience that I want to give perfectly."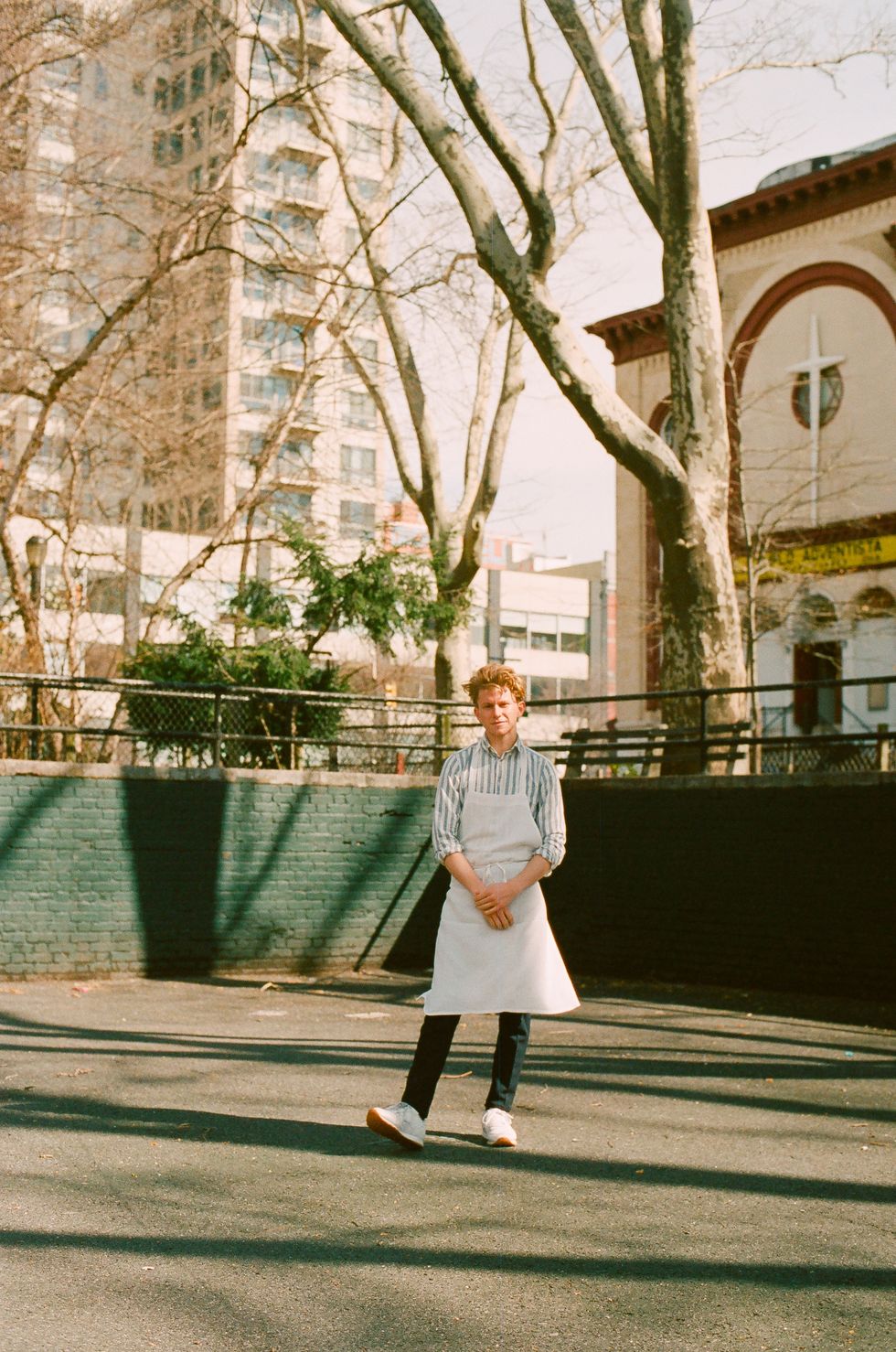 Modern and luxurious, but warmly inviting, Gem is inspired, fittingly, by the idea of an intimate dinner party at McGarry's home, recalling the ones he once hosted in Los Angeles, now relocated to a quiet, tree-lined strip of the Lower East Side. But McGarry's toughest challenge wasn't finding this prime real estate (he handled the nine-month negotiation of the 32-seat space all on his own), or garnering funding (he rustled up some 15 investors that included friends and fans of the pop-up), or even narrowing down an area of focus ("it's American food, but I've spent the past few summers in Italy so you'll see that too"). It was realizing that, for first time in his almost 10-year career, he'd be leading a team, controlling every aspect of the space, and carrying the weight of the restaurant's success on his shoulders.
Now, McGarry's overseeing a team of eleven staff —the majority of whom are not significantly older than the teen running the show; the oldest staff member is 33 — coming from some of the city's top kitchens including Per Se, Junoon, and Frenchette. He says it's been his biggest adjustment yet. "I've always been like, 'Oh, I'll just do everything myself,'" McGarry admits. "Being a leader has been sort of the hardest thing for me. It's hard to take a group of people who are all very different and try to get them all on the same kind of thought process, in the same mindset. We always refer to it as drinking the Kool-Aid."
An early sign-on was one of McGarry's earliest supporters, his 23-year-old sister Paris, who shares his fire-red hair but was spared his fussy nature. Gem is technically her restaurant — in order to obtain a liquor license, the person whose name is listed on the lease must be of drinking age. Paris, who works for a forthcoming female-driven review platform, splits her time between her apartment nearby and the restaurant, helping her brother pick up the slack in terms of administration, finances, and operations.
"Flynn is just very bad at organizing things — yes, I'll drag him," she laughs knowingly. "I just pulled these crumpled receipts from his bag 20 minutes ago." And like their mother, whose unconditional support for her son's career early on is a focus of the recently-released Sundance documentary Chef Flynn, Paris is always looking out for her little brother. "He's always done this with his family with him, and now he has employees who aren't his family," she says. "He's always had a really, really specific vision, so there are some huge growing pains now that this is a much bigger thing. Sometimes it's just about being there and figuring out when he needs help, because he has a hard time asking for it."
Luckily, McGarry's rapid ascent to stardom has thrust him into circles of like-minded talents, some of whom he began recruiting once Gem became a reality. And his staff speaks about him with a sort of reverence not commonly bestowed on someone so young. "I came into this trying to be as ego-less as I could, understanding that while I take what I do very seriously, this whole restaurant is Flynn's thing," says 24-year-old barista Elliott Foos, who oversees the daytime coffee program in Gem's Living Room. "It was never an issue for me to swallow my pride and take orders from a 19-year-old, but that's partially because he's been so communicative and open to trusting me to make decisions."

Creative decisions behind the bar, whether sourcing single-origin Ethiopian beans or trying a hibiscus iced coffee, are part of a larger ethos that Foos says everyone on-staff shares with McGarry, citing a communal, fraternal bond among the younger generation. "We're all working against an old-guard idea of how a restaurant and cafe is run," says Foos. "Coffee can be precise, we can be nerdy and skilled, while still presenting ourselves as human beings — and as kids — who want to host you, and be your friend. It's something New York needs right now."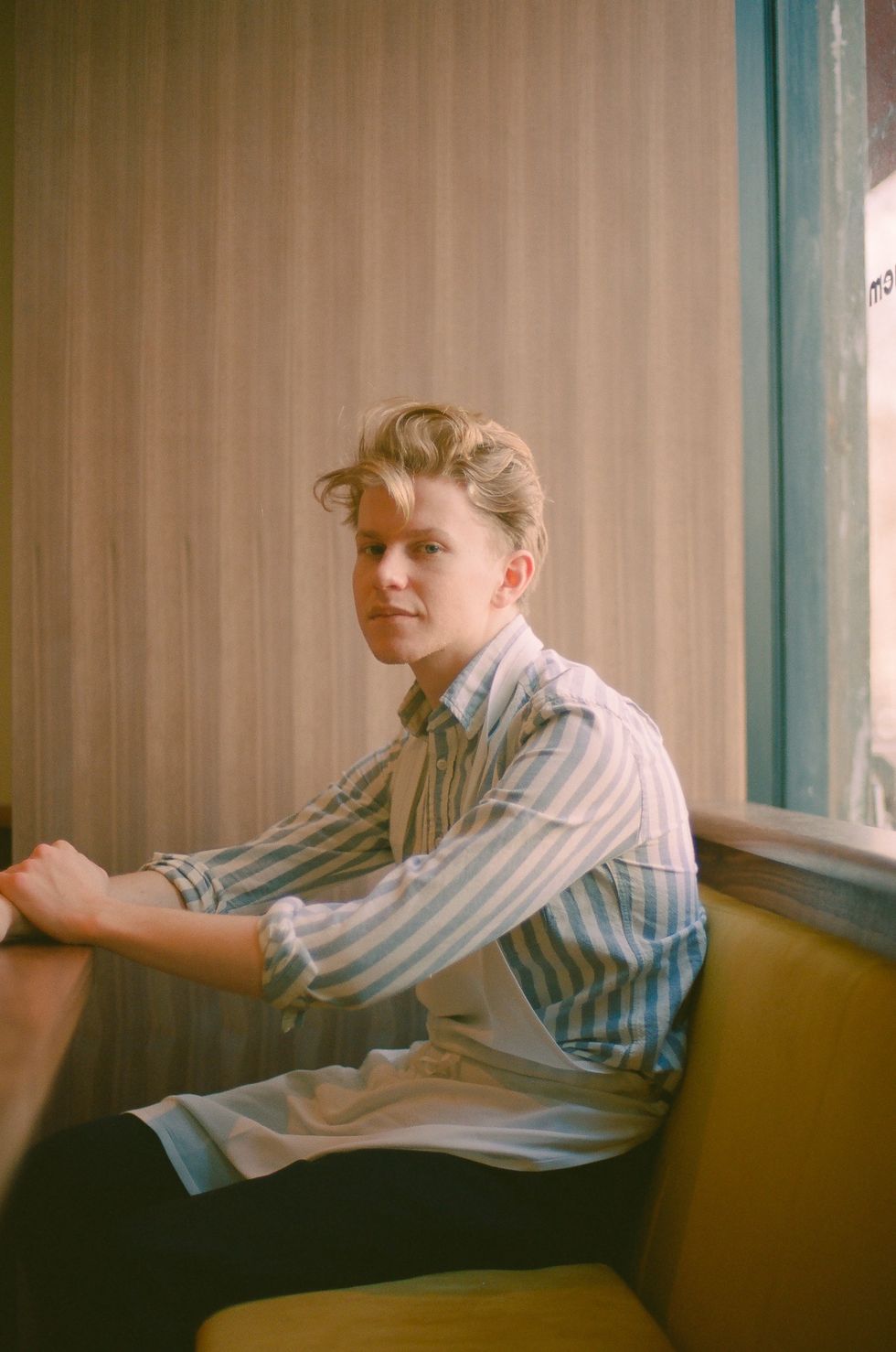 Wanting to create a space that would feel like an intimate dinner among friends, McGarry enlisted the help of his longtime friend, 27-year-old architectural and interior designer Brett Robinson, a rising star in his own right who's worked on commercial and celebrity residential properties. "It's got a sort of planned casualism — it's like you're comfortable letting your hair down but it feels really sexy when you do it," Robinson explains of the restaurant. "The way all the colors work, the way the kitchen exists in the dining area — it doesn't feel like you're in a commercial kitchen, but instead at a glamorous dinner party."
To that end, the Living Room space — fitted with a red oriental rug, mid-century wooden chairs, and metallic tables that Robinson himself created ("my first foray into furniture", he says) — recalls a impeccably stylish friend's apartment, the perfect place to have a cup of coffee and get some work done during the day while peeking in to see the prep magic taking place in the kitchen. For each of the two seatings at 6pm and 9pm, guests are invited in for an aperitif before heading into the Dining Room, featuring large, natural-wood communal banquettes, a central marble-lined kitchen and island counter, and an eclectic collection of art ("I picked up this 1920s Navajo tapestry at a flea market when I was 19," says Robinson) and curios ("Flynn almost missed his flight from Italy buying these Campari cups") sourced from the duo's travels.
"We move you throughout your meal a little bit," explains McGarry about the split-space concept. "If you're at someone's house, you're not going to be sitting at the dining room table for the entire meal. You're probably going to move into the living room having a drink, something like that. So, I mean, that's why we sort of have this room of like having people be able to get a little more comfortable and hang out for the night."
Robinson also points out the stage-like quality of the kitchen, where guests can watch McGarry whips out his handy tweezers for a final touch, as well as the plateware and dining surfaces, whose raw materials and understated elegance serve as a backdrop for the chef's colorful, seasonally-rotating compositions. "While you're waiting between courses, the idea is that there's a performance going on. The space was meant to be malleable to whatever Flynn wants to drop on the table."
But for all the design know-how Robinson's brought to the restaurant, he credits McGarry's work ethic and leadership style, as the driving force in making sure the space came together the way it did. "Flynn's demanding. As easygoing as he is, he's very clear and concise in his vision," says Robinson. "We had a date that we were going to open and we did this all in three months. From the lease signing to the first friends and family dinner was three months. There's no project especially in food and beverage that gets done in that time frame. But it's because he was so clear in what he wanted. It was either put up or shut up. I think some people might be intimidated by that, but it's one of his best qualities. He just keeps going."
In 2015, one of McGarry's most outspoken critics, the chef David Santos, lashed out at him in a lengthy Instagram post, saying, "Try managing people and dealing with the in's and out's of an operation and still being creative and inspiring to the people that work under you and entrust their futures in the knowledge you will pass onto them. That's a chef; that's what a chef does." McGarry has come a long way in the past three years, and while he might not have been able to offer a rebuttal to those criticisms then, he certainly can now. "I was here until 4:30 last night with one of our servers, who stayed late with me to help put in all the new banquettes," McGarry says. "I realized that this thing is as much his work as it is mine, and while sometimes I get all the credit for it, I really want to make everyone here feel like it's everyone's."
Sign Up For The Morning PAPER