All Introductions by: Know Your Rights Camp members Miabelle Bocicault, Dr. Ameer Hasan Loggins, Dr. Christopher Petrella
The great poet Maya Angelou once said that "Courage is the most important of all the virtues, because without courage, you can't practice any other virtue consistently." Unwavering. Unrelenting. Unflinching. Unapologetic. Carolina Panthers safety Eric Reid is the living embodiment of courage. Understanding that courage isn't merely something someone has but something that someone does, Reid's commitment to the lives of Black people and their ability to thrive has been unshakeable. While on the San Francisco 49ers, he was the first professional athlete to join with teammate Colin Kaepernick in his protest. His representation of the right to be courageous serves as a reminder that courage is active and kinetic, premised on the power of conviction and the indefatigable urge to live a principled life by design, not merely by default.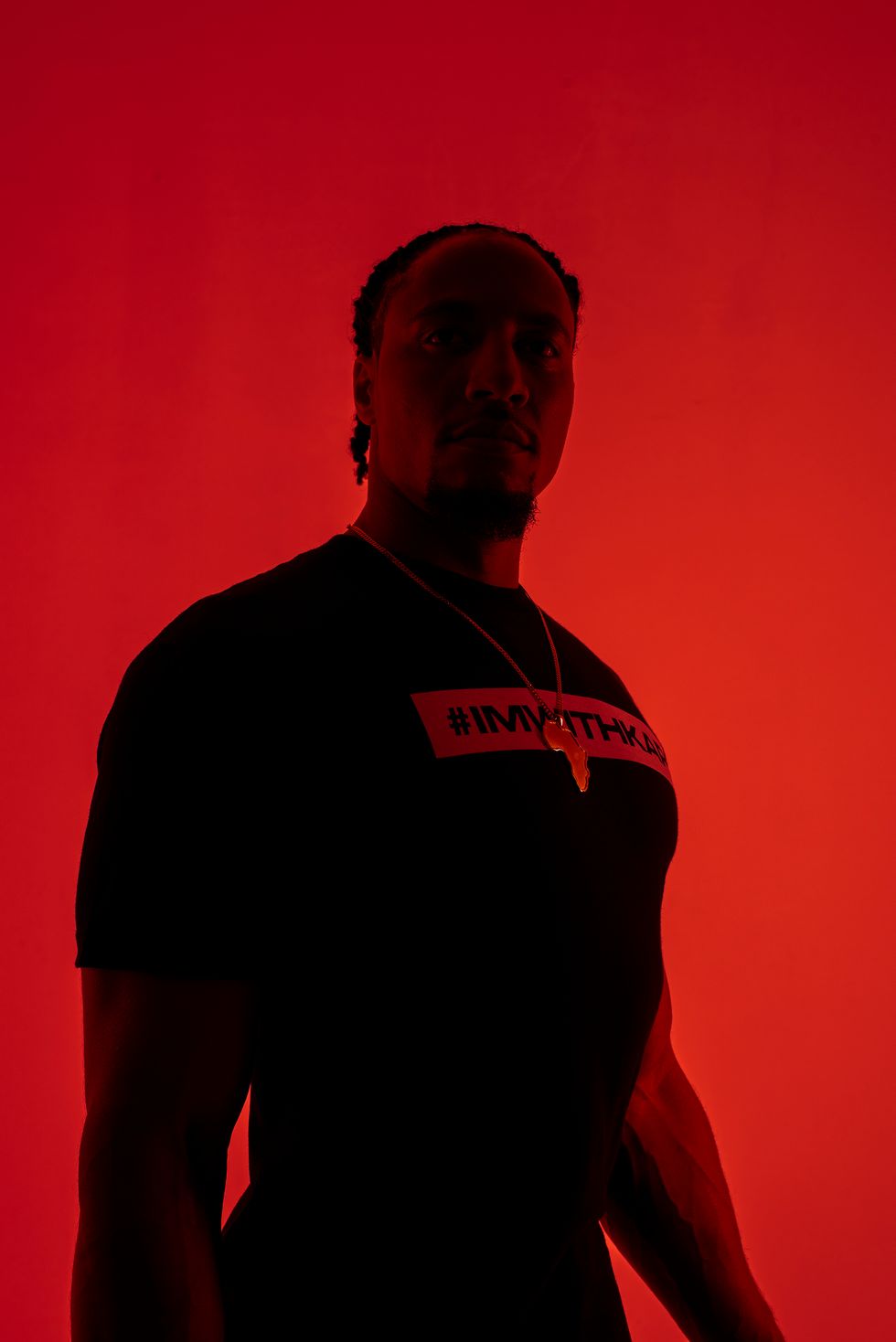 T-Shirt: Colin Kaepernick
What does it mean to be courageous?
Eric Reid: Courage is having strength in the face of adversity and doing something that other people wouldn't do in that moment.
Why is society intimidated by a courageous Black person?
ER: It disrupts the power structure for a person of color to have courage and to show strength in the face of a system that's meant to oppress them. People aren't used to that. And when they see it, they don't know how to handle it. Some people are scared of it. And things that people are scared of, they tend to be against.
How does one overcome the fear to be courageous?
ER: The way that I say I've overcome that fear is to cement myself in truth. I've made the conscious decision to know that there's freedom in truth. As long as I'm speaking the truth, I don't have to worry about what I say, I don't have to be afraid of what I say, I don't have to worry about what it looks like in the future, because it's the truth.
"Courage is having strength in the face of adversity and doing something that other people wouldn't do in that moment."
Why is it important to support someone who is being courageous?
ER: I think it starts with self-esteem. And self-esteem becomes self-love. When you love yourself, you can love somebody else, and when you love somebody else or you do something that goes against a system that's in place, people will attack you for it. They'll isolate you, as I've seen with my brother Colin. So it's important that you let that person who's been isolated know that you're there for them, because if not, the psyche becomes affected.
How can someone exemplify courage in their everyday actions?
ER: I think it's as simple as supporting somebody who needs support. We live in a society that views needing assistance as a weakness. But everybody needs help in some shape, form or fashion. So being a person of conscious to stand next to somebody who needs help, no matter what that form may be, [exemplifies courage].
What does "You have the right to be courageous" mean to you?
ER: It's inherent in your existence as a human being. When something happens that is grotesque, when something happens that is unjust, you have the right to have the courage to do something about that without the place or the system that you live in turning against you.
Artist's Statement by Shawn Theodore:
My style of silhouette photography is a direct acknowledgement of philosopher Alain Locke, the "Dean" of the Harlem Renaissance. His intellectual contributions to the artists and scholars of the Black Arts revolution gave a new sense of pride and advocated dignity in African American culture. His writings impacted painter Aaron Douglas, who created works in stylized silhouettes, which connected the aesthetics of the Motherland to the newly minted agency of the "New Negro." These depictions of Black life and spirituality are at the root of my pride, process and practice, and are evident in this portfolio.
Sign Up For The Morning PAPER