Two years ago, the fashion world lost one of its greatest unsung heroes: Judy Blame. The British stylist, jewelry designer and punk iconoclast defined the gender-bending London club scene of the '80s and collaborated with countless designers and musicians such as Neneh Cherry, Boy George and Björk. The passing of Blame affected Dior's men's artistic director Kim Jones profoundly, as the two have been friends since Jones was just 16.
So for his Fall 2020 men's collection shown in Paris this week, Jones paid tribute to the late creative by incorporating various references to Blame's work as seen in the logos, embroidery, jewelry and other accoutrements. He did this while adding elements from the brand's rich archives and history, particularly the '50s era of haute couture. The result is a stunning feat of savoir-faire that made this the most elegant and opulent effort yet from Jones at Dior.
See below for a closer look at every single Judy Blame reference from Dior Men's Fall 2020 collection.
"This show is dedicated to the memory of Judy Blame, a close friend and pioneer in the world of fashion, whose love of couture was an inspiration to us all."
Kim Jones
Dior Men's jewelry designer Yoon Ahn developed a series of metallic chains and charms that reinterpreted pieces by Judy Blame (wrenches, keys, etc.), which are engraved and embossed with the Dior logo that hung on coat lapels.
The Safety Pin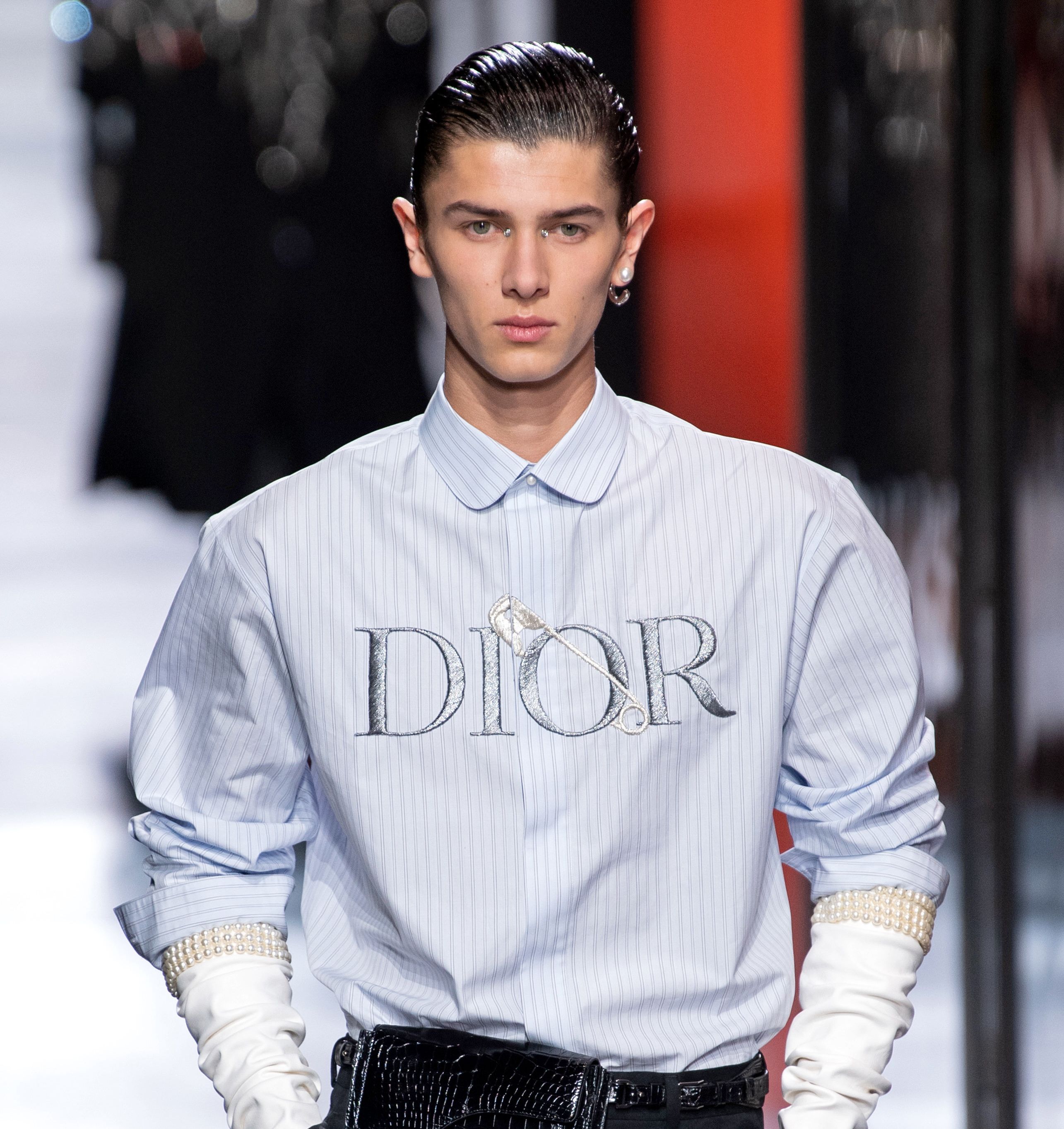 Photo via Imaxtree
All the Dior logos include an image of a giant safety pin piercing the letter "O," a nod to Blame's DIY-inspired style. (He was known for taking random scraps of objects and turning them into statement pieces and necklaces.)
Dior's signature Toile de Jouy print was given a Blame spin with a pair of graphic intarsia knit sweaters called "Toile de Judy" which were designed in collaboration with the Trust Judy Blame foundation.
Arrow Cap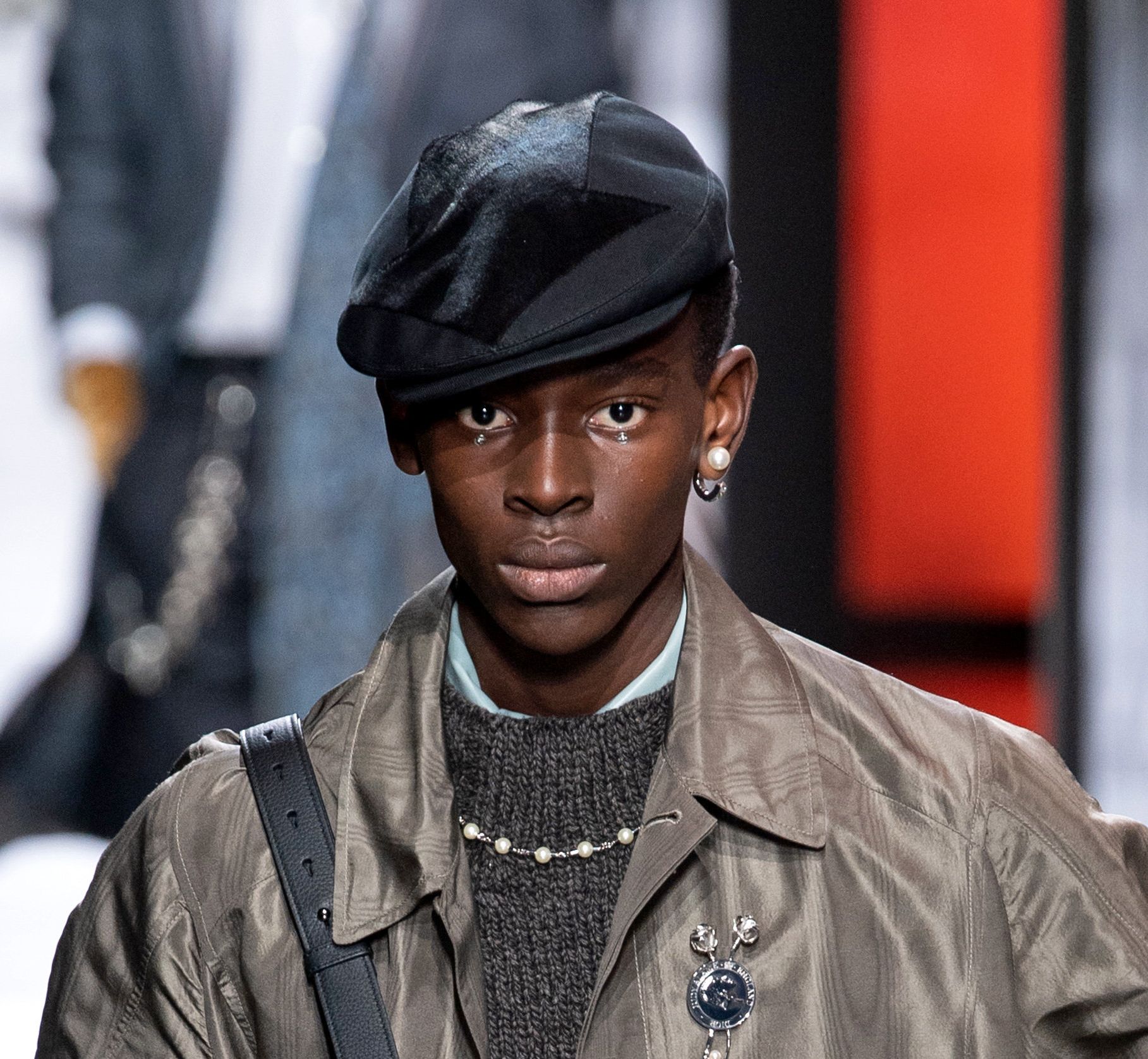 Photo via Imaxtree
Dior teamed up with milliner Stephen Jones to design the hats for this collection, including one standout newsboy cap that featured a calf hair arrow, a reference to the famous arrow shape Blame shaved his head as.
Most people are familiar with Dior's famous newspaper print from the Galliano era, but it turns out there's an indirect link with Blame himself. Jones told WWD that Blame's longtime colleague Stephanie Nash helped design the Galliano Gazette print for his own brand before he brought the concept over to Dior.
A subtle reference to Blame's punk roots, the metal zip hardware was applied to unexpected place like the front of berets and in curving shapes on Chelsea boots.
Each look came adorned with opera gloves in a variety of textures and colors, which pay homage to not only the brand's couture archives but the eccentric styling aesthetic of Blame, who was known to love a glove.