A light fixture woven from thread made of cork and designed using algorithms. A bio-ink that can tell you when your eggs are about to go bad. Planters made from recycled textile fibers. Such were some of the forward-thinking designs that advanced to the final round of the Lexus Design Awards at this year's Salone del Mobile in Milan, Italy.
Splash photo: The prototypes display for "Testing Hypotheticals" by Extrapolation Factory

But the winner of the Grand Prix would be a concept altogether more abstract, less tangible product and more educational workshop model. Called "Testing Hypotheticals," the winning project was the work of Extrapolation Factory, a New York City-based design team comprised of Elliott P. Montgomery and Christopher Woebken. The entry centered on a two-part workshop that Extrapolation Factory had held in Corona, Queens in which they asked local residents to participate in exercises where they imagine and create narratives around the future they wish to live in. "We live in a world where our societies don't help us think about long term futures in a very comprehensive, critical way," Montgomery told us of the motivation for the project. "We all have a vested interest in the future but you don't have classes on the future in elementary school, middle school or even high school. But you do have history classes and science. There are PhD programs for thinking about the future or Master's courses but most of us don't get opportunities to think about our future or write our own future narratives."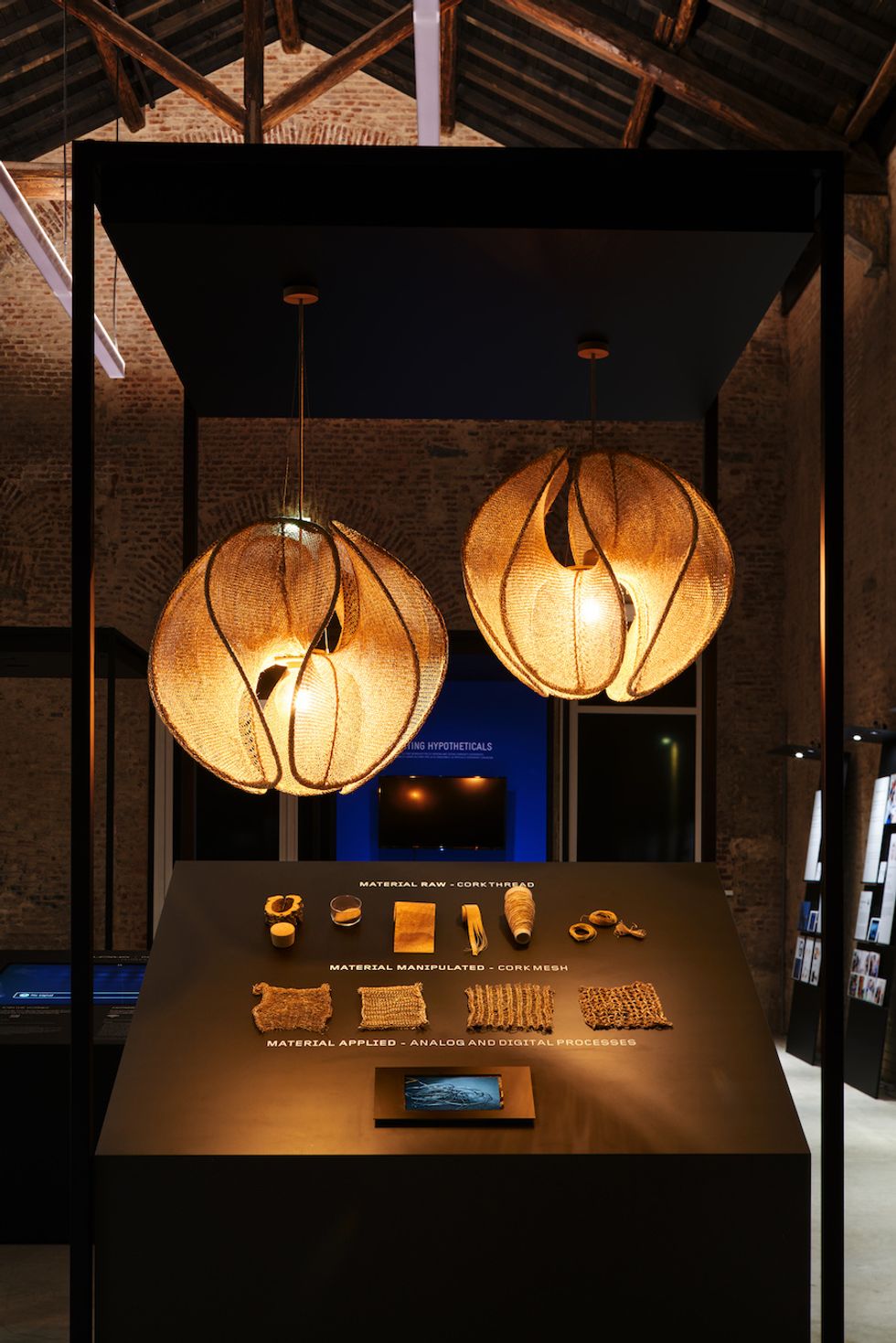 Prototype display for CORKs by DIGITALAB

The decision to hold the workshops in Corona, Queens was no accident, selected for its history having hosted two World's Fair exhibitions. "The World's Fair is an interesting historical event because it is a moment where the future is revealed in some way but it is only one future that is dictated by very large corporations like IBM, General Electric and General Motors," Montgomery said. This time, Corona's futurists were not massive companies but local residents who, Montgomery said, were guided to think "about how to engage in these conversations about long-term futures." After the participants brainstormed futuristic ideas -- mainly ones that revolved around city planning such as an underground recycling program that sucks debris off the street or subway systems that feature community gardens inside the train cars -- they used props provided at the workshop to create representations of what they had come up with and, later, improv actors arrived to interact with the objects and portray what this "city of the future" might actually be like.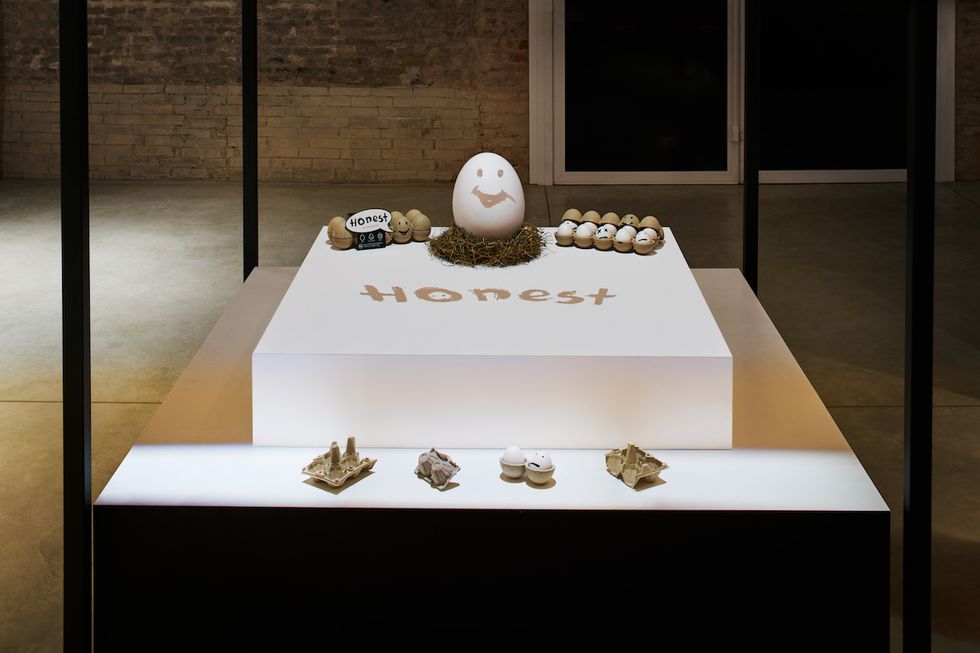 Prototype display for Honest Egg by aesthetid

"Testing Hypotheticals" was bestowed the grand prize by a prestigious judging panel of some of the design world's biggest names like Sir David Adjaye, Shigeru Ban, Paola Antonelli, Birgit Lohmann, Alice Rawsthorn and Yoshihiro Sawa. The award ceremony, which took place this past Monday in Milan, capped off nearly six months in which Extrapolation Factory and the three other Lexus Design Award finalists had worked alongside design world mentors to develop prototypes of their ideas, which were on display in Milan. The finalists created the aforementioned prototypes like the cork thread light fixtures (Portuguese design studio DIGITALAB, comprised of Brimet Fernandes da Silva and Ana Trindade Fonseca), the bio-ink that predicts when eggs and other food products spoil (Malaysian firm aesthetid, comprised of Paul Yong Rit Fui and Jaihar Jailani Bin Ismail) and the recycled fiber planters (Japanese textile designer Eriko Yokoi). The mentors included designers and design teams like Formafantasma (Extrapolation Factory), Lindsey Adelman (DIGITALAB), Jessica Walsh (aesthetid) and Sou Fujimoto (Eriko Yokoi).
The relationship was "not like a teacher and student, it was more like a collaboration," Fujimoto said of mentoring Yokoi, a sentiment echoed throughout by the mentors. Collaboration was a particularly fitting way to describe the relationship given that the theme of this year's awards was "CO-," meant to evoke all the different intermingling associations the Latin prefix describes (collaboration, connection, combination, coordination...). Many of the pieces stressed a connection between design and sustainability, whether it was the recycled fiber planters Yokoi created, the greener futures dreamed up in Extrapolation Factory's Workshops, the thread that could be made from wine cork stoppers in DIGITALAB's design pieces or the reduction in food waste that could arise as the result of aesthetid's bio-ink.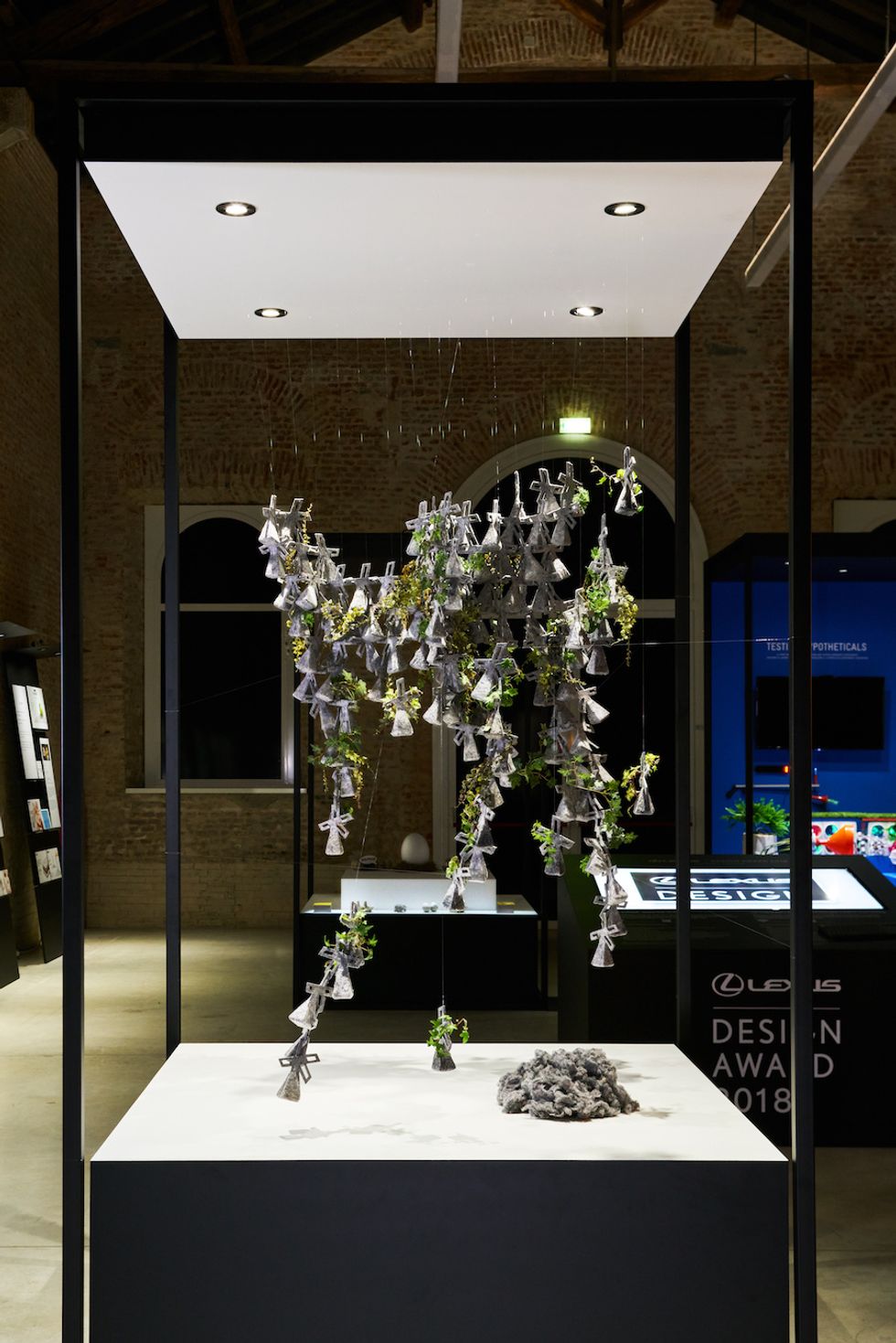 Prototype display for recycled fiber planters by Eriko Yokoi

While Salone del Mobile may have wrapped up yesterday, these ideas are just getting started. Each team plans to continue developing and refining their products. And, who knows -- they may even cross paths with Lexus again -- the auto company expressed a desire to keep their eyes on all of these young finalists. "We want to have the pleasure to be able to work with these designers [later] after they've started their work through the Lexus program," Yoshihiro Sawa, the president of Lexus International, said. He pointed to past participants who have gone on to successful careers like Nendo's Oki Sato. He added, "We want to invest in young designers ...and to help them find solutions to create a better society."
Sign Up For The Morning PAPER
Fashion
Creative direction by Jess Cuevas / Art direction by Sakura Bready / Photography by Drew Escriva