During this year's second Desert X, the contemporary art biennial in Palm Springs, the region and its surrounding desert was transformed to capture the landscape's most mystical qualities. The inaugural Desert X, in 2017, which hosted large-scale art from underground bunkers to a robot named ShyBot created to avoid people, drew up to 200,000 visitors from around the world.
With respect to that, the curatorial team — including artistic director Neville Wakefield and co-curators Amanda Hunt and Matthew Schum — invited a diverse international cast of artists with distinct, global perspectives to create large and experiential art. Collectively, it somehow reverberated with the magical energy of the land containing it — from the sprawling Coachella Valley and the enigmatic Salton Sea to the glistening Mount San Jacinto peaks.
Nineteen artists — from crowd favorite Jenny Holzer to Paris-based Iván Argote and Danish collective Superflex — created imaginative visions grounded in real and up-close concerns. They addressed everything from the consequences of climate change to immigration and the colonization of the indigenous land surrounding them. That said, the art on display was made respectfully and notably, without borders.
PAPER saw most of Desert X, which is now free and open to the public, and after learning about the five artists' monumental works mentioned below, you'll have to see it for yourself, too.
Pia Camil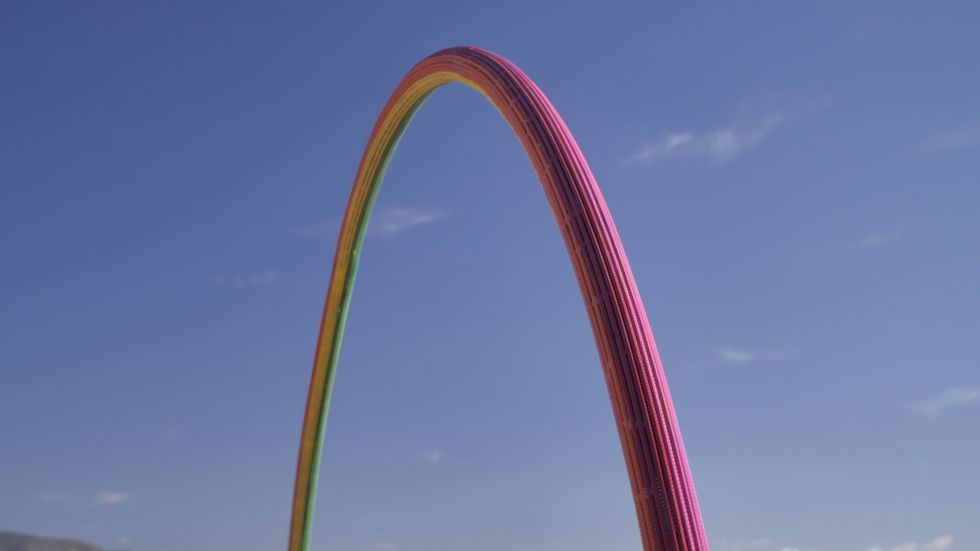 "Lover's Rainbow," 2019 (Courtesy of Pia Camil)
Mexico City artist Pia Camil normally works within multimedia modalities to examine the landscape of Mexican cities, their relationship to modernism, and how it's all packaged and sold to the highest bidder through advertising and retail. For Lover's Rainbow, Camil sought to address the pressing issues of borders, notions of "security," and immigration, without sacrificing her tendency to look at growth. There are two companion rainbows: one in Baja, Mexico which was commissioned by Villa del Valle in collaboration with Charco and curated by Pablo Leon de la Barra, and this one, at Desert X in the Coachella Valley. Each rainbow was constructed using painted rebar, which was engineered and welded together in pieces to form an arch by architect Mateo Riestra.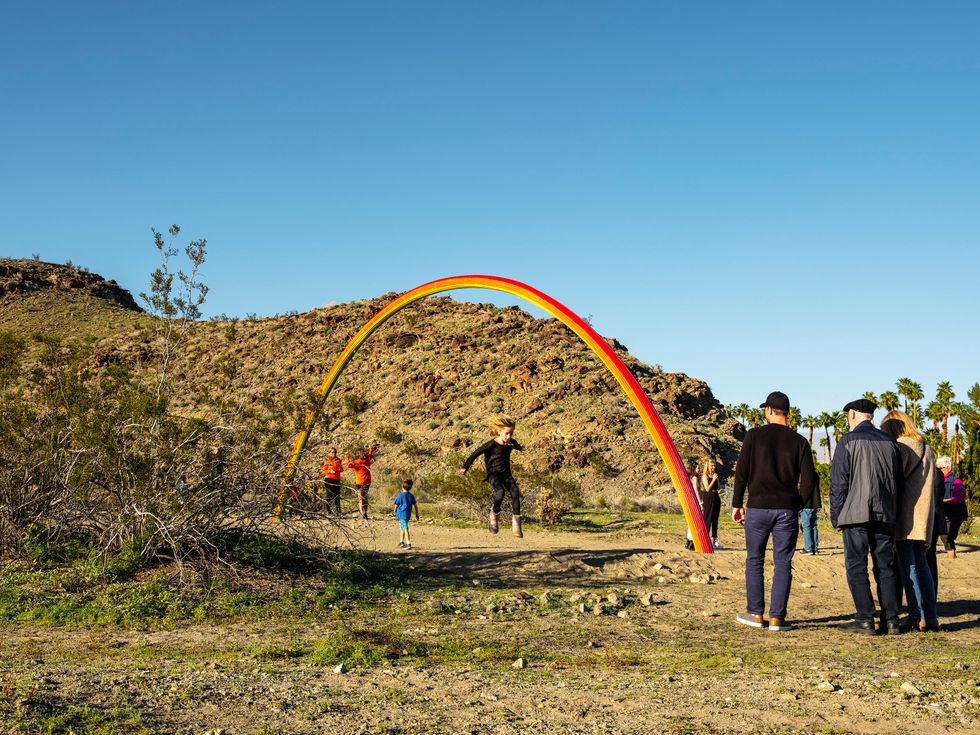 Lover's Rainbow, 2019
Photo: Lance Gerber
​The use of rebar is entirely intentional, a commentary on development of something new. In Mexico, those developments are often abandoned, which perfectly illustrates the way American policy of late has sought to exclude, prevent, and erase migrants from picking up lost hope to make dreams reality. Rainbows, a signal of rain and growth after the rain, stretch through the sky as triumphant symbols of hope and renewal, which is needed now more than ever.
Camil tells PAPER: "I was doing a residence in the Guadalupe Valley with my family, and that weekend was when the government shut the border down and tear gassed people. Everyone in the area was directly affected by it. Strangely, the landscape environmental conditions are almost identical here [in Palm Springs] as they are to the Valley, so that's when the idea was born to bridge the work I did there to having a companion piece here, and throwing some light into the darkness happening at the border. It's a hopeful idea, as long as it gets us to talk about solutions on how to move forward."
Eric N. Mack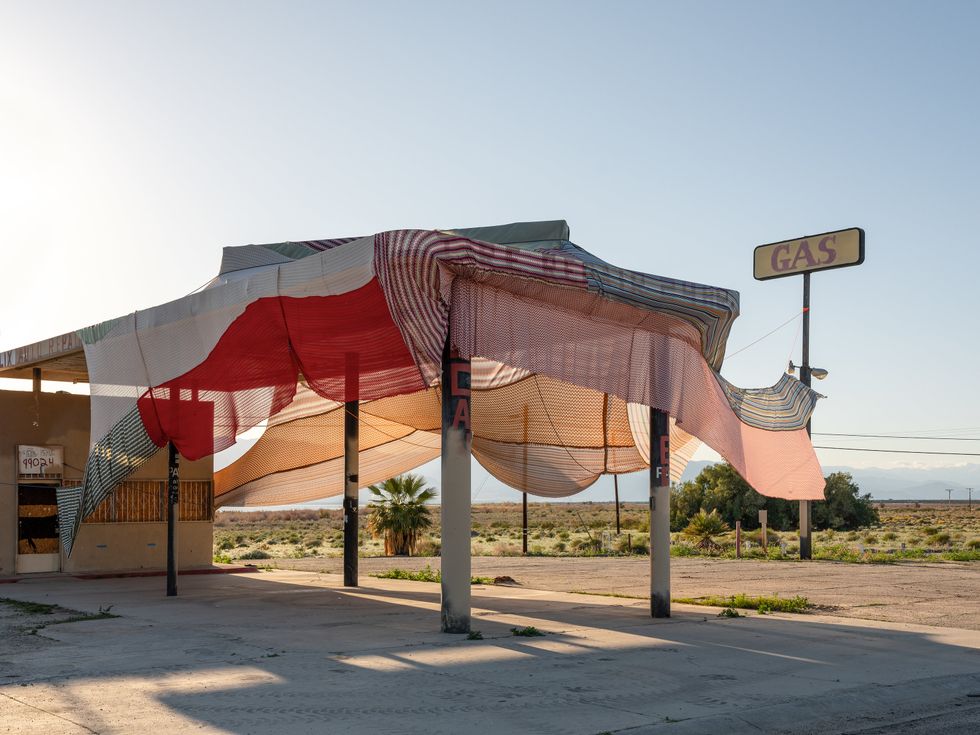 Halter, 2019
Photo: Lance Gerber
At the orientation preceding a visit to this historic converted gas station at the edge of the Salton Sea, Desert X co-curator Amanda Hunt told PAPER that Eric N. Mack, is "ironically, best known as a painter." But this piece, called Halter, successfully merges the New York artist's experience with sculpture, fashion and painting. One mission Hunt had when Mack was commissioned to make Halter, and from the other artists she invited to show at Desert X, was to "make the invisible visible," which included elevating the perspectives of "people of color, women, and really ambitious people."
For Halter, Mack, with support from Missoni, stretched colorful silk and tulle fabrics across the edges of the building, allowing parts of it to drape and billow in the wind, highlighting the wind's tense relationship to the desert and sea. The fact that the gas station feels isolated from main roads and stretches of highway allows viewers to have moments of pause and reflection from a chaotic world. For Mack, a Black artist whose expressive paintings can be perhaps best described as visual sheet music, Halter is a significant expansion of his work — a structural piece of music, outlining its own dance in solitude.
Nancy Baker Cahill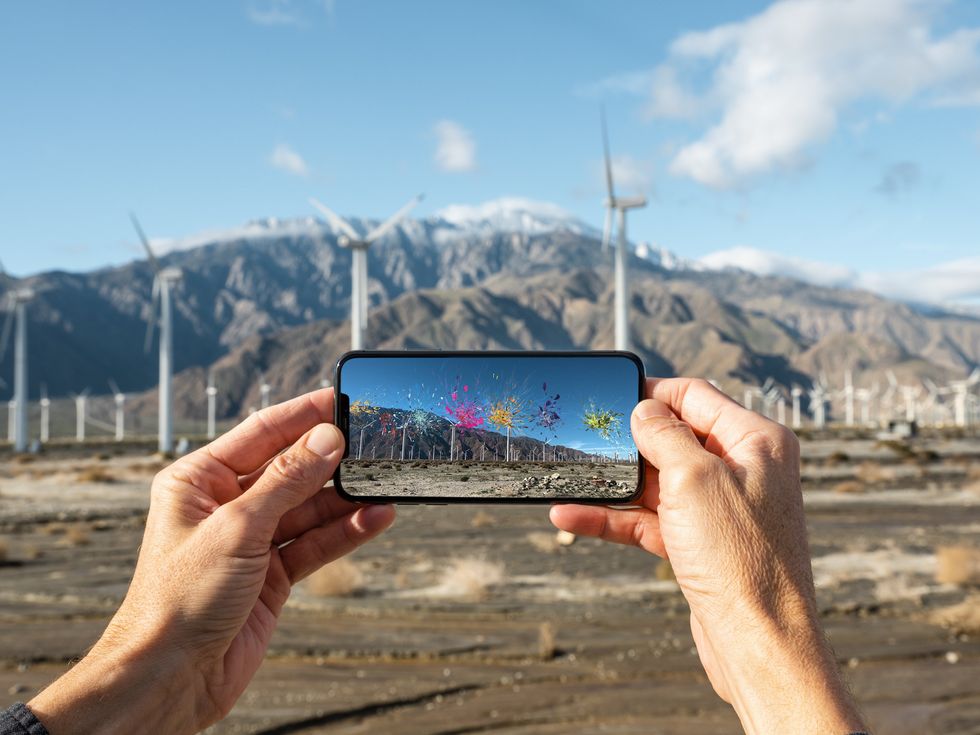 Revolutions, 2019
Photo: Lance Gerber
A common theme throughout the work of Nancy Baker Cahill is the body's tenuous but cyclical relationship to nature, as seen through the high-tech mediums of augmented and virtual reality. So needless to say, her two displays at opposite poles of the Coachella Valley, Revolutions, facing a windmill farm and Mount San Jacinto, and Margin of Error, off a beach path at Salton Sea, appropriately serve Cahill's ongoing artistic exploration. One thing artists and curators were ever-more conscious of this year was the desert's existence as sacred land, belonging to Indigenous people.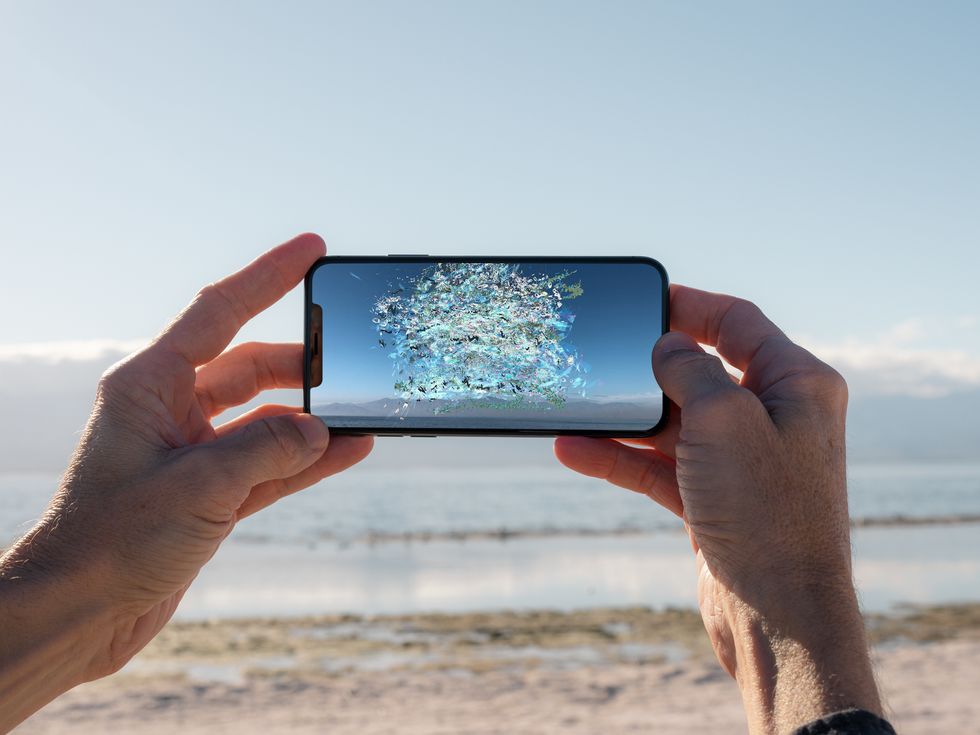 Margin of Error, 2019
Photo: Lance Gerber
As Desert X's artistic director Neville Wakefield rightly notes, "The land was never ours to claim." Cahill's decision to use technology that doesn't take up space feels respectfully in line with that acknowledgment. Revolutions is a commentary on how we need energy to fix man-made environmental crises, while Margin of Error represents how human development over time has increased environmental disaster. To capture the urgency of these issues, the only way these installations can be viewed is on site, digitally through an exclusive, free app by Cahill called The 4th Wall.
Depending on where you are and the moment you're in, you can see either pixelated explosions of blooms or fireworks — or what looks like waves of water, cascading or crashing, not unlike the surreal beauty and terror of a hurricane. "Still, when we use the phone as a means of viewing these things, the phone draws the work to you," Cahill tells PAPER. "It's asking you consider the landscape...that's the beauty of AR, is there's no environmental harm beyond the electricity needed to download the app, or driving your car to the site. It's sometimes inevitable these days, but if we can reduce the impact things have on the land itself, and allow viewers to think more consciously about the earth and our humanity, however fragile, then it's a step in the right direction."
John Gerrard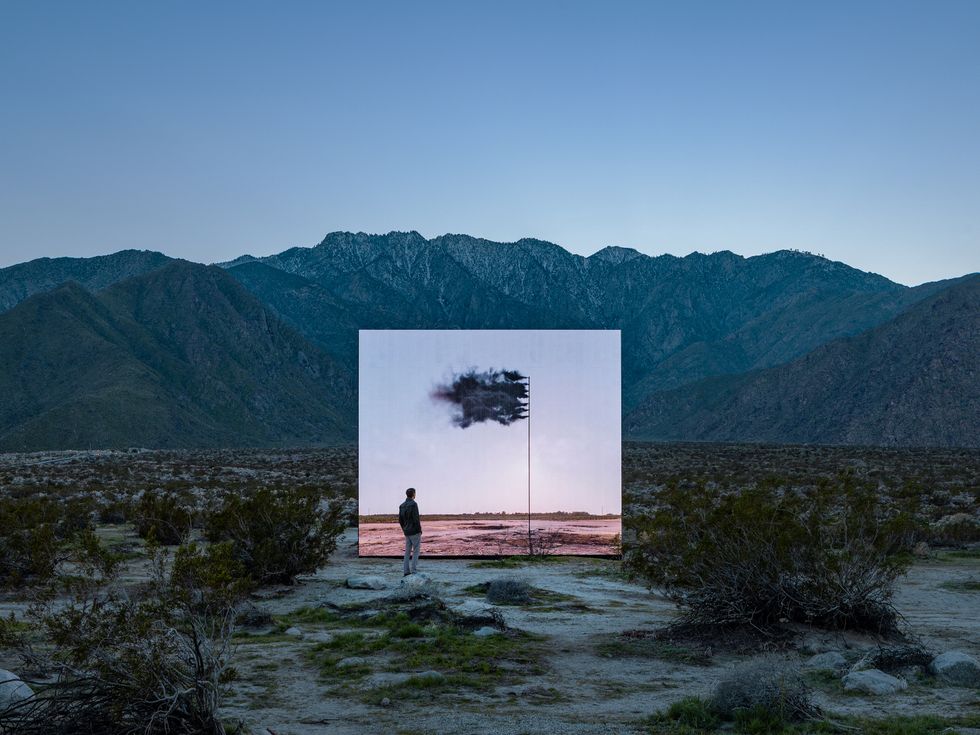 Western Flag, 2019
Photo: Lance Gerber
Irish artist John Gerrard is known for incorporating live visuals against isolated backdrops. For Western Flag, he, like many artists at this year's Desert X, focused on the consequences of climate change, explored through unflinchingly political imagery. The light-emitting screen you see here is situated right at the gateway to Palm Springs and the Coachella Valley, a few paces away from a cheery Palm Springs visitors' shop. This doesn't feel accidental, when you consider the oft-repeated mythology of the American flag, which purports that freedom can be found in America for those born here and those coming here for a "better life." Gerrard's take on the flag forces viewers to grapple with the self-destruction of climate change and possibly consider how disputes over one of the world's most prized natural resources, oil, have led to the invasions in the Middle East and elsewhere.
A projection from the desert is actually the now-desolate site of the Lucas Gusher, the world's first major oil find located in Spindletop, Texas. The recreated image is a digital simulation, where the flagpole is made to look as though it is spewing out black smoke. The digital image is parallel to the Texan site throughout the year, with the sun rising and falling as it does, with no beginning or end for the simulation. It's symbolic of the cyclical, but worsening evolution of climate change, and with a replica of the American flag, it somberly suggests how we might hold ourselves accountable.
As Desert X curator Hunt noted earlier, here, the willful pursuit of oil and the invisible gas destroying the earth and depleting resources is now made visible. Gerard tells PAPER: "Western Flag asks us to think of how we have committed to the earth's destruction, and we all play a role. But what I find interesting too is how this operates endlessly on cycles of sunrise and sunset. It's perhaps most beautiful at dusk here in Palm Springs because it's closer to midnight in Texas. The screen in the desert is like a torch, then, and a constant reminder of what's really in front of us."
Cara Romero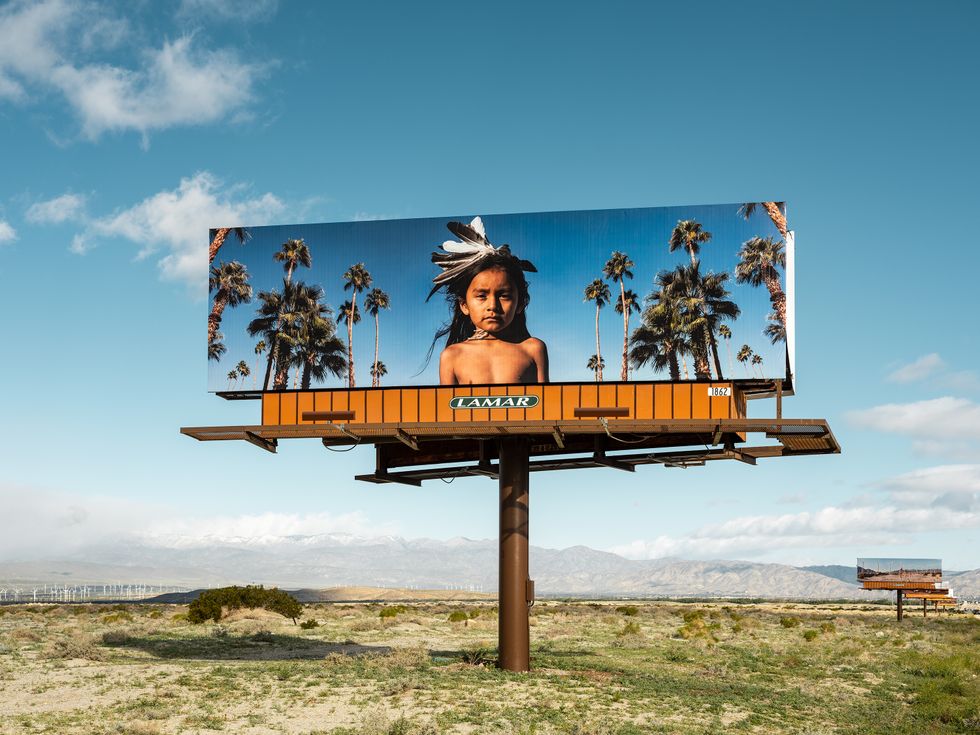 Jackrabbit, Cottontail & Spirits of the Desert, 2019
Photo: Lance Gerber
New Mexico-based artist and Chemehuevi tribal citizen Cara Romero's work is certainly among the most important at Desert X, given this year's noted emphasis on Indigenous perspectives. Romero's work is often said to be a response to life in Indian Country, as she explores the complexities of Indigenous life and the women who anchor it. Her medium is impactful digital photography, and at Desert X, she has produced a series, Jackrabbit, Cottontail & Spirits of the Desert, across billboards lining Palm Springs' Interstate 10.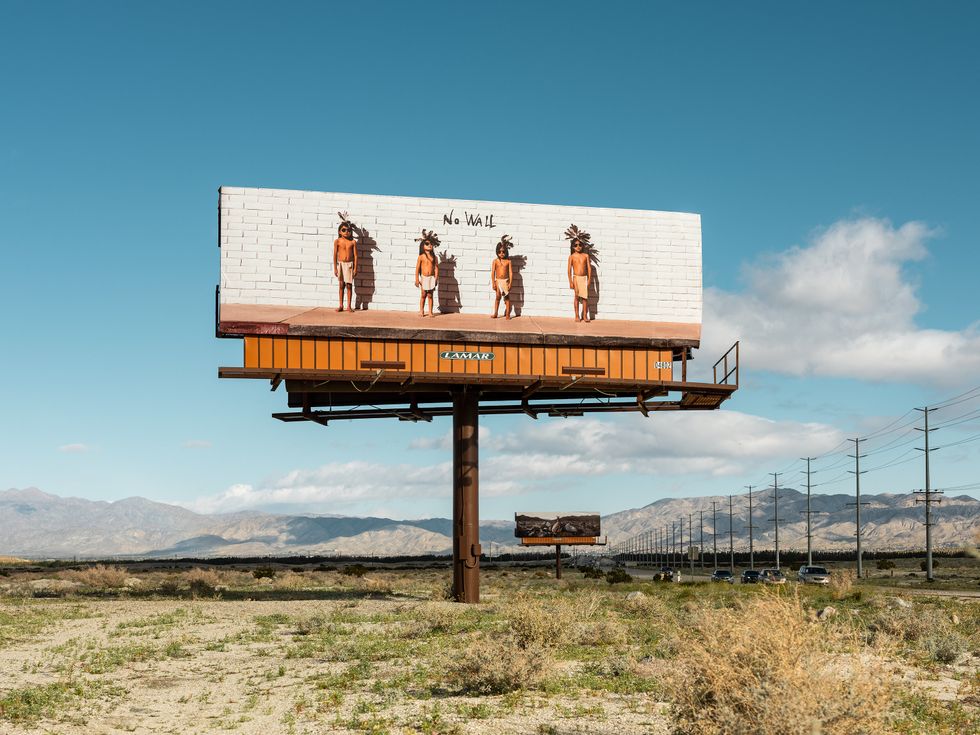 Jackrabbit, Cottontail & Spirits of the Desert, 2019
Photo: Lance Gerber
In this series, Romero responds to the ancestral lands of the Cahuilla, Chemehuevi, Serrano, and Mojave people, with four striking images of children, thought to be "time-traveling visitors," who are here to remind us of our connection to the land, the stories and people from it, and how to live in relation to it. As Hunt says, "These children are now and the future, whether the stories of Native people have been prioritized or not, Romero's work forces us to pay closer attention."
For the complete list of artists and programming at Desert X, click here. All Desert X installations are on view now through April 21.
Featured image: Lance Gerber