Nothing lasts forever, not even the wait for Delilah Belle's first single.
The daughter of Lisa Rinna and Harry Hamlin gained international prominence on the hit Bravo show The Real Housewives of Beverly Hills and managed to turn that stint into a fashion career alongside her sister Amelia. Together, they've walked for the likes of The Blonds and Tommy Hilfiger.
But Delilah Belle is ready to grow beyond the course of a fashion it-girl and has secretly worked on music for a few years now. Her debut single "Nothing Lasts Forever" is the culmination of that work. It features a video that delves into the realm of Belle's interior mind. "Nothing lasts forever/ the pain can't stand the weather" the song declares, with various visual metaphors for depression and heartbreak.
But the message at the core of the song is one of hope and resilience, like Belle's own public journey with her health.
Check out our interview with Delilah Belle — and the PAPER premiere of "Nothing Lasts Forever" — below.
Congratulations on the new single. You've teased your transition to music for a bit — how does it feel to finally put this song out in the world?

I'm so incredibly excited to share this song and its meaning with the world. However, with the excitement comes a bit of fear, since it is something I've been working on silently for so long. It feels like once it's out my life will change, and I'm so excited because this is what I'm truly so passionate about.
Who are some of your inspirations right now when working in the studio?

Strong women and men who have opened up about their mental health struggles and who make me feel something when listening to their music. There are so many, but for example, I'd say Lady Gaga, Billie Eilish, Noah Cyrus, John Lennon, Montell Fish and Kina.
The video has a strong visual metaphor for depression, and you've talked about your own journey with mental health in the past. How did your experiences inform the songwriting process and your musical development?

I want to be as real, open and vulnerable as possible. While co-writing I bring my journal, and I literally will read entries from it and express deep things with the other creatives in the room, which I think is a beautiful thing to be able to do. It's also a form of therapy for me.
You've lived much of your life in front of cameras, which can lead people to feel like they know everything about you. Have you found that music has been an outlet to express parts of yourself that people might not know about?

I do feel like music is an outlet where I can tastefully express myself through sound, lyrics and visuals. People often say to me, "You're so different in person," and I take it as a compliment because people are seeing me: my light, my personality and all that I come with. Not just a photo or a little clip from a reality show.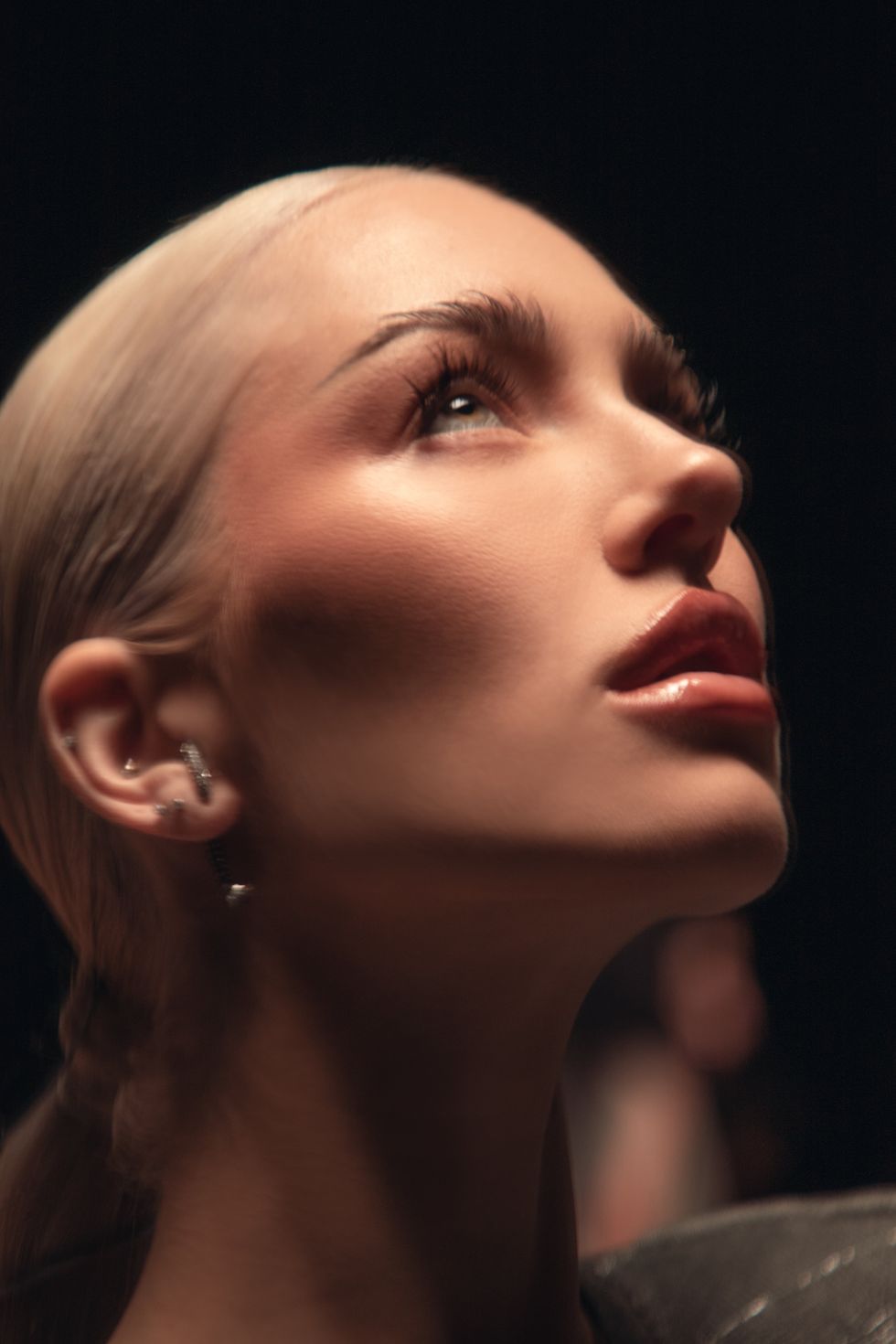 Your mom, Lisa, is famous both on and off TV for being something of a business mogul. What sort of advice did she give you while working on your debut?

Be kind to everyone. She always continues to support me and reassures me that what I'm putting out is great.
She also danced to a preview track on TikTok, which is something of a trademark for her. How did it feel to see that and know it's your music?

She's too funny. I think my first response was, "Thank you so much for doing that dance but are you going out brunching with the girls?" She makes me laugh, the outfit and the dance were both so Lisa because it didn't fit the song, but I loved it.
What's next for Delilah Belle?
I'll leave you with: "You'll see!" And working on my EP.
Photography by Amaury Nessaibia