The name Daphne Guinness has become synonymous with art, exquisite taste, unruly self-expression and experimentation. Heiress to the famous Irish brewery — founded in 1759 by her ancestor, Arthur Guinness — a young and wide-eyed Daphne quickly established herself independently from her father's stormy, two-tone drink empire through her ventures into fashion and art. She's easily identifiable by her trademark, monochrome Cruella De Ville hair bouffant and perhaps known best for her career as a designer, poet, visual artist and muse to top-tier fashion dictators like Karl Lagerfeld, Philip Treacy, the late Alexander McQueen and Isabella Blow. The world of fashion looks to the free-spirited and elegant Daphne for lessons in how to dress wildly and well.
Surviving the sometimes cutthroat, unforgiving and fearsome business of fashion, Daphne has superseded the criticisms, the hedonism and the devastating suicides of her closest friends. She's maintained her incorrigible innocence, optimism and unrivaled passion for art throughout loss, tragedy and fallen hope the wisdom and self-assurance which remains steadfast within this 50-year-old creative is tangible in the music she now records.
Seizing the opportunity to bring a lifetime's work of poetry to life through music, friend and legend David Bowie brought Daphne and Grammy award-winning solo artist producer Tony Visconti together. Personally requesting an edit of every track the duo created together, Bowie was impressed by the unbridled, dramatic and orchestral aesthetic Daphne renders with her rousing sound. The formation of her band then followed: Fronted by Terry Miles, pianist for Go-Kart Mozart, Thin Lizzy bassist Gary Liedeman, Chelsea and Generation X guitarist James Steven-son and Roxy Music's saxophonist Andy Mackay, with Daphne's self-professed musical partner Malcolm Doherty drafting in 58 instrumentalists, from timpani and tambourine players to bassoons and bass, their lineup is pure gold.
Her debut album, Optimist in Black, wrestles with the darkness she struggles against, dawning bleakly in the wake of her brother's sad passing and her iconic friends' premature departures. Daphne's latest, transcendental, new age orchestration entitled Daphne and The Golden Chord was recorded in just three weeks using analogue tapes and was recorded on consoles previously used in the creation of The Beatles' Abbey Road, Pink Floyd's Dark Side Of The Moon and various numbers by Wings. The result is a 10-track compendium of vintage rock and new age renaissance. Daphne's storytelling capabilities and transparency on record feels illustrious and entirely unique.
PAPER learns more about the model turned musician's latest adventure and the moments that led to this triumphant crescendo of her career:
Are you a sensitive creative? When a deeply personal track doesn't make the cut are you affected on a deeper level by that?
No, l feel like lyrics are the icing on the cake. What brings everything together is the music and the words can change because my mood changes dramatically. I take what l do very seriously, but also l don't take me seriously. l can always see the funny side of things even when situations are getting terribly tragic, which they have in the past in my visual world and in my life in general. At least l have a sense of humor! l go between thinking, "This is funny," but also, "This is deeply ironic and sad." So the lyrics will change and sometimes l will just take them out because l don't want to say that anymore, or perhaps they just aren't good enough. The music will always be there. l can always write the song over it. These songs exist as poems; they are all written in my diary.
What's a strong memory from the first time you performed for Bowie?
When l was writing the first album, he might just be there at any time. l got an email from Tony saying Bowie wants a copy of every take; l thought, Oh wow, who wouldn't want David Bowie, essentially, co-producing? He called himself the "Godfather" of the album. At the beginning l was so nervous about that situation. l was such a fan of his — he was so clever, he had such a good sense of humor, and he was so encouraging and generous with his time. He was a very elegant person — a deeply civilized and good human being. Just lovely. You can feel it in his art and he has a long history of helping other artists the way he did me: Lou Reed and Iggy Pop for example. He is someone that recognizes other artists. He made it happen for me, l wouldn't have had Tony without David. He knew of me, but he didn't understand my potential at that point. He knew l was a visual artist, but he wasn't aware l could write and sing songs. l was so nervous of Tony, l went up and down in the lift several times before meeting him. He takes a very considered approach, he doesn't want to waste his time on something that is no good. Also, he won't collaborate with someone who isn't as invested as he is. He's invested 150% in his music, he's seen it all, he's a brilliant producer and l am the same; l don't do things by half. It's nice to find someone as hugely passionate as yourself. [He] quite honestly music saved my life.
How do you attribute the music to saving your life?

Music was always my secret friend l could go to when l was down or depressed or in the silent world of my visual arts. I would put my headphones on and listen to the Beatles or The Doors or classical music and l always had that even when everything else was falling apart. I knew l could sing and write music, but l didn't set out to establish a career in music. It was a series of happy accidents, but if you think about it, life is a series of happy accidents. l never imagined it would lead to anything like this. It's wonderful, l love it.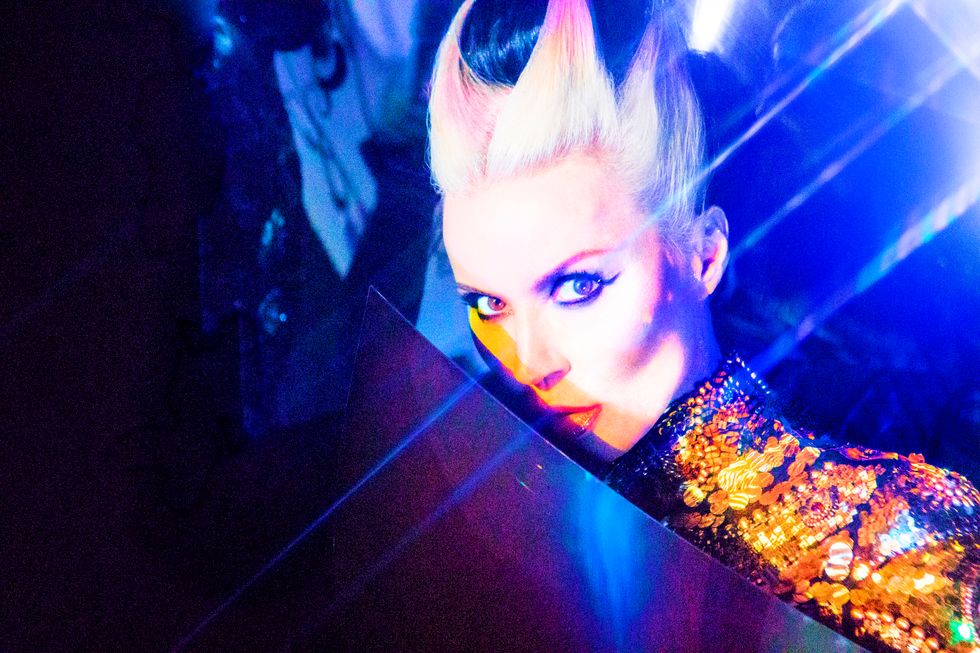 The band is made up of such iconic figures in music, the stories you must share collectively must feel like a real highlight?

We all came together through my musical partner Malcolm who is a saint of all saints. He has had so much experience and played in a lot of bands. My first band was made up partly Bowie's band and session musicians. l ended up on tour with Tony, l think that a test on Bowie's behalf, which was great. l loved it. l met Malcolm on that tour and he and l decided that we could work together. He plays the guitar, he spent a great deal of time thinking about how to put a band together and the chemistry it would have. He really made it right and Tony also helped with his views. With music it is so much about chemistry. I went around in my life believing everyone is nice which sadly isn't true; you can just get people who are just there for the money, but the serious people aren't like that. I have been very lucky with Malcolm and Tony and that's how that came together.
How much input did you have with creative concepts when collaborating with Nick Knight?

So much! He just told me to make something up and that's what l did and that's what l would always do, either with him or David LaChapelle, whoever. Some visual artists are not as visual as other artists; David LaChapelle is very musical, Nick is the most fantastic photographer. He loves music, he did such a great job of "Fatal Flaw" and "Five Planets." So l let them do their thing but l bring who l am into the picture, I'm open to suggestions, a fresh pair of eyes and ears, but l will be there in the editing process. Nick is such a great artist, and you don't want to convolute art. l trust Nick and l trust David, l work again and again with the same people because l get them and they get me.
When you listen back to this new material, is Alexander and Isabella's influence present?
They aren't so much on this album. They are more prominent in Optimistic in Black, especially that track. The issues of suicide, depression and grief are always present in my music in general.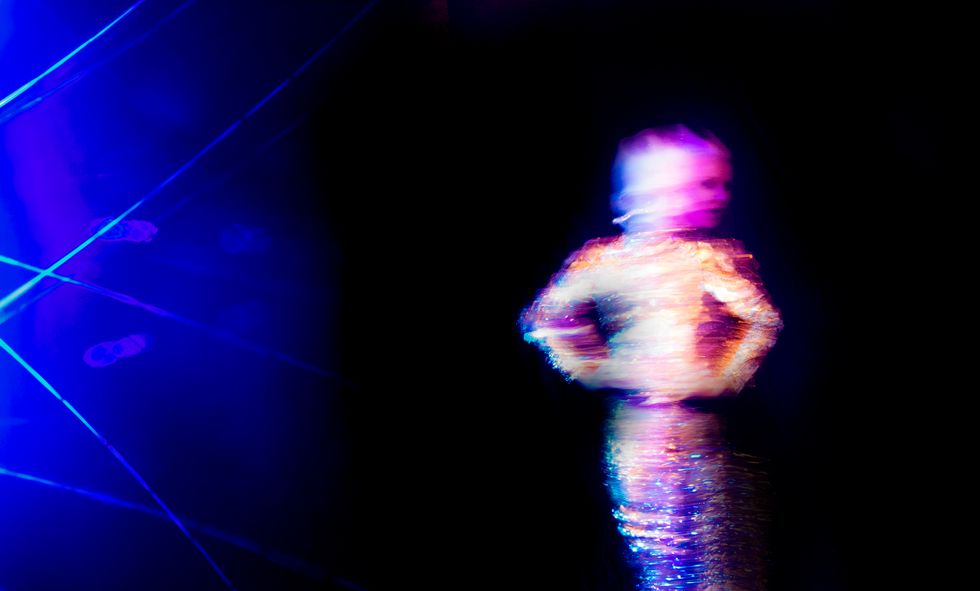 When you are performing that material do you struggle to repeatedly and willingly take yourself back to such a painful place?
It just happens, l don't have to take myself there. that's the awful thing about grief l guess. Despite the time and everything, l do to try and make things right. Nothing will bring back my friends.
Do you feel closer to them as a result of the music?

I've always felt close to them. l've discovered that l need to take care of myself a bit better; Hand-in-hand with saving their legacies, l must preserve myself. It almost tipped me over the edge and l miss them so so much l was at the point of the same thing and l had to step back and save myself.
Is that the artistic temperament?

I don't think so, it's not that at all. l haven't seen this [McQueen] film, but from what l can gather they are pinning this depression on his artistic temperament. l think that got in the way of life for him, but l think it was events in his life that caused his suicide. We all have a background. l can only speak from my own experiences. l had a very mixed childhood, very happy to a great extent but there was quite a degree of me bringing myself up. l was kidnapped and held at knifepoint. It was pretty bad. That wasn't in my genetic code. That happened to me after l was born. That wasn't in my artistic temperament, l had to fight to survive. I'm not saying, "Poor me." A lot of people have stories, people can be blinded by the name or the background and everything else, but human behavior is a very funny thing. My father was fantastic, my mother was very sweet but l just didn't see much of her because she was always away. There were a lot of lunatics about, wonderful lunatics but fantastic, like Dali. l had great experiences, not all bad.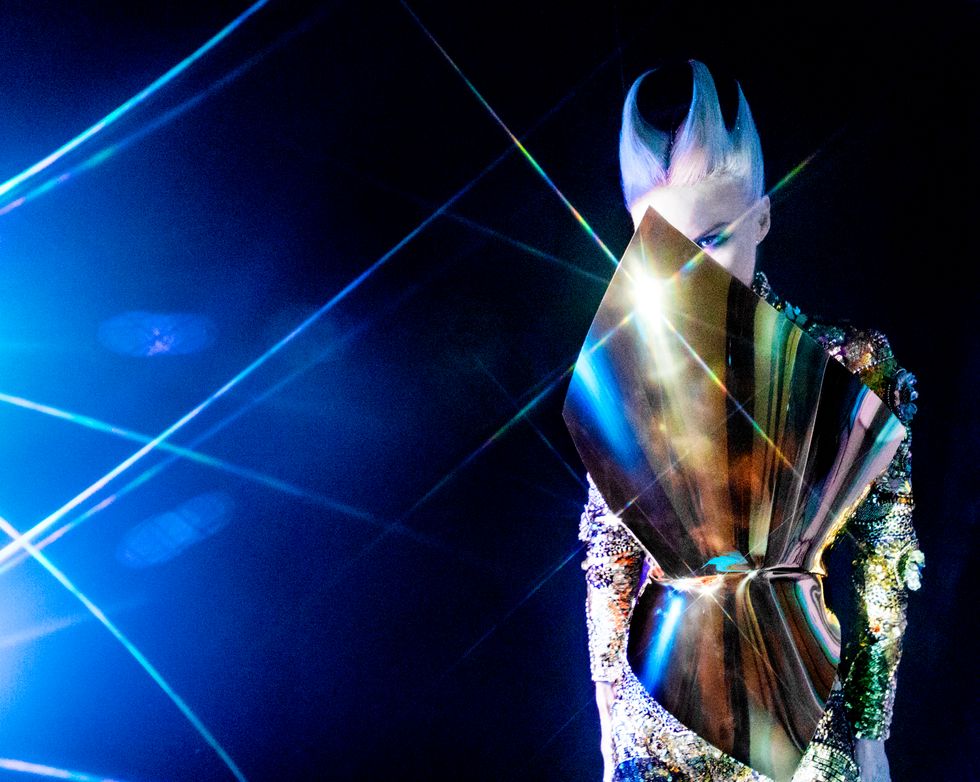 Whose affirmation matters to you the most?
My own. l am my own worst critic. Whatever anybody says to me l will have already said one hundred times. I suffer from perfectionism, although l am kind of relaxed. The upside of growing up the way l did was being around bohemianism and hippies so much. l can pretty much handle anything on that level, but when it comes to violence, that's just downright impossible as a child or even as an adult. I'm very grateful that l have this artistic outlet, and do think there is a degree of working through these things. I don't expect everyone to love this album though, it's a question of taste, whatever floats someone's boat. My art will remain whether l exist or not. What we all did together in that room as a band, it's true magic. I'm getting such a great response, it's so lovely hearing people's experiences. One tends to think they are alone with their feelings, but l have been able to connect with people. For years l wanted to be dead and now l am enjoying being alive. Before l was defensive and l wanted to keep people out and now l want to embrace everything.

"l am my own worst critic [...] I suffer from perfectionism."
How do you plan the outfits you wear on stage?
I drive everyone mad. Luckily l have quite an extensive wardrobe. It's all quite last minute. l don't wear makeup really, most days, l'm not good at putting on makeup. l tend to get it all wrong. I don't look in the mirror really. A verse in Armageddon says, "Woke up this morning, it was kind of grey, looked in the mirror, oh no not me again!" What a drag.
Is there one item of clothing you have worn more than any other item you have in your wardrobe?
My tails. l just design tail coat after tail coat... and my white shirts. My shoes, l design in Paris and Japan. At the moment l am in a bit of a uniform, l need to go to Paris and buy some more clothes. It's getting ridiculous. I need a wardrobe clean out.