"It's Lucifer Rising meets Lady Death meets Kenneth Anger meets Daphne Guinness meets Italian frescoes," David Blond calmly explained to me Tuesday night. This was backstage amid the mad scramble before the Blonds show started at Spring Studios, and there were models and outfits all over the place. "We have a light, camp side," David added, but he and partner Phillipe Blond also like to explore good girl/bad girl extremes, "and this time, bad girl sort of won."
Phillipe agreed when I caught up with him, saying, "I always have a little bit of darkness. This is my unleashing!"
The Blonds specialize in dazzling beaded and encrusted ensembles that have been sported by celebrities like Katy Perry and Bette Midler — people who don't mind getting noticed for being unapologetically radiant. This time (for a crowd that included Lil' Kim, Manic Panic's Snooky and Tish Bellomo, and party thrower Susanne Bartsch), the long running duo was going less Vegas and/or Disney and aiming for a semi-gothic slant with a little more hot sauce.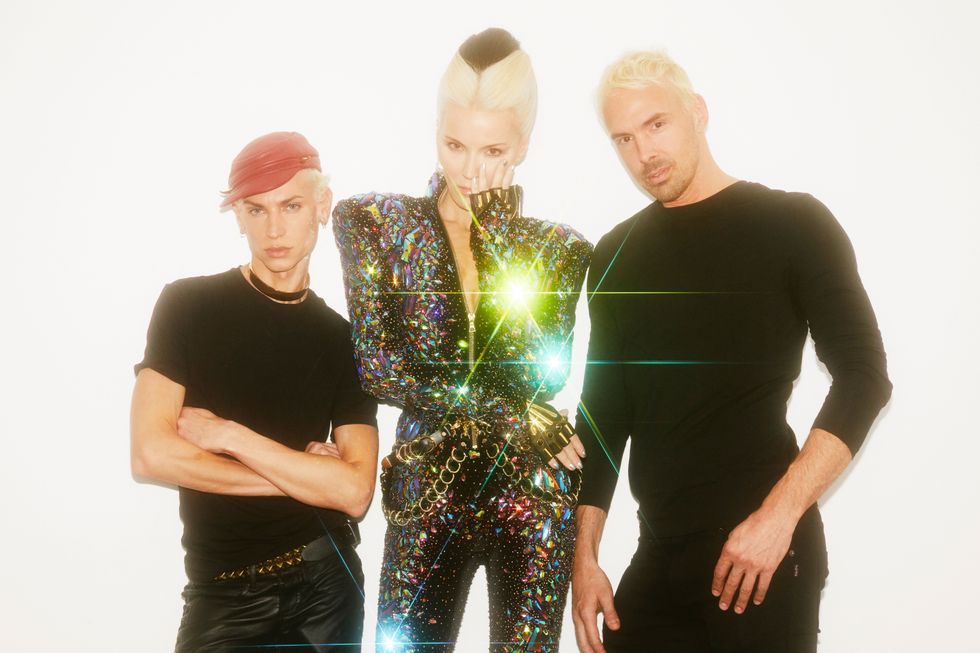 The Blonds and Daphne Guinness
As the models assembled to rehearse, I cornered Daphne Guinness, who was sporting a Bride of Frankenstein hairdo, preparing to walk and then sing for the show's climax. The socialite and all-around creative type took time to tell me that she loves the Blonds as people — they're all friends — as well as adoring their aesthetics and creations. "It feels like we're separated at birth!" exulted Daphne.

After the rehearsal, the crowd poured in, looking snazzy, with so much faux fur, vinyl, and glitter, many of them seemed worthy of being in a show themselves. Schmoozing before a Blonds show is part of the experience, and though I miss the days when the Blonds had heightened pre-show festivities in VIP areas, bringing it all together works, the runway filled with colorful press and preeners. Trans self-help guru Gigi Gorgeous was giving interviews in hot pants, a narrow top, and a festooned jacket — by the Blonds, of course. "I didn't know they made this till they sent it to me," Gigi told me. "and then, when I saw this option, I said, 'That's what I'm wearing.'"
Related | Gigi Gorgeous Talks Celebrity and Discrimination
The runway was cleared, and everyone took to their seats and waited — a long time — so at 9:54 PM, Gigi and Bartsch popped up for one more photo op. And then — featuring mood music from the MisShapes — the show started with Phillipe Blond in truckloads of glitter and a striking blond mane, strutting in that hypnotic way he has. What followed involved crystals, corsets, fringe, and studs, all fierce and sexy, some of the women in leather caps and others in the ultimate hair mounds. Christian Louboutin did the footwear, which included short boots, long boots, and, best of all, heel-in-the-front shoes for Daphne Guinness, who gamely strutted, then nicely sang her sort of bouncily jaundiced song, "It's a Riot." Then out came the Blonds, who walked with Daphne, followed by the house lights — and I don't know if good triumphed over evil, but I did see a lot of fun fashion.
See photos of Daphne Guinness in The Blonds' Fall '18 collection, below.
Photography: Eric T. White