For its first-ever fashion show this NYFW, Daddy Couture featured a genuinely diverse cast of models parading its tongue-in-cheek tees and underwear. With all the outfit changes, two audience-participation games, and a massive meet-and-greet crowd, the show put other runways to shame. Andy Cohen was even in the audience! It was, as the community says, so extra. And we loved it.
But for many, the Cock Destroyers, aka British porn icons Rebecca More and Sophie Anderson, were the main attraction.
By day, they're porn stars with legions of lust-driven fans glued to laptop screens. By night they're legendary femme fatales who command armies of gay fans marching to Anderson's single, "I'm Driving For Dick." Behind-the-scenes, they're internet-savvy entrepreneurs who've molded ephemeral viral fame into lucrative business ventures, industry recognition, and publicity most entertainers would kill for.
More and Anderson celebrate their success in defiance of mainstream media's attempt to slut-shame them into quiet obedience. Instead, they've seized the male gaze, stomped it into submission, and transformed into larger-than-life queer icons. To be a Cock Destroyer is to truly celebrate what makes you unique, regardless of outside judgement. And if that's not 2020, then I don't know what is.
We caught up with the Cock Destroyers and Daddy Couture co-owner Matthew Camp to discuss virality, trans rights, and their favorite "We're fucking COCK DESTROYERS" memes.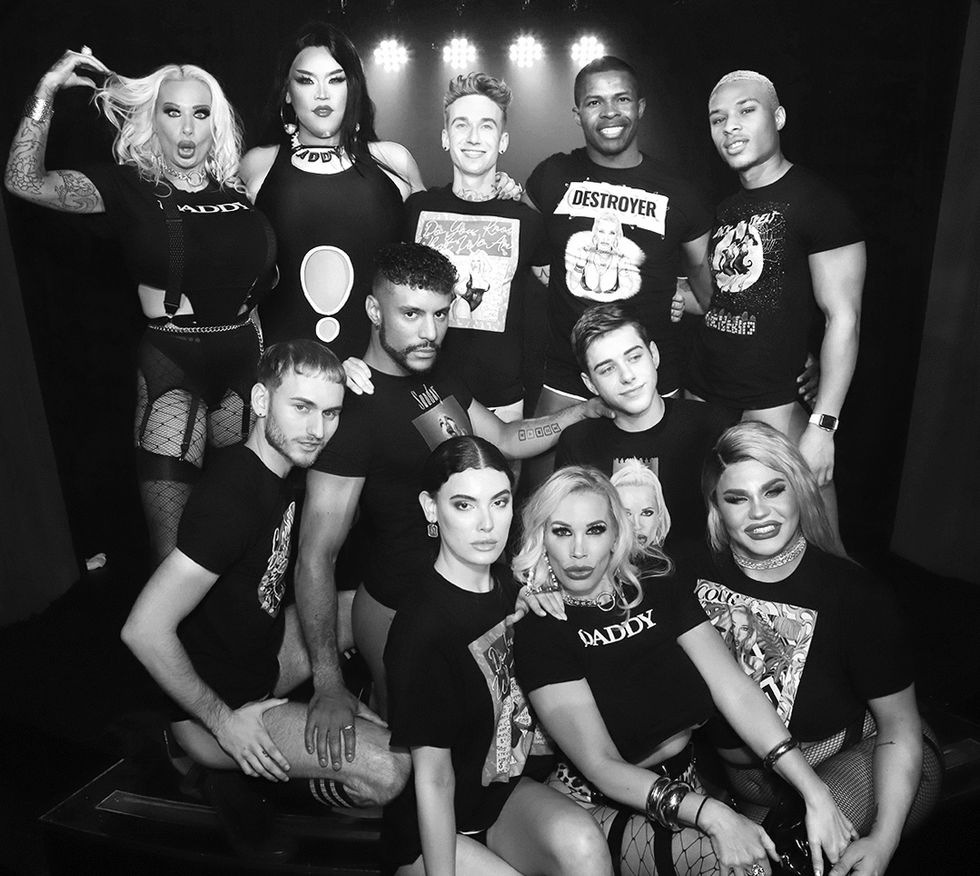 Here's a lot of personalities in the gay community, but few have achieved what you have. What do you think makes you guys so relatable?
Sophie Anderson: I think it's our positivity — our sex positivity.
Rebecca More: I think we come across very approachable because we are. If you meet us in the street, you can come up to us, and we will talk about pretty much anything you want to talk about. So I think that doesn't just appeal to the gay community, but to everyone.

Did you expect for the Cock Destroyers phenomenon to blow up?
RM: Absolutely not. We're blown away.
RM: Delighted. Even last night we were saying, "Isn't this amazing?" It's... it's emotional.
RM: To be loved, and we also have a lot of love to give. A lot of love and support, you know. It's great.
Women online have continuously been shamed for, literally, having sex lives. I think what's admirable is that you have both owned your sexualities, and owned —
RM: We've shut out negativity. That's what we've done — it's like a superpower. We've got money to make, and a life to live. We want to be happy. We don't care if somebody wants to come into our lives and be negative. We're going to shut it out. When we make our films, we're not thinking about people making negative comments, because we've freakin' happy, aren't we? And if people love that, then come along and join the party, because we're here to invite people in, and just want to have fun with it. When we made the original cock destroying film, we were just doing what we do. And it made people laugh, and people could relate to us, I guess.
SA: Yeah, and it's not just in the LGBT community. It's everyone!
RM: We've had more women coming up to us too, women who may not necessarily be in the LGBT community.
SA: And married women! Women who are very sexual, and happy in their bodies, who think, "Yeah, this is me! I'm sexual, and I'm a woman, and I like to have good sex with different people." I think it's a great thing.
RM: Plus, we're a laugh. People just love having a laugh, not taking life too seriously, and having fun.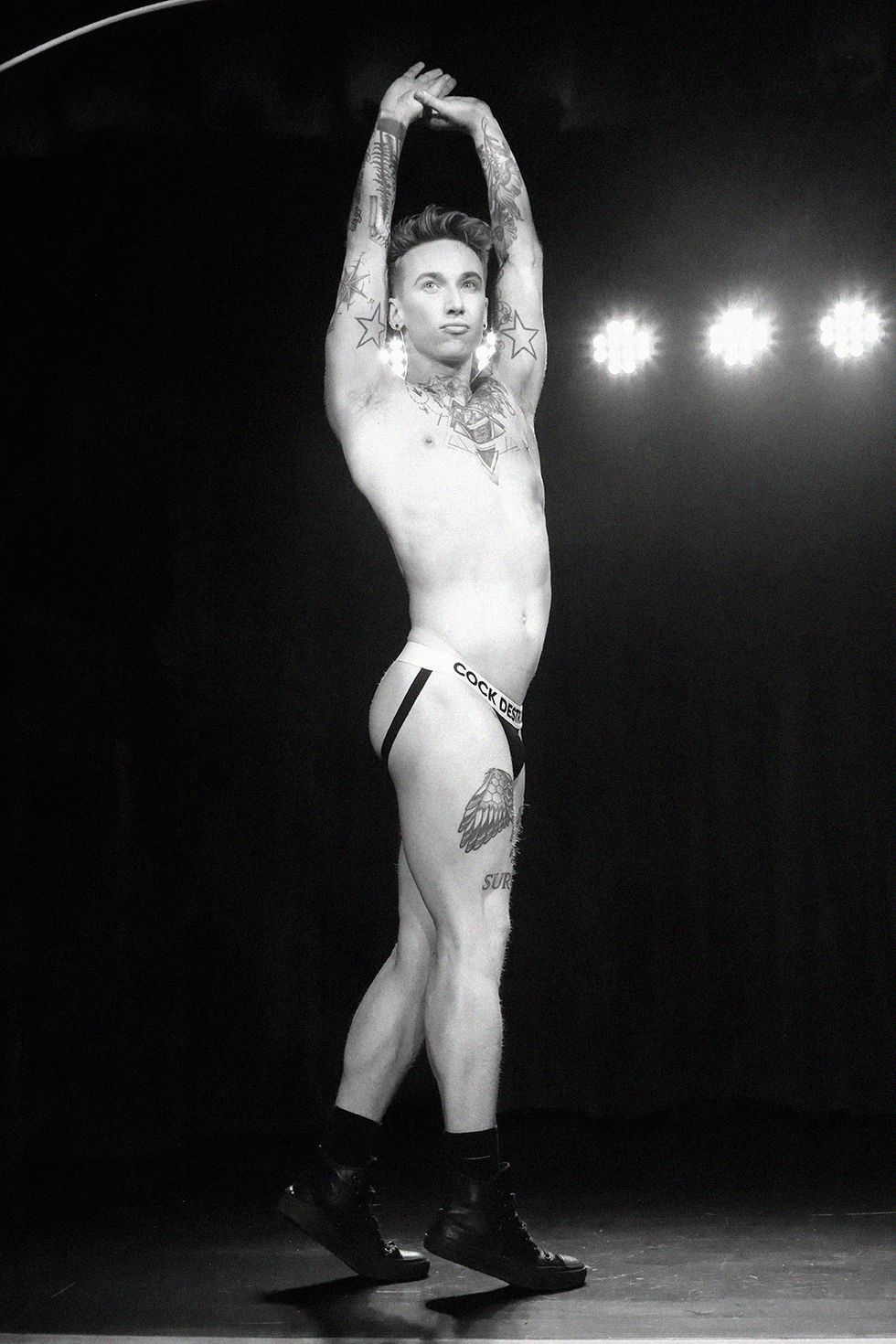 Wooty Booty
Have the Cock Destroyers persona slash characters affected your professional and private lives?
RM: I don't think it really affected my private life. We were already known for being more extreme. But professionally, it's changed our lives, being Cock Destroyers. It's just amazing. We haven't really changed. We're still doing the same thing, making our films. For example, we still do an intro for all our porn movies, and those intros kind of appeal to everybody, and some people find them funny and entertaining.
SA: I get a lot more interest for my gangbangs too. There's a lot more people there.
So why Daddy Couture? Why be a part of a brand that's so heavily involved in the gay community?
RM: So as far as I'm concerned, I only work with people that are authentic to me. I've got a feel about things that I like. I came across Daddy Couture as a customer, through Chris Crocker. I did my first collaboration with them, and then it just grew from that. Sophie got on board, we both modeled for Daddy Couture, and now... I'm an owner.
SA: And Rebecca is my full support. She's my sister and best friend. We support each other all along the way. She's taken me with her, and she didn't need to do that.
RM: We're in this together. We have a great relationship –
SA: And understanding of each other. And I think it shows through the clothing.
RM: And you've got your own line as well.
SA: Yes! I'm so lucky. It originally came out as a yellow t-shirt, which is a very positive color. It really showed who I am, someone very flowery and bubbly. And I loved it. And Rebecca designed it! She's so artistic. She's a designer as well as everything else.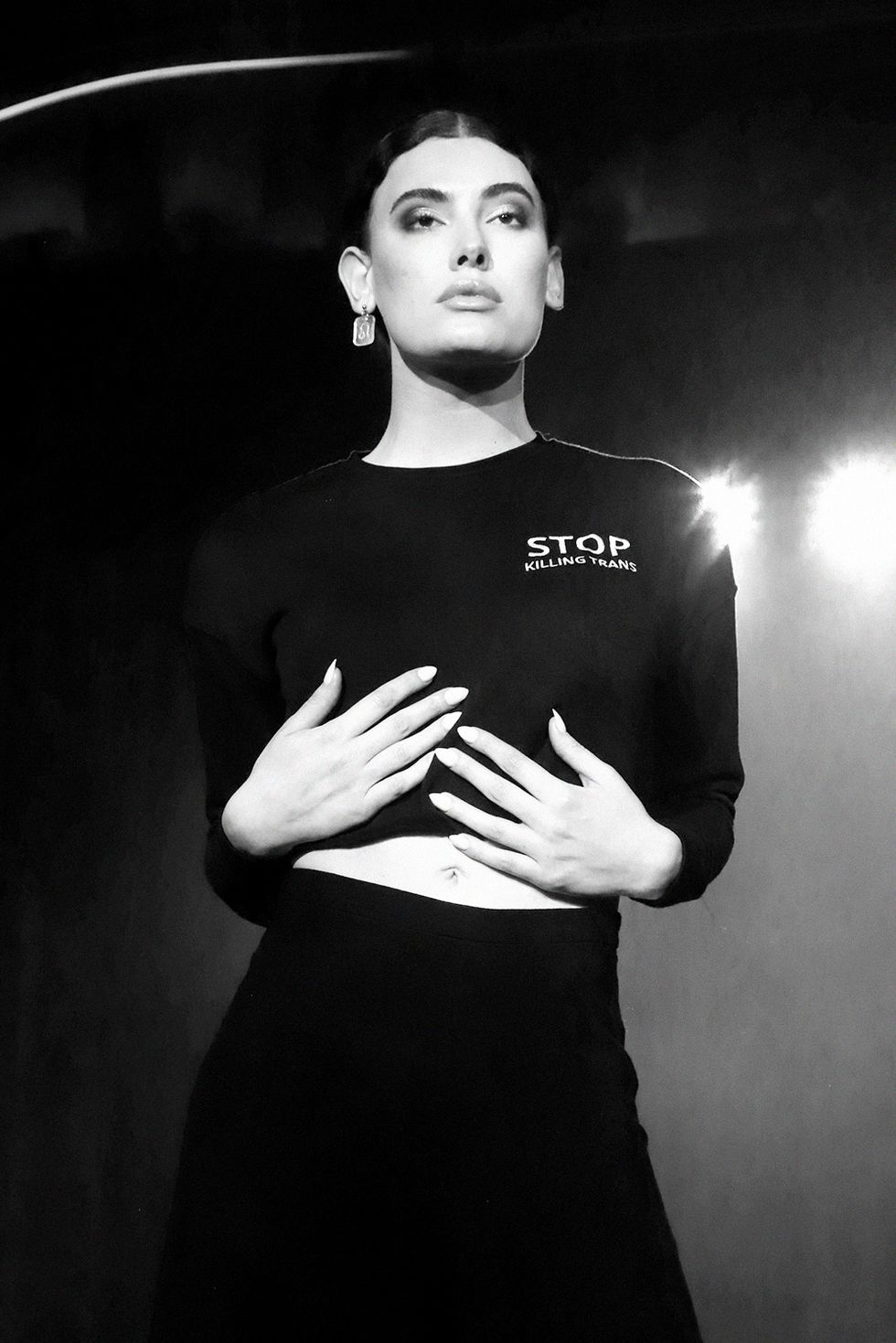 Garnet Rubio
So with the Daddy Couture NYFW show, why did you decide to launch the Identity collection? It was such a powerful statement when you closed the show with the statement about trans acceptance, especially when mainstream brands are ignoring issues like transness and body positivity.
RM: I think we're just very aware of what's going on. And we listen to our models as well. The show's closing idea was actually Garnet's. It was and is very important to us to raise awareness on these issues, especially with our platform. Garnet came forward with the idea, and that's what we wanted. It means a lot to her. And she did it beautifully.
Matthew Camp: The world is a divided place right now, and I think we all need to stand up for each other. And doing it in a public way with a company is in a way saying, you know what, fuck everyone else. This is what we believe. This is what you want, and we stand together. And I think that's really the point of it. It's about creating a family.
RM: Express yourself, be who you want to be. Don't be ashamed about anything. Life's too short to not live an authentic life. For example, some people get shamed by their family members, and I actually said to somebody that night, you can choose your family. You don't have to be around family members that upset you. It's about being around people who support you and make you happy. Whatever your decisions are.
MC: I think Rebecca and Sophie represent this very modern movement towards a more familiar sort of love and relationship style, which I think is important for us to all adopt.
RM: Not to mention, 100% of "Stop Killing Trans," proceeds are going to an LGBTQ charity. We've been asked to keep the name private, but all proceeds are going to the charity.
And to end on a fun question, what is your favorite Cock Destroyers meme?
RM: Oh my god, it's the Little Mermaid one!
SA: Yes! The timing! It's so good.
100% of the STOP KILLING TRANS shirts' profits will be donated to a leading charity which supports trans and gender-diverse young people and their families.
This interview has been edited and condensed for clarity.
Photography by Wilsonmodels (courtesy of Daddy Couture)
Sign Up For The Morning PAPER