Britney Spears' long awaited memoir, The Woman In Me, has laid siege to the New York Times Best Seller chart. As has often been the case in the illustrious artist's storied career, the American public waits in eager anticipation of what she might do next. Another album, or even an Instagram post? Both are perfectly reasonable suggestions in their own right, but I'd like to throw in one of my own: can somebody get Britney a Mugler campaign?
Her fashion ensembles might leave people without a sense of humor quite puzzled. Why is she always in a see through cut-out mini dress, or mesh panel gown, or bikini bottom? Why does she have a bedazzled, leopard print bikini specifically for pole dancing, prop knives, or one million Jacquemus-esque blouses? It's an interesting reaction to the way a liberated Britney chooses to dress herself. With that John Paul Gaultier cyber dot catsuit about as ubiquitous as TikTok influencers in too many layers, or Bottega Veneta's Jodie bag, one would think the fashion industry would feel compelled by Britney's closet full of one-shoulder keyhole dresses with spandex tie waists.
Of course, I see the vision, which is why I've offered free marketing advice to Mugler. In more ways than one, Britney is emblematic of the ideal Mugler woman: high brow presented as low brow, tongue in cheek, slutty but ironic, nude in a very literal and also metaphoric sense. She is a woman in motion, whose momentum pulls the world in around her, making it easier for the newly enmeshed onlookers to perceive her and document her every move.
The brand's Spring Summer 2022 film best represents the shadow she casts over the Mugler rebrand. I doubt her Instagram was on Casey Cadwallader or TORSO's moodboard, but I'm confident that is at least in conversation with it, even unwittingly.
Earnest pleas to respect Britney's personal style aside, the singer has made it clear that she doesn't necessarily intend to return to music right away, if ever, nor does she seem keen to do the talk show and magazine circuit. Were I an enterprising creative director like Cadwallader, I'd most likely capitalize on the power vacuum left in her absence — respectfully, of course — and let her star in — hell, let her direct it too — my latest campaign. Like the models in Mugler's own marketing materials, Britney loves spinning around, walking down very long hallways, or moving in a synchronized fashion.
More than anything, Britney's new lease on life post-conversatorship has appeared to me an attempt to be completely understood for her whole self, body and mind and soul. It's not the self that was shaped by others and forced upon her, but the self she has constructed with her newfound free will. Cadwallader's reinvigoration of the Mugler label has personified that same self ambition not only through its cutouts and mesh panels and sheer fabrics, but its use of women like Dominique Jackson or Barbie Swaee or Hunter Schafer, through whom the legacy of trans womanhood endures. A legacy, to be clear, that built Thierry Mugler's original label, and his mythology of self-construction.
Thierry Mugler once said, "Sometimes I'm asked: 'What is your definition of a powerful woman?' And I say, 'It's a woman who's truly free, who enjoys herself and who's happy.'" Is there a more apt Mugler muse than the once caged pop star, broken free at last?
Photos courtesy of Randee St. Nicolas/Getty
From Your Site Articles
Related Articles Around the Web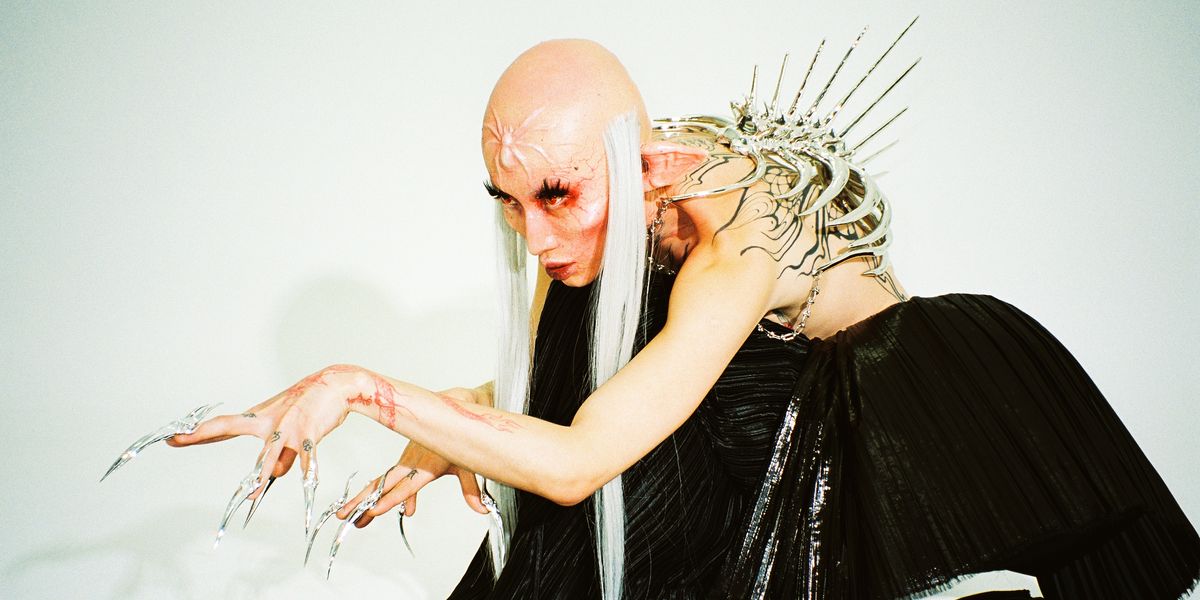 Beauty
Story by Andrew Nguyen / Photography by Sarah Pardini / Styling by Marta Del Rio / Makeup by Kelton Ching
Story by Andrew Nguyen / Photography by Sarah Pardini / Styling by Marta Del Rio / Makeup by Kelton Ching
28 November