Ariana Grande reportedly responded to her fans after they began calling out Lizzo via the trending #LizzoIsOverParty hashtag.
Yesterday, Lizzo tweeted about her song "Good as Hell" reaching No. 6 on the Billboard Hot 100 — a jump from its previous position at No. 14.
However, Arianators — who appear to be operating under the idea that "Good as Hell" made the leap thanks to Grande's appearance on the recently-released "Good as Hell" remix — took issue with Lizzo's celebratory tweet and began accusing her of "not crediting" Grande for her "help."
Despite the fact that the original version of "Good as Hell" — which does not feature Grande — is charting, Ari's fans began tweeting under the #LizzoIsOverParty hashtag — simultaneously arguing that Lizzo "used ariana and didnt give her any credit," while insisting that Billboard should've credited Grande.
That said, as many of Lizzo's defenders (and even some of Grande's fans) pointed out, said argument doesn't hold any water, seeing as how Billboard was talking about the original version from three years ago.
Im confused at where the controversy is??? The song that's on the charts is the one Lizzo released 3 years ago and Ariana isn't even in it. The one that Ariana's featured in has her credited so..... how is #LizzoIsOverParty fair lol like she literally was credited

— Anna (@AnnaXEliza) November 4, 2019
good as hell was already popular before the ari remix... that's why ari remixed it.

lizzo didn't have anything to do with the credits... that was billboard.

as an arianator myself, this is ridiculous...

so keep clowning. 🤡#LizzoIsOverParty pic.twitter.com/7J9GpsbQ6w

— aidan ♡☾*:・゚ (@aiidaannn) November 4, 2019
And while most people were stuck on the argument's reach, a few commenters pointed out that the backlash is yet another example of the internet "[hating] to see Black women succeeding," as "if she was a skinny white pop girl y'all wouldn't say shit."
if she was a skinny white pop girl y'all wouldn't say shit and you just hate to see black women succeeding #LizzoIsOverParty

— 𝗆𝗂ʸᵘʰ 11 ✰ 27 (@Y2KCORBYN) November 4, 2019
why is this tomfoolery on my timeline #LizzoIsOverParty ????? Lizzo is an amazing artist and an inspiration to millions of people. y'all just want any excuse to tear down a fat black woman because she's successful. fuck y'all.

— IG: fat_fab_feminist ♀️ (@fatfabfeminist) November 4, 2019
Unfortunately though, the hashtag kept trending and even got to the point where Grande reportedly had to address the issue. In what appears to be a (since-deleted) tweet obtained by PopBuzz, Grande appears to respond to a critical fan by reiterating that "if our remix outsold or out streamed the OG, my name would be there."
"But it didn't! It's not like she woke up and told them what to write! That is not how these things work," she continued, before adding, "I'm so happy to have supported or helped in any way! We have so much. Be happy for her. Love."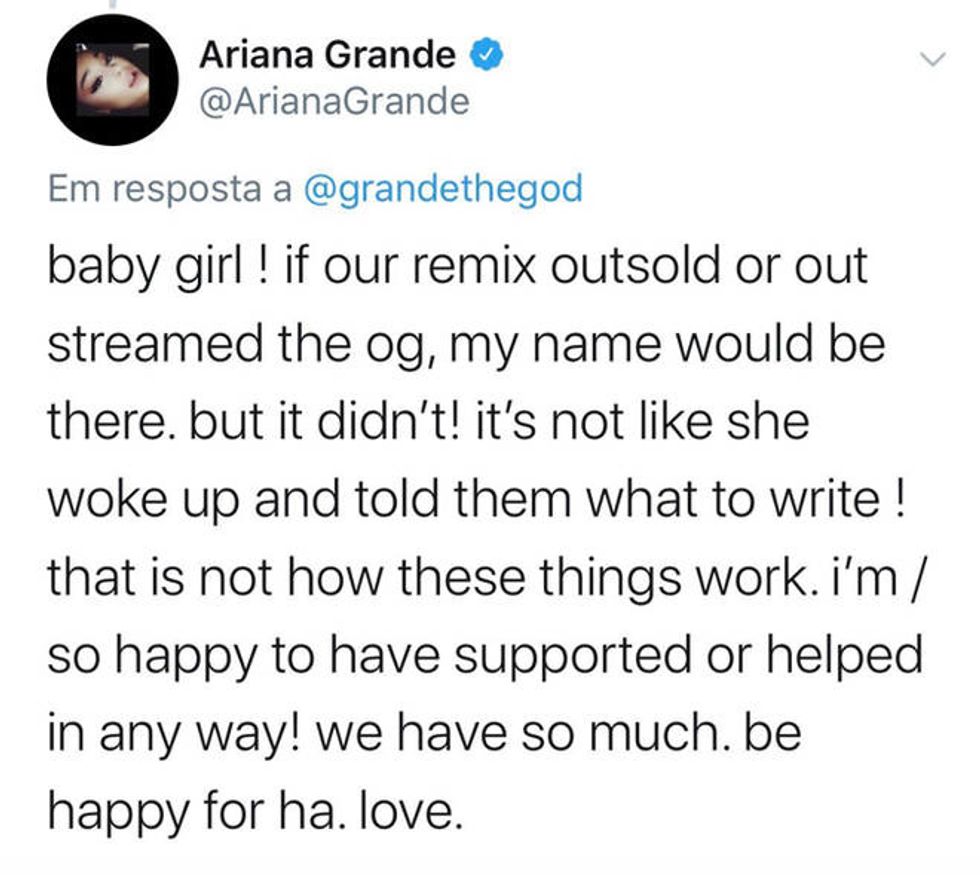 And while Grande has yet to address why she deleted the defense, her enthusiastic response to Lizzo's initial tweet is still up. Check it out, below.
ayeeeeee ! get it sis !!!!!! love u ! congrats on another smash !

— Ariana Grande (@ArianaGrande) November 4, 2019