AREA, the New York-based fashion brand which has amassed a cult following for their playful and glamorous statement dresses and show-stopping party looks, presented one of its strongest collections yet for fall 2019 during NYFW last February. With bejeweled face masks, fringed knitwear and clever logo pieces, it was a lively presentation full of clashing elements and rich textures.
So for its accompanying campaign released today, designers Beckett Fogg and Piotrek Pansczczyk were thinking about how they wanted this video to capture the collection's themes of duality and contrast. "We were thinking about this specific collection — how it referenced elements (silhouettes, color, pattern) of the past, and also ideas about the present or future," they explain to PAPER.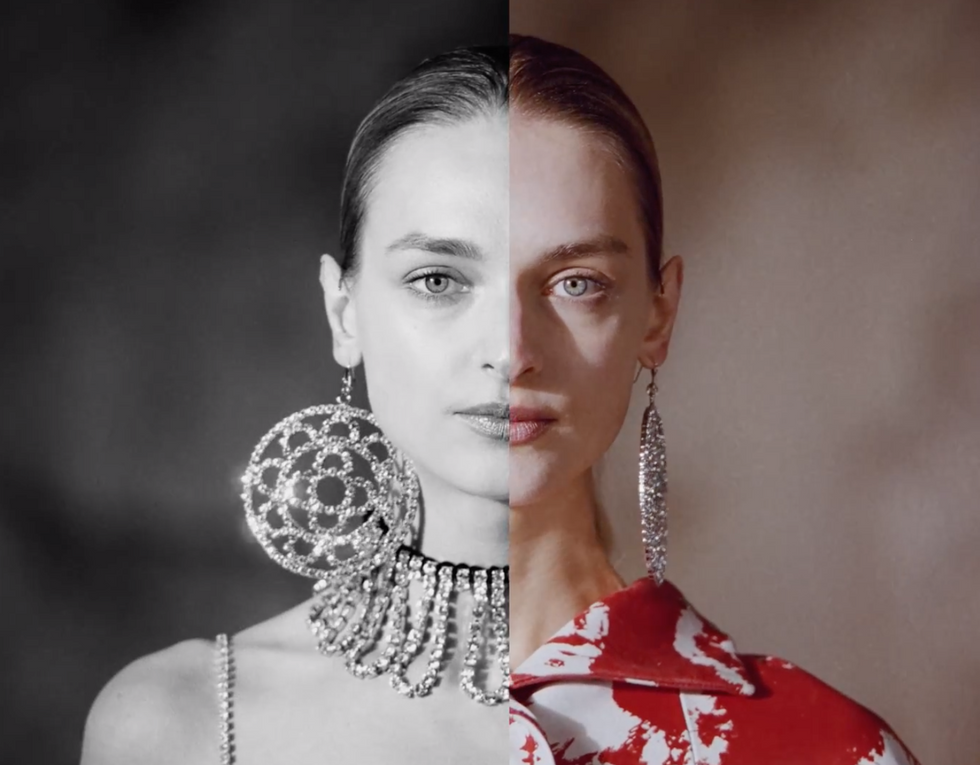 The resulting video, directed by Charlotte Wales, shows a split screen of black and white (nostalgia) vs. colored (the present). Models are filmed performing simple tasks, such as walking through a revolving door, filing their nails, shopping, and eating french fries, while wearing glamorous ruffled minidresses and structured printed bodysuits. "The collection was thematically split into colorful '70s hippies and '60s black and white mod," they add.
In addition, the brand just revealed a brand new relaunch of their e-commerce site, which includes more pieces from their collection available to shop, including full head-to-toe looks from the runway. According to a brand rep, the relaunch will include "specialty items" that other retailers might not take a chance on buying. In other words, the brand is making more of their fashion products readily available that might otherwise not be available at other retailers. "It's a brand that has connected with people directly since it's inception and we'd like to build on that in the purchasing environment," the rep adds.
Check out the official AREA fall 2019 campaign video, below, and head over to area.nyc to browse the fall collection now.
Sign Up For The Morning PAPER