Yes, EDM can have soul. Especially with musicians like Alison Wonderland pouring their hearts out on their records.
The Aussie-born artist is the highest billed female DJ in the history of Coachella, and one of the most emotionally honest artists we've ever met. She bares everything in her newly released album, Awake, with lyrics so real and sounds that don't miss a beat of electricity. Her new tracks take us through the motions of her innermost feelings and thoughts, and invites us to explore our own. From questioning self-worth to admitting to mistakes made—all fourteen songs are personal, yet relatable, and tell stories that need to be heard by everyone.
Alison opens up to PAPER about being a woman in EDM, her new album, and her fangirling tendencies.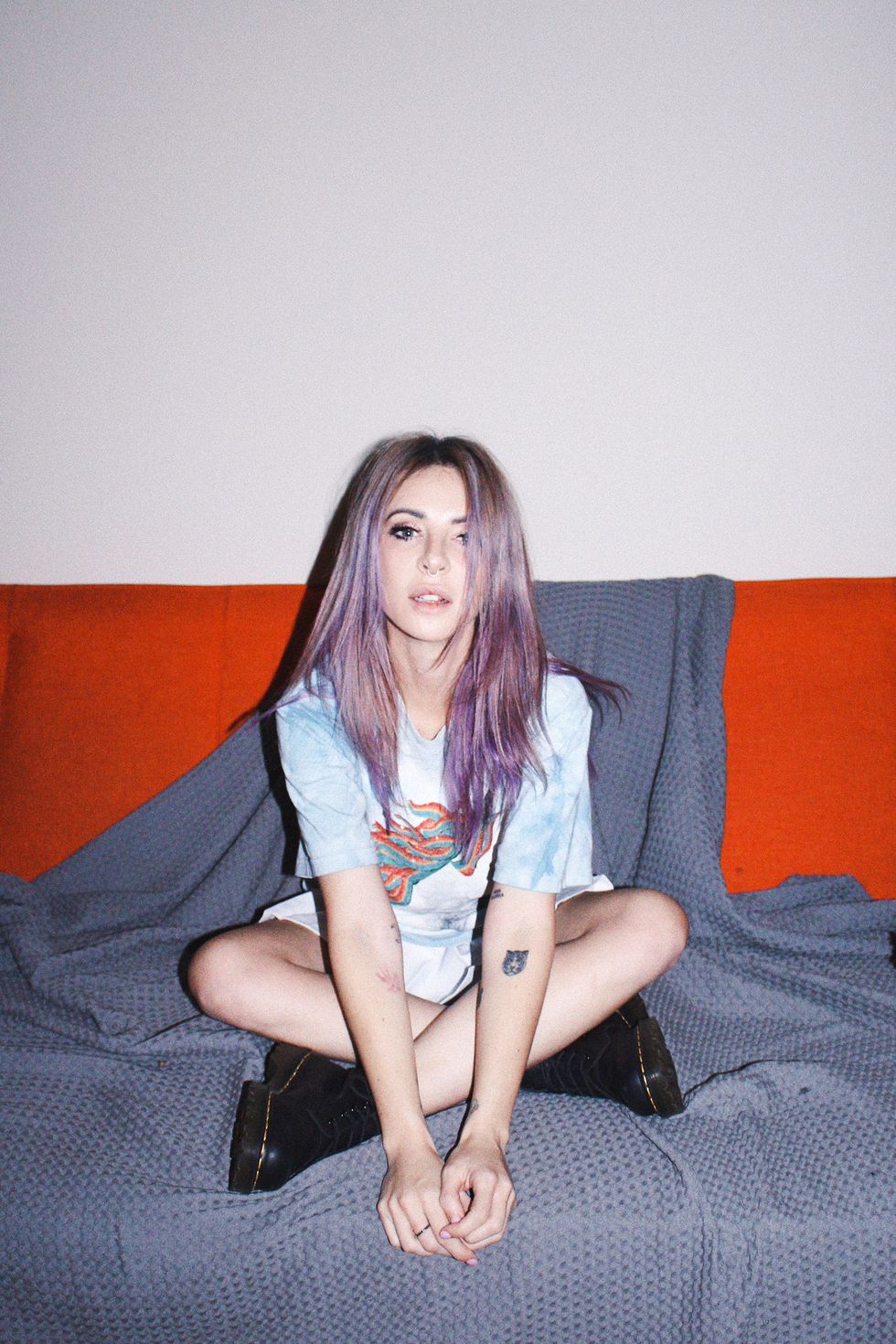 PAPER: So you're the highest billed female DJ in the history of Coachella.

Alison Wonderland: It's so weird because I don't really think about my gender as an artist. It's never really been the first thing, or the last thing on my mind when I write. I don't feel any sense of make or female when I perform. I'm just making my art. And that, to me, is genderless. But, in saying that, I think it is a great step in the direction of women out there getting recognition for what they're doing as much as the men. I think that's super positive, and I'm really happy to see that happening more on lineups. But, again, as an artist it's not really what I feel defines me at all. And I never want it to define me.
P: Why not?

AW: I feel like once you get categorized, it doesn't really help the cause. I think the best thing to do as an artist who is a woman moving forward is to keep being an artist. And that's the best thing you can do for women. And to be the best regardless of your gender.
P: It's a week before Coachella, and you just dropped your new album, Awake. How are you feeling?
AW: I'm feeling so nervous! I think my anxiety has really decided to remind me that I care so much about this album. I'm so so nervous because I'm releasing my diary to the world, and that is a very scary thing. When I was writing the album in the studio, I didn't really think about the fact that it would get released and people would actually hear it. (laughs)
P: So would you say that this is a more personal project than your debut album?

AW: I think they're both personal. I believe in music on a very personal level. With Run, I was writing very honestly about a time of my life. And again, with Awake, the same thing happened. I think it's really important, as an artist, for your art to be as honest as it can and as open as it can when writing. I'm such a fan of music, and kind of always gravitated towards artists that feel real and honest and open. And I guess that's subconsciously why I do it, too.

P: Who are other artists you look up to?

AW: I really look up to James Murphy, who is the singer of LCD Soundsystem. He's one of my favorite musicians. I actually ended up meeting in Brazil, after a decade of me imagining the moment that I would meet him. And of course, I ended up crying straightaway, and hiding behind the wall. We were both playing Lollapalooza in South America, and he was at the hotel one evening with his band. I freaked out! I didn't know what to do! (laughs) I'm such a fangirl when it comes to artists. I don't think it's ever going to leave me.
P: Speaking of crying, can you talk a little bit about the emotion behind Awake?

AW: When I'm writing, I'm always inspired not by where I'm at in the world or what I'm doing. It's very heavily inspired by my emotions. And when I'm feeling extreme happiness or extreme sadness, or love or hate, that's usually when I feel like I can write. You can pull stuff from situations when you're sitting in a studio. And sometimes, when you write an album, you don't really realize how you're feeling until you start writing the feelings down or creating sound. It's such an introverted [experience] and a loneliness of sorts. It brings a lot of things out.
Weirdly enough, when I started writing the album, I started properly realizing that I was kind of in a toxic environment at the time in my real life. Writing this album kind of helped me get through that in the real world, which is kind of crazy. So I had some realizations and made some real moves to make changes. It's not always easy to do that, but in a way this album's already done so much for me. More than I could even explain in words.
P: What track on the album was the most difficult to write, but one that you're most proud of?
AW: I kind of feel like that about all my tracks, but I think "Easy" was pretty difficult to write.
P: That's ironic.

AW: Yeah, I wrote about a situation that happened the day of writing it. Lyrically, it's very straightforward and there's no skirting around what that was about because it's a very literal description of my day. And I'm proud of that because I feel like when friends and family can hear it, they kind of realize that they should be doing a bit more. It was a away for me to open up to people. Sometimes, it's hard to say things. Then you're writing them down, and expressing them through art is easier than to say.
P: Which song did you take the most risks with?

AW: There's a song in the end called "Awake." It's a track that was a bit of a risk for me because it is probably the most ballad-type song I've ever written. But, again, that was on the day of something happening. It's basically me admitting that I fucked up as much as other people. Sometimes it's difficult to admit that you're wrong. I think we're all a little stubborn like that. It's about finding peace with other people in the situation being happy with or without you, and admitting to your mistakes.
When writing about it, I found some sort of resolve in myself. It gave me closure. it was the last thing I wrote for the album. I thought I had been done with the album. I always knew I was going to call it "Awake," regardless. But, I don't know. Something happened to me after I thought I finished and I was like "Okay, I have one more song in me." It just came out. And instead of fighting the spirit of how it was going to sound, I just went along with it. It kind of felt like I was forgiving myself, even. And the other people, too. We can all be stubborn, and I kind of thawed my pride with that one. (laughs)
This interview was condensed and edited.

Images courtesy of Capitol Music Group