Chung Airways
There was no turbulence at Alexa Chung's London Fashion Week debut. In the first runway show since starting her namesake label last year, Chung unveiled a jet setting spring 2019 collection aptly titled "Arrivals and Departures." As models walked through a maze of wooden panels meant to be the chicest airport lounge in existence, we couldn't help but daydream about booking a getaway through her fictitious travel company, "AC World Travel Inc."
Shades of Beige
Prairie dresses, power suits, and suede in a blend of beige signaled that an urban safari by way of Westworld might be on the horizon for Chung's pack of models. It wasn't all shades of cream, ivory, and caramel, though — a favorite among the collection was a burnt orange button dress finished with a muted floral print.
Pajama Party
Have no fear, Alexa Chung is here to ease those nightmare-inducing airport delays. A gorgeous line of silk slips and pajama sweats found their way into the suitcases of Chung's spring collection. We're more likely to wear them with a face mask on and a pint of ice cream in-hand instead of slipping into them as we board our flight to Mykonos, but a girl can dream.
Into the Trenches
The shiny vinyl trench is among the most iconic pieces Chung has debuted through her fashion line, which makes its return to the runway as the final look a fitting end to her show. This iteration — jet black with a hood — is sure to sell out, but it was a baby blue variety earlier in the show that turned us into the heart eye emoji. Trench coats haven't looked this good since Keanu Reeves proved we're all living in the Matrix.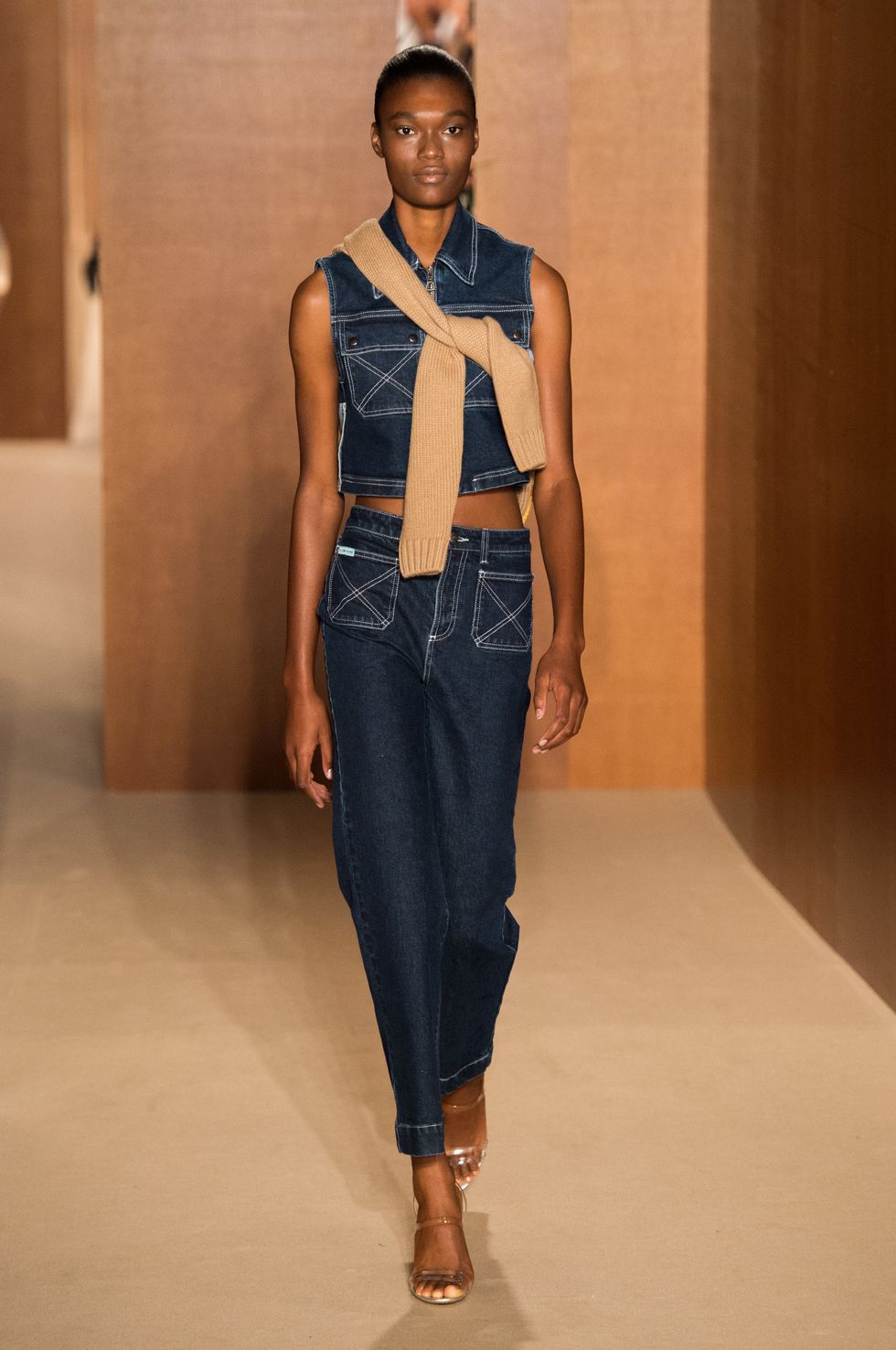 Denim Dream
We may have been gagged by the boiler suits, prairie basket handbags, and jelly shows that Chung incorporated into the show, but it was an indigo blue double denim ensemble that proved to be the true standout long after the final model walked the runway. What could've been Britney Spears and Justin Timberlake's denim-on-denim turned into a dream thanks to a beige sweater asymmetrically draped over the vest and high waisted jeans.
Sign Up For The Morning PAPER