This article originally appeared in the second issue of MedMen's new quarterly magazine, Ember, created in collaboration with PAPER. MedMen is a California-based cannabis company and investment firm with properties spanning coast to coast.

For Warm Drag, mystery is an essential ingredient in seducing listeners. Paul Quattrone is the noisemaker and Vashti Windish the consummate entertainer in this now Los Angeles–based band on the verge of releasing their self-titled debut on In the RedRecords. Neither is a stranger to the music scene, with Windish having fronted several bands in her native New York and Quattrone drumming for garage-rock mainstays Oh Sees. But with Bomb Squad–influenced production layered under a heavy rock 'n' roll sound, they've perfected their own style—one that is best served full-blast while speeding through the desert.
Since forming, the band has rejected having an online presence. "I'm not going to take selfies of myself making breakfast or anything. I like to let the music speak for itself," Quattrone says. In lieu of having Instragram or Twitter accounts, how does this new band plan to connect with an audience? Quattrone answers: "Make good music that sounds perfect before we release anything." Following this notion, Warm Drag's first available songs will be their finished debut album, not tracks doled out piecemeal on streaming sites. "I want people to take what they can from the music instead of feeling something predetermined," says Windish. "This band is so about the mood and vibe.Being out in the west is an influence.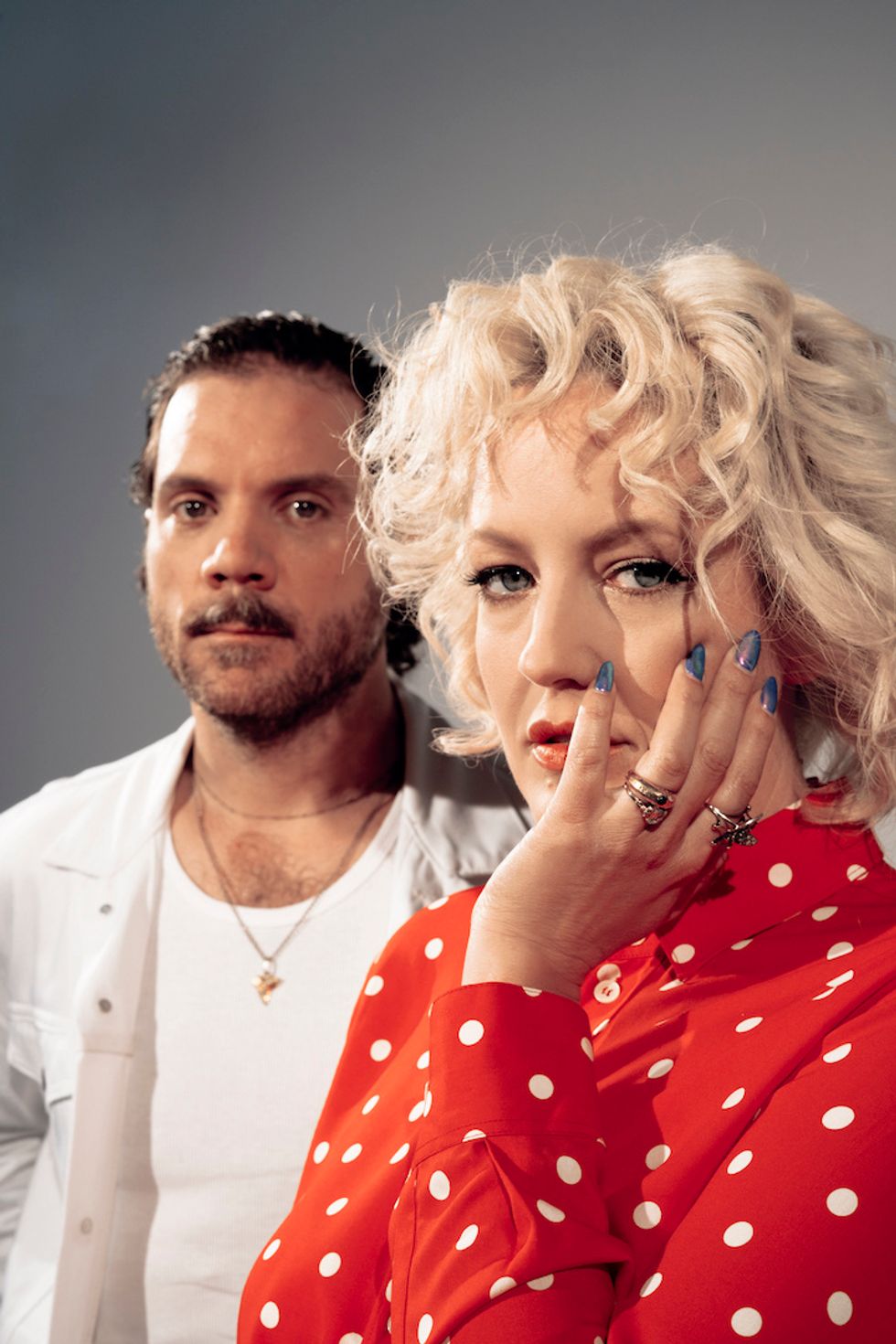 "This coy, elusive strategy hasn't stopped them from performing live shows, which have earned them a cult following in Southern California — due in part to their impossibly loudJamaican dub-style sound system,including a speaker from the Grateful Dead's infamous "Wall of Sound" that was procured through a friend's drug-dealer roommate. "We don't have band members, but we have enough speakers for about six," Windish says.Older rock fans are usually skeptical of this unorthodox stage setup with Quattrone preoccupied behind a stack of samplers and pedals instead of guitars and drums, but those in tune with DJ culture get it. And once the first beat drops, everyone takes cover, except Windish. "He's sitting there chewing bubblegum, and I'm the lounge singer entertaining everyone. It's a weird dynamic," she says.
It's not Windish's weirdest, though. Before fronting bands, Windish toured as a magician's assistant. "I did join the circus when I was 20. Getting sawed in half, playing with rabbits and whatnot," she says. "It forced me to talk to strangers. We'd go to a new town every day, and since everyone was way older than me I'd search out the cool local kid. I'd be like, 'Hey what are you doing? I'm in town for one night. Do you smoke weed?'"
For Quattrone, cannabis is part of the creative process at the ground level. "I don't smoke in public or even around friends. I like smoking by myself and coming up with loops," he says. A pack of pre-rolls helps put him in a headspace to invent Warm Drag's textured sonic attack: "I'll get out of my mind stoned, [and] next thing I know, hours have gone by and I'm warping the sample. I'll have 10 loops all weaving in and out of one another."
Photography: Kelia Anne MacCluskey
Sign Up For The Morning PAPER