On Thursday, October 4, dozens of well-heeled fashion flâneurs, including Luka Sabbat, Teyana Taylor, and SimiHaze descended on The Chateau Marmont to celebrate the 40-year anniversary of Australian footwear brand UGG. The private event was hosted by model and Gurls Talk founder Adwoa Aboah and designer Heron Preston, who released his own limited run of UGG boots this April.
Guests arrived to a large-scale installation by artist Gianni Lee, who remained in a booth throughout the night to hand customize UGG boots with themed drawings. "I actually shot in UGG's Fall/Winter campaign and they found out I could draw so we kept in contact," Lee explained of his continued involvement with the brand. "I think 40 years represents a shift to this new generation of creatives who now have the opportunity to be exposed to UGG in a different way then other generations remember."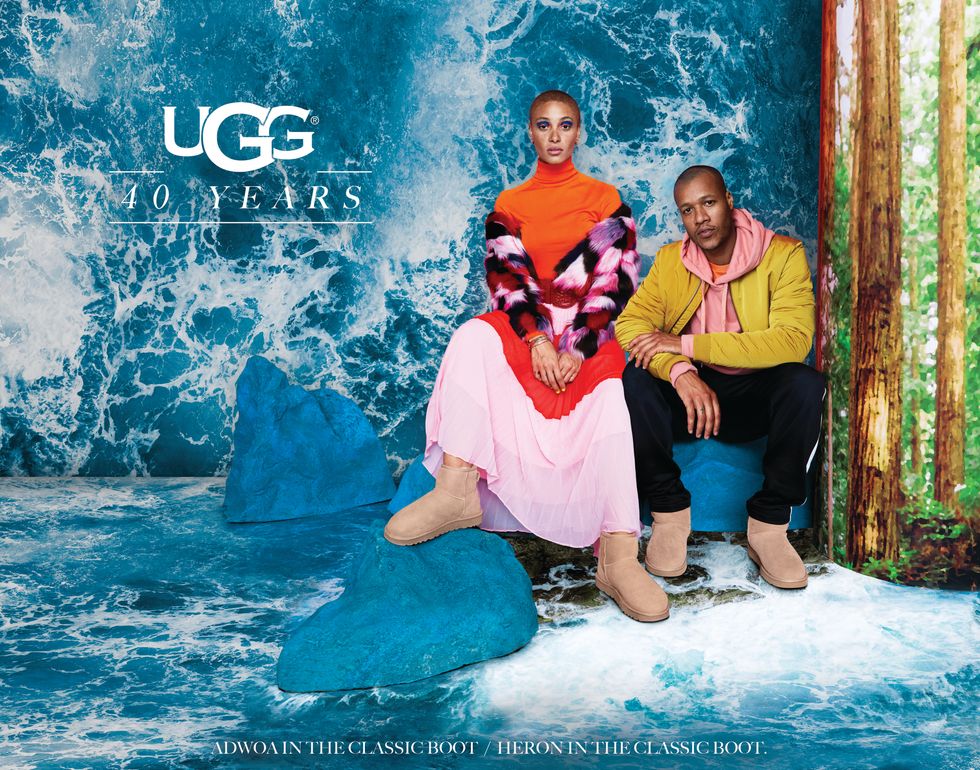 While some guests opted for custom footwear, others floated between the Chateau's indoor bar — serving a speciality cocktail featuring pineapple, rosemary and OJ — and the poolside, where a whimsical light installation from poet, author and artist Cleo Wade illuminated a mass of faces, who all eventually turned toward the venue's temporary stage where live performances from SimiHaze, Cherry Glazerr, Cozy Boys and R&B dynamo H.E.R. provided an upbeat soundtrack for the evening.
In recent years, UGG has transformed its perception as a comfort footwear brand into a label that is aligned, and in many ways, part of a new generation of youth culture and style. As their party illustrated, much of this transformation is down to the brands strategic partnership with fashion influencers — its past campaigns have featured rapper Lil Yachty, model Rosie Huntington-Whiteley, collaborations with designer Jeremy Scott, and more. Tapping Adwoa Aboah and Preston Heron as party hosts and the faces of its latest campaign continues in this tradition. In honor of its 40 anniversary, UGG plans to reveal more partnerships throughout the month of October.
Photography: Getty Images for UGG