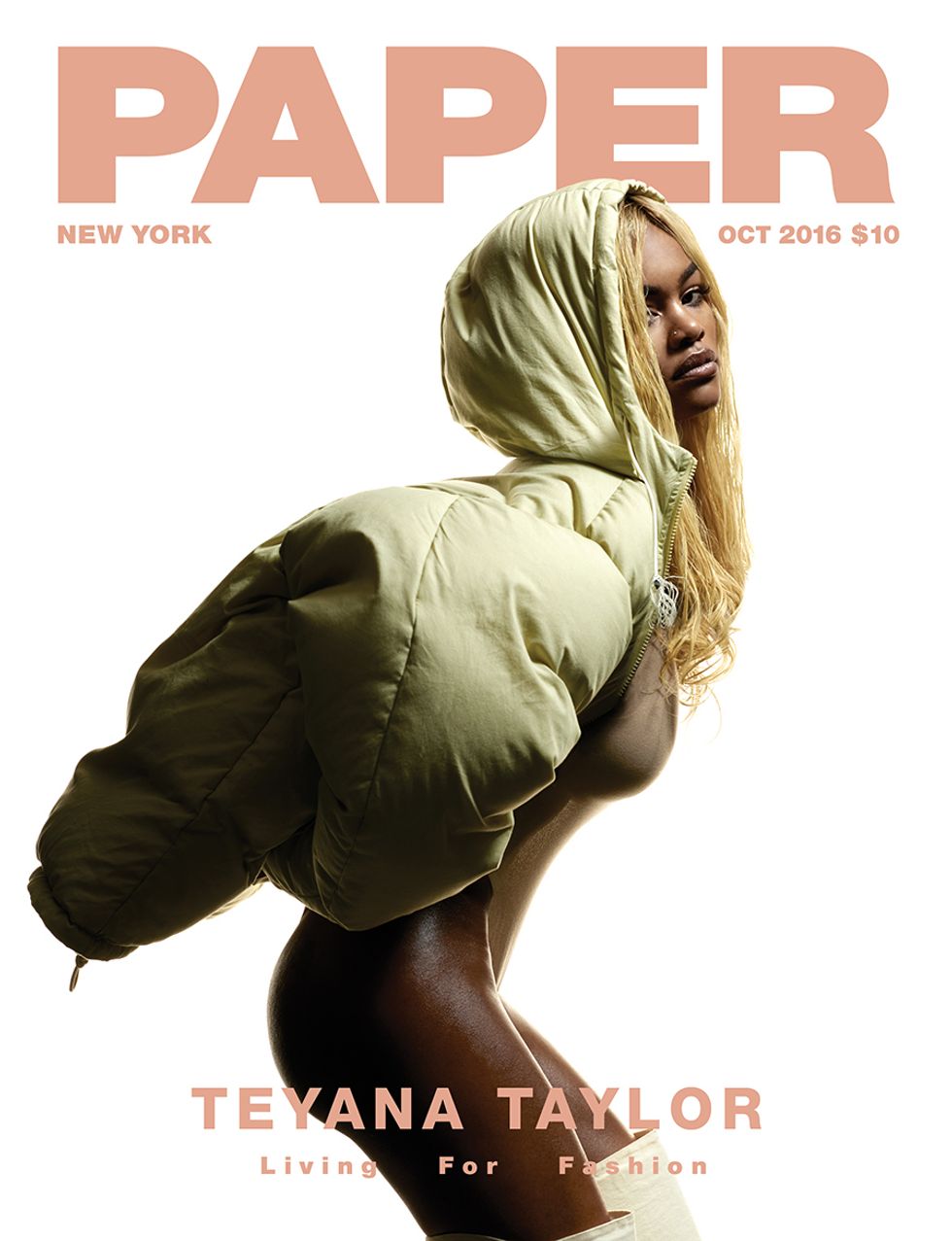 On August 28th, Kanye West took the stage at the MTV Video Music Awards. The network had given him four minutes of airtime to do with as he liked -- another presidential stump speech? A new dig at Taylor Swift? Instead, after a few words, he premiered the video for The Life of Pablo track "Fade." The song's famed artist was completely overshadowed by the clip, a Flashdance-inspired choreographic tour de force featuring a single dancer: Teyana Taylor.
"It was a do-or-die moment where I was like, 'I'm going to dance my fucking heart out,'" Taylor recalls. Her sexy, athletic performance was riveting, and it immediately kicked off a storm of Twitter praise from everyone from Chrissy Teigen to Kim Kardashian West to Jennifer Beals herself -- not to mention a lot of vows to get to the gym. "I honestly don't feel like 'Fade' would have had the same effect had I just been 21, hot body, single," Taylor says. For her, the just-under-four-minute short, which, in addition to her incredible dancing also features her fiancé Iman Shumpert and their nine-month-old daughter Junie, is about the power of women and her journey as an artist.
"It was more than just dancing in a sports bra and a thong," she says. To hear Taylor tell it, her performance was an aerobic answer to the question every working woman hears at some point: Can you have it all? And Taylor's answer is a resounding "Yes." "You can be superwoman. You can have it all, that balance in your relationship, your family and your career. It's the opposite of the cliché that says kids will slow you or your career down." She credits her struggles and successes as both a musician and a mother as the reason why Kanye chose her for the video. "Being signed to his label for four years, and Kanye being like a big brother to me, he's seen everything that I've been through," Taylor says. "He was like, 'It's so dope because y'all so young and y'all fresh, but then y'all got the baby and the championship.'" (Shumpert is a part of the 2016-NBA-title-winning Cleveland Cavaliers.) She adds, "I think that gave him the idea of wanting to see us all in the video together."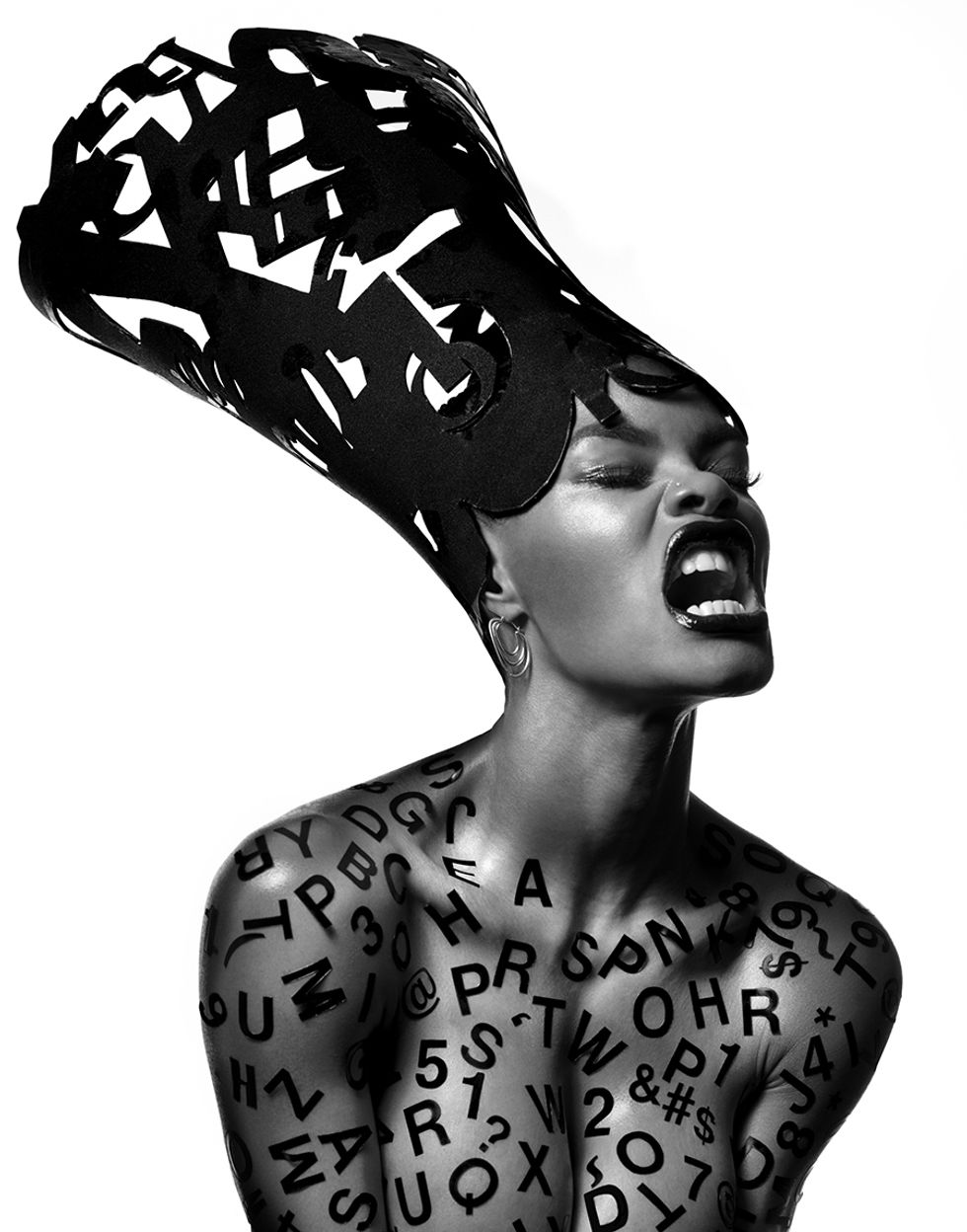 Taylor's relationship with Kanye is long-standing, going back to 2010 and the recording of My Beautiful Dark Twisted Fantasy. A meeting to talk fashion (specifically so Taylor could give West her opinion on some custom Balmain) ended up with her adding vocals to the tracks "Dark Fantasy" and "Hell of a Life." She then joined up with G.O.O.D. Music in 2012, and released her debut album, VII, with them in 2014.
The VMAs were only the start of an eventful September for Taylor. Following "Fade," Taylor released her remix of West's "Champions," complete with a stop-motion video created from thousands of photos that again featured her enviable physique -- this time dipped in gold. She was also everywhere during New York Fashion Week, including the runway.
Video by Nadia Bedzhanova

Just a week after "Fade" dropped, Taylor was walking in the much-anticipated Yeezy Season 4 show at Roosevelt Island. The Vanessa Beecroft-designed production was controversial, with some models fainting and struggling to negotiate the catwalk. "I was nervous as hell," recalls Taylor. But not for the reasons you'd think -- heat and heels were nothing compared to the daunting prospect of walking in front of Anna Wintour. "I saw the posture, I saw the bangs, I saw the bob and I saw the shades, and I said, 'Anna's here,'" Taylor recalls. "That's when my nervousness really turned up. I love Anna. I'm obsessed with her. So, to know she was there, that she knows who I am..." She trails off, the enormous smile on her face a clear indication of her feelings about her idol (who also got a namecheck in her "Champions" verse).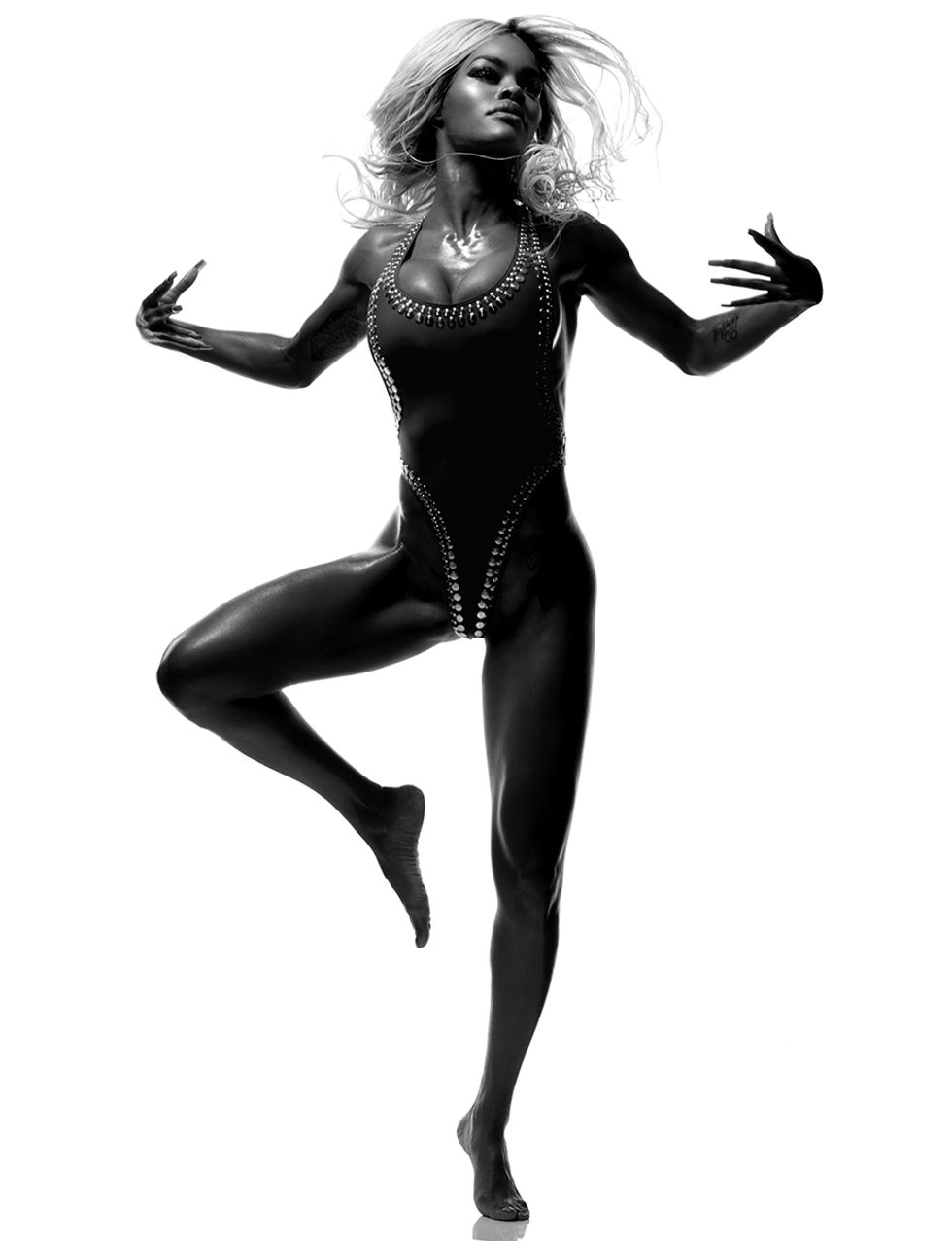 While the fall of 2016 has seen Taylor's star explode, she's hardly a rookie. Born and raised in Harlem, the 25-year-old Taylor has been a part of the pop culture consciousness for nearly a decade. At 16, she signed a record deal with Pharrell's Star Trak Entertainment and appeared in an episode of MTV's My Super Sweet Sixteen, where she threw an '80s- and '90s-inspired skater bash. As a teenager, she also created choreography for Beyoncé's "Ring the Alarm" video and danced in Jay Z's 2007 "Blue Magic" video.
Starting your career as a teenager working with a roster of bona fide music industry titans can have its drawbacks. "I never had the time to fail, to fall and get back up and try again," she says. "People would get up on me, like, 'You've been doing it for seven years now, you might as well give up.'" While she released singles and mixtapes over the years since signing with Pharrell in 2007, her first album didn't appear until 2014. In the interim, her personal problems often made more news than her music, including a (now-resolved) feud with Rihanna in 2013 and the "very public and humiliating and embarrassing heartbreak and breakup" of her last relationship. During this timeframe, Taylor, like the rest of us, witnessed the rise of social media and its ability to provide connection with others but also expose us to an endless stream of criticism. She's an active user on Twitter and Instagram and says she's learned how to navigate the pitfalls and trolls that come hand in hand with success. "All you can do is keep shining. You can't say something and think my legs are going to stop, my voice is going to stop, my hunger is going to stop," she says. "I'll be hurt for five minutes, but I'm going to keep going hard."
See more photos of Teyana Taylor
Teyana wears a bra top by Yeezy Season 4 and Junie wears a headwrap by Baby Buddha Bug Wraps

While "Fade" continues to rack up YouTube views (it's currently at 26 million and counting), Taylor's not resting on her laurels. She's been in the studio, recording a second album that she says won't take as long to come together as VII. "I love that '90s R&B, baby-making music. That's where I plan to stay," she says of the new material. "I want to be relatable. Hit every aspect of what we go through as women." She's also appearing on VH1's early-hip-hop series, The Breaks, playing what she describes as a "Monie Love meets Queen Latifah" rapper with "strong, tomboy swag and crazy flow."
Along with her professional accomplishments, she's celebrated many milestones in her personal life. She and Shumpert became engaged last November and welcomed their daughter, Iman Tayla Shumpert Jr. (better known to the world and her 83,000 Instagram followers as Baby Junie), a month later. The couple is inseparable (see: their matching outfits in every front row at Fashion Week), splitting their time between Cleveland during the NBA season and Atlanta when the NBA is off. "For me, a lot of stuff -- dropping albums, tours -- is in the summer and spring when his season is over," she says. "During winter time, I get to be more on his side, supporting him, and during the summer he supports me. So it's the perfect balance." As for Baby Junie, Taylor says, "She's been our good luck charm. She's just been everything." She continues, "From the moment I got pregnant with her to the day she was born, it's been all positives, all greatness, all iconic." Fans of Junie's verified Instagam often see photos of her in adorable head wraps, an accessory that Taylor and Junie are now offering the public after the August launch of Baby Buddha Bug Wraps. "She's a damn baby mogul," Taylor laughs. "Junie's so cool, Anna Wintour might see me and be like, 'Where's Junie?'"
Fashion assistants: Coco Campbell, Haylee Ahumada
Hair by Tomi Kono
Makeup by Ayami Nishimura
Nails by Lisa Logan
Digital Tech: Adrien Potier
1st Photographer Assistant: K Taro Hashimura
2nd Photographer Assistant: Ed Smith

You May Also Like
America
Story by Katherine Gillespie / Photography by Dana Trippe / Styling by Rebecca Grice
America
Story by Mikelle Street / Photography by Renell Medrano / Styling by Anatolli Smith / Hair by Evanie Frausto / Makeup by Marcelo Gutierrez