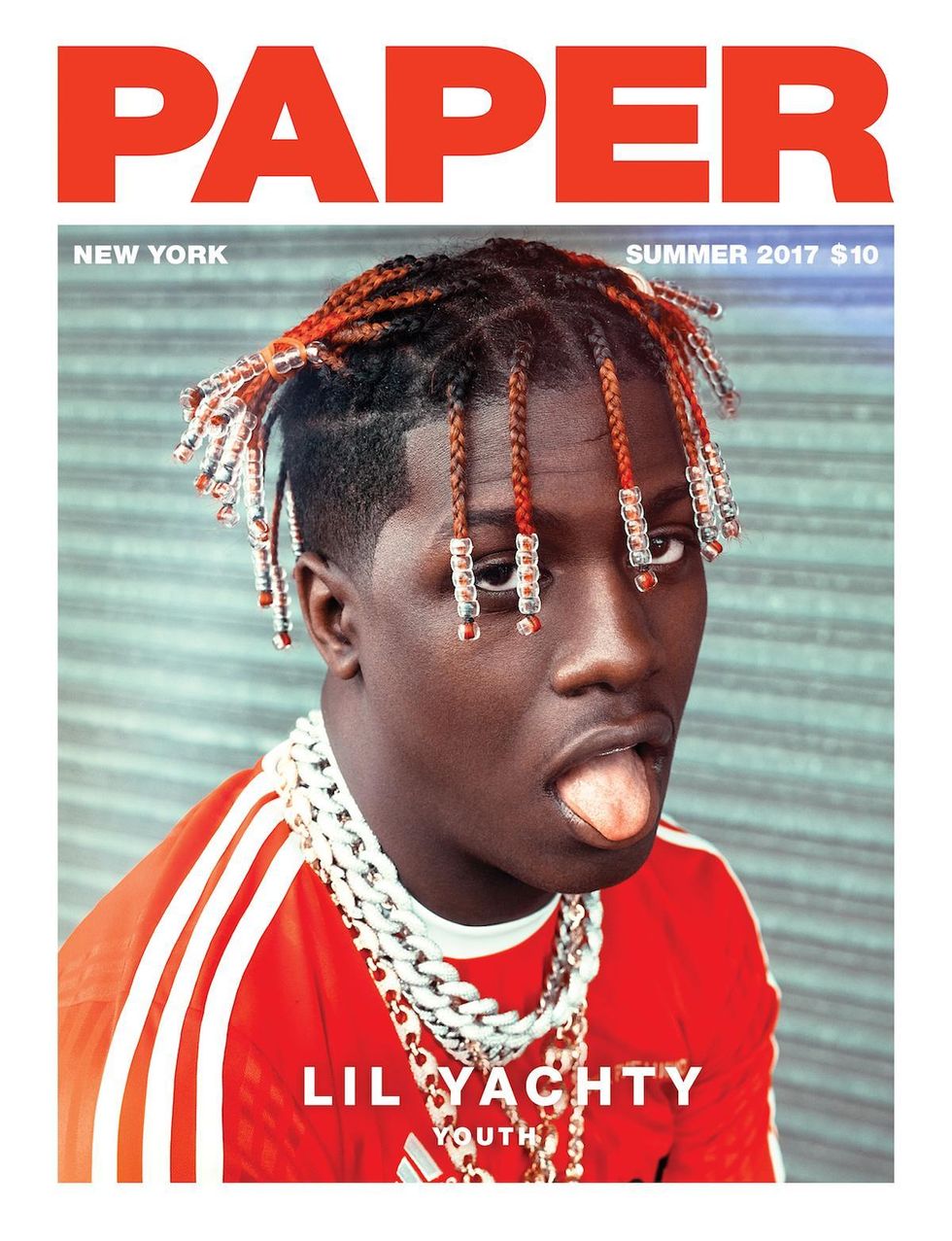 At first it's unclear what Lil Yachty is holding as he sits in a downtown Manhattan studio getting his hair braided. Soon, however, the 19-year-old rap phenom extends his hand forward and opens his fingers to reveal the object in his palm: a diamond-studded grill. It's Yachty's own, which he had custom made in his hometown of Atlanta. The woman touching up his signature Twizzler-red braids seems to share his concern as he inspects the accessory, white beads at the end of Yachty's hair dangling low over his eyelids. "Damn," he says with a laugh, "a diamond just fell out of my grill!"
The rapper flashes a small, self-aware smile and emits a tiny sigh; he recognizes this is a problem he's lucky to have. In 2016, Lil Yachty (born Miles Parks McCollum) went from being an obscure Internet upstart to a beloved Internet genre in his own right -- a happy-go-lucky mastermind of Auto-Tune famed for his whimsical music videos and genre-defying music that has been called everything from "bubblegum trap" to "mumblecore."
While hip hop has become the de facto genre people use when talking about Yachty's music, it's a term Yachty himself often avoids as being too limiting. Instead, a better way to describe the young musician may be in the context of the artist- as-brand. In the last year, he modeled Kanye West's Yeezy Season 3 collection at Madison Square Garden, appeared in a high-profile Sprite commercial alongside LeBron James, got tapped to be on Chance The Rapper's Grammy Award-winning Coloring Book, did a capsule collection for Nautica x Urban Outfitters and appeared on the high-profile Fate of the Furious soundtrack. "Man, I got so many endorsements..." he says dismissively when asked whether he has any qualms with the culture of product endorsement. An older artist might have apologized away their brand collaborations, still associating the practice with "selling out," but Yachty, like other young creatives, openly embraces them. "Shouts out to endorsements," he insists. "We use this shit every day. I don't get why people have a problem with it at all... I can't endorse it for money, but you're going to drink it for free?" he pauses as if in reflection. "Nothing bothers me," he says, leaning back in his salon chair. "You know why? Because a year ago I was broke on the couch. And now I'm rich," he says, coming across as both blunt and totally without ego. "I'm too blessed to be getting upset about some words," he continues. "I'm happy. My mind is straight. I'm cool."
CLICK THROUGH FOR MORE LIL YACHTY PHOTOS!
Part of the reason why Yachty has become so wildly popular among teens and twenty- somethings is because his "brand" represents nostalgia for the past and hope for the future all at the same time. Yachty's personal bailiwick consists of '90s references, from the plastic beads on his braids to the Rugrats theme song sampled in his track "All Times" to his self-aware predilection for wearing primary colors and eating junk food. (He loves pizza, purple Big League Chew, and Haribo gummy bears -- three touchstones of '90s convenience stores that pre-date the snack hacks, unicorn food and viral munchies that are otherwise popular on Instagram.) The video for "1Night" -- Yachty's first viral hit, circa December 2015 -- is an eclectic mix of references that feel like they came from a video booth at the mall: lo-fi Super 8 footage, Photoshop and green screen goof-offs with friends. Taken together, the DIY-looking video feels like a digital zine from another era -- a stoner daydream, a collage of magazine cut-outs and an art-school doodle all at once. "I've always been a positive person," he says of his warm, free-form aesthetic. "I've always just been in a good state."

Sonically, Yachty similarly pulls from a variety of influences, filling his music with sing-songy hooks and uplifting melodies that defy any single genre. He's also prolific. After his debut Summer Songs EP was released in late 2015, he dropped three EPs and two highly acclaimed mixtapes -- Lil Boat and Summer Songs 2 -- in less than a year. Of those releases, some singles -- like the frequently sampled "1Night" and "Minnesota" -- took on a life of their own, and the latter song was soon tapped for his now-famous Sprite commercial with LeBron. (The video for "Minnesota" features Yachty's well-known crew, the Sailing Team, as hockey players who ghost-ride Zambonis and wild out in the locker room like they've just won the Stanley Cup.) "I just want people to get a vibe out of it," Yachty says of Teenage Emotions, his aptly titled and long-awaited album album, out now, which features Migos, Diplo and YG, among others. The release finds Yachty expanding his already wide-ranging palette to include everything from '80s drum machines and saxophone riffs ("I got that vibe from Blood Orange," he says of "Bring It Back") and even reggae (a song called "Better" featuring Stefflon Don). The album's multiple references feel cohesive for someone like Yachty, who represents a generation of listeners that dislike labels and don't want to have to choose a style with which to identify. There's even a song in which he recounts his affection for his mom (the two are very close, as the hook on the album's outro demonstrates: "I can't do nothing without my momma").
The new record also continues his themes of positivity and youth culture that began with his Summer Songs 2 track "King of Teens" -- a nickname later corroborated by i-D magazine that he still goes by today. Even the album cover is full of inclusive, feel-good vibes, showing Yachty sitting in a movie theater surrounded by young people of all stripes, whether it's the girl with the tattoos and green mohawk sitting next to him or a gay couple kissing in the row behind.
"I always start with the melody of the song," he says of his creative process and gleeful sound, citing Chris Martin, Kendrick Lamar and Donald Glover (aka Childish Gambino) as people he admires and respects. (While he often sings in a light falsetto, his speaking voice is incongruously deep, which is part of the charm.) "When I was growing up, my dad played everything -- Coldplay, Radiohead, John Mayer, John Coltrane, Miles Davis, Paul McCartney, Outkast... he was all over the place," he says of his musical upbringing. (Yachty's dad, Shannon McCollum, is an Atlanta-based music photographer who has worked extensively with local artists like Outkast. He named Yachty after Miles Davis.) "So [my dad's influence] expanded my horizons to include different things instead of just rap." Yachty's decision to pursue music came much later and was born out of pure curiosity, as he experimented with samples on his computer and put his music on the Internet while going to college in Alabama. "At first it wasn't as serious as it is now," he says of his style and his decision to pursue music instead of higher education. "And then I fell in love with the fans."
Watch Lil Yachty Share a Graduation Message For His Fans

Yachty went on to link up with manager Kevin "Coach K" Lee and his Quality Control Music label, which represents some of the biggest rising stars in hip-hop including Migos, OG Maco and others. Under the tutelage of Coach K and QC, he's not only had success with his own releases but he's also become one of the most popular features in the game. He received a Grammy Nomination this year for his 5x-platinum "Broccoli" collaboration with D.R.A.M. and while that song was busting open the charts, Yachty also appeared on Kyle's Top 20 hit "iSpy," as well as a host of singles from Carly Rae Jepsen ("It Takes Two"), Charli XCX ("After The Afterparty"), Mike WiLL Made-It ("Hasselhoff"), T-Pain ("Dan Bilzerian") and Young Thug (an as-yet unreleased collaboration). "I'm a pretty nice guy," he puts it simply. "I'll do a verse for anybody."
A$AP Rocky and Tyler, the Creator are two industry friends who Yachty says sat down with him to discuss career and celebrity as he was skyrocketing to fame. "Tyler told me about staying original and finding more in music...he showed me the importance of hearing other things in music, and Rocky told me to keep my own lane and not worry what others are doing...to know that I'm doing my own thing and going in the right direction."
***

About a year earlier, Lil Yachty performed at MoMA's PopRally alongside Yung Jake -- the first rap event the museum hosted since a Kanye West set in 2011, and one that aptly captured Yachty's then-mounting hype. "They'll probably never let me back in there," he recalls of the amped performance. "I mean, it was in a fucking museum... and it was free! I almost wrecked that shit. I came down for two songs, and kids was so rowdy they were fighting and moshing," he recalls. "They shut that shit down immediately," he laughs, seemingly humbled by the honor of necessitating police intervention. "The New York Fire Marshals ain't playing with the bullshit. It was lit."
As if on cue, Yachty pulls up a video of him coming down the steps in the white atrium of MoMA. As the first few keys of "Minnesota" start playing, the crowd begins to buzz, the familiar notes twinkling through the air. There's a palpable sense of anticipation as Yachty heads toward the ground floor stage, and then, on cue, the entire crowd jumps en masse and screams, in unison: "'CAUSE IT GET COLD LIKE MINNESOTA!!! COLD LIKE MINNESOTA!!!" The audience goes so positively ape-shit that the speakers on Yachty's phone sound distorted. By the time he got to the second song, the show had to be shut down. Yachty, smiling at his phone, waits for the footage to finish playing before placing it back in his pocket. "It was crazy," he says, laughing at what is now a fond memory. "The fans went wild."
Styling by Jason Rembert

Creative Direction by Daniel F. Arroyo
Grooming by Guin Gui

Market Editor: Eric McNeal