Bobby Bowen is truly one of Toronto's very own. The stylist-cum-creative director might just have more love for "The 6" than Drake himself, and Toronto long-since gave up playing hard to get. Now, Bowen is the face of fashion in Canada's creative capital, styling for the likes of Jazz Cartier, Majid Jordan and Roy Woods, as well as starting a brand new magazine, Bully, designed to be an outlet for Toronto talent on the come-up.
Much of Bowen's insatiable hunger for success comes from the fact he couldn't get a foot in the door. He watched handfuls of artists and photographers, including the likes of Petra Collins, leave Toronto for warmer, more welcoming climates and consequently became determined to find an open window. Building with some of the city's brightest, he subverted the traditional agency route and set out on his own.
Related | Makeup Star Mila Victoria is Putting Her Best Face Forward
He now considers himself an integral member of the Kid Studio team — the Torontonian auteurs favored by The Weeknd and 6LACK (you'll likely recognize their work from "Reminder"). Bowen can recall when labels wouldn't allow him to pull for i-D, when industry heavyweights advised against anything that was too loud or against the grain, when all he heard was "no" — and now he's here to bully the bullies.
PAPER caught up with Bowen in his hometown to chat fashion, endless frustration and always following his intuition.
From an outsider's perspective, it looks like the scene has really welcomed you — but I can imagine you had to push like crazy.

I had to push like crazy. Now, it's like I don't need it. I don't need to name-drop the co-signs, like how it was. Now it's like, we've made our own ways.
What was it like before?
The fashion industry has a very Toronto look, but it's also camera-shy. You know, like Pink Tartan, Joe Fresh, these Canadian brands, Toronto Fashion Week, and it had such a certain look.
Tell me about "the look."
I still even don't know. They were doing something. But I was like, I'm not going to do that. I'm very honest, girl, so I'm going to give it to you like this. Everything was on your own, you had to be repped by an agency, you have to share with these Toronto fashion photographers, mainly the ones that shoot campaigns. But that's not what I want to shoot, I want to shoot with young kids. I wanted to shoot with a different eye, a whole new view.
They were saying look at the old way. They wanted you to go through that channel.
Yeah, they wanted me to go through the old way, but now it's switched.
The Internet, right?
It changed the game for Toronto. Now, it's like who you grew up with, who wants to do it, who's hungry for it. I've been here for six years, I started assisting assignments.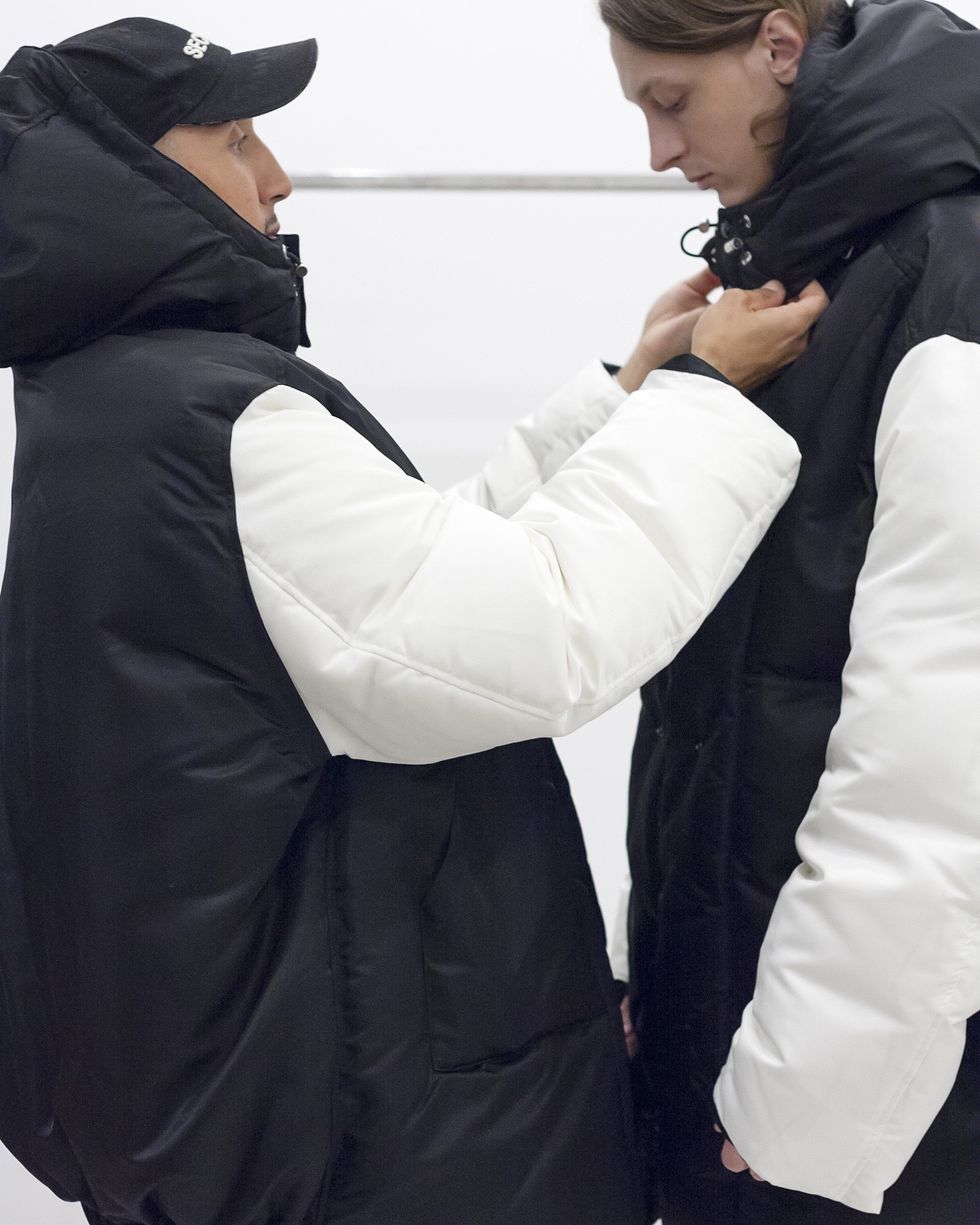 Alex Circa
It's really fucking stressful part of creativity. People think it's cute to be in your Instagram bio with, "slash-stylist, sash-photographer." But, you have to have this really methodical mind and that creative eye to make it in styling, it's not easy.
I know, especially if you're a freelance girl. You have no one doing this administration stuff for you, emails and all that stuff. It's frustrating, do you know how many times I couldn't find places to pull from in this city? That's the struggle here, you know. You have The Runthrough, Nordstrom, Saks, and all these really cool stores. And sometimes I would reach out and say, "I'm shooting for this," and they don't know it and they would get annoyed. Back then, they don't know i-D, they don't know --
They didn't know i-D?
They only knew Toronto press, only Toronto. They would say, "Oh, only if it's for Canadian press." Like, what, I have to shoot for Flare Fashion just to pull clothes? It's so stressful, the shoot is not for Flare Fashion, or that vibe. It's so frustrating. I always get a "no, no, no" in my face.
Is solely so Canadians will see it in Canadian print and buy it in their store?
I have no idea. I just didn't understand it.
I'm just trying to work it out, that's very bizarre.
I know. Now it's like, all these new kids, and new brands. You just kind of make your own thing happen — it's so cool and I'm finding Toronto has this sort of vibe and energy that's hungry. They want it and they're prepared to work for it, but it's not every man for themselves like it was before. We have to work together to come up, because we're all coming up. We're on the mountain high, and we really don't know what the future may be, but we're helping each other to grow. It's great, it's so wonderful. It's amazing to see different photographers that have been doing it from day one. Look at Petra, she's killing it. Petra Collins is killing it, and she's a Toronto girl.
I find her interesting because she's like few big stars from Toronto, they don't really shout out Toronto. You'd never really know.
Exactly. But, it's because the older boys of Toronto fashion are kind of jaded, because the support wasn't here. That was the problem, so they left. Toronto wasn't growing like that because everybody would get good and then leave because they realized they can't do it here. So now we got to stay and create and build this Toronto vibe and make our own wave. We can create everything, we can cancel out these agencies, it's all cool.
Right, because it used to be like hitting the glass ceiling.
Yeah, like I can go anywhere, you know what I mean? But, I love Toronto, I'm not going anywhere. I'm Toronto to the core. Now I'm starting a magazine here. I'm starting it so there's an outlet for these new kids to stay here and have a place to show off their work. I'm not going nowhere yet, I have stuff to do.
And you're creating your own platform.
I'm creating a platform for the new generation. There's so many new kids here, so many talented designers, stylists, musicians, artists.
They must be frustrated, too.
It's because they have nowhere to go. They keep submitting their work to other publications, and other blogs, and they're getting "no" because they don't understand it. It's really frustrating, I would shoot editorials all the time, and I would submit it to, like, Fucking Young and all these different publications. Some would say yes, and some would say they don't take submissions. But, they would never say it's bad, it's just not from their city like that. They didn't get it, and we need to have some of that here. So, I'm starting this new magazine, BullyMagazine. It's for the ones who have been bullied in this industry, and now we're going to bully back. It's kind of like the anti-fashion, new rules, whatever you want. It's going to be very provocative, in your face, loud, and everything goes.
That's amazing. And that's really building your own legacy, leaving something tangible. Can you recall a definitive moment when you told yourself, "You know I just I can't do what I love here, it's time to move on"?
I say that all the time. I still say it. But now it's like, I can do it here once this gets off the ground. But now we've created this outlet for Toronto kids. The new energy, the ones who are doing it. Like [Kid Studios] have done the most for me, I'm not going to lie. They also create outlets for these young, talented artists, like myself or my assistant, and different people who would recognize who are doing it. Putting on without even knowing or caring about how many followers they have, I love that.
It's funny you mentioned that, because as much as the Internet has opened everything up, and everybody is connected, that evaluation of value from the number of followers someone has is almost counterproductive. People are ignoring good work.
I have a love/hate for social media, because I feel like now everything is so oversaturated. Everyone is trying to compare themselves, just focus on yourself. Be you, don't just watch. Just because someone looks like, they're here, they're in paradise. They have access to every showroom, I don't have a showroom. I can't go to Dries, I don't have that, I go to a store and just pull it, buy it, return it, whatever the case may be. But, hopefully we can change that. I request samples all the time, and sometimes I get it but sometimes I don't. It's hard to be established here, and I have a stylist friend that says the same exact thing. It's frustrating. You just have to grind, you have to know you can't give up.
But, you're the big shot now. You're the heavyweight in Toronto.
I mean, I didn't know that. That's cool, I mean there's an authenticity in my work. It stems from here.
Photography: Scott Pilgrim, Alex Circa