Tinashe isn't new to this. The singer, songwriter and producer from Los Angeles grew up performing and creating music in her bedroom, heard on a string of self-released online mixtapes that could be best described as experimental R&B. Her last mixtape, Black Water, featured a song with then-unknown rapper Travis Scott, back when the "s" in Travis was a dollar sign. It got her signed to RCA Records.
At just 21 years old, Tinashe's official major-label debut, 2014's Aquarius, produced a top 10 smash in first single "2 On," and saw her collaborating with marquee names ranging from A$AP Rocky to Dev Hynes. Music videos for "2 On," "Feels Like Vegas," and "Cold Sweat" showcased the air sign's longtime affinity for organic grooves meant for sensual, highly choreographed movement. At the time, no one was quite like Tinashe — a gifted singer with eclectic musical tastes and a knack for impactful dance performances.
However, due to a harmful, longstanding notion that no two famous Black women can share massive success at the same time, she was dogged by unfair comparisons to left-of-center R&B contemporaries like FKA Twigs, Beyoncé, Ciara, and others.
One particularly unfortunate incident found Tinashe, by no fault of her own, in the Beyhive's venomous crosshairs when Elle published a piece in 2014 comparing Beyoncé and Tinashe. (Made worse, of course by Elle's tweet: "Watch out Beyoncé, here comes Tinashe.")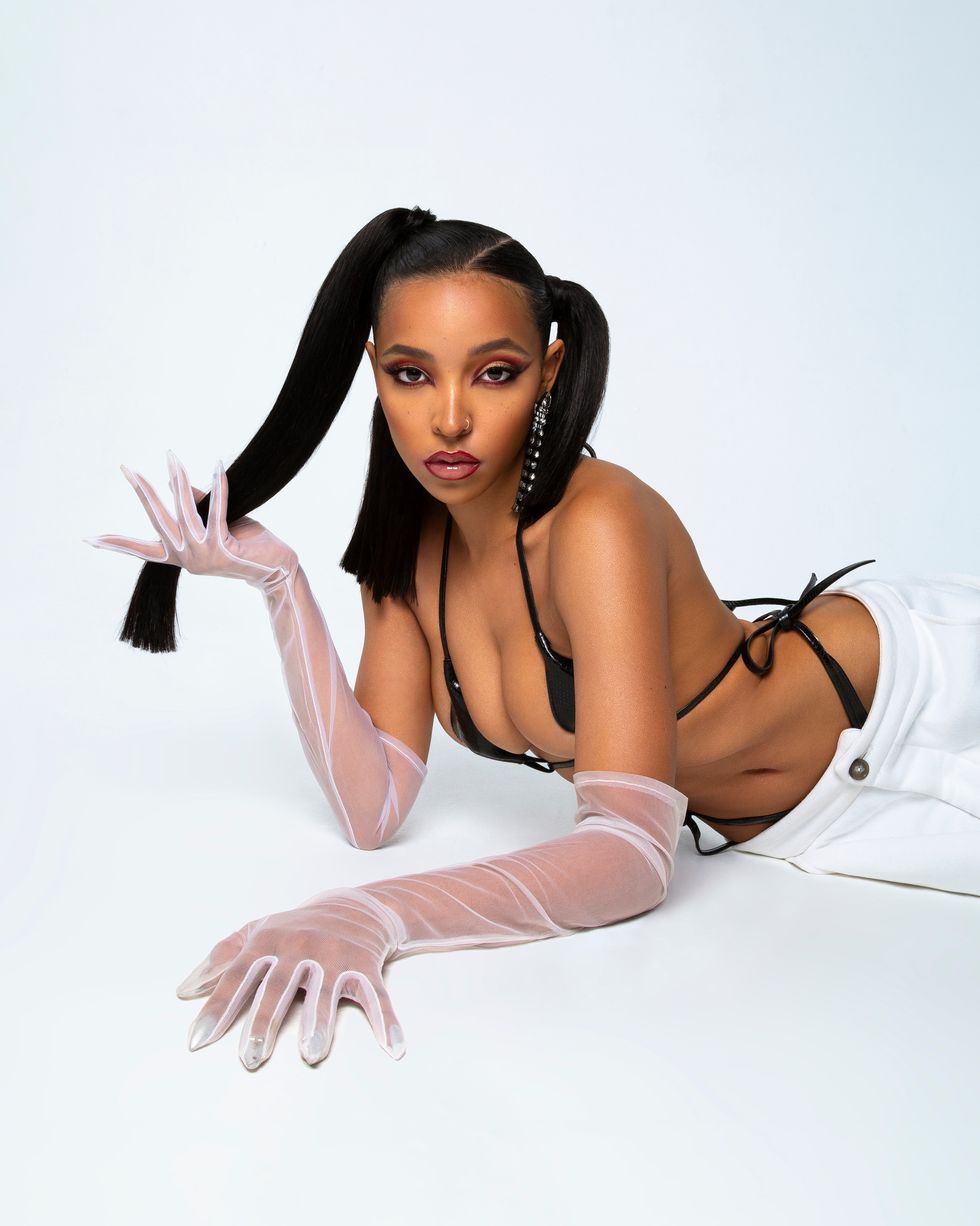 In a bizarre attempt to distinguish her from the pack, when it came time to prep her highly anticipated follow-up, Joyride, RCA pushed Tinashe to make songs that fit more strictly into a fabricated pop mold. More supermarket chart-toppers and less mood-driven club fare, she recalls being told.
To her credit, Tinashe really tried. She released videos to singles like "Superlove" and "Flame," which were paint-by-numbers pop songs that flatten Tinashe's abilities. Caught between two worlds, she contrasted those by releasing a sweat-soaked dance video to "Company," and a grittier one for "Party Favors," both of which felt more in line with Tinashe's talents and aesthetic tastes. There was a mixtape called Nightride, which was Tinashe's attempt to tide fans over before Joyride, which by this point (2017) had suffered so much pushback that by the time it finally arrived last year, there was little to no fanfare.
Internet culture's voracious appetite for the new and the next — and fan culture's need to pit female artists against one another — found the star caught up in lots of snarky "who is Tinashe?" chatter.
Stints on Dancing with the Stars and FOX's Rent: Live!, the latter of which garnered her an Emmy nomination, didn't make the vicious chatter cease. Fans noticed she went dark on social media this past July, not posting for months. One of her last posts reads in part, "I've always felt like an underdog... My entire life, I felt like my peers underestimated/misunderstood me, and maybe it's cuz I really don't ever quite fit in. But tbh I don't want to fit in. I can't subscribe to this Hollywood bs. Maybe that's the Aquarius in me, 'inherently unconventional and anti' idk. But fuck it, I couldn't be any way else."
She emerged at the end of September with a video addressed to her fans looking refreshed.
"I just feel like I needed to go through what I went through to be the person I am today," she says, before going on to talk about how the process of putting out personal work subject to vicious criticism can be terrifying. But she squints and looks right into the camera. "But you know what? Fuck the system."
Tinashe sits in PAPER's office now, reflecting on her time spent as a major-label artist. The process of completing Joyride was especially painful, she says. "It was like one of those memes where" — mimes walking into a room, dropping something on the table and immediately leaving— "here you go... there was no momentum left. I'd run out of steam and was just so tired."
"That's how it felt," she says. "It just felt like such an emotionally draining process to get that out because I wanted to put it out in 2015. The singles didn't connect. And it got pushed, and it got pushed for years. And I was like [to RCA], How do you guys want me to win on something that's been years delayed? That doesn't set a good precedent. But at the same time I felt like I had to complete it. I felt like I had to finish it. I had been promoting it for however many years and had to just get it out. That was a real turning point, though."
Tinashe says she then cleaned house. First, parting ways with RCA after another failed course-correction with Nashe, a project based on Tinashe's rebellious alter-ego that was ultimately scrapped in the departure process. (She released two edgy singles "Throw a Fit" and "Like I Used To" beforehand.) She knew that in order to keep her sanity and love for music alive, she had to start fresh. She said goodbye to her management team. "They were with me from the beginning, so that was the hardest part," Tinashe says. "That was like saying goodbye to family."
These days, Tinashe is under new management — primarily her own. She then built a home recording studio and invited collaborators (including G-Eazy, 6LACK, and Ms. Banks) to come play. Tinashe saved some of the ideas from the scrapped Nashe project, but otherwise she says she started completely fresh, "going back to my roots and rolling out of bed each day and right into the studio in my pajamas if I wanted to" to write or record vocals. This set-up is closer to the way things were when Tinashe was first making music, before any major players caught on and her following was mostly online.
The end product is Songs For You, out now, which is a result of a year or more of focused work to rediscover her sound outside the matrix. It paid off, climbing to the top of the iTunes Albums chart the night of its November 21 release. Tinashe says it's an album for "my ride-or-dies." The songs can also be for a lover, a friend, or for herself. Tinashe sounds freer throughout Songs For You than she has in years.
The tracks double as sexy love/breakup songs and self-affirmations, trying on varied genres and styles throughout. On the dreamy "Life's Too Short," she sings about seizing precious moments, wanting "all of you," in her "20/20 vision of us." The album's first single, "Die a Little Bit," possesses a similar spirit, where Tinashe contemplates what it's like to move through obstacles over sensual drum 'n' bass production: "Running in circles 'cause I suck at letting go/ Starting to feel like there's no chance of breaking through," she sings. "Perfect Crime" and "Save Room For Us" are smooth, synth-laden cuts of rhythmic pop, made for after hours reflection. And on "Feelings" and "Hopscotch," Tinashe owns a fiercer persona, confidently delivering rap-sung verses atop trunk-rattling beats.
There is a moment where Tinashe, playing the new songs on a Bose speaker, lets loose and shows me how to twerk, which is sadly a skill I don't yet have the flexibility to master. But this kind of immediacy is exactly how Tinashe has maintained a strong connection to her fans — something she acknowledged by hosting intimate Songs For You listening parties in London, Los Angeles and New York.
"If you fuck with me, great. If you don't, God bless."
It's clear that despite Tinashe's rocky road in the music industry, she's free of everything else that has previously burdened her, too — comparisons and gossip be damned. When asked about how she feels her new music fits into the current musical landscape, Tinashe emphasizes, "Maybe it does, maybe it doesn't! Who cares, really?"
She continues: "Also, who ever runs out of music to listen to? We consume shit at such an insane rate nowadays, it's like you need more shit to listen to next month. So there's room for everybody, absolutely. Again, I think that comes with the journey and self confidence, all those things. I feel like I have that self confidence even as an artist overall more than ever before. I'm not validated by numbers or chart position or sales. Those things are all amazing and great and I hope for them and wish for them because they're markers of success, but — if you fuck with me, great. If you don't, God bless."
She pauses for a second and chuckles. "I mean, we can't all have taste."
Photos courtesy of Roc Nation
Sign Up for the Morning PAPER