For our new digital cover series Takeover, we chose five of our favorite women who're making a significant impact on the music industry right now. Tiffany Young, the breakout singer of K-pop group Girls Generation, is carving out a major name for herself stateside. Today, she'll be taking over PAPER with guest edited pieces and answering fans' questions on our Instagram.
Tiffany Young is feeling liberated these days, and she wouldn't mind a drink — clear or dark. When we first spoke with the 29-year-old singer over the summer, she was days away from releasing her English-language solo debut, "Over My Skin," a funky blast of brassy pop sass.
We fangirled for Britney, dug deep into her obsession with RuPaul's Drag Race — Miss Vanjie stickers currently cover her notebook — and waxed nostalgic about her decade-long run as a member of Girls' Generation, otherwise known in South Korea as The Nation's Girl Group.
At the time, Tiffany expressed a sincere hope that her fans would enjoy her new musical journey, and that was that; effectively the calm before the solo storm.
Four months later, she's now in the thick of it — two singles and one global fashion and music campaign deep, with a debut English solo EP on the way for early next year.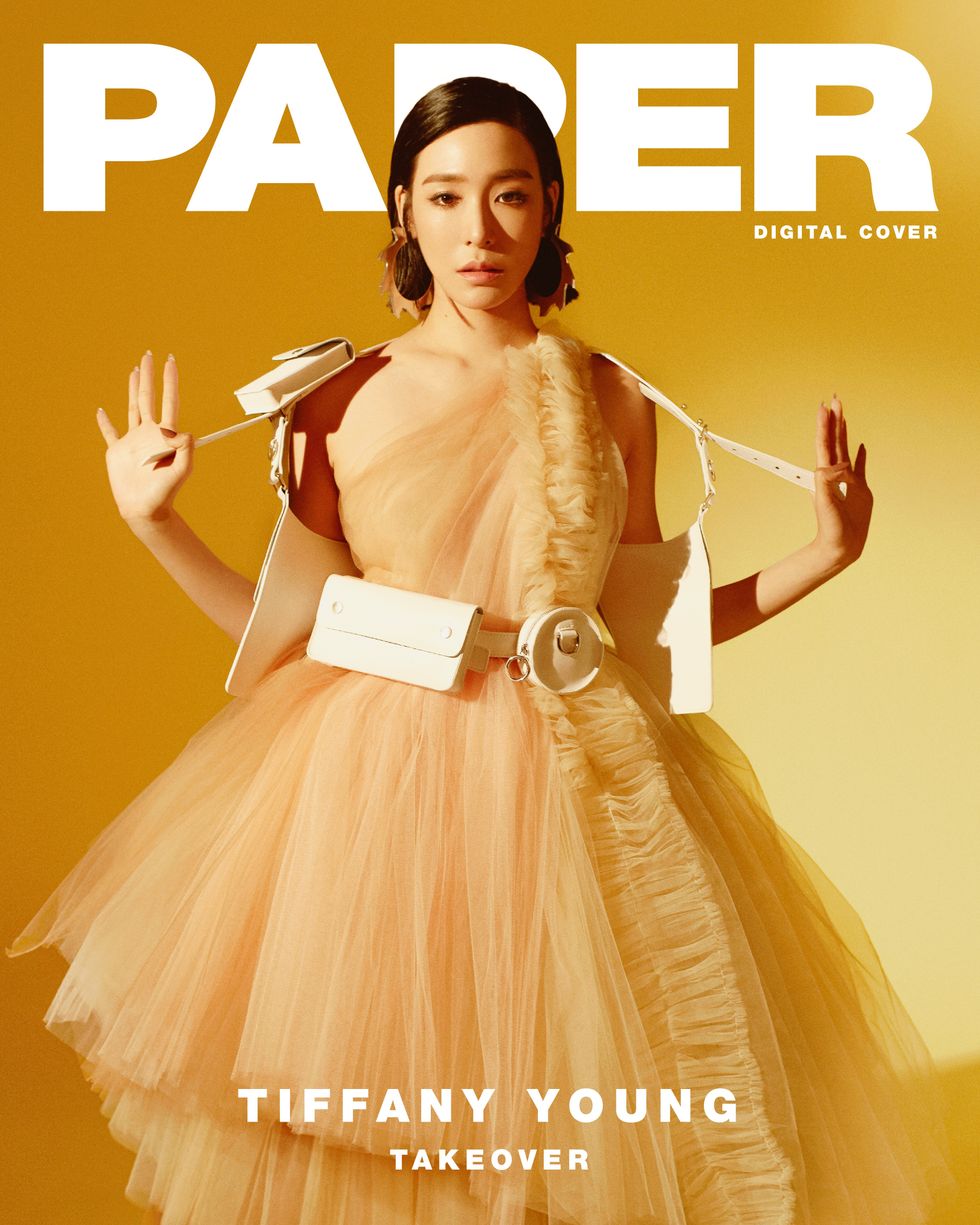 Dress: Off-White, Earrings, Harness & Belt: Bond Hardware
Calling the shots for herself stateside, Tiffany's also opening up more than ever: about her career, as an Asian-American artist born and raised in California, who went to live the K-Pop dream in Seoul before coming back to pave her own path, as well as her personal life — the romance, break-ups, and, of course, the coping methods to deal with everything in between.
One way to handle hurt, as she revealed during a recent Build Seriesinterview? Alcohol.
"I was going to say ice cream, but that's the nice answer that I'd say on a really proper press run in Korea," she admitted during the program, much to the delight of her fans in the crowd.
The joke was a small, yet telling example of Tiffany giving us the "real-real" about her life, as she'd explain to PAPER while back at her home in Los Angeles following a whirlwind press tour throughout New York City in early October.
"There's a time and place for everything," she says. "My music has definitely taken me to the place where I'm ready to talk about it."
"Why start a conversation when you can't even finish it? There's a lot of fear all the time for me, I won't lie. But I think when you realize fear is always going to be there, it kicks you into fight-or-flight mode. The survivor in you really brings out that bold stance when you're ready to talk and say it in the most graceful way possible. In the end, it's not coming from anywhere but honesty and truth... I'm happy to be digging deeper."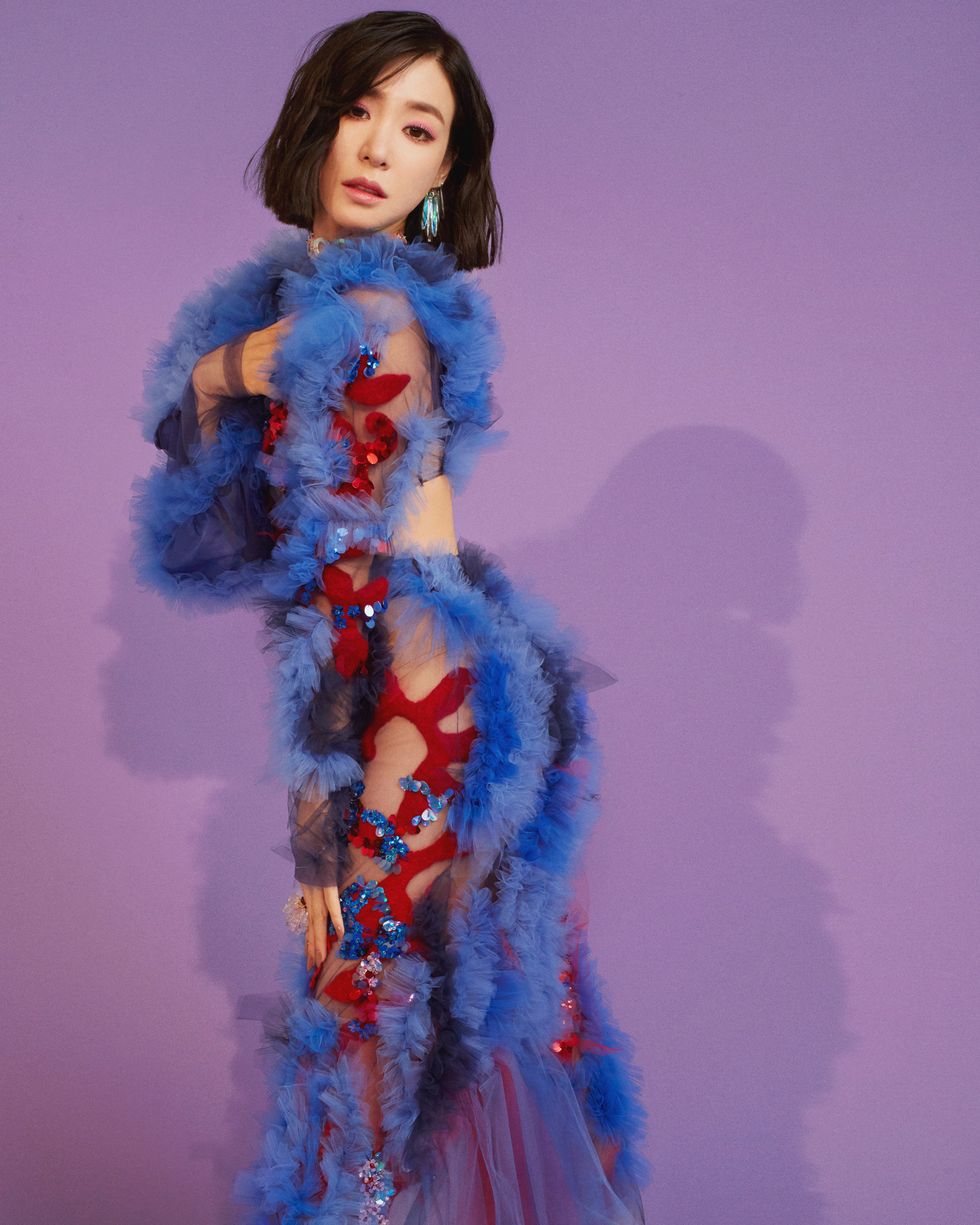 Top & Skirt: Saya Zalel, Ear Cuff & Choker: ISLY NYC
Coming from a place of pristine perfection — the Korean pop music industry is notorious for its strictness, from the strenuous training to the monitoring of an idol's image — it's not a surprise that Tiffany's used to choosing her words carefully.
Back in the states, she seems at ease. But she faces a different kind of challenge: making herself known all over again. Barring a few, fleeting crossover moments, Asian artists have rarely enjoyed any lasting mainstream success in the U.S. pop music industry. Tiffany's presence, following in the footsteps of pioneering K-Pop acts who led the way, like BoA and the Wonder Girls years before, is helping chip away at the barriers in place for decades.
Weeks ago, Tiffany became the first Asian-American female soloist to attend the American Music Awards — a title she's happy to claim, but as she admits, only fuels her drive to do more the next time around.
"I don't want any credit yet," she says of making history by attending the awards show.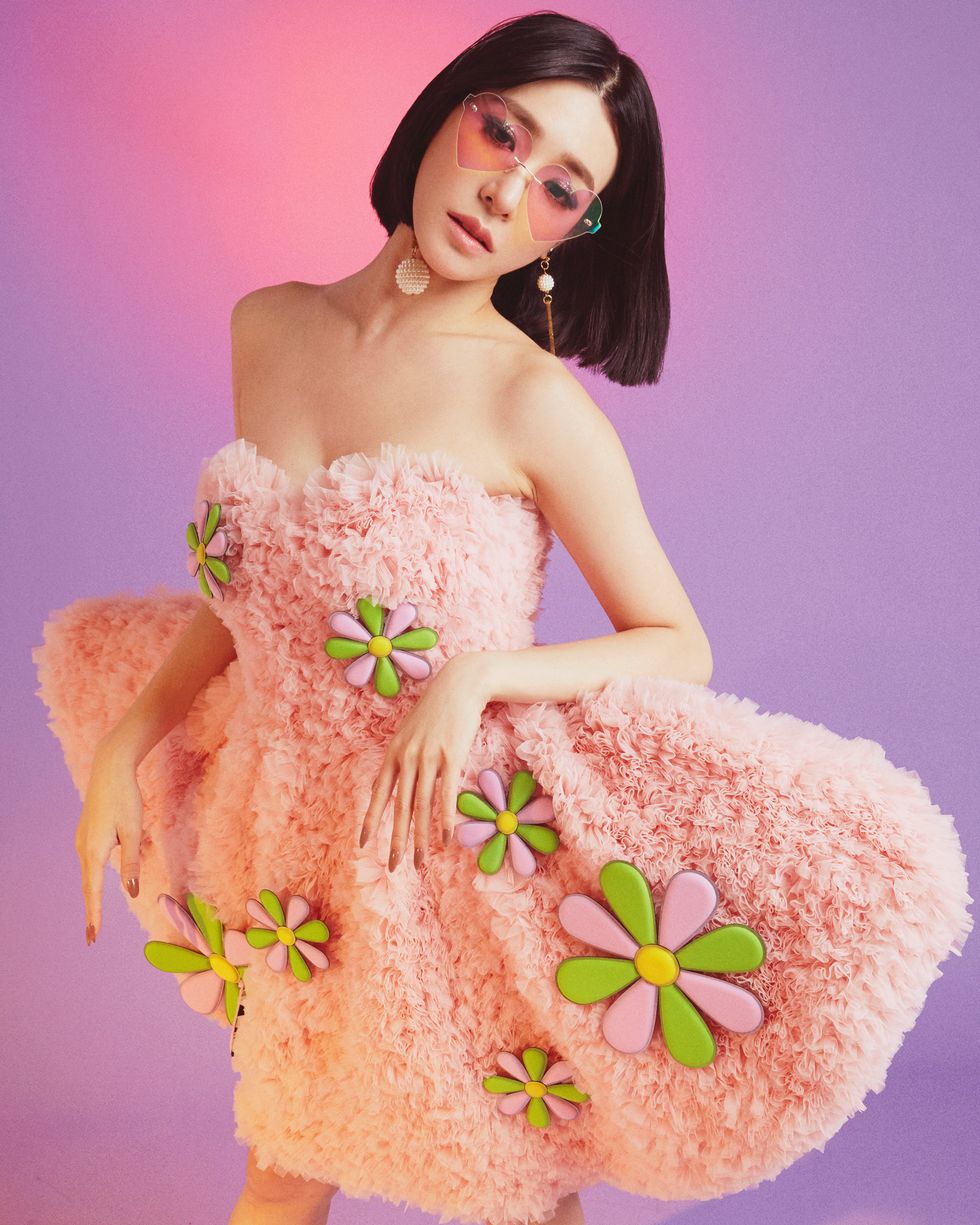 Dress: Moschino, Earrings & Sunglasses: ISLY NYC
"I was there literally studying, like... how am I going to be on stage? How am I going to make art that matters? It's great to come appropriately dressed for the red carpet, but my goal is to create something that will be worthy to put up on that stage and be talked about and represent in a whole other way," she says. "I'm absolutely thankful and honored, but I'm not there yet. I want to work my way on the stage."
To get up there, she's been putting in plenty of hours in the recording studio alongside songwriters and producers, including production duo The Rascals (Ariana Grande, Toni Braxton) and R&B icon Babyface, which she teased recently on MTV.

"When you have a song with Babyface, of course you want the world to know," she says, admitting that some fans questioned her decision to hold back her work with the legendary producer and release other songs first.
"I was like, you know what? I want to walk out with some cool street cred first. I wanted to build up to that move... I'm glad I came out with 'Over My Skin' and 'Teach You.'"
The fruits of that collaboration are set to appear on her upcoming debut EP, due out early in 2019 — although she's "brainstorming" something a little more seasonal first.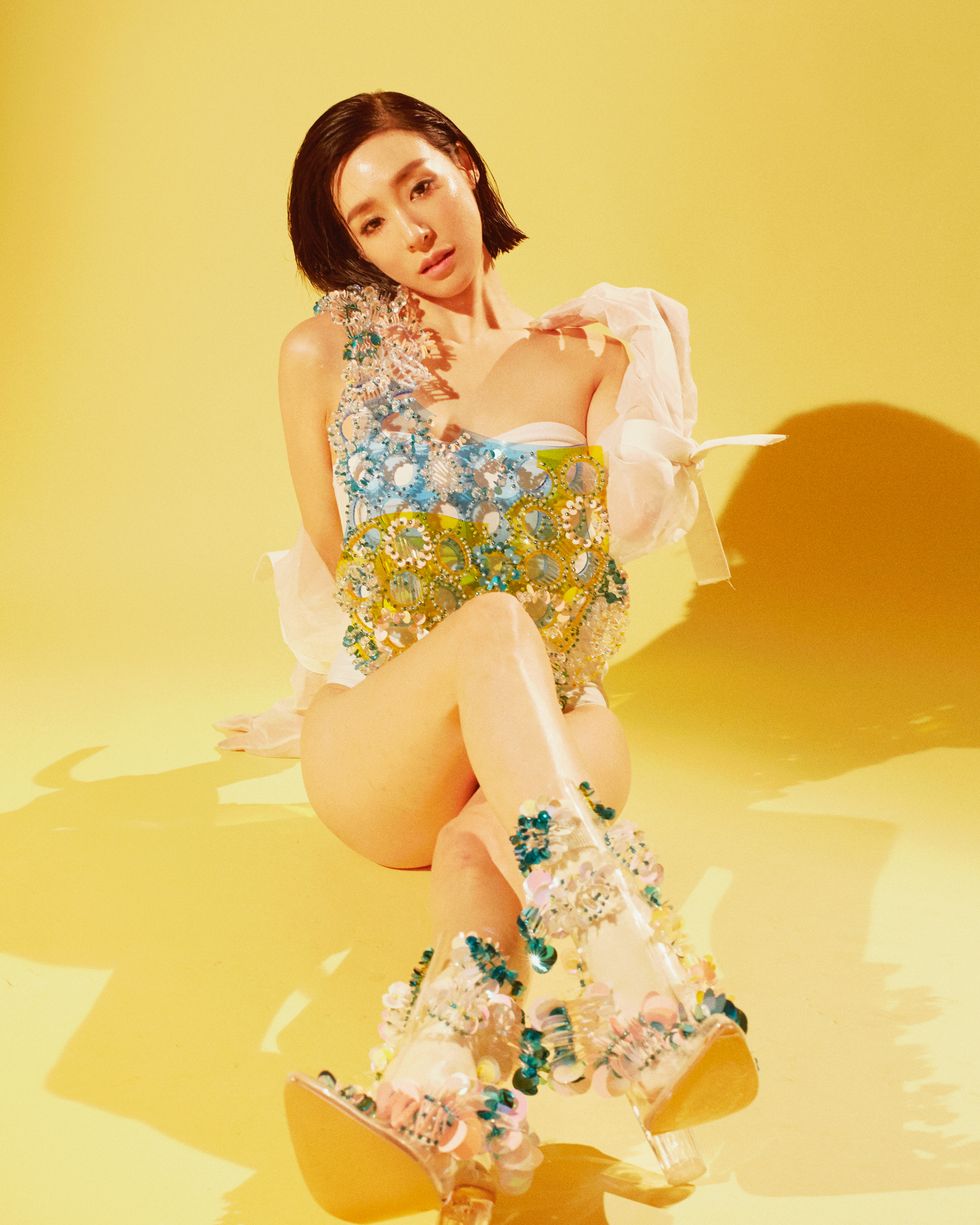 Full Look: Shie Lyu
"Just because of how much love the fans have been showing, I just really wanted to give them more music... I want to try pushing myself and write a Christmas song," she says of the idea of new music before the end of the year. "I'm keeping my fingers crossed that I can push through this. I would love to."
It's that passion to keep pushing herself that's fueled her solo career — which began with what she describes as a "practice round" in Korea with her Korean-language solo, I Just Wanna Dance, two years before.
"I wasn't as sure, or knew what I was doing, because it was helped and built with my former label," she acknowledges. "Also, having support from my bandmates to be here definitely does make me a lot more confident in talking about what I want to talk about."
The members of Girls' Generation aren't just there in spirit to support Tiffany via their WhatsApp group chat, either: two of the girls, Sooyoung and Hyoyeon, even appeared in the Korean drama-inspired, vengeance-seeking video for her second solo single, "Teach You."
"What would I do if I was going through heartbreak? One of the most genuine things is being with my girlfriends," she explains. "I was planning to shoot the video in Korea, so I was just like... shoot for the stars, why don't I?"
And so, Tiffany put the call out to her bandmates, and the timing worked out for two of them.
"I was like, 'Oh my God, thank you,' because they're like the comedy improv queens of the group," she gushes. "It just worked out so well."
Sooyoung and Hyoyeon's appearance in the video also made good on the ongoing promise to fans of the eventual return of Girls' Generation. In the meantime, the group has helped to redefine what it means to be in a pop group: as opposed to inciting a Geri-left-the-Spice-Girls panic, the girls have regularly splintered off into sub-units and solos, only to return as a united front.
"Visual media is so important to how we see the world, how we see others and how we see ourselves."
Most recently, the troupe debuted their latest sub-unit: OH!GG, while member Yuri debuted her own solo project.
"We all share when things are in motion and talk to one another about it," she says of GG's latest moves. "We're always kind of looking for each other's advice and approval. The unit was a nice way to still plant our feet firm in the ground that Girls' Generation is still happening, and also Yuri with her solo album," she explains, recalling her own sub-unit within the group, Girls' Generation-TTS.
"I think when we did TTS, it became its own thing. It only kept the brand stronger and relevant and alive... I love when there's new music out."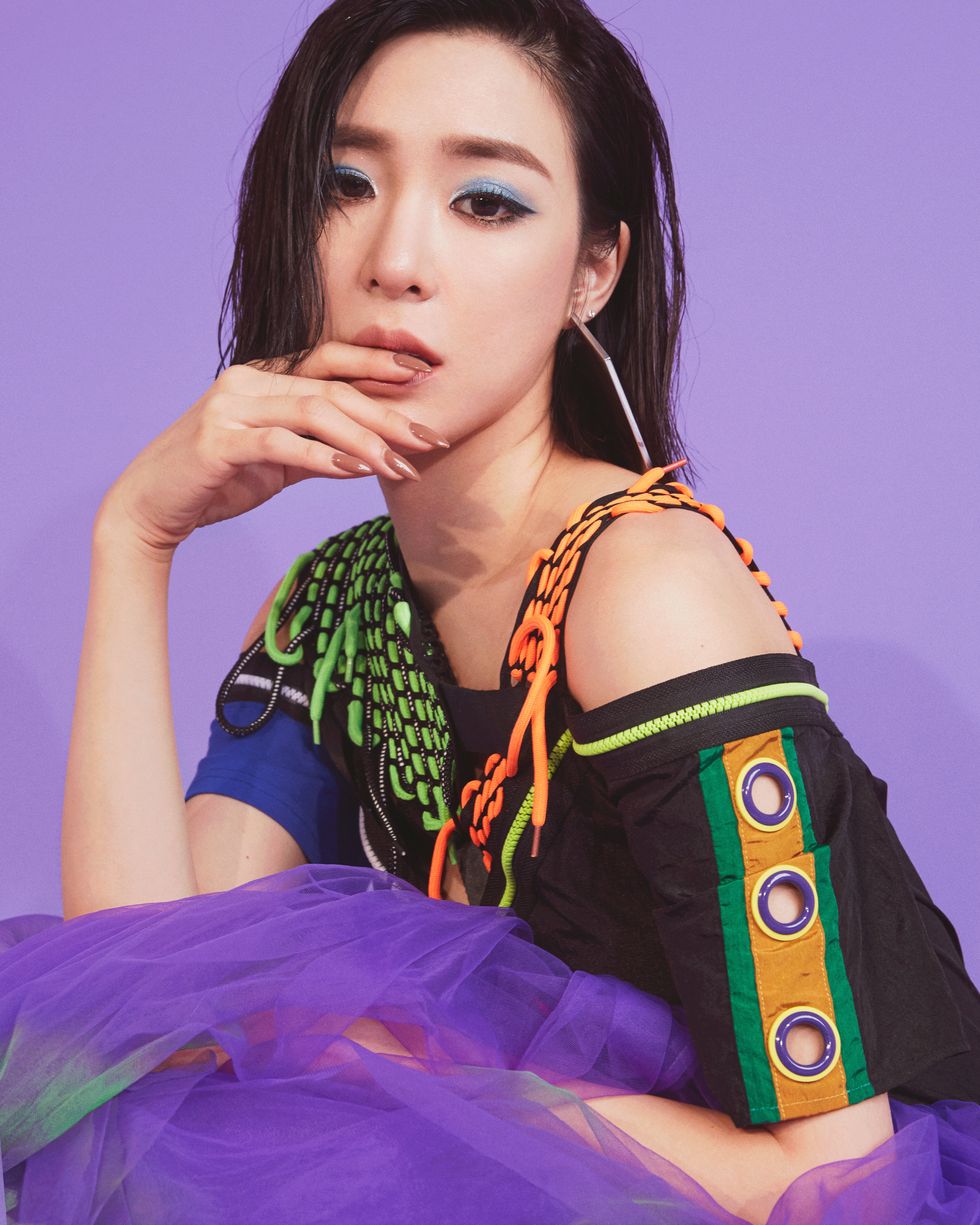 Dress: Laurence & Chico, Earrings & Rings: Bond Hardware
Establishing herself in one global territory has lent itself to incredible opportunities in the American market, not only in terms of music, but fashion as well.
Tiffany currently serves as the ambassador for H&M's Autumn 2018 Divided Music Campaign, an initiative supporting rising artists, soundtracked by her empowering kiss-off, "Teach You."
She was thrilled by the experience of shooting the campaign and sporting the brand's oversized knits and puffer jackets in the Scottish Highlands — which was also "very, very cold." But it was the idea of being featured in 70 countries and 4,200 stores that truly spoke to her — not out of vanity, but visibility.
"Visual media is so important to how we see the world, how we see others and how we see ourselves. To see Asian-American representation in fashion, and to be with a brand that does that all over the world... I'm excited that it's connecting everything and everybody together," she says.
"It's nice that K-Pop has given me the platform that it has, but the visibility right now, and the whole aesthetic and story to the campaign... I'm just so happy and proud to be a part of it."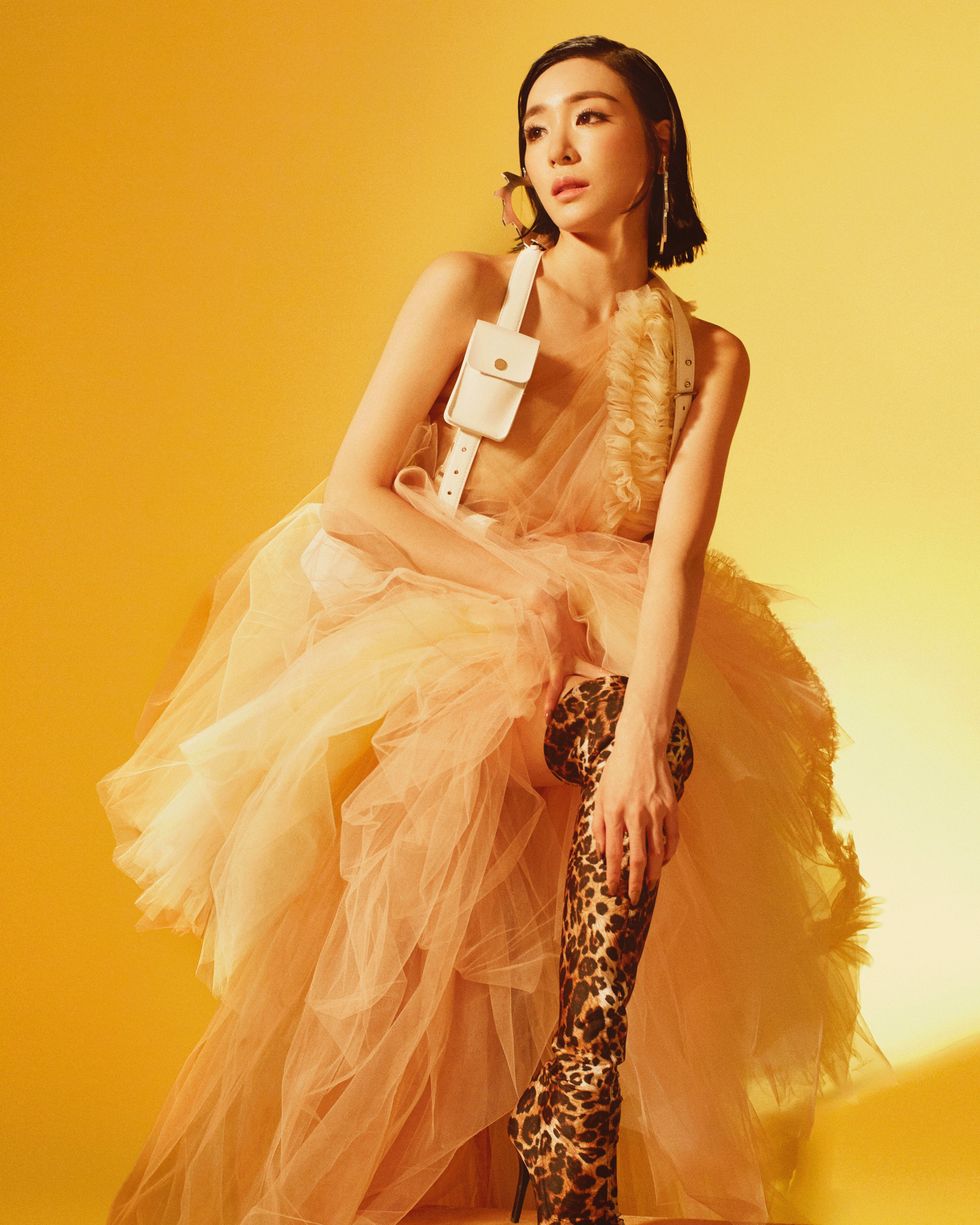 Dress: Off-White, Earrings, Harness & Belt: Bond Hardware, Shoes: Giuseppe Zanotti
Tiffany's solo moves might even, perhaps, be influencing the industry back in South Korea.
When former labelmate BoA announced her ninth studio album, Woman, some fans drew comparisons to Tiffany's "Over My Skin," and even jokingly suggested she should send one of the "Woman" hoodies from her own merch collection, inspired by a lyric in the song — "This woman, woman, woman, woman, woman wants you bad..." — to the Queen of K-Pop herself.
"I hope I'm somewhat visible to her! That would be amazing," she gushes. "She's inspired me so much... I can't wait to see what her album sounds and looks like. That's going to play a huge role for all the Korean female artists," she says. "I hope mine does too," she adds with a laugh.
The same enthusiasm applies to HyunA, another pioneering Korean female soloist, who made headlines recently for very different reasons upon being controversially ousted from her record label after making her relationship public with labelmate E'Dawn.
While Tiffany did hear of the scandal, she admits she still doesn't know enough about the situation, but couldn't say enough in support of the singer herself.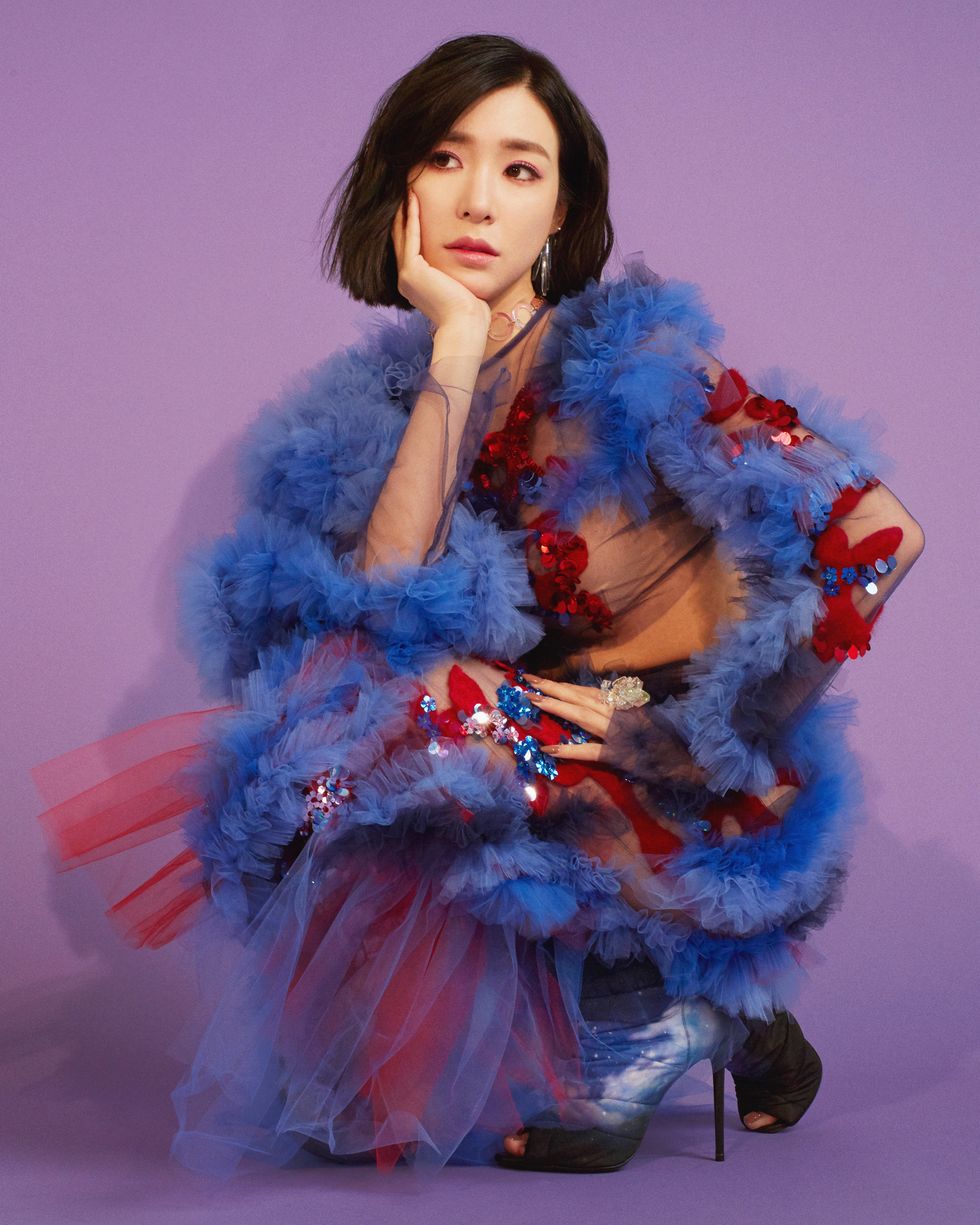 Top & Skirt: Saya Zalel, Ear Cuff & Choker: ISLY NYC, Shoes: Nicholas Kirkwood
"She's somebody I love and have loved for a long time," Tiffany says of HyunA. "I remember being in promo with her in 2015 and telling her that I love how bold she is, and how she sticks with what she wants to create... if I can say anything right now, it's that she's a tremendous artist. She's a creative. She's a strong woman. And if she needs a girlfriend, hey, I'm here."
When it comes to artists expressing themselves, Tiffany says, it's all about having an open dialogue — and, more importantly, respect, pop star or otherwise.
"I think if the artist is ready to talk about something, or share what they feel, I hope that everybody is open," she says. "I am open to critique and criticism if it's constructive, but don't hate. Don't write negative or hurtful things... don't forget that artists are human beings. Korean artists are human beings."
"We are in this amazing time where there are no limits [...] It's all about diversity, being opinionated and having something to say."
So, where is Tiffany at now, in this moment?
"I'm glad that I'm 29," she says with a relieved laugh. "Being 29 is amazing. You're so much more thankful. You're so much more grateful. You appreciate every single little thing. You're thankful for so many things that you wouldn't have been when you were younger."
That appreciation extends even to the littlest things that give her peace of mind: when she's not in the studio recording or hitting the stage — she hopes to tour following the release of her EP next year — she's at home binge-watching beauty vloggers on YouTube.
"The drama! The excitement! It keeps me up until 4 in the morning... I love it," she swoons.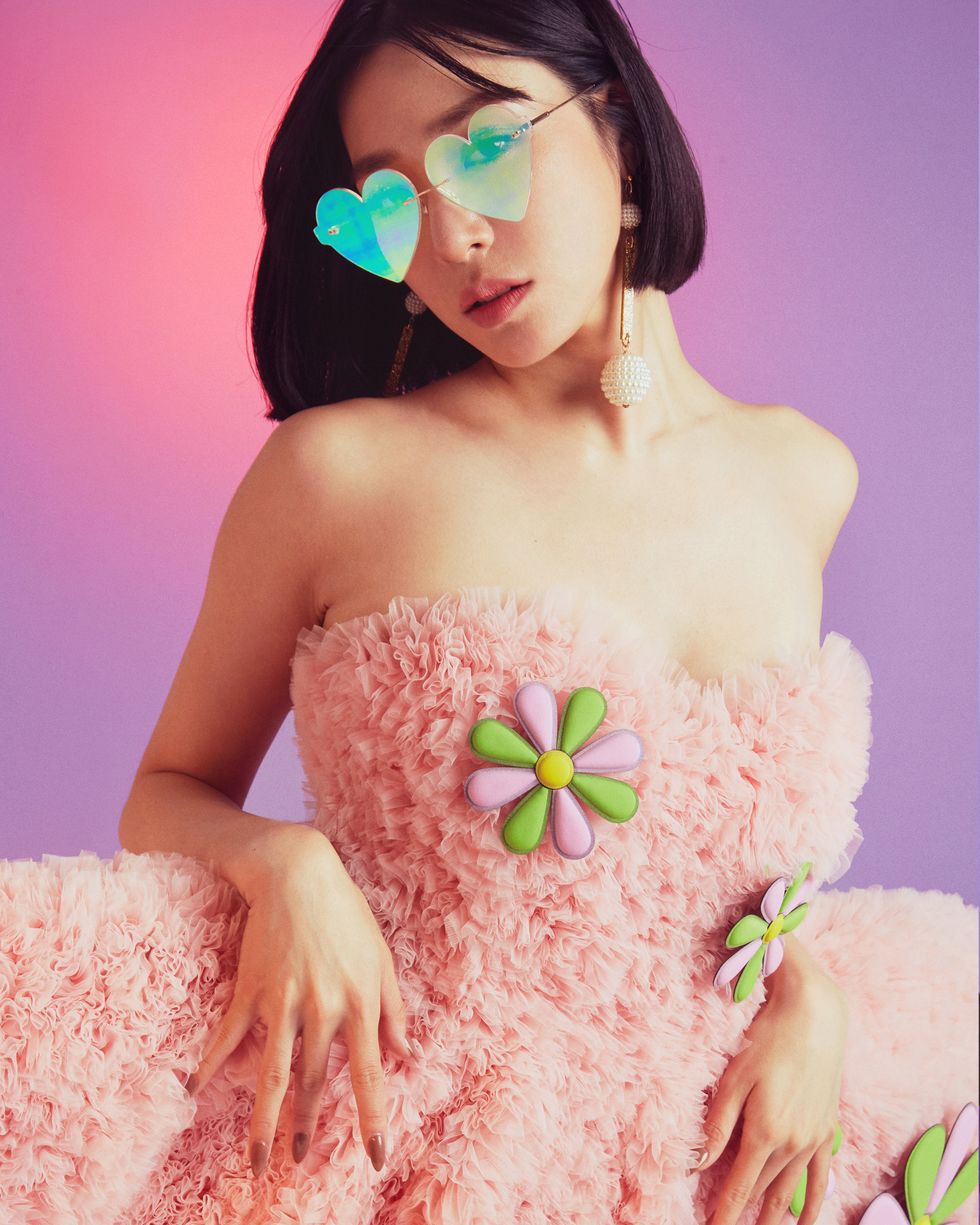 Dress: Moschino, Earrings & Sunglasses: ISLY NYC
Oh, and ASMR channels, too, thanks to her sister, who introduced her to one account in particular, RRCherryPie, several years ago.

"There's this thing called Popin Cooking. It's this cute little kit where you create little dishes. It's like candy... but definitely beauty vloggers, and the drama and excitement. That takes up most of my life. And Yanis Marshall videos — he's my alter-ego."
As much of an idol as she is, Tiffany herself is still very much a fangirl at heart. Her eagerness is infectious. She gushes, frequently, about everything and everyone that's shaped her experience as a pop star, past and present: BoA, Britney, Madonna, Yanis Marshall, Carson Kressley, drag queens, beauty vloggers.
As she embarks on this journey to make a name for herself, once again, back at home, Tiffany only hopes that she's inspiring people in the same way.
"We are in this amazing time where there are no limits," she says. "It's all about diversity, being opinionated and having something to say."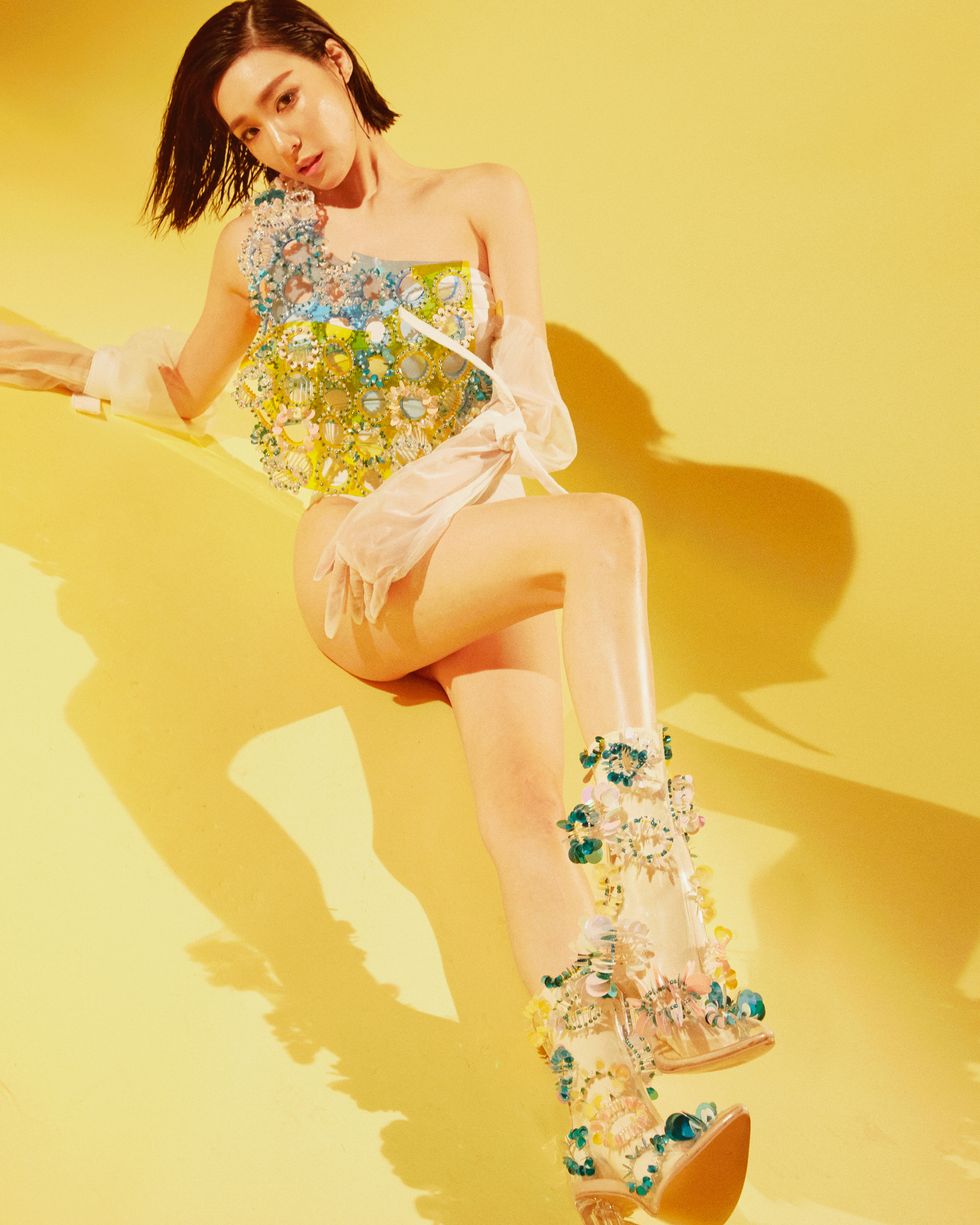 Full Look: Shie Lyu
Photography: Mikey Asanin
Styling: Marta Del Rio
Hair: Korey Fitzpatrick (for Exclusive Artists using IGK Haircare)
Makeup: Seonah Bang
Photography Assistants: Apiwich Bangrapimolpong & Pongsakorn Jungthaweesil
Styling Assistants: Ryan Davis, Miguel Sanchez & Andrew Curwen
Location: Dune Studios