Phoebe Waller-Bridge and Taylor Swift both had huge years. The former became TV's It girl with Killing Eve and Fleabag, turning the internet into a giant PWB cult, whose members will take any chance to feverishly indoctrinate non-believers.
Through a comprehensive press tour, the latter went from backstabbing celebrity villain-snake to woke, cute and cuddly heroine-butterfly, releasing a great album in the process.
When two of the year's biggest white ladies go on Saturday Night Live, it's a big deal! Waller-Bridge and Swift did it this weekend. Here's everything that went down.
The monologue 
Waller-Bridge's monologue was predictably great. It included everything you'd want a Phoebe Waller-Bridge SNL monologue to have: a jumpsuit, her delicious accent, smirking asides, an anecdote about a shitty ex, hot priest discourse, and a proposal that "psychopaths are really having a moment, don't you think?" She also gave a succinct diagnosis of how creators like her are reinventing female characters on TV. "Women can now speak openly about their desires without being burned at the stake. Which is nice! Love that. Back in the day horny women were to be feared. And now they're given Emmys." It's the best SNL monologue I've heard in a long time, though of course, the bar is on the floor (never forget when they made Saoirse Ronan spend five minutes talking about how to pronounce her name).
The performances
Swift did a killer rendition of Lover's title track, occasionally flicking her eyes to a particular spot in the crowd where, presumably, the song's inspiration Joe Alwyn was seated. One has to question her choice to perform "False God," one of Lover's misses, alongside a sole saxophonist given a lengthy solo while Swift swayed and sort of "mmmhmmmed" sensually. It wasn't...a great vibe.
The Sketches
A few of the sketches — including Waller-Bridge's contribution to a WWII letter-writing bit — fell flat, but the evening also had its wins. The crown jewel was definitely when an "allergy lip" sporting Waller-Bridge got kicked off Love Island.
Her take as a blown-out news anchor, participating in a racial stereotype grudge match with her co-hosts was also fun.
And her, Aidy Bryant and Melissa Villaseñor did a fun little bit about how periods are still taboo. Timeless stuff!
Swift did not appear in any sketches. Perhaps after seeing her and Waller-Bridge's lack of chemistry in this promo bit, they decided to keep the two apart.
The celebs who were in the audience 
Everyone showed up to support the girls. According to Page Six, Steven Spielberg, Lin-Manuel Miranda, Adam Sandler and his daughters, and Chris Rock were all in the audience.
The after-party gossip 
Gigi Hadid, Martha Hunt and Antoni Porowski reportedly all came out later for the after-party, according to ET. Hm, but of the above bold-faced names, which are Swifties and which are Fleabag stans?
Swift and Alwyn, a remarkably discreet couple (so discreet that their coupling didn't even register for many until Lover dropped), were spotted holding hands on their way to the after party — Swift still in her oversized blazer, sparkly pants and Louboutins from her "False God" performance.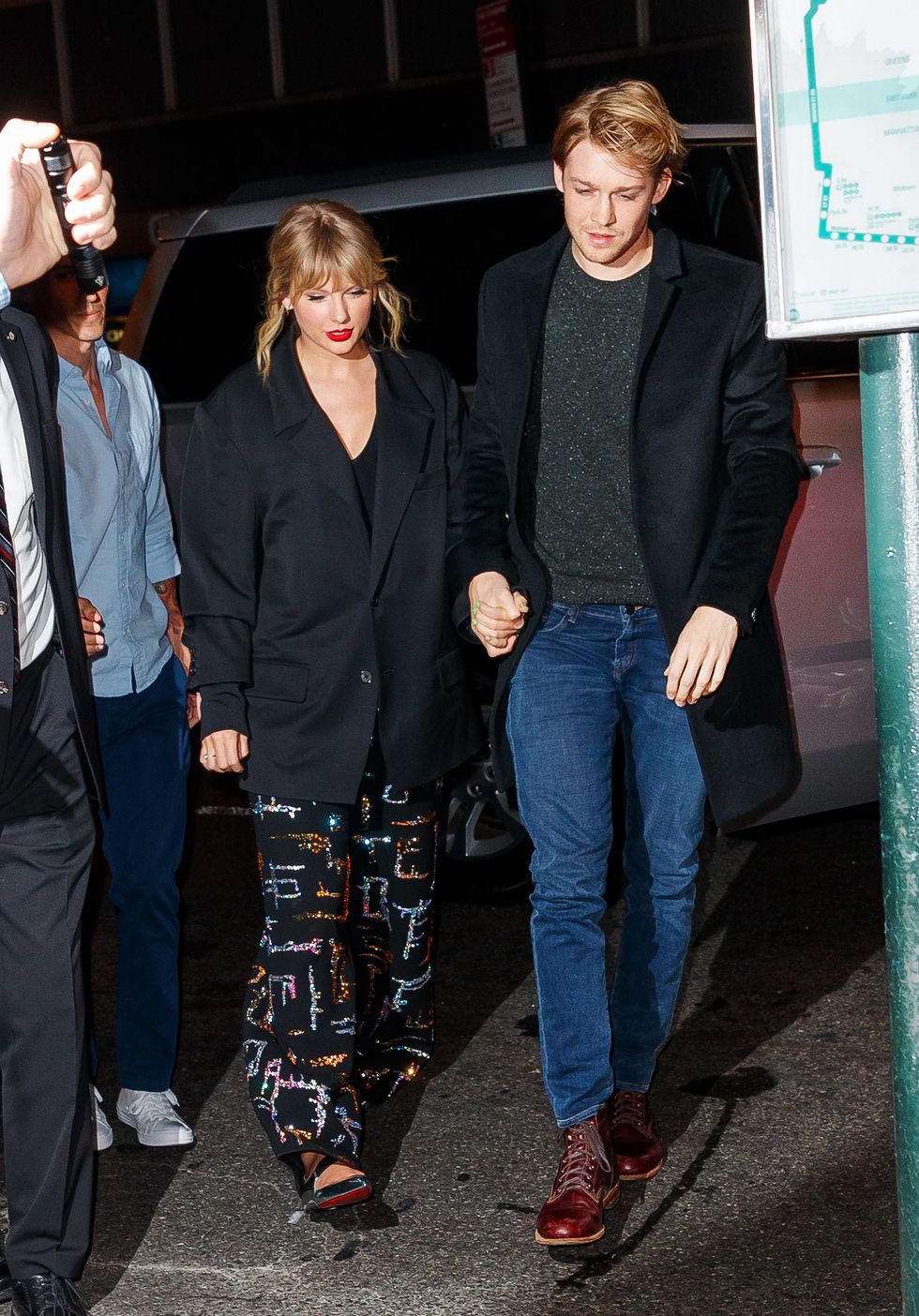 Swift is making the late night rounds at the moment to promote Lover and will head out on tour in the new year. Meanwhile, Waller-Bridge has signed a $20 million deal with Amazon Prime, so you can expect more "sexually depraved, foul-mouthed, dangerous" characters coming to a small-screen near you soon.
Nightlife
Story by Matt Wille / Photography by Ian Lewandowski