Yes, we have RuPaul. But on season 15 of RuPaul's Drag Race, Sasha Colby is mother.
Sasha Colby came in to Meet The Queens and explained herself quite casually as "your favorite drag queen's favorite drag queen" — a statement that has been borne out week after week as guest after guest on The Pit Stop names her as both a favorite in general and a favorite to win the season's crown. To viewers who only consume drag through the franchise, Sasha is the mother of season 14 fan-favorite Kerri Colby. But for fans of drag in a larger sense, she is the Hawaii-born, Miss Continental 2012-winning living legend who has been tearing up stages (collecting tips) and inspiring audiences for two decades.
On Drag Race, Sasha's experience has manifested itself in an undeniable confidence in her approach to nearly every challenge. For her very first Main Stage runway, she tipped her hat to her own successes, wearing a gown from her time competing for Miss Continental which some would consider to be the most respected title for drag queens outside of Ru's purview. But beyond that, she's knocked each week out of the park, with a stunning showing that hasn't seen her in the bottom two yet. (In fact, her success on the show, coupled with her legacy, has led some fans to believe she could one day be groomed to take over Ru's very own hosting seat were she interested in passing on the mantle.)
Here, we talk to Sasha Colby about getting started in the Hawaii drag scene, fashioning her existence into living art, and the nerve it takes to live as a trans drag queen during a renaissance of hate.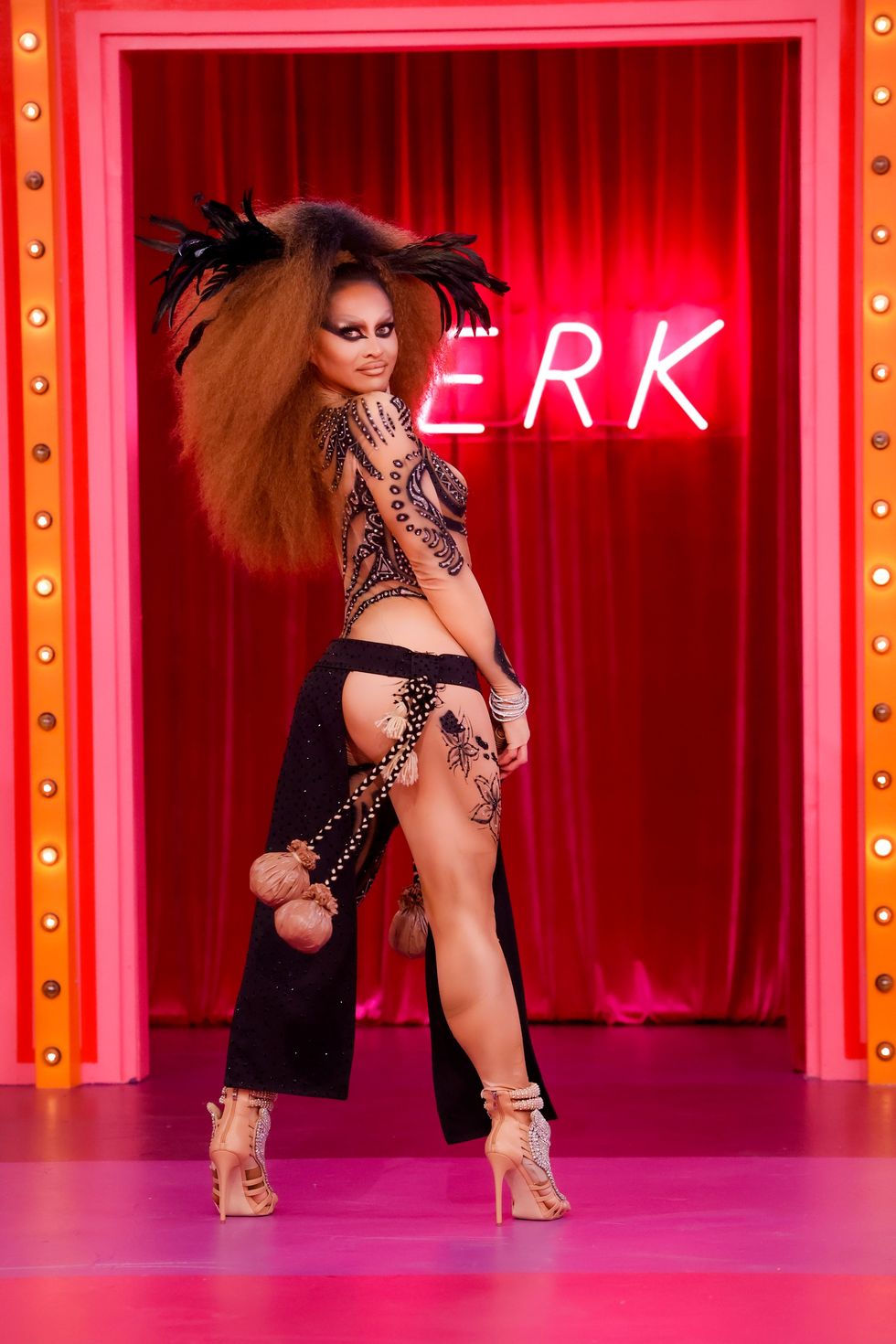 I know you've told this story before, but one more time: how did you get into drag? Tell me about the birth of Sasha Colby.
My drag journey actually started when I started dance. I started at this dance studio when I was about 15 or 16. I was a closeted trans person and a Jehovah's Witness, so highly paranoid that I was gonna get found. Then I found dance and I could just be myself. I knew, at five years old, I was supposed to be a girl in this life, but I just didn't know how to go about it. I thought I had to look like To Wong Foo. In dance I found actual gay people that were happy and had beautiful lives and it was something to aspire to. Through that studio I actually met my drag mom, Cassandra Colby. Yes she's a trans performer but moreso, just a trans woman who is in the beauty industry. Once I knew that you could look beautiful and have a job [as a trans woman] and then finding drag in Hawaii, it kind of all coincided with me transitioning. The people I met through the dance scene became a second family I found and then I got into the club scene with them.
On Drag Race you told this story about The Glades, which was an old gay club with drag queens that would get raided every week by the police. That was before your time, but what was your experience like in those early days?
Well, it was the early 2000s. I was just about to graduate high school, like 16 and 17, sneaking into the gay bars — that was an 18-and-over club. They had shows on Fridays and Saturdays and they had a full cast. The first time I ever went to a drag show, my best friend Preston took me. He always knew I was queer or something. I was still saying, "Oh no, I'm straight," because of my religion and he was just like, "Okay girl, come with me tonight." I remember going to my first club. I sat in the front row, and it was one of the legendary queens in Hawaii named Aiko. It was her 40th birthday so she was sitting on a throne on stage and I literally got an entrée to every Hawaii performer, every trans drag performer in Hawaii that night. It was like a fast pass to all the education I needed. And I was like, Whoa, I need to do that.
So for me, Hawaii drag was the ultimate in trans drag. There were the butch queens and the femme queens and it just was a happy mixture. And it was just so familial. It was all the things I knew about Hawaii and our morals but that I never got to experience it with my family. With the queer family I found, I finally got to feel that aloha spirit without shame.
I think it's safe to say you're a pretty competitive person. Do you remember any early moments where that competitiveness really stands out?
It all kind of blurred in with dance. The dancer mentality is like you're fighting for center. That's where my competitive drive came. I'm also a Leo, the youngest of seven and the baby. So there's some intel already embedded in me that I need to get the attention — but it really was dance. Watching Miss Continental as a dancer, I was like, Oh, this is like a dance competition. It was always like a math problem: You need a good gown, you need this, this and that.
I never thought of it as competitive. I just want to make my dance instructor happy. Even to this day.
You've been doing drag for two decades, and now it's your full-time job. Have you ever had another job?
I have never had any other job in my life. This is all I know. I had little jobs working at the Gap in high school, but as soon as I found dance and drag, I literally have been so blessed in my 20-year career to actually have a career. I have been so lucky in my 20 years before getting on Drag Race to actually be a content person with a home and all these things from drag. It was nice to have all of that before being a Ru girl. Now, on top of this, it just feels like I get to represent. I think that's the biggest thing for me. It is not about me. You know? I get to represent the people that I love. I get to perform and do things that I learned from the people that I admired. So I can just be a vessel.
Do you having a solid base of other trans performers as a foundation allows you to approach everything in a different way than other queens?
The family and dance gave me such a deep foundation, and the deeper the foundation is, the higher this building can go. Also, so many of the things that I learned along the way made this so easy. I mean, the fact that I didn't have to get another job meant that I am a walking art installation. I'm walking performance art, everything I live and breathe is my art. Everything I feel in my life is art. There was no other option. I swear to you there was no other option because it's embedded in me.
I think of myself as a performer and the stage gets to be drag. The medium in which I'm most effective gets to be drag. I could have been like Marina Abramović but that didn't speak to me. What spoke to me is connecting to people on this drag level, connecting to queer people and really making cis het people uncomfortable. I love it. I love being mother, whatever that means, but how do you think I got kids? It's from all these dads that want to silence us. Every doll that you've ever seen walking this earth has been made by somebody's dad. And usually those dads want to keep us away from their moms. Because if we started talking with their moms — honey, they're gonna know the jig is up.
I know in this life I'm supposed to be trans and my medium gets to be drag. In this moment in time, I am literally the living embodiment of what they want to eradicate. I am walking in the airport always on guard knowing that my mere existence is making these people nervous and probably aroused. And I love it.
Can you tell me more about the family you've built in terms of your own kids? How many are there?
I don't know the number because I have a crippling need for people to like me. So if they ask me to be their mother, even if I don't say yes or no, their Instagram handle is changed the next day. But I definitely learned from Cassandra, my mother, because she told me, "Girl, load them up." She is the original mother of the House of Colby. She's been Janet Jackson's hairstylist for about 15 years but she's also been our community mother. Everyone calls my mom "mom."
What I will say about my kids is I always take a note from the late great Erica Andrews. When she passed away in 2013, she left such a void in the Andrews family. You know, Roxxxy is her daughter, but she has so many children. When she passed every single child thought that they were her favorite. That's what I always take as a mother: All my kids think that they're my favorite and that's how they should feel, you know?
On Drag Race you talked about how, at The Glades, the queens and trans women had to wear these stickers that said they were male. Now in the US, living as a trans person and performing as a drag queen, like you said — it's this sort of walking resistance. I would love to hear your thoughts on comparing the two moments.
I feel like it's, unfortunately, a renaissance in hate. This moment is very reminiscent of The Glades and waiting for a button that I have to wear to let everybody know that I'm a boy. This is the energy I feel when I watch the news, when I see these legislators saying these things. I'm back to being a kid. I'm back to that child that is self-monitoring, which is abuse. I feel alone. I feel unsafe. I feel like I can't even ask for help because what's the point? That makes me feel exactly like when I was a kid in the church.
I'm going through it. I'm nervous. But all I can do is talk to my aunties from Hawaii and get some strength because they always say, "Oh, it's another wave. It's happening again. Ride the wave, it will eventually crash." The only thing I can do is keep doing drag. If I allow them to make me not do my purpose, then I am not able to tell stories of Hawaii, Polynesian culture, of queer culture, trans culture, and that's what they don't want us to do.
But right now I'm on the hugest show in the world and it's about drag and I am trans so it just feels like they're just looking at me. Like everyone is looking at me... I don't know. It feels weird so I just want to really make everyone uncomfortable — like how I feel.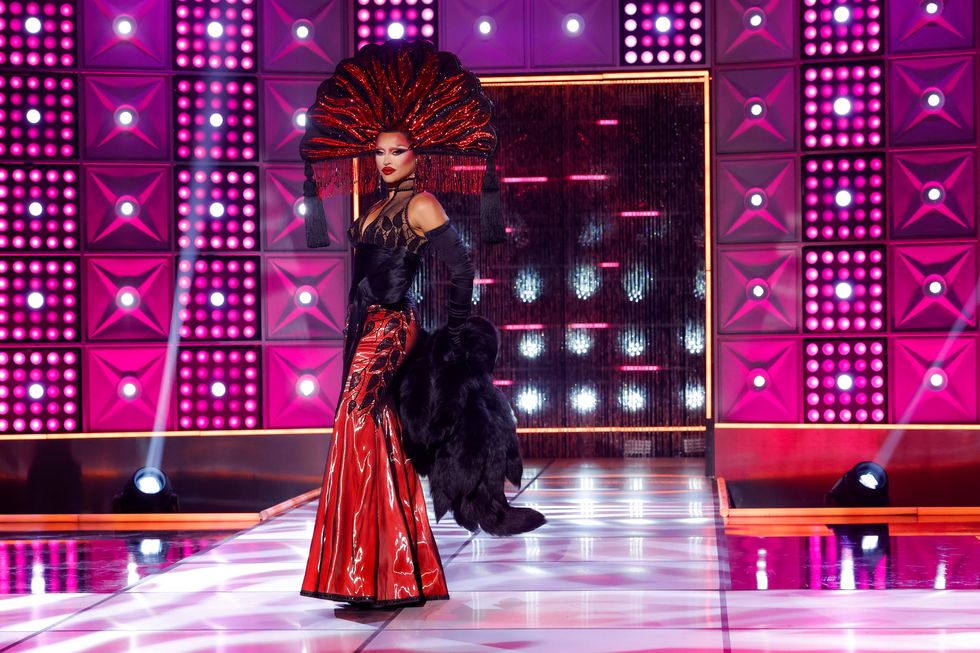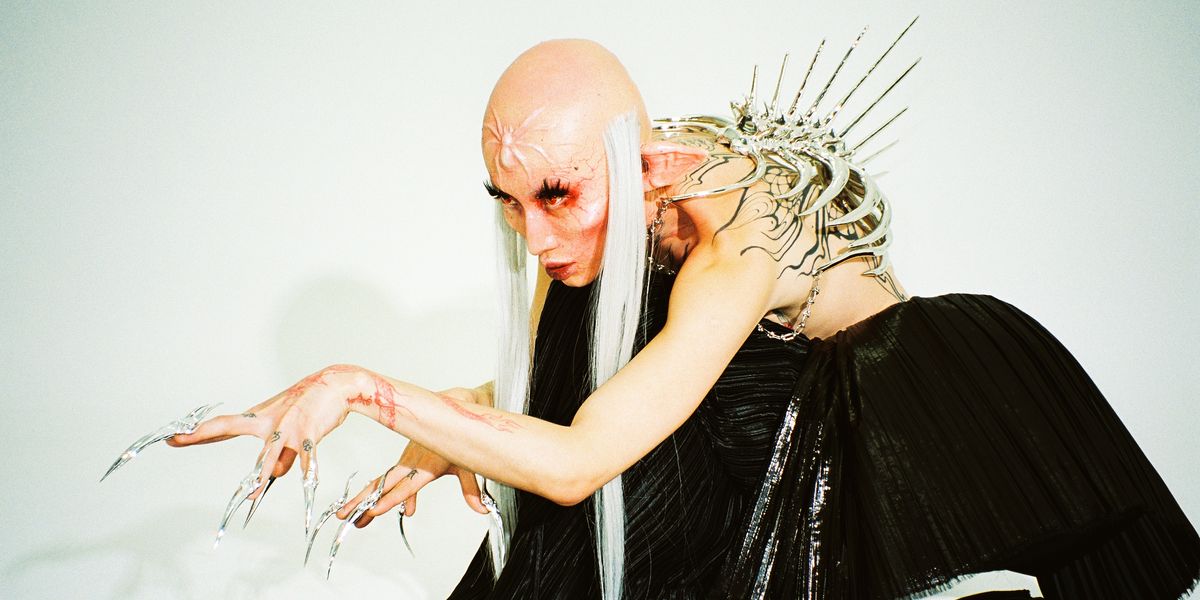 Beauty
Story by Andrew Nguyen / Photography by Sarah Pardini / Styling by Marta Del Rio / Makeup by Kelton Ching
Story by Andrew Nguyen / Photography by Sarah Pardini / Styling by Marta Del Rio / Makeup by Kelton Ching
28 November