On a recent weekend in Ho Chi Minh City, Vietnam, the city's music, fashion and cultural vanguard descended upon Arcan, an underground club that's become a local hub for techno, house, and subcultural dance music genres.
Nestled at the end of an alley within a nondescript residential neighborhood, the entrance to the club is marked with signs reminding clubgoers to keep their voices down until they reach the entrance — a level of discretion that speaks to the outspoken, uninhibited nature of the parties within its walls.
This particular April weekend was a special occasion, as the club was celebrating its fifth anniversary with two nights of high-energy sets from DJs across Asia, like South Korean musician Mokyo and New York City's Ka Wai, along with some of its mainstay local Vietnamese acts like Van Anh, Smoothie Boiz, and Nyjah Phong — all members of various queer party collectives who've found a home here.
It's fitting that a celebration of underground nightlife in Ho Chi Minh City, also called Saigon, was also, by extension, a celebration of its queer community. After all, in Vietnam, a historically conservative country, it makes sense that it's those most marginalized who are pushing the boundaries of music and art, creating inclusive spaces for expression.
At the heart of the movement in recent years is Tizone Bui, a 27-year-old DJ and event organizer originally from Vietnam's Central Highlands who regularly performs at Arcan, and who is the co-founder and visionary behind many of its most notable parties — including Vấp Cục Đá (literally: "tripping over a rock;" metaphorically: "making your head spin"), a recurring party for everyone across the LGBTQ+ spectrum, and Gái Nhảy ("dancing girls"), which is geared specifically towards a lesbian audience. Both were founded in 2022.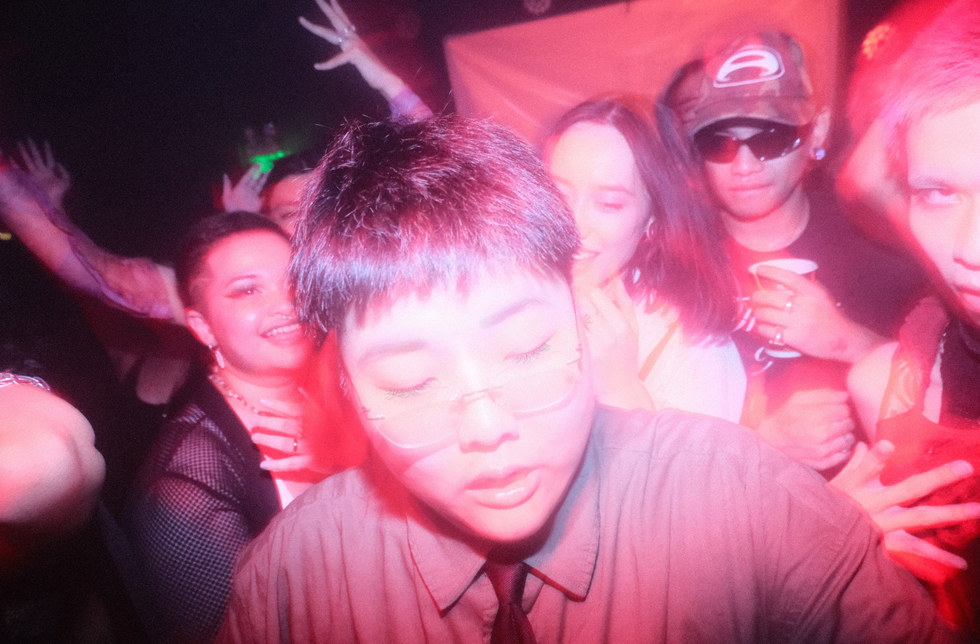 "I've organized many parties and contributed a lot of my youth to this work," Bui says. "When you enter a gay party, it's like a drama series with a range of emotions. You feel love, empathy and warmth, but you also burst out laughing because of the humor and entertainment. We feel free and proud of ourselves, and maybe there is also some drama and sassiness at the end."
Musically, Bui says her parties revolve around conventional electronic genres like techno, Jersey club, Afro beats, while also spotlighting historic LGBTQ contributions to music, like house, vogue and ballroom. Many of Vấp Cục Đá's parties include ballroom-style competitions, with local dancers coming to battle it out on the floor.
"Vấp Cục Đá is the first ballroom in Vietnam," says Bobby Cao, a Saigon-based creative director who previously lived and worked in New York City. "Ballroom and drag queens have been my religion for years, but I never competed in one until their first party. Coming back to Vietnam, I suffered some culture shock and I was in a dark place. But then, I found this queer community and said, 'If you've already hit rock bottom, you can death drop.'"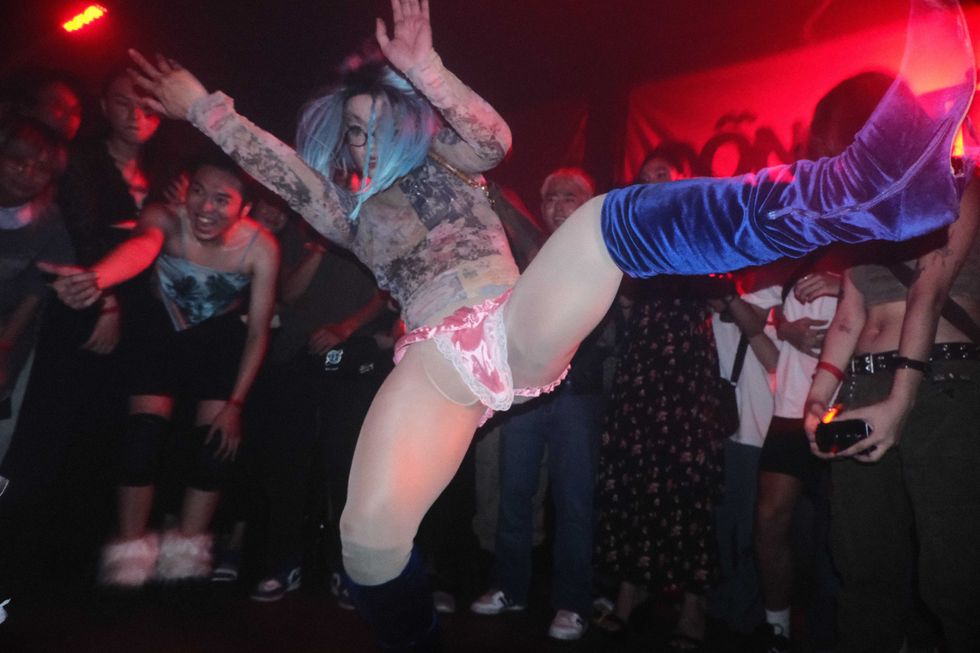 There's also some local flavor: "We like to mix queer music with our own touches like vinahouse," Bui notes, referring to a local genre of fast-paced dance music developed in the 1990s. She also mentions influences like Vietnam's "lotto shows," a sort of drag performance, as well as famous LGBTQ Vietnamese songs, like "BêĐê Miền Tây" ("Southern gay"), which channels the salient folk culture of Vietnam's Mekong Delta region.
It's perhaps no coincidence that amidst this flourishing of the queer underground, Vietnam is becoming more open to the LGBTQ community at large. As Bui points out, Pride is now officially celebrated in major cities like Saigon, Hanoi and Danang. And while lawmakers in the United States are waging war against drag queens and trans Americans, Vietnam's National Assembly is considering legislation to codify provisions for gender-affirming medical care.
Still, some challenges remain. "I find that it's still difficult to gain the trust or support of big brands for queer events," Bui reveals. "But whenever we host events where the queer community is not the focus, we are able to get more sponsors."
Embracing Vietnamese queerness is a radical act in more ways than one. According to Nyjah Phong, a multi-hyphenate artist and member of the Vấp Cục Đá collective, queerness has always been a part of Vietnamese history — and nightlife can serve as a path to liberation.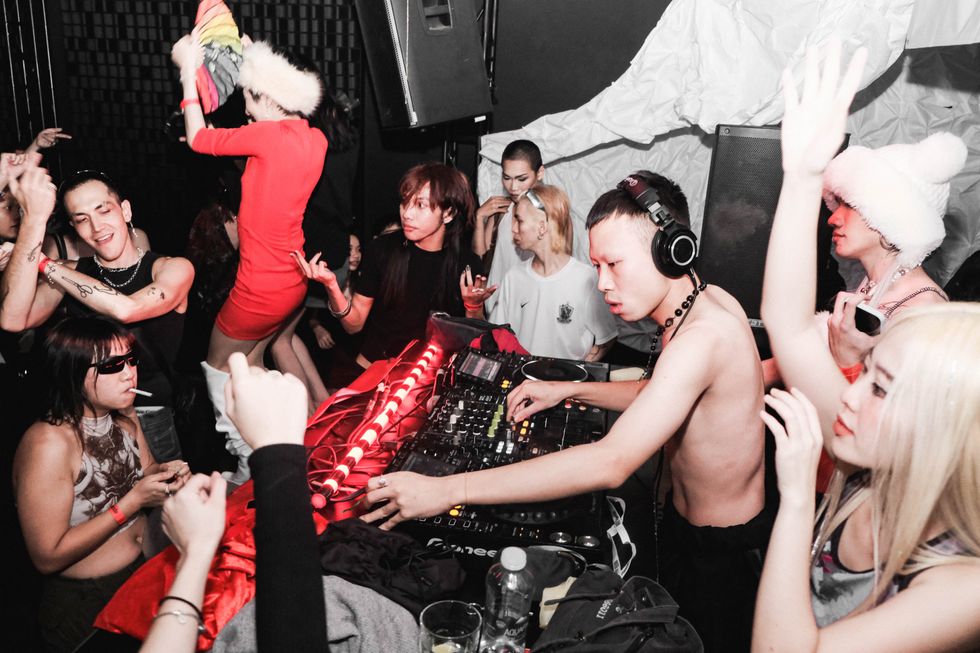 "Despite queerness being a part of our heritage, colonialism and moral policing disrupted our natural (or ancient) state of beliefs," Phong says. "To be Vietnamese and queer is to be in tune with the ebbs and flows of a developing nation. It sounds big and grand, but like many identities in Southeast Asian countries, we're in transitional times. With our closeness to Buddhism, the ever-forgiving nature of queerness is in direct communication to the spiritual realm."
Now, despite their relative underground status, parties like Vấp Cục Đá are slowly becoming more mainstream, thanks in part to support from the international community. The group's recent events have featured performances from far-flung talent including Nadine Noor of London's Pxssy Palace, Kitty of Seoul's Cakeshop, and Mairakilla of Bali's Orbitware.
"We have had the support of international friends and the diaspora community," Phong adds. "We exist on the fringe of society to some but also leaders to some, so we're all connected by the language of uniqueness and otherness, which is why we're lucky to be easily connected to the likes of Pxssy Palace and Animistic Beliefs — who are leading their own respective cities and communities."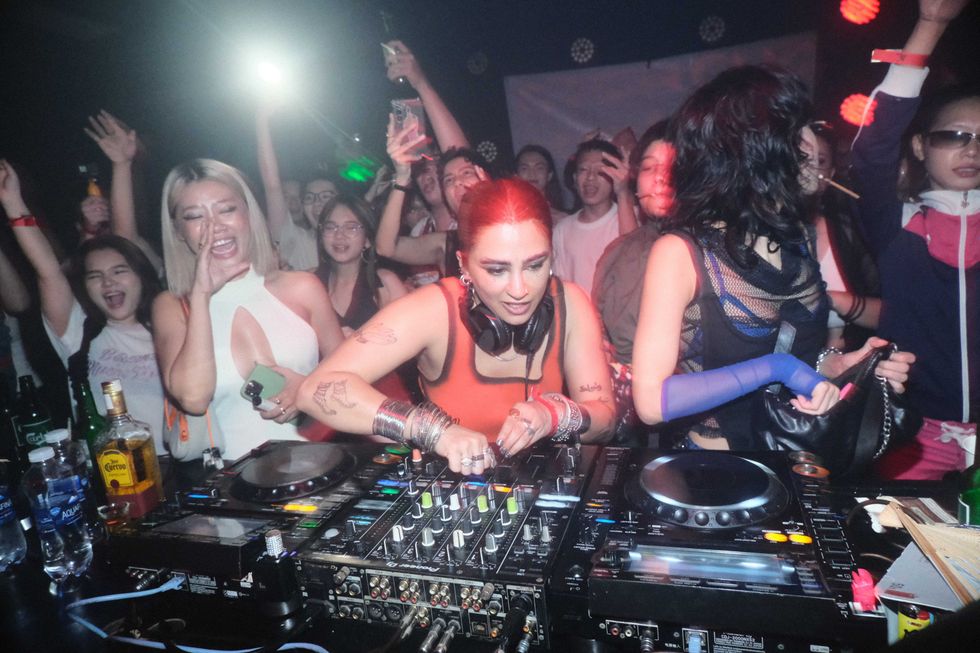 In addition to international DJ lineups, Saigon's nightlife scene is attracting increasingly global partygoers. Among them is Mimi Zhu, Brooklyn-based artist and author of Be Not Afraid of Love, who attended some of Bui's recent events at Arcan while visiting Saigon. After spending a week in the city, Zhu says the city's queer nightlife is unlike any other.
"I'd known about different collectives that were doing exciting things in Saigon, but I had no idea the scale of it — nor the energy and effort that was put into it," Zhu says of their experience. "Being immersed in it changed my life, and meeting Tizone and all our friends showed me their dedication to nurturing queer joy and togetherness in Vietnam."
Zhu adds that the sense of community and camaraderie extended outside the walls of the club, as well: "Not only did we party until the late hours of the morning, screaming with excitement to every song our friends played, we always debriefed at breakfast after; and I was never really tired. I would still feel energized. I think everyone around the world has a lot to learn from the folks doing queer nightlife in Saigon. I can't wait to return."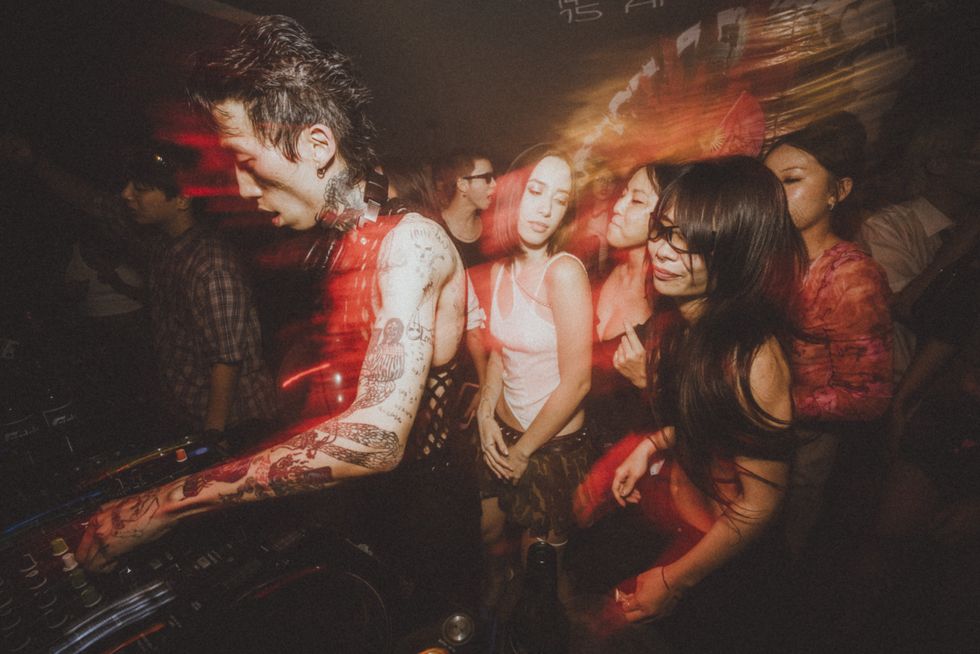 Beyond music, nightlife has become an outlet for Vietnam's most ambitious fashion upstarts, who might not have the same freedom to showcase work in more conservative settings. Tuong Danh, an openly trans designer who served as Vietnam's representative for the Miss Equality pageant, recently showcased a new collection at a recent club night hosted by the creative collective and concept store, OBJoff.
The event, called Werk in Progress, featured a runway for Tuong Danh's namesake brand, Tuong, followed by performances by Bui, Van Anh of Gái Nhảy and New York City's Bobby Beethoven. Tuong Danh said she chose to showcase her work, which is informed by centuries-old Vietnamese traditional costumes, or áo dài, at a nightlife event specifically in order to make culture more accessible for youth.
"With the speed of time, Tuong wants to archive and popularize a series of new perspectives suitable for the youth of Vietnamese people around the world, as well as introduce to international fashionistas a new traditional culture created by the Vietnamese people," she explains.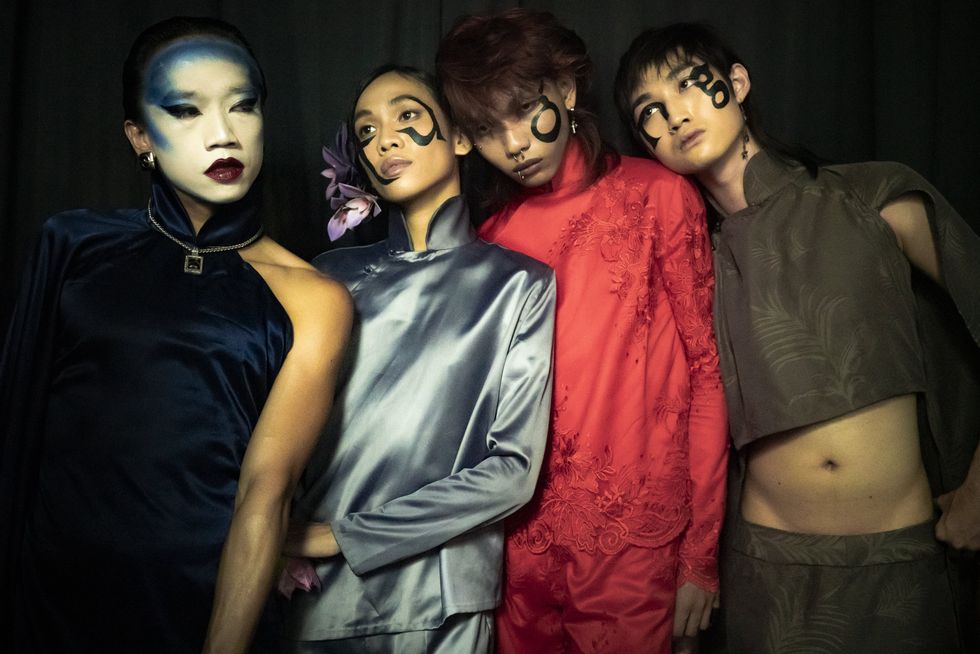 "Young Vietnamese people have a love for their creative origins," she adds. "The boom and potential in the nightlife of the queer community in Saigon is a driving force that breathes new life into traditional cultural thought."
For Bui, she says she's continually impressed and inspired by Vietnam's rising cohort of nightlife revolutionaries, many of whom she's mentored and collaborated with. "When I see the younger generation, I think, 'Why are they so cool?' They learn really fast. The fashion they wear is crazy. Back in my day, we were slow to learn. Before social media, we had to really dig to find things on the internet."
And she also knows the work is only just beginning, but that it's ever more essential. "Not just in Vietnam, but in many countries where hate is still present, queer people must find other ways to thrive in safe environments," she says, nodding to venues like Arcan. "Nightlife started as that gate to freedom — a safe zone for a few hours to be yourself without discrimination. The battle is long, but our fight is strong."
Throughout May, PAPER will roll out our final projects under the most recent editorial team. These pieces continue pushing forward our mission to provide a platform for fresh talent and important stories too often overlooked. From the subjects to the creatives behind the images, our hope is for you to discover new things and be inspired by what you see. As always, thank you for showing up and being part of our community. –Justin Moran, Editor-in-Chief
Photos courtesy of Joanik Bellalou / Tizone Bui / Van Anh / Tuong Danh / Vap Cuc Da