When you live in New York, a staycation is the perfect weekend scenario: you get to leave from your tiny (and crowded) apartment without missing out on the city's epic attractions and nightlife.
On a recent Saturday, that perfect escape played out at the Roxy Hotel, a Tribeca institution whose art deco styling and dramatic atrium have long made it a destination for locals and tourists alike.
My plan was to spend the whole day there — I'm obsessed with hotels, and with the right one, I wouldn't have to go anywhere else for entertainment. And luckily, this one hit all the boxes.
The main attraction was undoubtedly the Roxy Bar, situated right in the center of the action complete with plush seating and a stage that hosts live music in the evenings (Michael Garin delights on the piano) from a rotating cast of top NYC jazz performers. There's even a pool table and game area. Best of all, there's no cover or minimum, though reservations are recommended.
I also had way too many oysters at the adjoining oyster bar, arguably one of the best in the city for happy hour sunset specials between 4-6pm. The $1.50 oysters are all delivered daily and sourced locally from places like Narragansett Bay, NJ and Olde Salts, VA, making them a perfect complement to beer and cocktails.
There's a classic charm about the whole thing that makes you feel like you're in Old New York between the retro triangular layout and live jazz playing while you take in the splendor of it all. I went with a friend, but people there are in a great mood so you'll have no trouble meeting friendly jazz-lovers.
The night flashed by in a heartbeat — we went to the Django afterwards downstairs for even more life jazz — and kept it going with a fantastic brunch the next morning, which they serve on the weekends from 11am-3pm. (I had the brown butter pancakes, which I still think about to this day.)
It wouldn't be a proper staycation experience without talking about the rooms! Between the bathrobes and slippers, big windows and lighting, and an actual vinyl record player, there was more than enough to keep us entertained in the comfort of our suite. (I never left the premises after all, making the whole thing a success.)
If you're visiting New York, the Roxy Hotel is just a short train ride away (it's one of the first things you see if you take the ACE and get off the Canal stop). Whether you're a local who's looking for the full staycation experience or just someone who loves live jazz (this would make the perfect date night stop, too), the Roxy Bar at the Roxy Hotel is sure to keep you entertained and fed for that ideal New York night.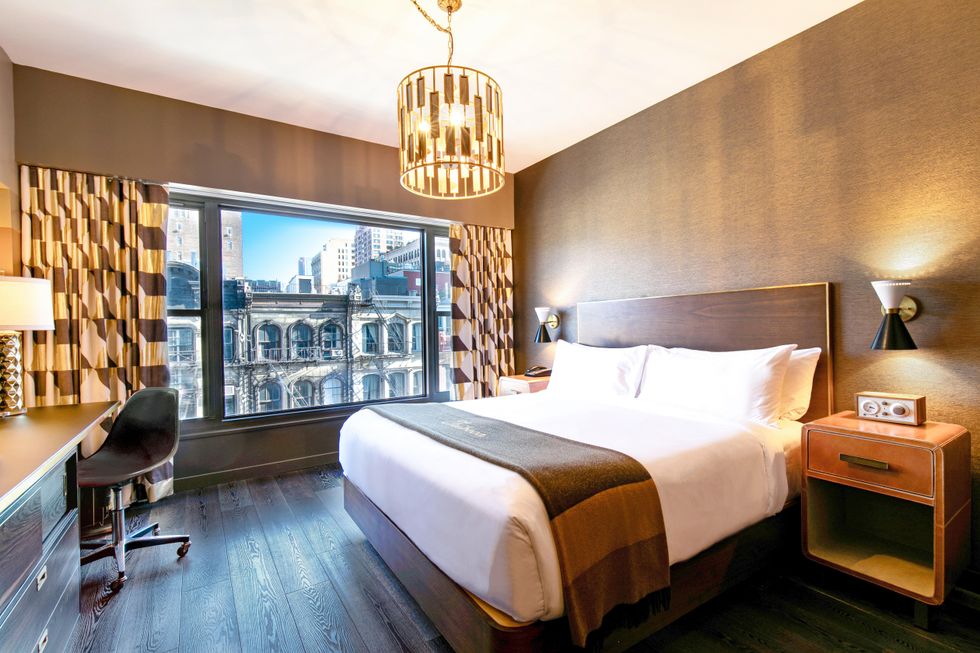 Photos courtesy of The Roxy Hotel
Sign Up for the Morning PAPER