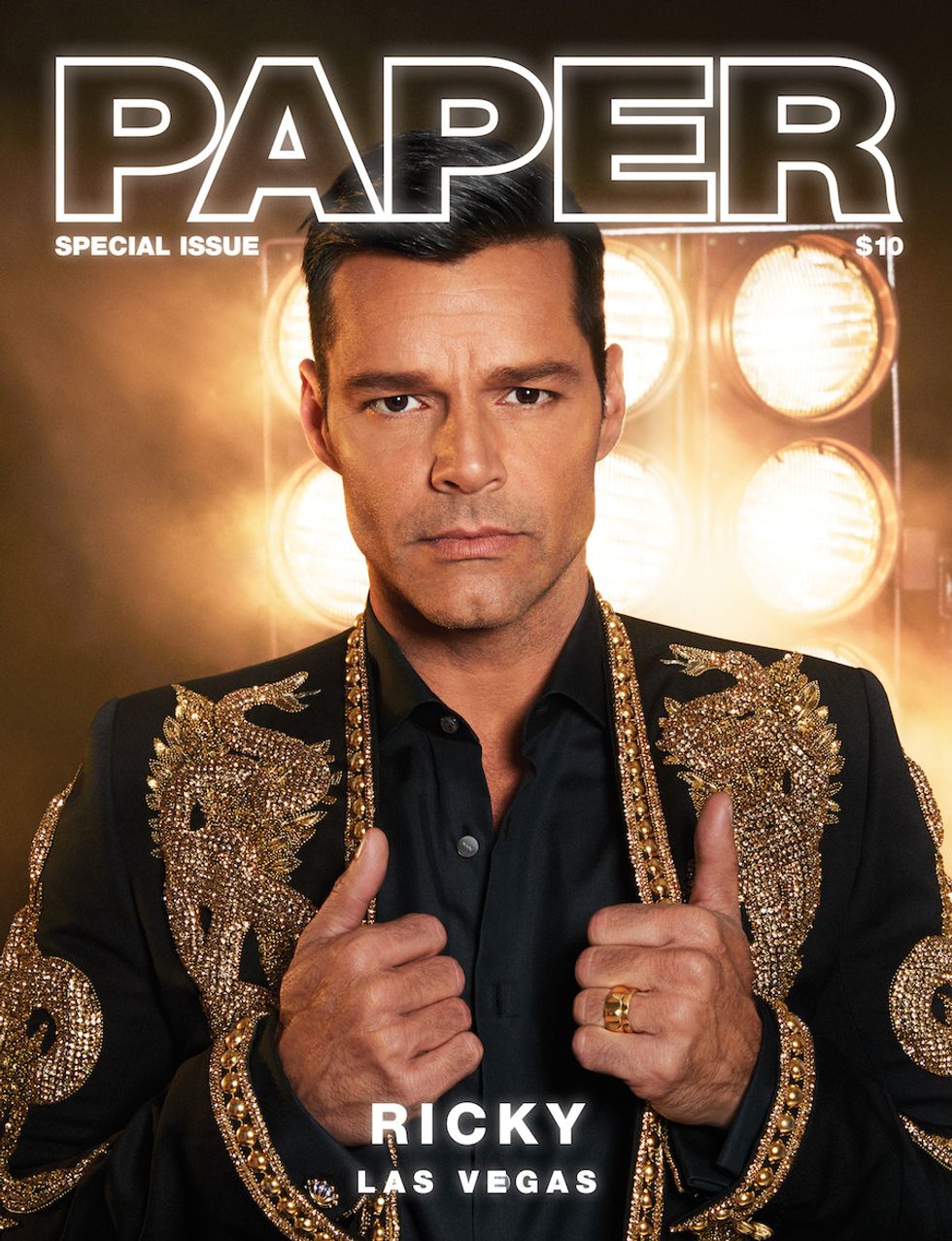 Three decades ago an aspiring Puerto Rican singer legally changed his name from Enrique Martin Morales to Ricky Martin. Now, if you were to casually weave in the name "Ricky" into dinner-party conversation, someone would surely respond, "You mean Ricky Martin?" Latino sensation Ricky is so recognizable he could probably drop the "Martin" as well. Since he first began his music career, computers became handheld tools, a president was almost impeached, gay marriage was legalized and Ricky Martin has remained relevant, sustaining one of the most varied, consistently impressive careers in show business. Now, Ricky has joined other one-named idols (Cher, Britney, Mariah) as a Vegas resident, firmly cementing his place in pop superstardom.
His new residency at the Park Theater at Monte Carlo Resort & Casino draws from Martin's impressive catalog of hits. Since leaving Menudo, the Puerto Rican boy band where he got his start, and launching his solo career, he's released 10 studio albums, in both Spanish and English, which have sold 70 million times over. At his show, you'll get a little bit of everything from his career, from crossover hits like "Livin' la Vida Loca" and "She Bangs" to Spanish language favorites like "Por Arriba, Por Abajo" and the recent "Vente Pa' Ca." It's far from the first time Martin has performed in the city. Back in 1984, Martin made his first visit to Las Vegas with Menudo, an experience he recalls as being "powerful" before going on to praise the "spectacle" of the shows in the city -- a standard the singer says he's felt a great responsibility to live up to when it comes to his own set. Well aware that Vegas audiences come expecting the best entertainment in the world, Martin says he rehearsed for two months, putting in 14-hour days, to feel as though he'd earned his place.
Click through to see more photos of Ricky from our 'Las Vegas' issue!
While his residency dictates most of his time, Martin says he's enjoyed having the chance to "discover the city." As to what that entails exactly, Martin is unsurprisingly tight-lipped, but he does allude to the fact after-dark antics can lead to unexpected consequences. "They say everything that happens in Vegas stays in Vegas, but that is a big lie," he imparts with a smile and a wink. "That is not true! Don't believe that, you have to be careful! Because..."
Martin is engaged to Syrian-Swedish painter Jwan Yosef and is the father of nine-year-old twin sons, Matteo and Valentino, who travel with Martin everywhere, including Vegas ("We went to see Michael Jackson ONE by Cirque du Soleil," he says excitedly, adding, "We love Michael Jackson"). Martin seems to live such an idyllic family life, it's easy to forget it was only seven years ago when the star felt he could publicly come out. "I am proud to say that I am a fortunate homosexual man. I am very blessed to be who I am," he wrote on his website back in 2010, to an overwhelmingly positive response.
A lot has changed in those seven years, and there's something beautifully full-circle about the fact that more than three decades after that first performance with Menudo, a confident, self-assured Martin is back in Vegas, a city that has built its reputation on allowing its inhabitants to embrace their true selves. This openness also extends to another professional project: Martin's role as Gianni Versace's lover, Antonio D'Amico, in Ryan Murphy's forthcoming The Assassination of Gianni Versace: American Crime Story. Martin stars alongside Edgar Ramirez and Penelope Cruz, who play Gianni and Donatella Versace, respectively, in the re-telling of the late designer's tragic murder.
It's the first time Martin has portrayed a gay character on TV. He says he felt a real "responsibility" to sign onto the project and that the subject matter was "very challenging," adding that he was forced to completely "break down [his] walls and push [his] boundaries" to play D'Amico. However, the dramatic license of the show has come under fire recently from D'Amico himself. The former model slammed the show for its apparent disregard for realism after seeing stills of Martin holding actor Edgar Ramirez (as Versace) after the shooting -- something he says never happened. This propelled Martin to reach out to D'Amico to assure him he would do his and Versace's story justice. "I'll make sure people fall in love with your relationship with Gianni," he says he told D'Amico over the phone, recounting the anecdote during a recent Television Critics Association panel.
Considering Martin became so famous for his reckless abandon on both the stage and small screen, Martin is remarkably soft-spoken away from the spotlight, and addresses the show with deep gravitas. "It's a story that is unfortunately full of injustice, and we're here to shed some light on how unfortunate it was to lose such an amazing man," he says of Versace's story. "I was working with amazing producers and directors, an impeccable cast." He continues, "To be able to work and act, to challenge myself every day, in front of amazing directors who are constantly asking a lot of you...I haven't been so inspired in so long."
Martin clearly does not shy away from a challenge. 2017 has seen him balancing shoots for ACS with his Vegas residency at the Park Theater, where he trades off nights with other stars like Bruno Mars and Cher. "Every time I'm there, I just feel the energy in those walls," he says of the venue. And, for his part, Martin doesn't seem to have lost any of the hip-grinding energy that made him famous, even after 10 albums, an autobiography, major acting projects, tour after tour, and now, a residency in Las Vegas. His stamina has kept his career in constant motion and his name a constant presence in entertainment. After all, there can be only one Ricky.
Text by Beatrice Hazlehurst

Photography by Richard Phibbs

Styling by Douglas VanLaningham at Photogenics ARMY

Hair by Joey Nieves
Makeup by Maital Sabban
Photo Assistant: Georgia Nerheim
Digital Tech: Anthonie Gonzalez

You May Also Like