This week, Sotheby's unveiled its online auction My Body, My Business, curated by Nadya Tolokonnikova, a founding member of global activist group Pussy Riot. It features 31 pieces by female artists who have inspired her somewhere along the way, and all of the proceeds will go towards Planned Parenthood. Her reasoning for this collaboration: "When you go up against the wall, it's helpful to unite with others; then you have a bigger chance of breaking this wall. This auction is all about women's solidarity to me."
It can feel as though corporations ceaselessly shove hot (but ultimately flaccid) collaborations down our throats, only to eventually disappear from the face of the internet as quickly as they initially cropped up. If the marriage of two brands was not already more than anyone asked for, the union of three striking names has filled me with terror since the Saweetie x Crocs x Hidden Valley Ranch campaign.
You will be as relieved as I am to hear that Tolokonnikova's collaboration has a lasting impact and a solid backbone: A terrifyingly powerful coalition between artists, activists and institutions that simply makes sense.
Video courtesy of Vanessa Beecroft

There's no one focus of the collection's mediums spanning mediums from oil painting and sculpture to video and NFT. However, the collection's digital presence rings through, with cryptocurrency accepted as a form of payment on many of the pieces. "Conceptual art gives you freedom," Tolokonnikova says. "You can work with any medium that makes sense to you. Growing up in the '90s, digital reality was always a part of my life, so it made sense to work with it."
Nine months in the making, this project was envisioned as a reaction to the Supreme Court's decision to overturn Roe v. Wade. "We live in a global world, and what's happening in one country affects the rest of the planet," Tolokonnikova tells PAPER. "My feminist fundraising work in 2021 mostly benefited Russia-based organizations that protect women-identified, queer, and non-binary people from domestic violence. My fundraising work in 2022 to 2023 has largely focused on supporting Ukraine." Founded on this belief of an interconnected world, Tolokonnikova has helped raise around $500K for reproductive health in the US within the last year.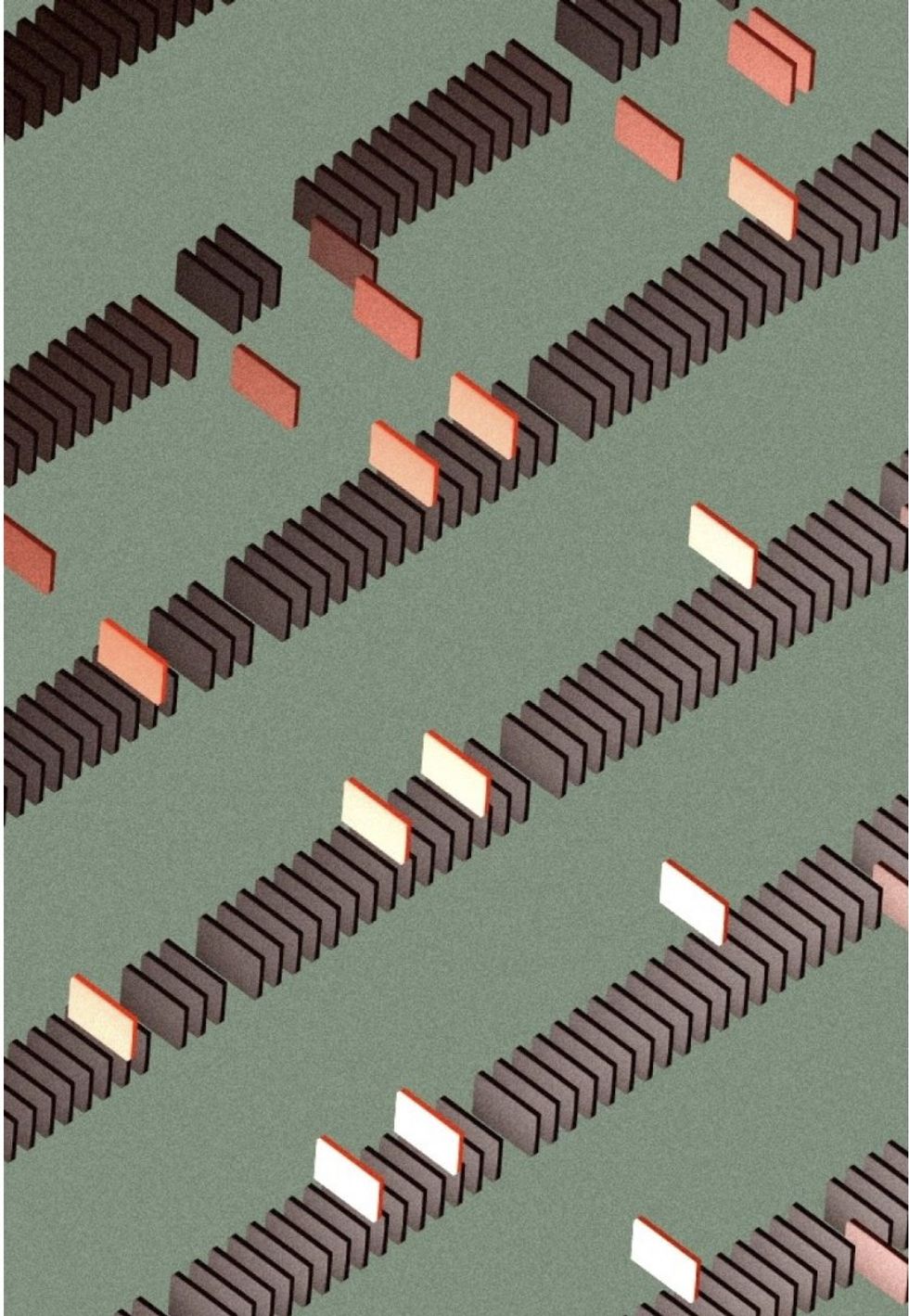 Photo courtesy of Ix Shells
Feminism on a global scale is difficult to define; it takes on many forms depending on the environmental challenges that face any given woman. My Body, My Business begins to articulate these intricacies through pieces that hail from all over the world that speak to the artists' own individual experiences of womanhood. "Resistance Effect" is an NFT created by Panama-based artist Ix Shells. The self-taught coder creates generative art, which essentially creates itself from the replication of a single algorithm. Shells shares, "This artwork represents my love for asymmetry and its role in my life. It's a tribute to collective transformation and resilience; look how far we've gone together, those who dare."
"PALIANYTSIA," meanwhile, is a rock sculpture by Ukrainian artist Zhanna Kadyrova. It tells the recent tragedy of Ukraine's invasion from the perspective of guerilla resistance. The regional word for a local variety of bread, "palianytsia" has become a shibboleth and a sign of camaraderie used to distinguish Russian invader spies from neighbors by their inability to pronounce the word. Kadyrova recalls that, for the first two weeks of the war, she had lost faith in the power of art against the "merciless military machine." She adds: "Now I no longer think so: I see that every artistic gesture makes us visible and makes our voices heard."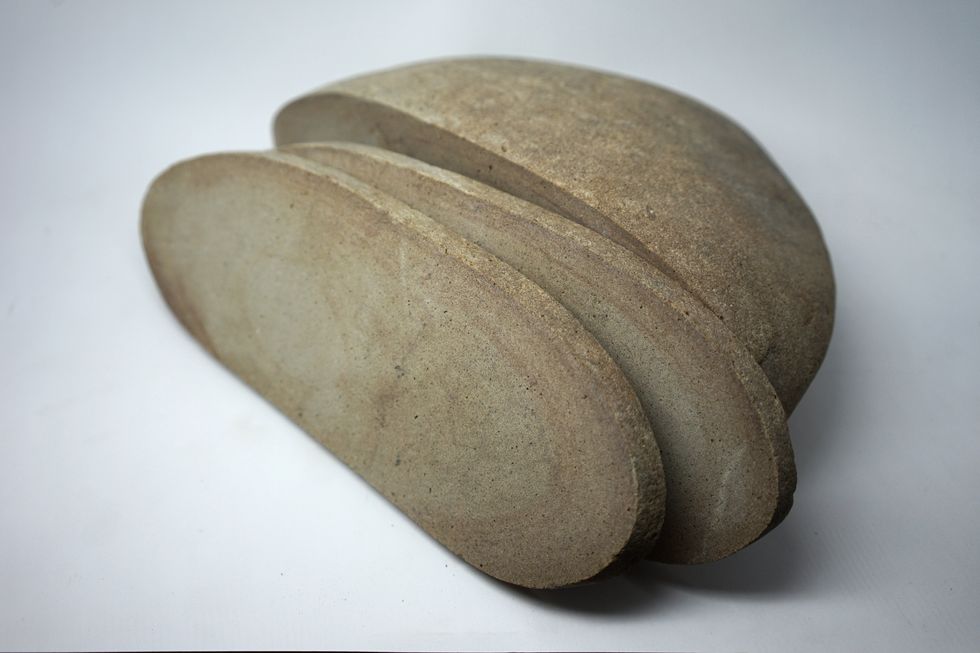 Photo courtesy of Zhanna Kadyrova
To Tolokonnikova, feminism is about burning down the patriarchy and building a better, equal society from its ashes. She references her friend and mentor, Judy Chicago, creator of the Brooklyn Museum's permanent installation, The Dinner Party, cautioning that "the patriarchy hurts not only women-identified people, but everyone including men, animals and nature." The feminist elder has been a source of inspiration throughout Tolokonnikova's activist life, even in this collaboration with Sotheby's: "I've done my art mostly outside of institutions because Pussy Riot belongs to everyone, not only those who can afford to buy art or have the free time to go to museums." This approach is egalitarian, but it has its own downsides; Tolokonnikova points out that "your art is short-lived, you exist within a 24-hour news cycle, and your legacy is not preserved."
Tolokonnikova has pledged to continue her work far into the future. "If I want to achieve significant changes, I have to dedicate my entire life to my work, art and activism," she says and adds that as a note we could all use on forming good partnerships: "To participate in writing history, you need to collaborate with others on a large scale. Institutions may be at times slow, bureaucratic and overly cautious, but you can find great allies there."
Video courtesy of Orlan

Today is the last day to participate in the My Body, My Business auction. All pieces are available for viewing and bidding until 2 PM EST via the Sotheby's website.
Header stills taken courtesy of Alina Pasok from her video Confession / Исповедь