In the music video for "Bloodmoney," the third single from her third album I Disagree, Poppy launches a brutal attack — tire iron, knives and all — on a group of faceless suited men. She's dressed in a bodysuit with crescent moon shoulders, awash in red light, and ends the visual hovering above a neon crucifix. "I know what it feels like to have my soul sucked out of my body," she whispers, heavy metal guitars wailing. "I finally know what it feels like to be dead."
Poppy's art has always been intense. She got her start on YouTube in 2014, posting eerie yet fascinating art experiments with clinical white walls and stiff, ASMR dialogue. Her earliest videos made it feel like she was trapped inside the internet. They seemed specifically designed to freak people out, and the approach paid off in the form of millions of views.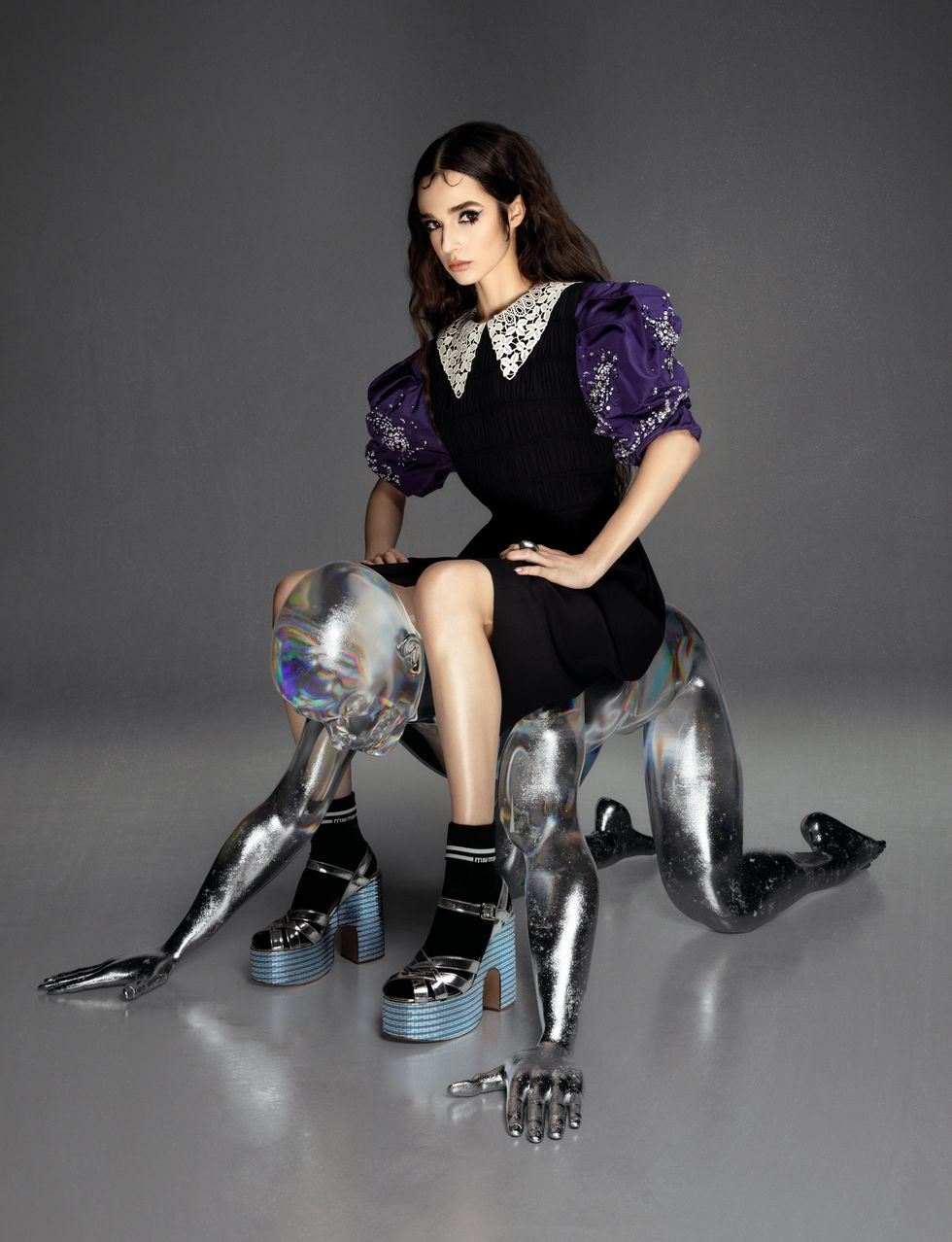 Clothing and accessories: Miu Miu, Ring: Christina Serrano Design
Record deals with Island Records and Diplo's Mad Decent followed, but on this latest release she's an independent artist with a vendetta, venting in ways she never has before. The "Bloodmoney" killing spree is a characteristically direct response to the time spent on major labels, where she felt creatively restricted by a mostly-male team of executives and power players.
Fans of Poppy's adventurous new direction first heard shades of nu-metal with 2018's Am I a Girl? — most notably on "X," a rock anthem loaded with provocative lines like, "Empty every bullet out of every gun," and "Gimme bloody/ please gimme bloody." Now, with a full live band and a gritty, gruesome image rooted in the bloodlust of horror flicks and metal acts ranging from Norma Jean to Powerman 5000, Poppy is closer to her final form.
On I Disagree she opens her lockbox lid just enough to show she's abandoning the need to conform to anyone's expectations: "I disagree with the way you continue to pressure me," she shouts amid a hellscape of distorted guitars and industrial beats on its title track. In the song's chorus, Poppy sings as if imitating the peace-and-love ethos of a '70s folk song, having found a solution to patriarchal domination: "Burn it to the ground."
In person, Poppy's presence is just as jarring. She towers at 6-foot-3 in heels, wearing a striking checkerboard suit. Without speaking, she's completely in control. Then, like the squeaky-voiced computer-generated avatar of her earlier YouTube clips, she reaches out for a handshake and says, "Hi, I'm Poppy." Instantly, her meta online and IRL personas become interchangeable.
Our resulting conversation is just as opaque. Unlike so many of her contemporaries, Poppy has opted out of vulnerability, transparency or any oversharing. Poppy speaks precisely, with intention and clarity. Online, this delivery translates as robotic and inscrutable. What she does make clear is that I Disagree is a new beginning.
"When I started making videos on YouTube, it was very sterile and contained, and the music reflected the videos," she says. "I view my last two albums as soundtracks for the videos." On her new album, "you're learning about me for the first time, so you don't really need to have the backstory." (For the record, she grew up in Nashville, and rumor has it that she once harbored dreams of being a Rockette.)
"My songs are reflective of wanting to burn everything down."
Poppy says her exposure to the music industry largely informed the rebellious sound and feel of I Disagree. "I've had all these wild experiences watching the pop machine and how it works, and watching people burn really bright then fast only to burn out," she says. "I've been told, 'You can have this, too, and it's shiny and sparkly. Don't you want it?' But in order to have that sparkly thing, you're told you have to surrender everything that you want. While tempting, it's terrifying as well, so my songs are reflective of wanting to burn everything down."
Like many young women artists, Poppy struggled with being boxed into one idea and sound by others with preconceived ideas of what kind of artist she should be.
"One example [of how that happens] is when you're a pop girl and nobody really knows you yet, so a label will present you the idea of, You can sing on this dance song, and then it's like the kiss of death for most people," she says. "Because [once] the song blows up, you become known for that, and then you're the feature-song girl for the rest of your life and nobody actually cares about anything you have to say."
Poppy's co-signs, industry credibility and prolific output created a spotlight on her increasingly macabre image and sound, but her darkest instincts remained just beneath the surface of an intentionally plasticine veneer. Because of her many masks, audiences have never known what to expect from Poppy, a point she toys with in last year's "Scary Mask" single: "I wear my scary mask when I'm afraid I don't belong/ You can't read my brain until it's off." Plus, Poppy's very name feels like an evolving satire of the modern-day pop star, complete with robotic televised performances.
"Let it all burn down/ Burn it to the ground/ We'll be safe and sound," she sings sweetly on I Disagree's title track. Those lines can be heard as rays of hope amid chaos — a vow to rise from the ashes and start anew. But in order to truly move forward, Poppy had to practice what she preached. Many of her early videos were directed by former longtime collaborator Titanic Sinclair, whom she parted ways with late last year after citing multiple instances of alleged emotional abuse. When she broke from Sinclair, it was after years of her own complicated relations with him, including their entanglement in the Brittany Sheets/Mars Argo case.
"I was trapped in a mess that I needed to dig my way out of – and like I always do, I figured out how to handle it," she wrote on Twitter at the time.
Part of "handling things" for Poppy not only meant finding a new team to work with, but in assuming more control of her work than ever before. In doing so, as she wrote online, she is "happier than I've ever been and I am excited to move forward." Frequently referring to I Disagree as her "first" album, Poppy says, "This feels like the first time people are really learning about me. I knew I've wanted to go this direction in the past, but never felt I could fully dive in until now."
Though Poppy is more musically open than ever, there are still more secrets to uncover. When asked if the music — in tone and lyrical content — feels timed with today's infuriating political moment and the rise in righteous feminine rage, she responds, shrugging. "Maybe, but I think it's just a marker of where I'm at. But sure, people could identify with that if they want."
While the album itself feels emotionally raw, in person it's hard to know how Poppy actually feels. She knows she's rare, on tracks like "Anything Like Me," and is more concerned with destruction than ever. "Bury me six feet deep," she whispers on "Concrete," a post-apocalyptic mashup of what feels like 17 songs spanning multiple genres at once.
"My struggle has never been 'the machine'" Poppy says. "Even when I was in the [major label] machine, I never had the help of the machine. So I've had to shed some creative relationships of my past — them being like, I don't think you can do this, and me: Yeah, I can, actually. Watch."
"Learning how to say 'no' is always very powerful once you master it. After all, 'no' is a complete sentence."
After years of compromising, now, Poppy is determined to stay true to herself, whether that garners her further mainstream success or not.
"I think it's really important to hold onto the one thing about yourself that you know to be true, that no one can take from you, and you have to protect it," Poppy says. "Learning how to say 'no' is always very powerful once you master it. After all, 'no' is a complete sentence."