"So Pony does speak English but for questions that get a little bit into the nitty-gritty details or technical stuff, I'll be translating it to her," Pony Park's (real name: Park Hye Min) translator informs me over the phone.

The mega K-beauty influencer is on the call from LA to talk about her recent partnership with Morphe. 2019 has been a huge year for the Seoul-based influencer, who boasts an Instagram following of over 6.9 million.
But despite the language limitations, in one year alone, Park has scored major international beauty collaborations with the likes of MAC, Revolve and Colorpop. The same goes for her hyper successful YouTube channel, which includes everything from makeup tutorials to incredible transformations. In one of her most famous videos to date, Park transforms herself into Taylor Swift and in another into Kylie Jenner. Both have garnered millions of views.
So it's hard to believe when she tells me makeup was not her initial choice of profession: "I first got started in makeup because I was a graphic designer," she says. " I naturally had a creative side growing up. Slowly, I became interested in makeup and started seeing makeup as a way of art and a form of expression too."

That interest materialized into musings on a personal blog. "I started to get requests from people asking how I did those looks and they wanted to learn a bit more about the techniques behind it," Park continues. "So I started to post step-by-step instructions and it just kind of developed from there. Then one day a publishing company contacted me and wanted to write a book and start a book on makeup and so I was given the opportunity to bring all these makeup looks to life and offer something different to the Korean market."
Now her latest Morphe venture, the Icy Fantasy Collection — a 35 shade Artistry Palette inspired by cool pastel tones along with a lipstick trio — marks the brand's first foray into the Asian market. With a range of vibrant rainbow shades adorning the artistry palette, Park is hoping customers will see this as an opportunity to experiment and break free of limiting themselves.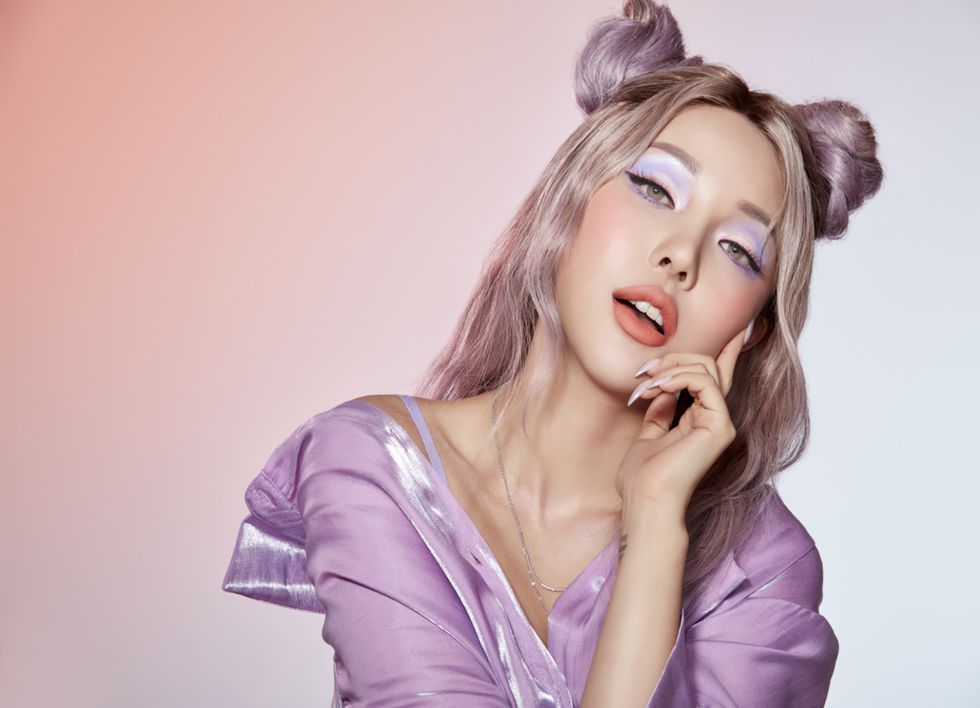 "People think lipstick is only for the lips, eyeshadow is only for the eyes," she says. "I want to challenge that idea. Why not try putting lipstick on your cheeks for a light glow of blush or why not try on this eyeliner for certain parts of your face? For instance, you can blend a black liner with a red lipstick create some type of ombré effect."

She argues that being able to craft peculiar looks with a limited number of products is what makes makeup so creative and fun. "It's really about getting a lot more usage out of your products; making them truly multi-purpose, that's what's going to get your technique to grow," she explains. "Just because a product is labeled for something doesn't mean you're only limited to that. And I think it's important to realize that to really become creative and to truly express your art."
Of course, the global obsession with Korean beauty is not lost on Park — more prominently visible within the skincare routines of influencers and celebrities alike who swear by their wide ranging benefits. And then there's the massive influx of new K-beauty brands breaking into the market, each claiming to outdo the other. But according to Park, anti-aging results aren't so much about what's in the product, but rather the technique of application.
"When it comes to skincare, people think a cream or something with a lot of ingredients must be so good for you. They like to put so much of it on, before going to bed thinking this is going to be the best thing for them when I wake up. But the important thing is to really look at the ingredients and really understand your skin and what would be suitable for you."


She adds that, at least in Korea, people have started to shift away from an elaborate 17-step skincare routine, coming to the realization that the ingredients, and not the number of products, are what matter most. "Skincare should be an individualized experience," she says. "You want to narrow down the list to the products that suit you and you want to understand the ingredients in the products and see what would be the best, clean solution that's going to be best for you."
As for her one go-to skincare product? Sunscreen. "I think people underestimate the fact that sunscreen is so important into our routine," she says. "We're constantly exposed to the sun and even if we're not, there are UV rays out there. What that's going to cause is sun damage, sure you don't see it now but in the future, these things will be visible. Think of it as preparing yourself, you're delaying these effects. So anywhere I go, wherever it is, I will always, always, always make sure to bring sunscreen with me. "
The Morphe Icy Fantasy collection is now available to shop globally in Morphe stores and e-commerce channels. The Artistry Palette retails for $25 and the pastel matte lipstick trio retails for $18.
Photos courtesy of Morphe
Sign Up For The Morning PAPER