The first thing that comes to mind when one thinks of French culture may not be hip-hop, but the country is in fact one of the largest markets for the genre in the world (some reports rank it as second only to America). Paris in particular boasts a love for the art in its many (and four original elements — DJing, MCing, B-Boying or breakdancing, and graffiti). Writers scrawl tags next to Notre Dame, DJs spin records late into the night in clubs around the city, solo rappers and groups consistently form to add more classics to the French hip-hop cannon and at the Red Bull Dance Your Style World Final, 32 breakdancers from around the world competed with an enthusiastic French audience as the judges.
The October 12 event, hosted at the historic La Grande Halle de la Villette, was the culmination of a yearlong dance battle series held across 29 countries. The top 16 dancers who made it to the final stage represented a wide range, and hailed from Belgium, Cuba, the Czech Republic, Italy, Japan, Kazakhstan, Russia, South Africa, the U.S., the U.K. and France. Ultimately, 17-year-old Shinshan from the Netherlands took home the main prize, but not before an intense dance off with 26-year-old Angyil, from the Bronx by way of Kansas City.
Growing up in the birthplace of hip-hop means that Angyil was surrounded by dance culture and absorbed it by osmosis. "I started dancing professionally when I was sixteen, but I had been dancing all of my life. It's my culture, so I was dancing hip-hop all my life. I got into it just listening to music, watching my family do different stuff and just seeing it around, if that makes sense," she said the night before the final competition.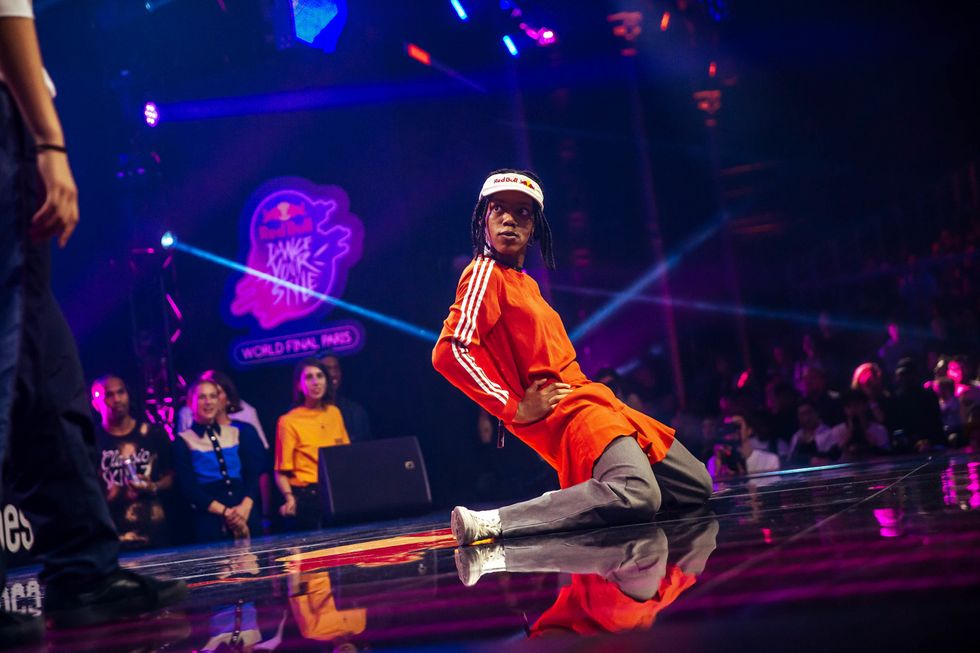 Angyil at the Paris Finals
Angyil clarified that she wouldn't consider herself a breakdancer per se, as her style of movement falls under the hip-hop and popping categories. Each of the dancers brought their own unique style, technique and training to the competition, and given that it was judged by electronic audience voting rather than judges watching for strict criteria, overall bigger, flashier moves that translated to an audience of fans rather than professionals or purists were rewarded above all. Still, that melting pot of moves is what made the competition so fun, Angyil said.
"I like it because I like being inspired by different genres of dance," she said of competing with people from all different backgrounds. "I think that all dance is different. I'm just in love with how the body is able to move. So, I think that it's amazing. It's inspirational, it inspires me to think of all the ways my body can move, to be exposed to another style of dance just gets me to start thinking, 'Okay, what are some other ways for me to move my body from what I've been doing?'"
While it was ultimately Shinshan's moves — which he describes as "rhythmic and static" in addition to the flexibility present in his signature inverted cartwheels — that won, each competitor's unique flavor added to an unforgettable night that culminated in a good-natured dance circle at the after party. The dancers complimented one another and stayed up late dancing long after the competition was over, sharing the floor with iconic French dancers Les Twins and a crowd of Parisians and international fans dedicated to dance.
As the city gears up for the 2024 Olympics, it's even proposed added breakdancing as an official sport. Given that several of the Games' events will be held at the Stade de France — located in the Seine-Saint-Denis, a part of the Greater Paris zone said to be the birthplace of French hip-hop — it makes sense that the city would continue to host breakdancing competitions as part of its rich and thriving, if somewhat misunderstood, hip-hop culture.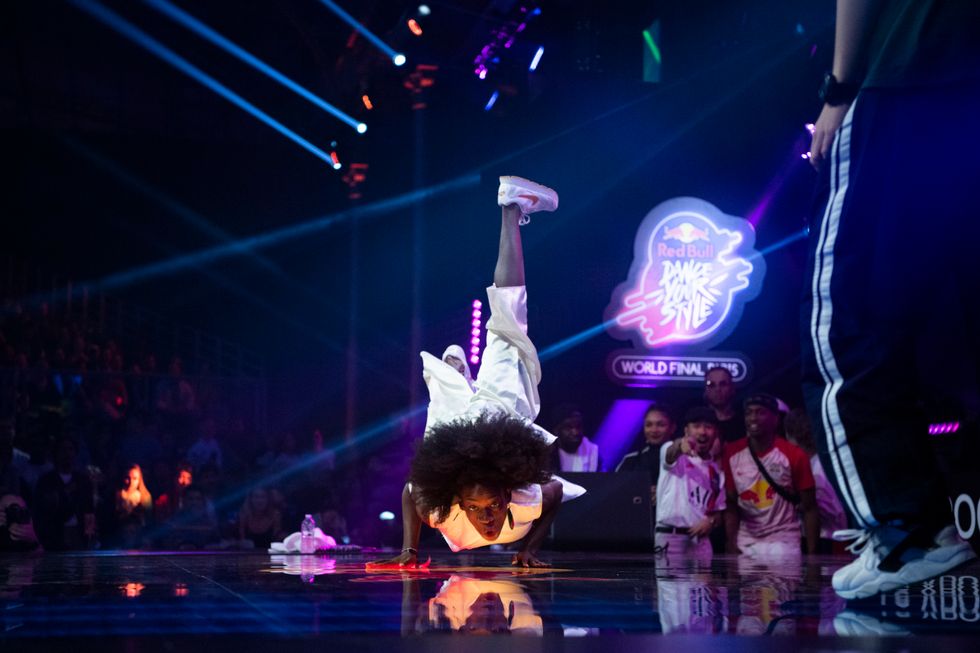 As Angyil said, "To come into contact with different athletes and artists from different backgrounds, speaking different languages is cool. It's interesting because we're all here for our love for hip-hop culture, and I think that that's beautiful. Half of them, I don't know what they're saying, I don't know what they're talking about, and I'm pretty sure that they don't know what I'm talking about, either. But we are here for a common denominator, and that denominator is dance. So I would say it's pretty cool."
Photos courtesy of Red Bull
Sign Up For The Morning PAPER
Nightlife
Intro by Alessandra Schade / Photography by Andrew Tess
Music
Interview by Troye Sivan / Story by Bradley Stern / Photography by Maisie Cousins / Creative Direction by Michaela Stark