PAPER has always been a place of opportunity, a place that spotlights new talent and people who are doing tremendous things. We've spent over 20 years bringing you the Beautiful People issue, which identified amazing people who were doing things differently and using their creativity, ideas and success to transform culture and create new opportunities for artists, audiences and fans. This year, we have decided to rename the portfolio and call it exactly what it is: PAPER People. — Drew Elliott, Editor-in-Chief
Uffie was still in her teens when she became famous in 2006 after a demo of her first single, "Pop the Glock," went viral on MySpace. Her 2010 debut album, Sex Dreams and Denim Jeans, further cemented her status as a young star on the rise, but after a couple one-off singles, she stepped away from the spotlight. Having spent the past six years focusing on motherhood (she has a son and daughter), Uffie, now 30 and living in Venice Beach, is back with new music. Songs like "Drugs" and "Your Hood" blend "Old Uffie" playfulness with spacious, modern production. Her return to the biz brings with it a new perspective on self-care and maintaining a sense of normalcy in her adventurous life. As she puts it, "The little moments of self-respect can be amazing, like taking a moment to tell myself, 'Hey, you kicked ass today.'"
Like many people, I grew up listening to you and I feel like you were one of the first people in my mind who created your own thing, your own sound with "Pop the Glock" and then it just blew up. You were super young yourself when you recorded that.
I was definitely still a teenager. It was actually the first song I ever wrote and it was intended to be kind of like a one-off. But that was such a magical time for that to happen because that was the MySpace age. I remember going to write that song, and it was originally made to be a 7-inch press of 100 editions for this tiny little label — all of my friends were DJs and artists, and one evening I was like "I wanna have an artist's MySpace page too!" So I put it up and it just got so many plays so fast, and the cool thing about that was people could share your song, so it was so easy to go viral and I kind of think that without MySpace at that time, things would've been so different.
What do you think was the secret to that song's success? Was it on purpose or was it just a happy accident?

I think that some of the magic was [that it had] this naïveté to it. I mean, I loved hip-hop, and I kind of took it and made a new version. I've always loved poetry, and I was just understanding the structure and the math of that and then going through and asking myself what my favorite words were, and at that naive time in your career, you don't think that people are gonna hear this. So there's no filter whatsoever. That's one of the things where everything aligned. Then, when we went to record it, I was really shy with singing so one of the guys said, "Well, why don't you try rapping?" And we just started messing around with my voice. It's like everything just fell into place. I'm also aware that moments like these happen once in a blue moon, but it was pretty magical.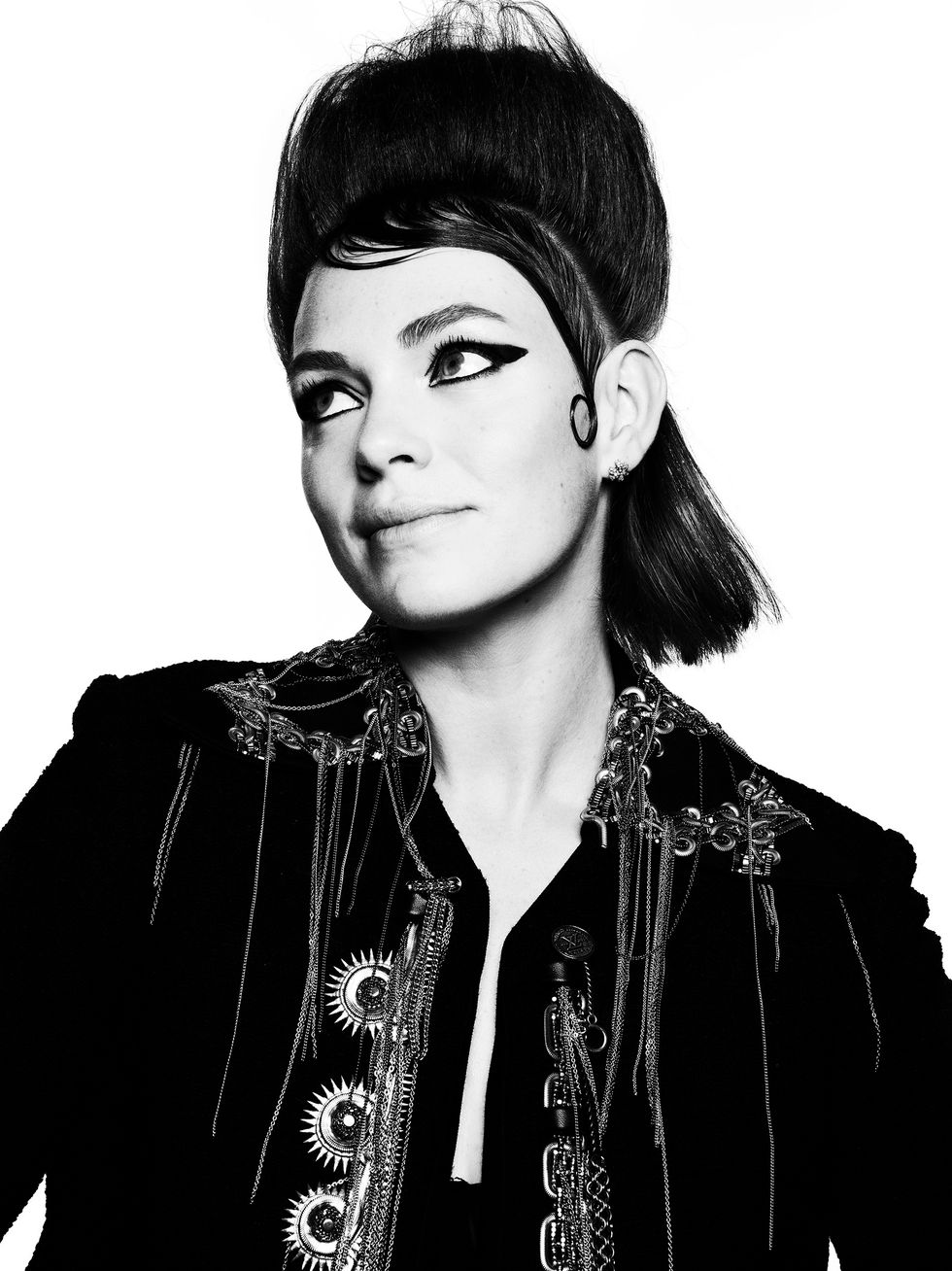 Jacket Louis Vuitton
You've turned 30 and had two children. Now that you're coming back to music, how have these experiences affected your perspective on the industry?
You know, I had a great time on the road, but it was not a sustainable life as far as living a happy life. A lot of people don't have your best interests and I needed to take a moment out to be a human and figure out who I was and be with my kids. Being a mom has massively changed me. It's the only thing that you can love so much more than yourself – just this unconditional love. It helped me become more wise day to day, and at this age, I've just become more comfortable and confidant with who I am. So this time around, it's super different, but I'm enjoying it so much more. I feel present and I feel like now everything is 100% my choice. I love my old self and what I did was rad, but it's really exciting to know I've grown up and I've changed and I don't have to be partying in order to be me.
Tell me a little bit about the stuff you've been writing. So far we've heard "Drugs," "Your Hood," and "Sideways." It feels like "Old Uffie," but with 2018 trends in mind.
I mean, that was the mission. At the beginning, I struggled because I thought everyone was going to want to hear the same thing but I'm not like that anymore. Finally, something just broke and we finally got there; we wrote "Drugs" three weeks before it came out, and it felt perfect. It had this reminiscence of "Pop the Glock," but it's very different now. My writing partner is a musical genius with the craziest melodies, which is something that's really new to me. At the end of the day, my process has just been about keeping that fun je ne sais quoi and "I don't give a fuck" energy. The challenge is always to figure out how you can still be yourself and do that at any age, while still respecting yourself.
There seems to be more vulnerability in the music you're writing now: "The drugs don't love you like I do" and "Don't know why I'm running through your hood…why my heart does what it does."
Definitely. I think that with this new confidence, instead of humor and a little bit of self-deprecation, I feel more confident to open up. In the upcoming EP, I've obviously had two kids, gone through a divorce and moved around. I feel like there's been a lot of stuff that I've gone through and, writing lately, I've just been able to tap into that and be like, "Okay! This is a weird time in life, and the world, and in our country." It's such a twilight zone that it affects everything in daily life.
Do you keep a diary?
I actually just started to!
Do you find it helpful?
Yes. I feel like it's great to practice writing first of all, and second of all, I like to do it at the end of the day and just go through what has happened. I find that it helps to stop and reflect and appreciate how things are going on in your life.
Shifting gears a bit: if you could talk to your teenage, early-twenties self, what would you say?

To not be scared, but to be more careful of what's around you. That ultimately, no matter what, everything is gonna be okay. To take breaks when you need them and you will come out the other side. Because at that time, there are definitely really important times when you're just surrounded by people but you're just a baby. And I'd tell her… lay off the whiskey a little more? [laughing]
Given how young you were when you were first starting out and everything you've learned since, do you ever think about mentoring other young artists out there?
It's really funny that you mention that. I did my first songwriting camp for Big Deal, which is a publishing company, and Atlantic Records, for their artists. I'd never really gone into random sessions, and it's in this big house and you team up with four people and it's different every day. It was so much fun. I loved it and I gained a ton of confidence from it, but obviously [the song] goes to an artist. From that, I was thinking that it would be really cool to do something for someone younger or just up-and-coming because I feel like — and not to be really negative about the industry — but I feel really lucky to have taken a step out when I needed it and had this normal life when I needed it and was able to come back and have my shit together. Developing artists need as many people like that around them as they can get, you know?
Are there any artists that you particularly love right now?
Yeah. Love Rae Sremmurd – Swae Lee is just amazing. Love Kendrick Lamar. Post Malone is tight, I'm a longtime Lykke Li fan. She to me is so chic. It just dumbfounds me. Oh! Cardi B is the shit. She's so amazing. I started watching Love and Hip-Hop back-to-back episodes because I wanted to see more of her. I'm like, "This woman's amazing!" [Laughing] She's really exciting.
What attracts you to Cardi?
She's so brave and fierce and she has that unapologetic kind of style. I found it really inspiring to see her at Coachella pregnant onstage.
Twerking!
Yeah! That takes freaking balls! It's so tight because being a woman who's gone through pregnancy, I got lost in it. I was like "Who am I, who am I?" She's just out there! It doesn't affect her at all and I really admire that. It's so cool.
What makes you feel beautiful and what do you think makes someone a beautiful person?
What makes me feel beautiful is taking the time to do what I need in the moment. Whether that be taking the time to take off my makeup and take a bath at the end of the day or just taking that time to show yourself respect — the littlest things can be amazing. If it's taking a moment to be like, "You kicked ass at this today" or to say, "This was a hard situation but you powered through." You have to be proud of the decisions you've made and the kind of person you are. It makes me feel really good. Does that make sense?
Makes so much sense.
Photography by Ben Hassett
Styling by Mia Solkin
Hair by Joey George at Management Artists
Makeup by Stoj at Management Artists
Digital Tech: Carlo Barreto
1st Photo Assistant: Roeg Cohen
2nd Photo Assistants: Eric Hobbs and Chris Moore